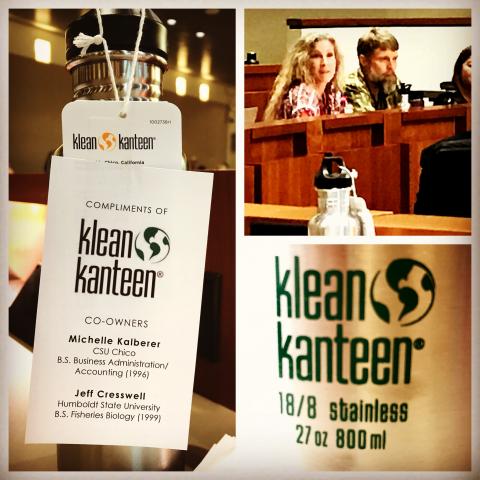 At every meeting, the California State University's Board of Trustees hears presentations by graduates of the CSU about their student experience and the impact of their education.  The January 2018 meeting was special for Humboldt State.
At the January 2018 Board meeting, a Humboldt State graduate shared his story.  Jeff Cresswell graduated from HSU in 1999, with a major in Fisheries Biology.  His sister, Michelle Kalberer, is a 1996 Chico State graduate in Business Administration and Accounting.  This brother-and-sister team wanted to help create a safe alternative to disposable plastic water bottles.  So in 2005, Jeff and Michelle joined Klean Kanteen to produce a water bottle that is made of stainless steel and free of the chemical BPA.  They are now the co-owners of Klean Kanteen, and they have a deep commitment to their work and making the world cleaner, safer, and more sustainable.
Over the last 15 years, the product lines for Klean Kanteen have expanded from a simple stainless steel water bottle to include insulated tumblers, food containers, baby bottles, drinking cups, and growlers.  The company has been featured on the Today Show, as well as in publications that range from Poplar Mechanics and Men's Fitness to Women's Running and Alaska Magazine.
Jeff and Michelle are wonderful examples of CSU graduates who are living the HSU pledge.  As a reminder, the HSU graduation pledge – which has been adopted by over a hundred colleges and universities around the world – states: "I pledge to explore and take into account the social and environmental consequences of any job I consider and will try to improve these aspects of any organizations for which I work."
I think the Cal State Board of Trustees was as impressed as I was by Jeff and Michelle's work.  I know the Board Chair was impressed.  She has had a personal goal to eliminate single-use plastic water bottles at the CSU Board of Trustees meetings.  And she's been successful, in part thanks to the dedication and good work of HSU graduate Jeff Cresswell, his sister Michelle, and Klean Kanteen.