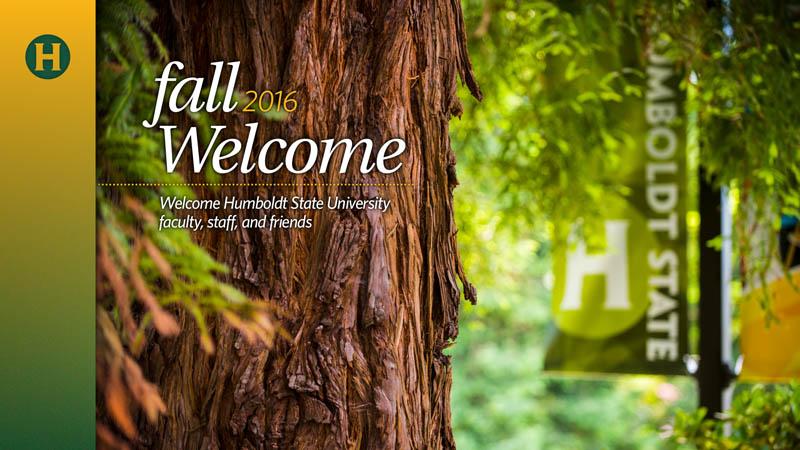 Good morning. And welcome.
I want to start by noting that the land where Humboldt State is located is part of the ancestral homeland of the Wiyot people – and that the Wiyot were here over a thousand years before this University was founded. Because so much of the education that is offered here is characterized by a sense of place – this place – acknowledging the history of this land and our indebtedness to the Wiyot people is an important way to start the semester.
I also want to thank Kellie Jo Brown, our campus photographer, for the wonderful images that contribute so much to this event – and Hugh Dalton, in Marketing & Communications, who prepared and organized the slides. Music Professor Gil Cline produced the music you've been enjoying that was performed by nearly three dozen faculty, students, and community members.
I would like to recognize Humboldt State president emeritus Rollin Richmond, who is with us today, and president emeritus Alistair McCrone sends greetings from his native province of Saskatawan. I also want to thank my husband, Dallas Rhodes, for being here. In his academic career, he has heard more fall welcome speeches than he wants to remember, and I'm honored that he is willing to listen to another one today.
I offer a special welcome to all the new members of our University community. You have seen the names and photos of new faculty and staff in the slide show that has playing. Would everyone – faculty and staff -- who has joined us since fall welcome in August of last year please stand up?
Those of you who are returning this fall, welcome back. And please join me in making our newest colleagues feel included and welcome.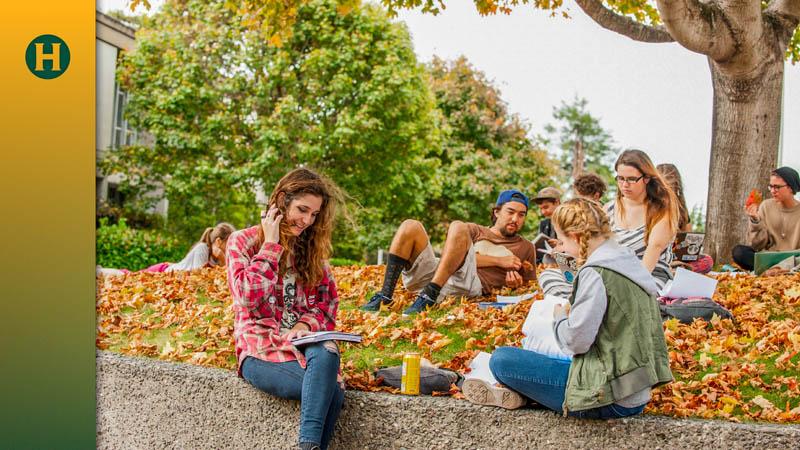 The beginning of fall semester is a good time to remind ourselves WHY we do the work we do, WHY our University is important. HSU is about teaching and learning. We are making a difference in our students' lives – and in all the lives they touch. We do this in ways that are uniquely linked to our location – our sense of place. This affinity to place can be as direct as the Klamath Connection, or it can be through the study of local authors, artists, and musicians, state politics, and the regional economy. All of us – faculty and staff – support our educational mission in a unique way.
In this last academic year, I wanted to learn more about this … to see and hear directly from our students and our faculty. I wanted to experience our classrooms and laboratory spaces. I wanted to see the great work that the faculty do in teaching and how the staff support the mission by making those spaces and operations supportive of our educational mission.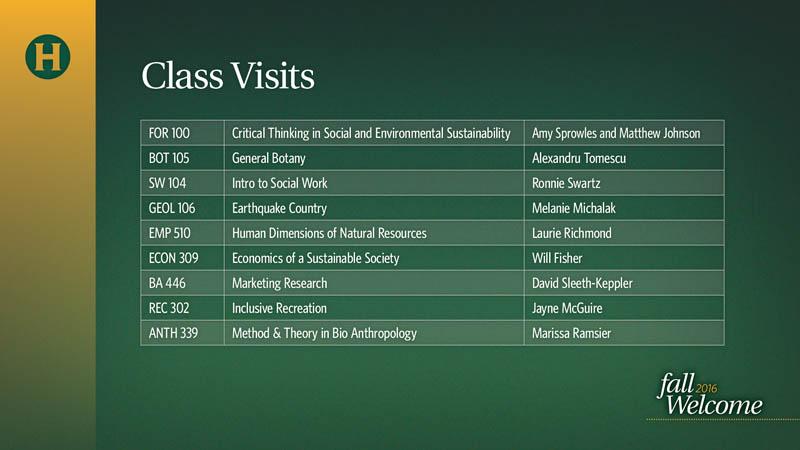 I have had the opportunity to visit a variety of classes, as you can see here – and I'm looking forward to more visits in the fall.  I always ask permission ahead of time, so the faculty members know I am coming – except for one awkward morning when Mel Michelak hadn't gotten the message, and was probably very surprised to see me sitting in the front row of her "Earthquake Country" course.  But she was a good sport and let me stay.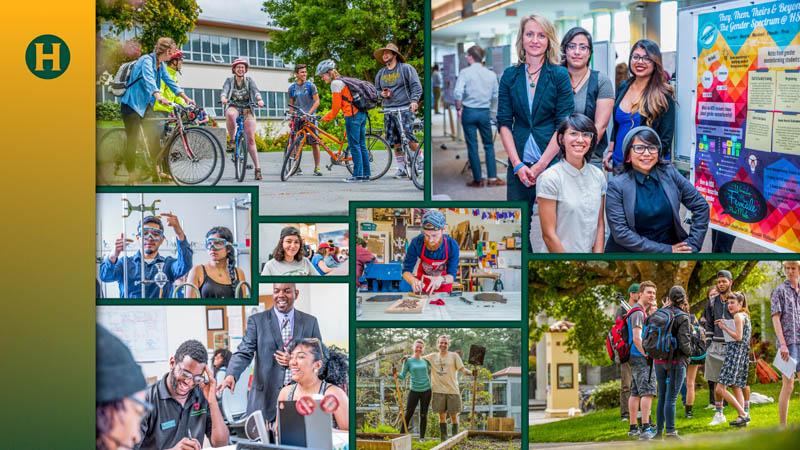 Visiting classes gives me valuable insights into the student experience at HSU. I have had the opportunity to watch some of our outstanding faculty demonstrate effective use of visual media, the benefits of a "build-your-own textbook" approach, and the frustration of trying to remember some of my own undergraduate classes. Talking with students as they work through challenging subject matter, such as linking ethics and professional practice, is inspiring. I've seen amazing classroom work on marketing and on the power and techniques of oral history. And I've had the opportunity to work with some of the new – and the old – equipment in our laboratories.
I am already scheduled to visit more classes this fall, and I look forward to additional opportunities to learn about the programs that are offered at this University, the talent of our faculty, and the ways our students think – and learn.
I also want to note how much I appreciate scholarship as a critical complement to our main mission of teaching. Maintaining a strong program of research, scholarship, and creative activity is a particular challenge, given the teaching loads here at HSU, and I very much appreciate what this faculty is able to accomplish despite the difficulties. We have lots of outstanding examples, ranging from the Human Performance Lab, the Gravity Research Laboratory, the Humboldt International Film Festival, the Schatz Energy Research Center, IdeaFest, the Humboldt Economic Index, and the Toyon Literary Magazine. Student-involved scholarship is as good as teaching and learning get. Humboldt State students are lucky to be at a university where there is such an opportunity for both undergraduate and graduate students to be involved in research and scholarship.
Right now, we have three major initiatives at HSU that are organized around students and their success.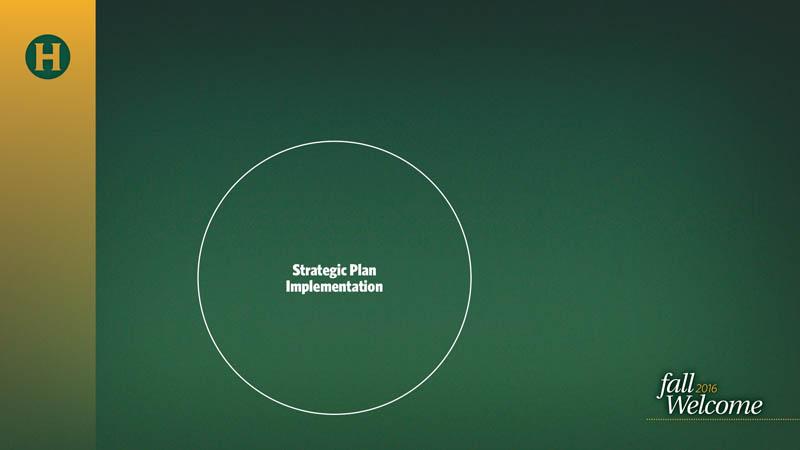 One initiative is the implementation of the strategic plan, which I will return to in a moment.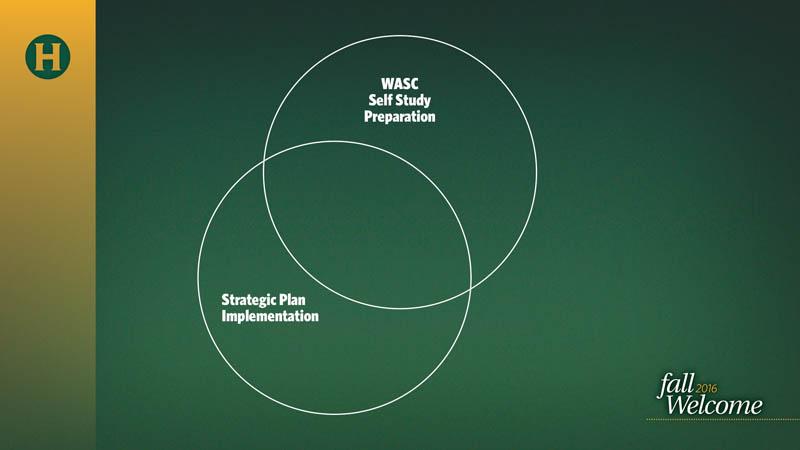 Another critical initiative is the preparation for our reaffirmation of accreditation by the Western Association of Schools and Colleges – or WASC. The self-study process is being led by professor of Kinesiology and Recreation Administration Rock Brathwaite, with a group of dedicated faculty, staff, and students; our report is due to WASC in Spring 2017. This is a critical undertaking for the upcoming academic year -- and a high priority for the entire University.
In a sense, our self-study review is about how we hold ourselves accountable for implementing our strategic plan. We have to demonstrate how we "walk the talk." And, as most of you know, a couple of the most serious concerns raised in our last accreditation review were that, as an institution, we have sometimes failed to make difficult decisions – and to follow through on implementing our plans. That's one of the reasons that the implementation of our new strategic plan is so important.
So our WASC activities will be a critical effort this year.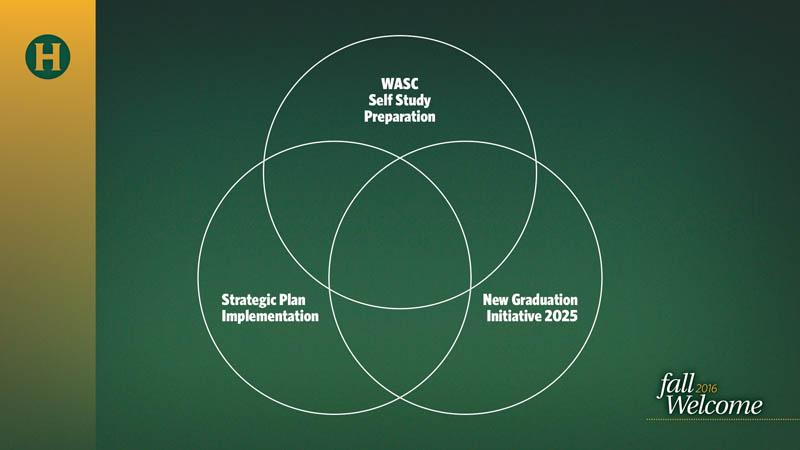 And here's the third initiative.
The California State University system – including Humboldt State – is embarking on a new graduation initiative. The primary goals are to improve the four-year graduation rates (for first-time full-time freshmen) and two-year rates (for transfer students) – and to completely eliminate the differences in these rates based on race, ethnicity, and economic status.
In part, this effort is driven by the importance of ensuring that students graduate in as close to four years as possible. It's the right thing to do. It aligns with HSU's values of social justice. Students will be able to enter the workforce sooner and use their knowledge and skills to make our state -- and the world – stronger.
But the CSU is also working on this because the four-year graduation rate has the focused attention of the Governor and the Legislature – and therefore of the CSU Board of Trustees. So this initiative is establishing new goals for the campuses and the Cal State system overall.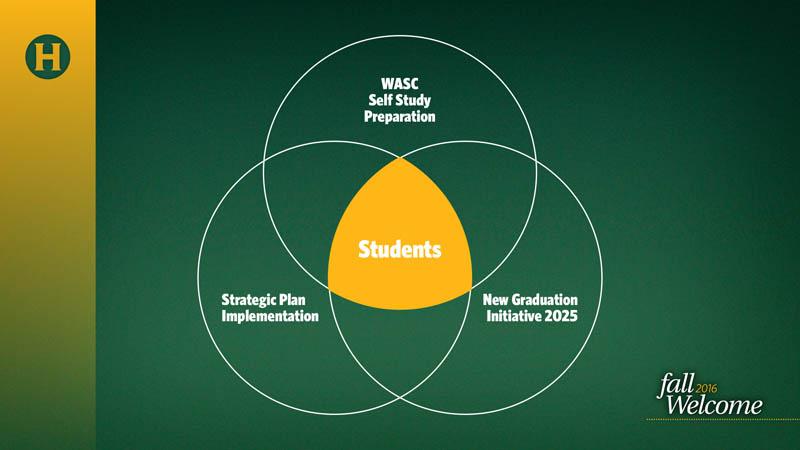 Students are clearly at the center of these three initiatives.  That's why we are here.  So let met say a little more about the new graduation initiative.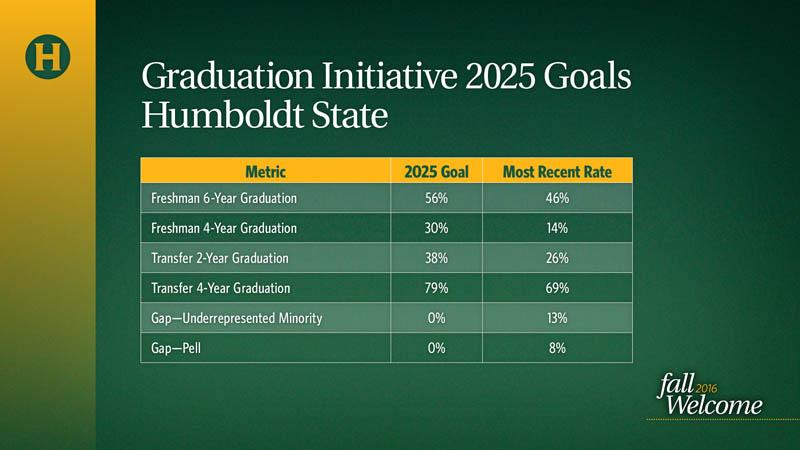 I'd like to say a little more about the new graduation initiative.  Here are HSU's preliminary new goals:
You can see these are ambitious targets, but they are important ones. They align with the broad goals in our strategic plan – and with the expectations of our regional accrediting agency. In our strategic plan, we had already set the goal of eliminating the achievement gap, even before this became part of a system-wide initiative.
The numerical goals you see here are still tentative, and they will be confirmed by the Chancellor's Office and the Board of Trustees next month. However, I doubt they will change much, if at all. I predict this, in part, because I am serving on the Advisory Committee for this initiative.
I have to mention a note of irony here. In just two years, I have already been at HSU long enough to be on my second system-wide Graduation Initiative. The first was rolled out in October 2014 – some of you may remember this – through a process that involved little input from the campuses. This time, the campus involvement is much more extensive.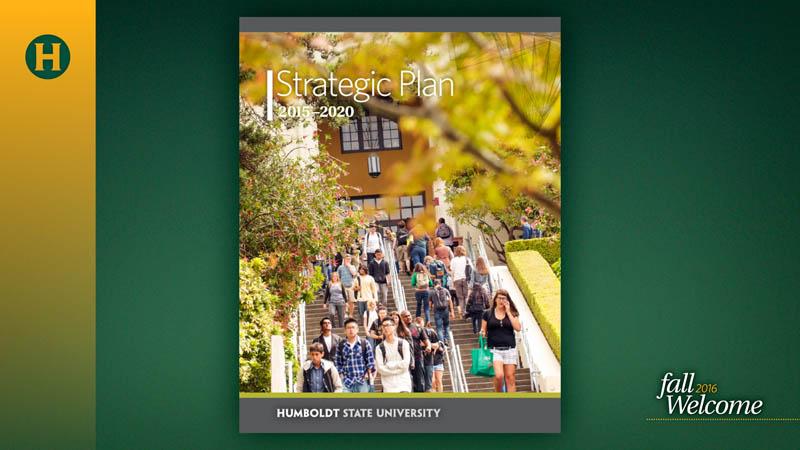 I do want to talk a little more about our Strategic Plan – but not in the way you're probably thinking. I'm not going to recite every goal and objective and tactic and metric. I'm not even going to update you on all the progress that has been made over the summer – which has been significant. All of that information is available on the strategic plan website, which you can access through the HSU website.
Over the last academic year, we were focused on developing the blueprint and framework to implement the plan.
And it's happening.
We can look at the Strategic Plan in a lot of different ways, but what I'd like to share with you today are some thoughts about the big-picture – the forest-view way of looking at it, rather the individual-tree version.
Remember that we wrote our plan together. We collaborated as a campus community, and we engaged individuals from our surrounding communities, our alumni, and more. The many activities in the plan represent a shared direction that we have chosen together. I've heard people refer to our plan as having been "crowd sourced," and that's a good description. We created it.
And we said, from the very beginning, that it would be a living document. And some of the plans have already changed, for a variety of reasons. We have to be adaptable and flexible in our implementation.
So when we zoom out from all the details of our plan, what do we see? What does our Strategic Plan tell us about ourselves?
We see the fundamental values of this institution. Concern for supporting our students and for the quality of the education they receive. We see a community that cares sincerely about students as a group and as individuals. We see people who are community-minded, concerned about our natural environment, and passionate about social justice.
As I look at our strategic plan, I see these fundamental values, and I am reminded of the striking extent to which these values infuse our University. HSU is unlike any other university I know.
And our strategic plan, with all its complexity, contains quite an ambitious agenda: to help all of our students succeed, to provide an education with our values of social justice and environmental sustainability at its core, and to manage our campus in a sustainable way.
I think of these efforts as "Living Our Pledge" – committing to take clear actions based on our shared values. This idea takes inspiration from the Graduation Pledge that our students created and from a new Pledge that was created last spring for current students, faculty, and staff.
I expect most of you are familiar with the Graduation Pledge, which is taken by students when they graduate.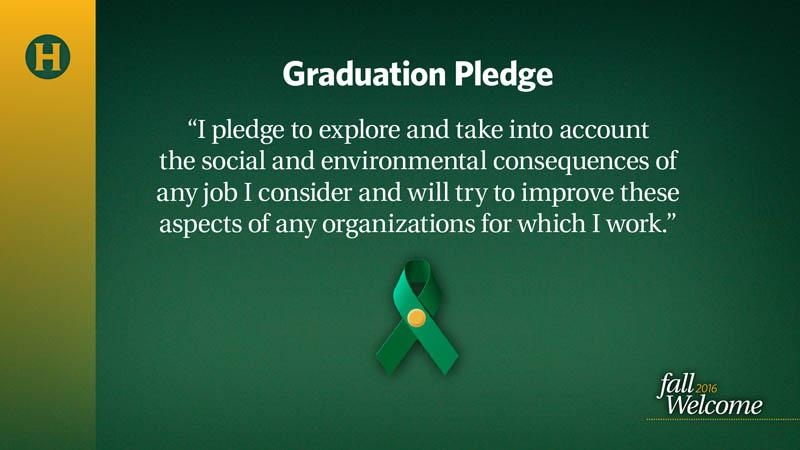 Since it was founded at Humboldt State University in 1987, this commitment to social and environmental responsibility has been taken by graduates here – and at more than a hundred colleges and universities around the world.
But many students – and some of you, as faculty and staff – have raised the question of why we wait until students leave to engage them – and us – in consciously acting on their values. Why aren't we living the pledge here at Humboldt now? So last year, the student co-directors of the Graduation Pledge, Angie Edmunds and Alexis Galvan, created The HSU Pledge.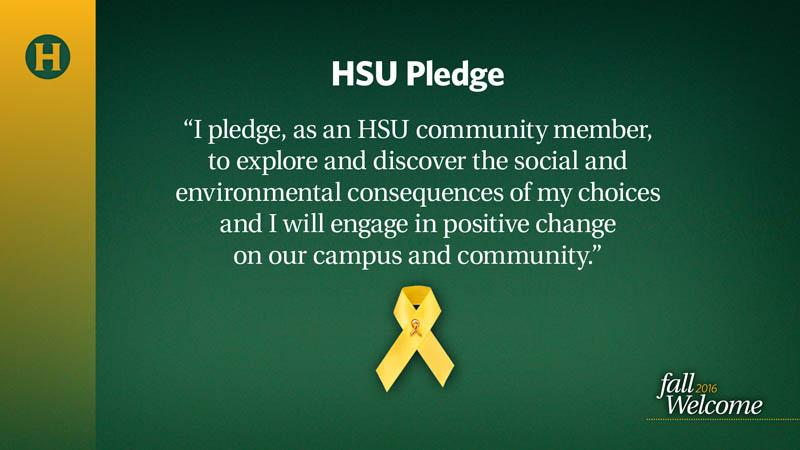 Here's the text:
"I pledge, as an HSU community member, to discover the social and environmental consequences of my choices and actions and I will engage in positive change on our campus and in our community."
The students envisioned this pledge as being available to all staff, faculty, and students, and taking the pledge would be symbolized with a gold ribbon – because, of course, HSU's colors are green and gold.
Responsibility for the pledge – the pledges – has been undergoing transition in Associated Students, so you'll have to stay tuned for the final language and implementation of the Humboldt Pledge. But even without a formal structure yet, the concept makes sense.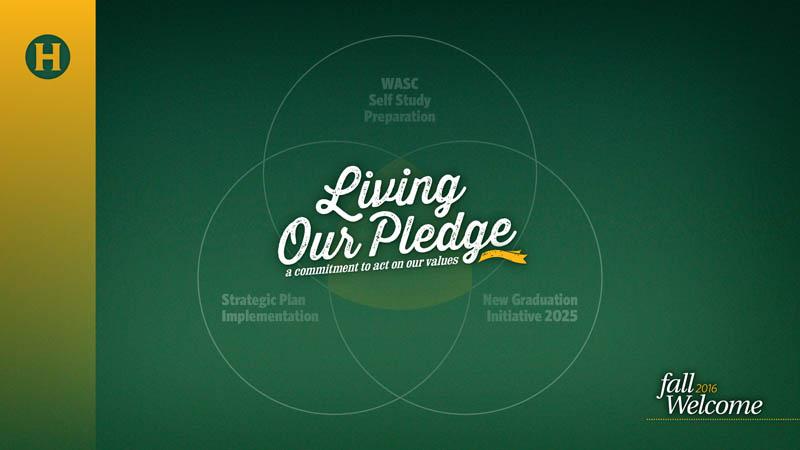 So how do we "live the pledge"? How can we take Humboldt's values and use them to guide how we function as a community?
On the one hand, our strategic goals are straightforward. On the other hand, the goals are big. Really big. In fact, as Jim Collins, in his book "Built to Last," would describe them, they are big, hairy, audacious goals. He describes these as visionary goals that move an organization toward a shared future in ways that are emotional and compelling. Having big, hairy, audacious goals distinguishes successful organizations from ones that, well, don't last.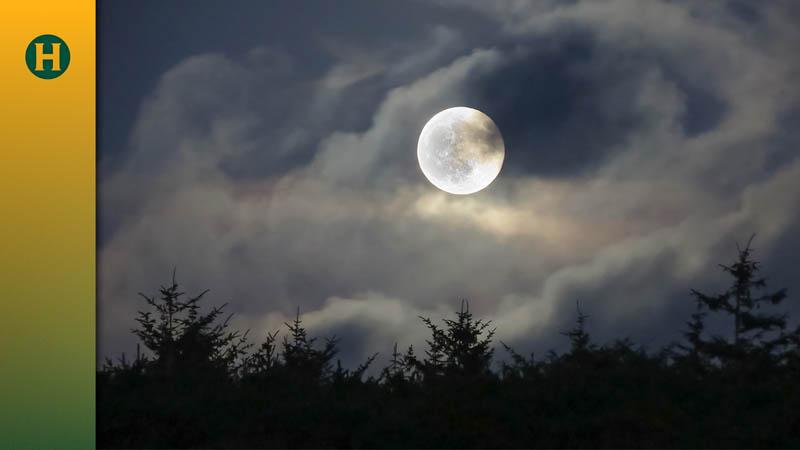 Another way to describe our goals is like a moon shot, referring to President John F. Kennedy's challenge to send humans to the moon and return them safely within a decade. Now that was big, hairy, and audacious.
During this same speech, President Kennedy also said:
"We choose to go to the moon … and do the other things, not because they are easy, but because they are hard, because that goal will serve to organize and measure the best of our energies and skills, because that challenge is one that we are willing to accept, one we are unwilling to postpone, and one which we intend to win, …."
This same perspective applies to us.
Here is how the pledge can be reflected in the moonshot of our strategic plan. These are not new goals – they are amalgamations of a variety of goals that are already in our plan, expressed here in ways that bring multiple ideas and goals together into ones that are broader, more overarching, and, frankly, more compelling.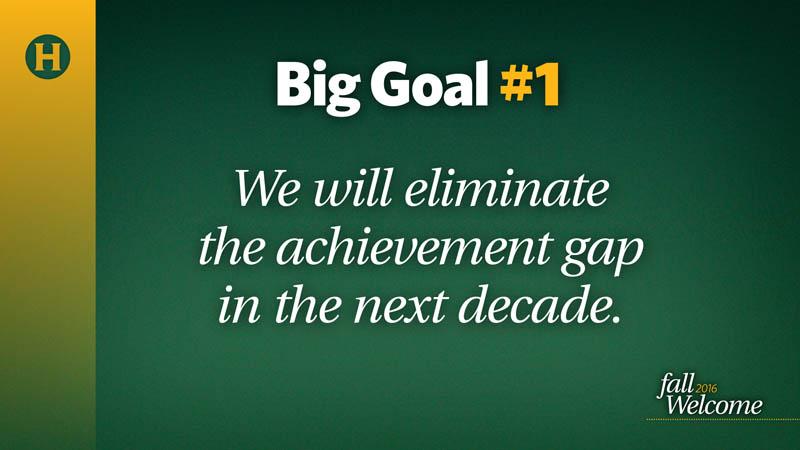 We will eliminate the achievement gap in the next decade.
We will remove barriers so that all our students have access to the same quality education.
We have struggled with how to say this in a way that is positive – that doesn't come from a deficit model, but this is a clear statement.
Although this goal is now part of the CSU's new Graduation Initiative, HSU had already made this commitment. We did not adopt this goal because the Legislature asked for it or the Governor wanted it or the Chancellor's office directed us to do so. We are doing this because this goal aligns with our commitment to social justice.
Our goal is to eliminate the achievement gap within the next 10 years. There will be no difference between ttraditionally underrepresented and other students in retention or in graduation rates. No gap for low-income students. No gap for first-in-family students.
Now, here are a few of the facts we know about this fall's entering class of first-year students. 36% identify as Hispanic or Latino, and over 50% are from historically underrepresented groups. 59% are first-generation college students. And 40% are coming from the Los Angeles area, although we also have strong concentrations from the San Francisco Bay area, Central California, and San Diego.
Our students reflect the geography and demographics of our state. And we are committed to all of them being successful at Humboldt State.
Specific examples of how we will accomplish this goal include expansion of the number of tenure and tenure-track faculty; programs like Campus Dialogue on Race, and the Re-imagining the First Year initiative. This first-year program builds on the successes and lessons from the Klamath Connection, and it includes more effective placement of students in math classes to exploring an expanded summer school to revising communications with students to implementing full-year registration for first-year students. The Office of Diversity and Inclusion will be up and running this fall, jointly led by professors Ramona Bell, from the Department of Critical Race, Gender, and Sexuality Studies, and Jennifer Eichstedt, from Sociology, and we will be actively searching for a new director to join us in January.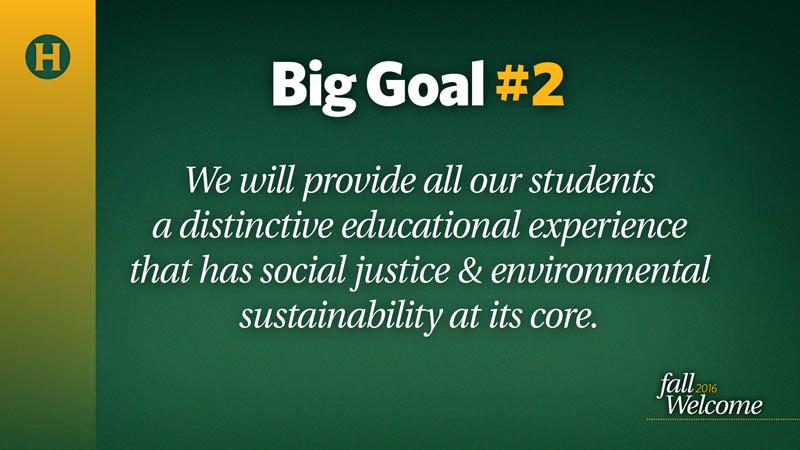 We will provide all our students a distinctive educational experience that has social justice and environmental sustainability at its core.
Social and environmental responsibility are core elements of HSU's mission and vision statements – which pre-date our new strategic plan. I won't read these statements to you, but these are on our website, and I do want to remind you that these are long-standing commitments of this University. These areas of emphasis are part of who we are – and part of what makes an HSU education distinctive. And this education provides our graduates with the knowledge and skills they need to create a better world.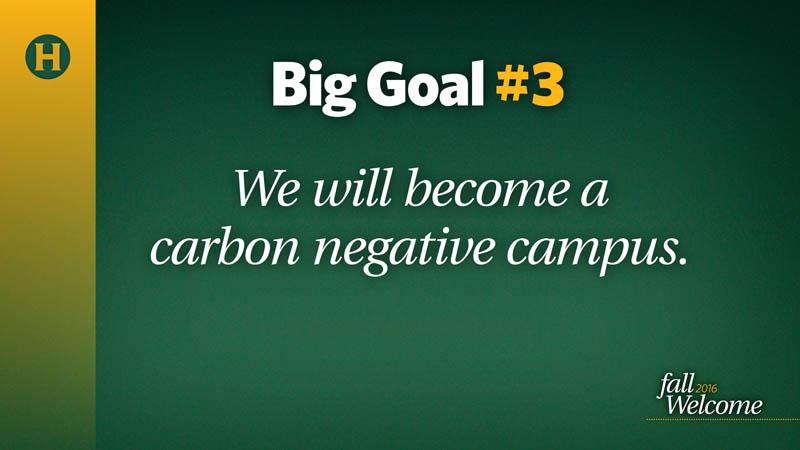 We will become a carbon negative campus.
The campus will be at or near carbon neutral by 2030, and then continue to improve so that we become carbon negative.
This target is well ahead of the CSU system goal, which is to be close to carbon neutral by 2040. Measurement of progress toward carbon neutrality is complicated, but we have made significant strides already. Many of our current efforts like energy reduction and waste reduction will be part of this. Thanks to all of you who participate in campus initiatives like Power Save, Kill the Cup, and reusable food and drink containers.
We will accomplish this goal through adaptation and resiliency, not just on campus but in partnership with local communities.
HSU's Climate Action Plan is already in draft form, with more than 80 possible action items being considered. Some are long-term, others short-term. The Committee will be looking for feedback on the draft, which includes topics like energy conservation, incorporating climate change and sustainability into the curriculum, waste minimization and sustainable purchasing, and looking at how to reduce the use of fossil fuels in transportation.
We have done much already, but we can and will do more. A number of actions, like energy contracts, are outside our full control, but in what we can control, we will be a model and a leader in the CSU, and in California. Our efforts will be an example for others.
In some areas, HSU is already recognized as a leader in efforts related to environmental sustainability. For example, last summer. I served on a panel discussion of university presidents discussing their "green" investment policies for their advancement foundations. And, when two of the other presidents on this panel were asked what motivated them to change investment policies away from utilities and industries that produce carbon they said, "Because students came to me and said, 'Look at what Humboldt State is doing. Why aren't we doing that, too?"
And for us, this is a critical part of our University mission.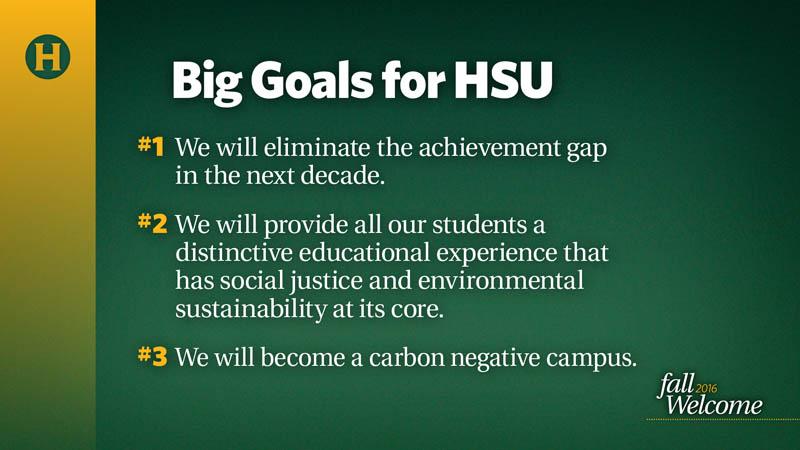 I also want to note some of the reality in front of us, as we strive to accomplish these big, hairy, audacious goals – these moon shots.
One of our challenges, not surprisingly, will be budget. The University Resources and Planning Committee started the process, last year, of moving us to a strategic budgeting model, in which we align our resources with our institutional priorities. They made a great start, and I look forward to the progress they will make this year. This alignment will be a key element of the information we present to WASC, about how we pursue our priorities.
We will never have enough money to afford everything we want to do. And that may be particularly true this year, as we redirect funds to our highest strategic priorities and as we deal with less funding than we had planned for. The shortfall comes in two major forms: one is a result of not receiving the full funding from the state for salary increases, and so we have had to identify resources within our existing budget to cover these additional costs. The other source of HSU's reduced funding in the coming year is the result of what appears to be student enrollment that is lower than was projected when we established the budget. Enrollment Management and the Office of Institutional Effectiveness are working to figure out the cause of this enrollment shortfall, and we won't know the numbers for certain until census, but we can anticipate making some adjustments this fall. The budget letter to the University Resources and Planning Committee is posted on the web, if you are interested in more information.
And our sense of not having enough funding needs to be considered against the backdrop of HSU receiving one of the highest state allocations, per student, in the CSU. As the System moves toward performance-based funding, we will need to justify how we are using the funds we already have, before we can make a case for more state funding. Having a strategic budgeting process in place will be very helpful in this effort.
In this coming year, we will also have some topics to consider that are part of a national conversation. The emphasis on social justice in Humboldt State's mission and vision statements contributes to the uniqueness of our students' educational experience. And this focus gives our University community some special perspectives into what's been happening across the country recently in the areas of race, ethnicity, public discourse – and protests.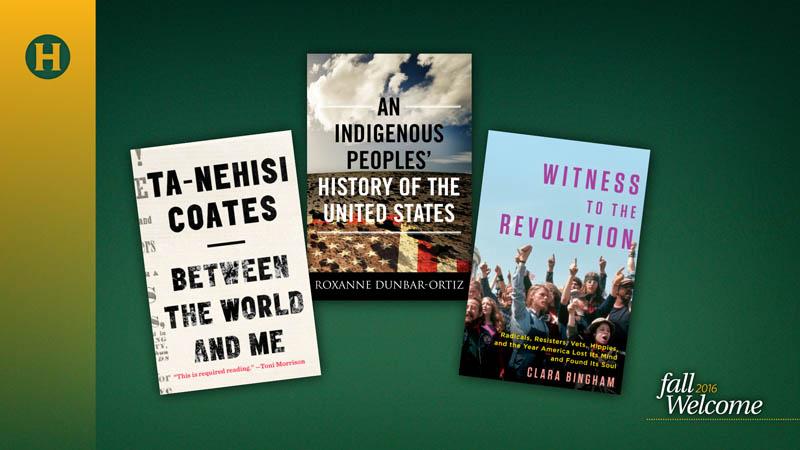 The recent dramatic, tragic, and sometimes violent events in our country have made me want to delve more deeply in the connections among history, race, power and privilege, discrimination, social unrest, and activism.
So here are three of the books I'm reading right now. My mother was my role model for reading multiple books at the same time, which often results in some wonderful synergies of theme and context.

One of these books is "Between the World and Me" by Ta-Nehisi Coates. In it, the author shares advice with his young son about growing up black and strategies not just for survival, but for truly finding himself and his own path in the world. Coates offers valuable perspective on a unique experience that we can all benefit from understanding.
I am also reading "An Indigenous Peoples' History of the United States" by Roxanne Dunbar-Ortiz – with thanks to Kerri Malloy. This book explores the colonialism and genocide of the founding of this country, which stands in such stark contrast to the romanticized histories that many of us learned in elementary school. And I have had the opportunity to reflect on my third grade class, in which Miss White organized the entire year around American Indians. I realize now what a mash-up it was of Plains, Navajo, Cherokee, and pueblo cultures – and a particular focus on Pocahontas, who was from the region of Tidewater Virginia where I grew up. I expect many of you had similar educational experiences. This book provides a very different narrative.
And I am reading Clara Bingham's new book, "Witness to the Revolution," whose lengthy subtitle is "Radicals, Resisters, Vets, Hippies, and the Year America Lost Its Mind and Found Its Soul." The timeline runs from August 1969 to September of 1970, and it weaves together first-person recollections of the civil rights movement, the anti-war movement protesting American involvement in Vietnam, the first Earth Day, the shootings at Kent State, and the bombings at the University of Wisconsin. Many of the issues of that time, 45 years ago, played out on college campuses, and some of them continue.
Many of the topics in these books will be subjects of discussion on our campus this fall. Some of these topics are at the intersection of free speech and First Amendment rights and diversity and inclusion. My deep hope is that our discourse will be civil, respectful, productive, and organized around the educational experience that all of us share.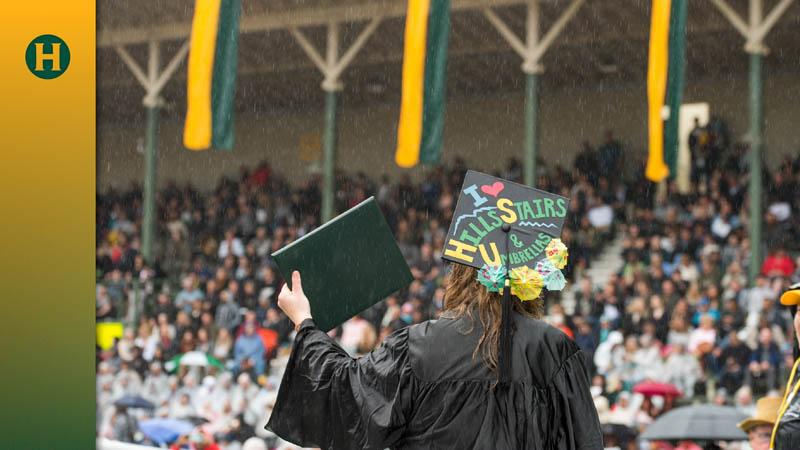 During this semester, I will be talking more about our moonshot goals, both on-campus and off. They are big goals. They are long-term. But they are valuable in clarifying where we are headed -- and why it matters.
Our five-year Strategic Plan pushes us in the right direction, and these goals align with what needs to happen as we prepare for our WASC report and in the graduation initiative.
These three efforts - eliminating the achievement gap, emphasizing the uniqueness of a Humboldt education, and becoming carbon negative – will challenge us and demand the best of us. They will require that we collaborate and think deliberately about the future.
Like the Graduation Pledge and the HSU Pledge, these big goals ask us to really take action on the things we value most. These efforts reflect who we are. They speak to the core values of this institution and what makes Humboldt State important – not just to our students and to us, but to our state, to higher education, and to our nation.
Humboldt State can eliminate the achievement gap for our students. Humboldt State can put social justice and environmental sustainability at the core of our academic programs – and make this a distinctive feature of an HSU degree. Humboldt State can achieve the goal of becoming carbon neutral – and then carbon negative.
We can, as a university, join our graduates in making a positive impact in the world.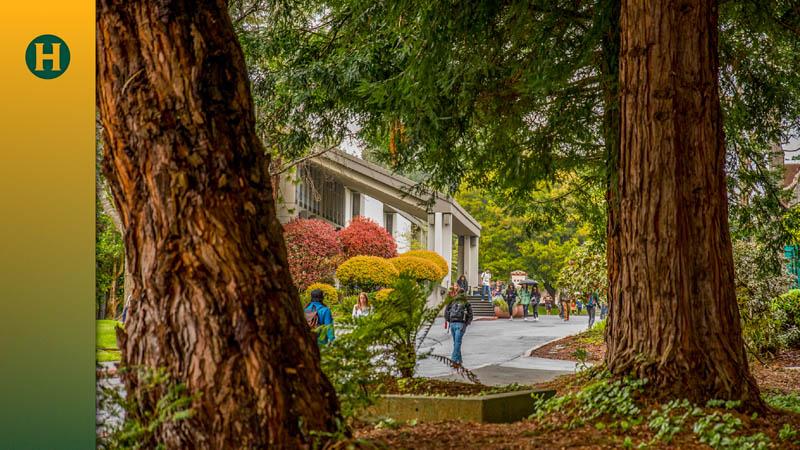 Thank you for all that you have done and what you will do to contribute to student success in the upcoming academic year.  Welcome to all of you to this fall.  Please enjoy the refreshments outside, please do welcome the new members of our community, and thank you for being here today.