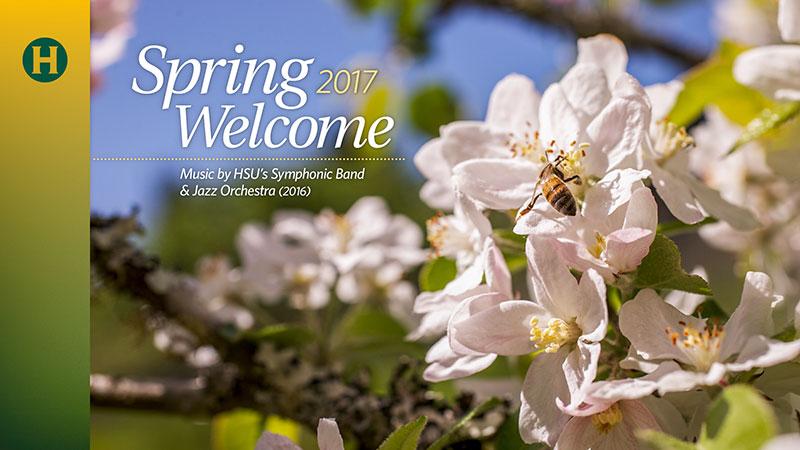 Part I: Welcome and length of service recognition
Happy New Year and welcome to spring semester 2017!
I want to start by noting that the land where Humboldt State is located is part of the ancestral homeland of the Wiyot people – and that the Wiyot were here over a thousand years before this University was founded. We are grateful for the opportunity to be here.
This morning, I'd like to accomplish three things.
The first, of course, is to welcome everyone back for the new semester… and celebrate colleagues for their length of service. The second is to have an update from some of our colleagues about what's happening in three important initiatives on campus. And the third is this year's staff recognition awards.
So, to begin: welcome. If you have joined HSU as a faculty or staff members since Fall Welcome, back in August, would you please stand? I want to ask all of you to help welcome these new members of our University community.
It's good to have you all here.
In the category of people who have been welcome here for a very long time: the two previous presidents of HSU played a critical role in building this University. Although president emeritus Rollin Richmond is not in town today, Dr. Alistair McCrone is. Thank you, Dr. McCrone, for your continuing support of this University that you helped create.
One of the traditional celebrations at this Spring Welcome event is the recognition of years of service at Humboldt State University. I'm going to ask you to stand in groups, with increasing lengths of service, starting with
…those of you who have worked for the University from 1-9 years.
…those of you who have worked for the University from 10-19 years.
…let me ask everyone to stand who has worked for the University from 20-24 years.
…and now, all of you who have worked for Humboldt State University for 25 years or more, please stand. Thank you for caring about HSU and being such an important part of the history of this school.
The employees who have reached the 25-year mark this year will be honored at a Silver Lamp luncheon later this semester, and I very much look forward to that event.
Now, please remain standing if you have worked at HSU for 26-34 years.
Finally, please remain standing if you have worked at HSU for 35 years or more!
Thank you all for your many contributions to this University.
We have a group of employees who have recently reached the 35-year service mark, and I am going to ask them to come forward.
Jeffry Borgeld is a professor of Oceanography. He started on the faculty in fall 1981. He has been the Oceanography Department chair on multiple occasions, has served as Marine Superintendent with oversight of ship and boat operations; and as Director of the Telonicher Marine Laboratory. He has served as the University's Faculty Athletics Representative to the NCAA and CCAA for many years. In addition, he is the Director of the NOAA Baseline Atmospheric Observatory on Trinidad Head and of one of 31 World Meteorological Organization Global Atmospheric Watch Stations, the only one in the continental states. His activities have also included involvement in major international research projects along the edge of the continent. Congratulations on 35 years, Jeff!
John Erickson is the operations manager for the University Center, and he has worked in the Operations department since he began there as a Student Assistant in 1977. All of the services he provides to clubs and campus departments are accomplished with student employees, and he has hired, trained, educated, and worked with more than 350 students over the years. Congratulations John!
Chris Hopper is currently the interim dean of the College of Professional Studies. He joined HSU in fall 1980 as an assistant professor of health and physical education. In addition to his role as a faculty member, Chris has served in a variety of leadership positions at HSU, including as the Department Chair of Kinesiology and Recreation Administration, Program Chair of Liberal Studies/Elementary Education, Associate Dean for CPS, and Dean of Research, Graduate Studies, and International Programs. He was also named HSU's "Scholar of the Year" for 2015-16. Congratulations, Chris!
Armeda Reitzel joined the Speech Communication Department as an assistant professor in fall 1981. She was named "Outstanding Professor of the Year" for 1998-99, and she received a Quality Online Learning and Teaching award from the CSU in 2016. Armeda says she was "born to be a teacher." She has served as department chair, started the original HSU Teaching English as a Second Language program, and has received the Outstanding Faculty Award from students on two separate occasions. She is a Fulbright Scholar, and for many years she was HSU's liaison to the Access Humboldt Board of Directors. Congratulations Armeda!
Congratulations again to these four colleagues who are hitting the 35-year mark, and on behalf of the HSU community, thank you for your incredible dedication. Let's give them another round of applause.
PART II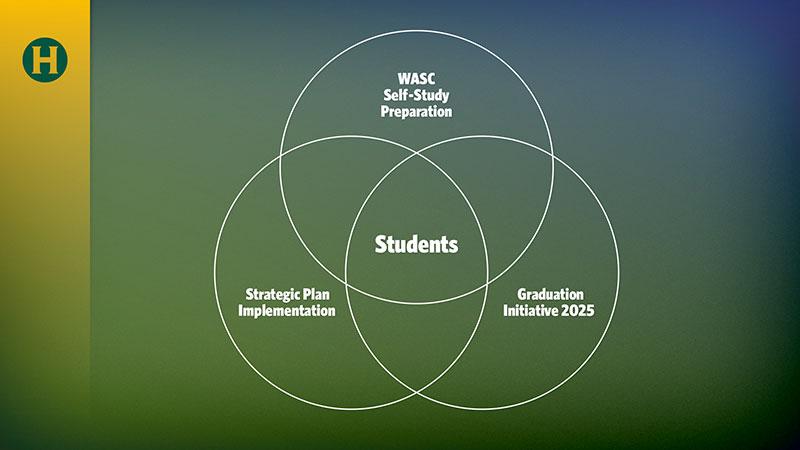 The second section this morning is a reminder of why we are here: the students.
Last fall, I emphasized the three major initiatives that are happening at Humboldt State – and how the intersection of these initiatives is about students.
I'm going to ask eight of our HSU colleagues to provide updates on what's been happening in these three initiatives: implementation of the strategic plan, the preparation of our self-assessment for the Western Association of Schools and Colleges, or WASC, and the Graduation Initiative 2025.
These comments will be brief – I've asked each speaker to fit their remarks into two minutes – and these are only examples of the many activities happening on campus. If you are looking for a more comprehensive summary of progress on these initiatives, please check the information on the HSU website, which can be accessed through the link on the home page to Strategic Plan Implementation.
To begin, I want to emphasize that one of the points of the diagram shown here is that students are at the center of these initiatives – and of everything we do. The strategic plan is, fundamentally, about student success. The WASC self-study progress is an assessment of how an HSU education benefits students. And the Graduation Initiative 2025 is focused on helping all students be successful by connecting with the University, the community, and each other so that they stay and graduate on time.
Students are at the core of what we do. Educating them is why we get out of bed in the morning.
And so…having students is critical, too, and we need to have predictable student enrollment, both to fulfill our mission and to ensure we have the necessary fiscal support. As many of you know, enrollment is not stable right now, and we're taking a number of immediate steps to address this. You will be hearing more about these soon.
Another effort that is also on track is the search for a Director of the Office of Diversity, Equity, and Inclusion, for which the review of applications will begin in about a week. I think you already know this, but this position will be member of the Cabinet, and we're looking forward to having candidates visit campus the week of March 6.
And I have received the Intercollegiate Athletics Assessment from the Strategic Edge consulting company. The report is linked to the president's page on the University's website, and I will appoint a Task Force in the next week or so to review the options outlined in the report and make some specific recommendations to me about how Athletics can operate within their budget.
The Governor released his proposed budget for 2017-18, and this budget does not fully fund the CSU Board of Trustees' request. This means that the CSU will need to advocate strongly with the legislature to increase the funding to the levels we need – and, in case this doesn't work, the Trustees will be moving ahead with their discussion of a possible tuition increase.
So – please stay tuned for more information about these critical University efforts.
Now, I'd like to ask JULIE ALDERSON, Professor of Art and Chair of the University Senate, to say a few words about how the strategic plan – and a new Teaching and Learning Center -- will help us serve students better. Julie?
Remember: 2 minutes.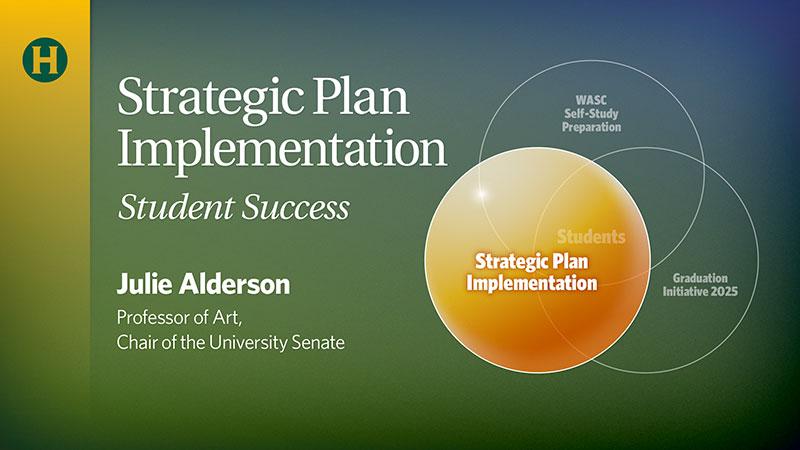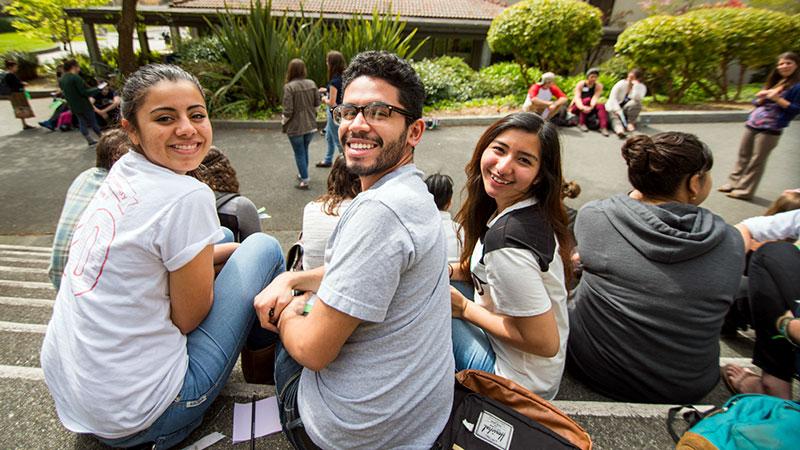 Professor Alderson:
Thank you, President Rossbacher.
If you look at the Strategic Plan Blueprint (on the SP website), Objective 1.3A.6 reads, in part, that we will "Establish a dedicated professional development center for faculty and staff that provides year-round resources and training in…..areas of learning and teaching aligned with campus needs." The Blueprint notes that we will have developed the plan for the Center for Teaching and Learning over summer and fall 2016, and that the Center will open in Spring 2017. We're not quite there yet, but we're really close! If you haven't been up to the third floor of the Library, I encourage you to go check out the renovations that are happening right now to prepare the Center's physical space.
The Instructional Designers have already moved there, and our new Director of Academic Technology, Susan Glassett Farrelly, who will arrive on campus next week, will be housed in that area as well.
We will be hiring a Director for the Center this spring, with the expectation that they will begin work this summer. This semester we will also be searching for our Assessment Coordinator. With further transformation of the Library's third floor, Assessment will also ultimately live in that space.
What all of this will do is provide us with the support we will need to achieve the many transformative goals of the Strategic Plan and Graduation Initiative 2025 – we have a lot of work to do to enhance our teaching and support student learning and success if we are going to achieve all of these ambitious goals. A more coordinated and synergistic approach to thinking about teaching and learning will help us to better understand what we're actually doing, and how we can do it even better.
Please keep your eyes out for the open forums for the Center Director and Assessment positions – these will be critically important hires for us and we will need as much feedback as possible to help us find the best people.
I suspect that "continuous improvement in support of student success" is going to become our mantra, and I'm very excited to be involved in developing a dedicated Center on campus that will focus on this work. It's about time, right?
President Rossbacher:
Thank you, Julie.
Faculty across campus are finding important ways to help students be more successful in their classes. Many, many examples are available across campus. To explain just one of these, I'd like to ask CHRIS HARMON, Professor of Chemistry, to talk about improving student success – one course at a time.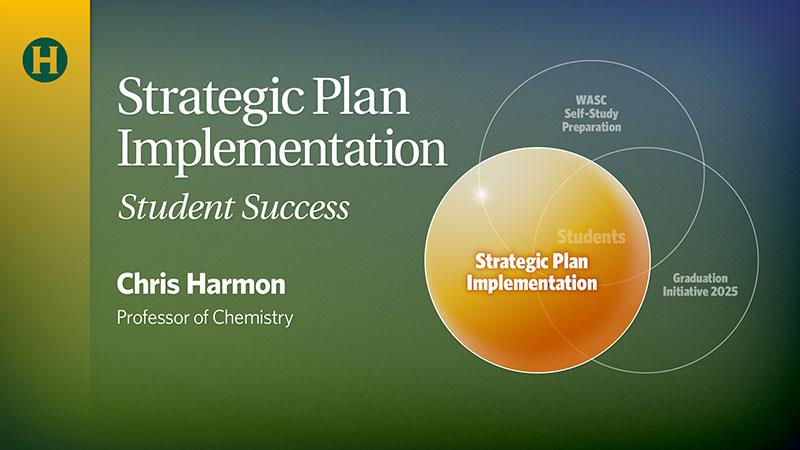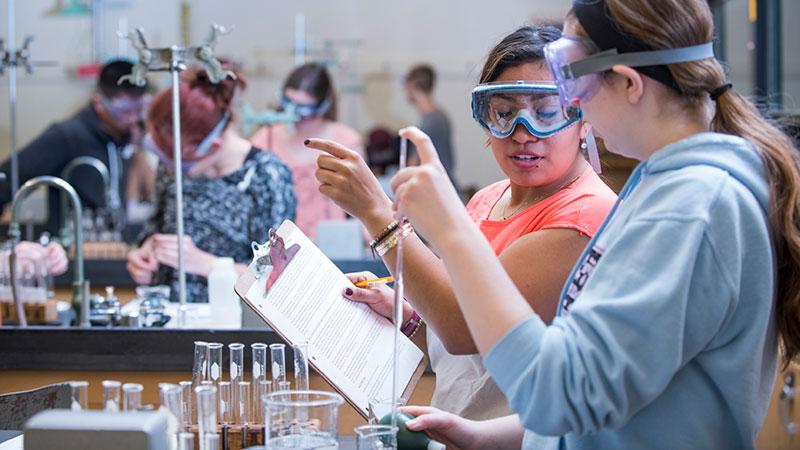 Professor Harmon:
I am here to defend the honor of CHEM 109, a gateway course for most majors in the CNRS that historically has a low success rate. I will define success rate as the percentage of students receiving a C– or above and can therefore move on to CHEM 110, the second course in the yearlong general chemistry sequence. In the 2011 academic year the typical success rate for CHEM 109 was in 50-60% range, which led to the popular saying that the pre-req. for CHEM 109 is CHEM 109. In the fall of 2013 we launched a new version of CHEM 109 and subsequently, several other courses in the program, which involved a multiple semester long process of critically evaluating our content throughout the entire major program. Content from CHEM 109 was re-allocated to not only be consistent with the American Chemical Society's recommendations, but also to even out the rigor and amount of material between the two general chemistry courses, and even upper division major courses.
Additionally, in the fall of 2014 a freshman only section of CHEM 109 and freshman/sophomore only section of CHEM 110 in the next semester was offered, because historically lower division students are the poorest preforming students in the general chemistry sequence, which is a problem because we want those lower division students to finish their chemistry requirements so they can move on in their major and graduate on-time. I'm happy to report that there has been a fairly consistent success rate between 70-80% for all students since the fall of 2013, but more importantly, the number of successful freshman has more than doubled while the number of successful sophomores, juniors, and seniors has decreased – despite the fact that upper division students have success rates in the 80-90% range. We believe this is due to the fact that more freshman are passing CHEM 109 as freshman, and there are simply less upper division students that need to take their chemistry requirements, which means ideally they are able to move on with their major and graduate on-time. Thank you for your time.
President Rossbacher:
Thank you, Chris.
A major component of student success is creating an environment that is supportive of and welcoming to diversity, which is a specific goal in our strategic plan. So is developing partnerships beyond the edges of campus, to ensure we meet these goals.
KUMI WATANABE-SHOCK, Library Media Coordinator, is one of about 15 HSU staff, faculty, and administrators who are involved in an 18-month initiative called the "Equity Alliance for the North Coast." Kumi, would you please share two minutes of information about the goals for this effort and what we can expect to see at the end of next year?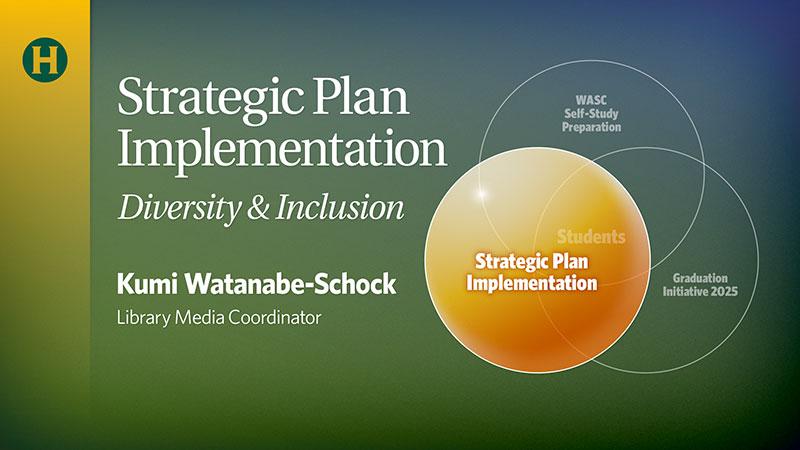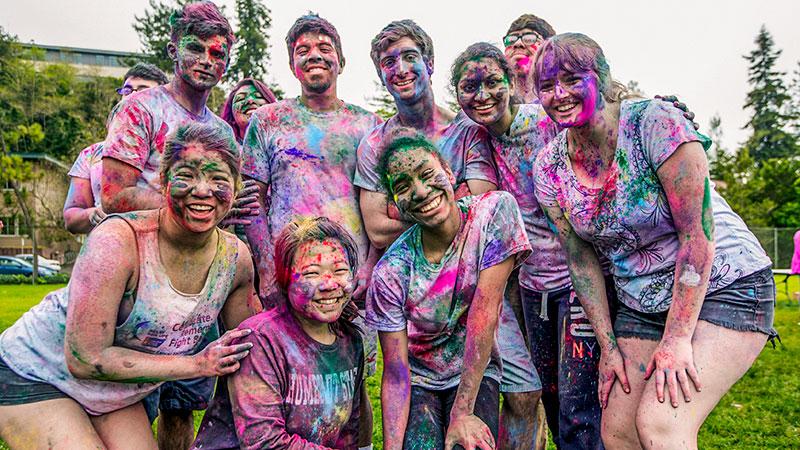 Ms. Watanabe-Shock:
Equity Alliance of the North Coast is an initiative focused on understanding and improving racial and social equity through education, dialogue, and coaching opportunities for organizations and individuals. It was created in collaboration with community partners and Humboldt Area Foundation to embark on a series of community conversations about how to become more inclusive of people who have been marginalized based on race, ethnicity, gender, sexual orientation, religion, disability, and social or economic status.
There are various cohorts of 20+ local organizations and agencies that are participating in this 15-month long initiative. I'd like to introduce our two Equity Alliance cohorts, one consisting of HSU staff and faculty and another consisting of HSU administration and City of Arcata. Would the members please stand up so that everyone can see you?
Each team will be trained to facilitate equity curriculum within our own organization, use a Racial Equity Tool in policy, practice, program, and budget decisions, develop policies and practices that help advance racial equity and finally, develop our own Racial Equity Action Plan.
We plan to use the assessment tools that we are getting trained on to objectively look at issues of Race and Equity on our campus and to make recommendations and implement change to make HSU a better place to work, live and study. Individuals will be actively engaging on campus with these tools in the coming six to ten months, and we look forward to everyone's participation!
President Rossbacher:
Thank you, Kumi.
I want to emphasize that we have lots of examples of our strategic plan implementation. The points that Julie, Chris, and Kumi have made are a couple of examples of the many things that are happening.
As Julie has already pointed out, our self-study process is one of the ways in which we understand ourselves and demonstrate that we're successfully "doing" what we say we want "to do." ROCK BRAITHWAITE, professor of Kinesiology and Recreation Administration, is leading the self-assessment. Rock, would you please say a few words about how students benefit from our undertaking this self-study?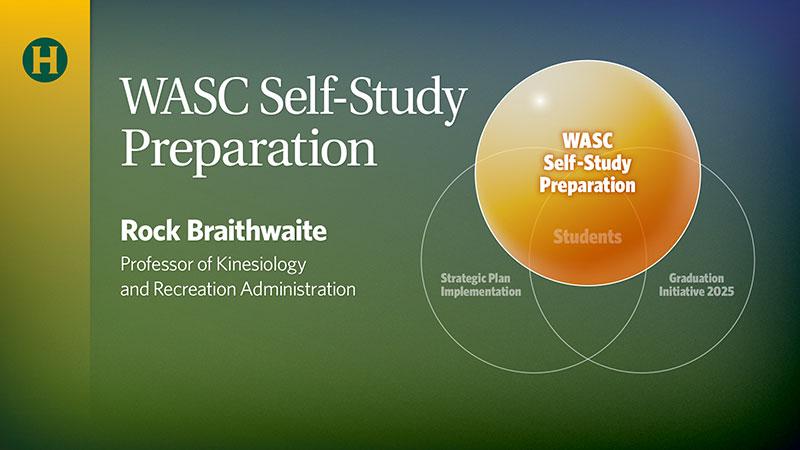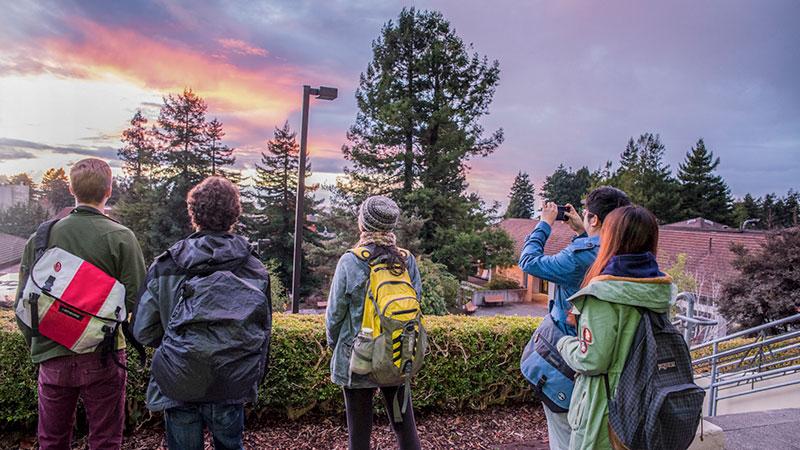 Professor Braithwaite:
Before I continue, I would like to have members of our Steering and Self-Study Committee stand and be recognized for their significant contributions to our reaffirmation process… Our reaccreditation process provides us with an opportunity to both externally and internally validate how we are serving our students. External validation is WASC's confirmation of our efforts to address previous recommendations by improving student success. Internal Validation is our continuous improvement process that is analogous to a "mirror" …from a distance our reflection reveals a sight to behold, however, as the mirror comes closer details that might not be as flattering come into focus.
In May of 2016, HSU's Steering and Self-Study Committee published our recommendations to campus on how to address the WASC's 2010 Site-Visiting Team report. Our first recommendation to campus included a 6-step continuous improvement process that would serve as a guide to evaluate how each unit on campus contributes to student learning and success.
The continuous improvement process provides an impetus for our campus to respond to the changing student body and society by being aware of both individual and group needs. It will also us to implement learning structures that help students develop the necessary knowledge and skills needed for current and future success. Using our "mirror" (continuous improvement) by bringing it (the mirror) closer will allow us to critically evaluate how we reflect on our student's achievements and "close" the feedback loop to facilitate change.
President Rossbacher:
Thank you, Rock.
One of the many people who are helping write this important self-study document is JOSEPH DIÉMÉ, Professor French and Francophone Studies in the Department of World Languages and Cultures. He is one of the co-authors of the Chapter on Degree Programs – Meaning, Quality, and Integrity. Joseph, would you please tell us about how students benefit from the assessment you and your colleagues are doing?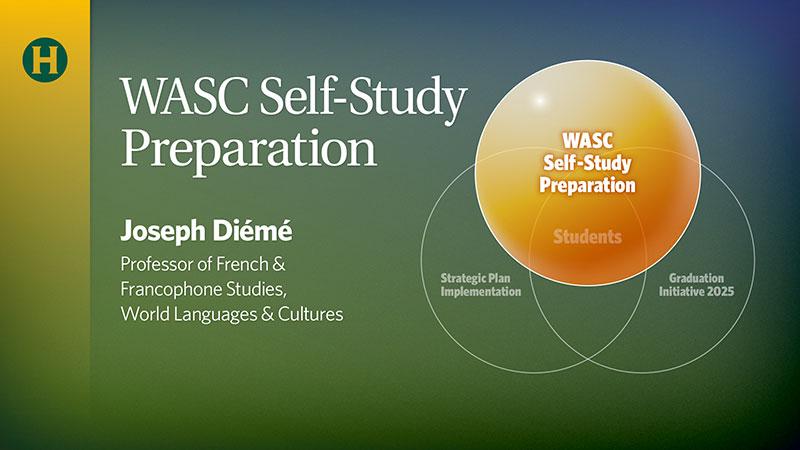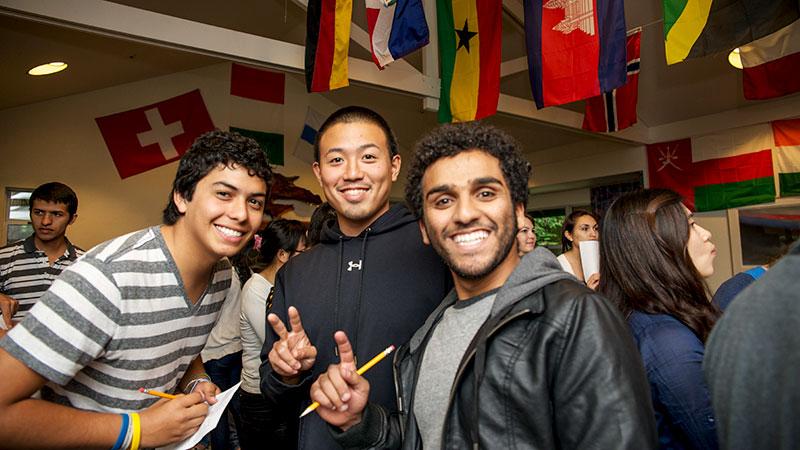 Professor Diémé:
We view our component of the WASC narrative as an introduction to the later sections in the report.
We've identified four themes, which HSU is known for:
The HSU Community as a destination campus
Hands-on learning and individualized instruction
Fostering Social responsibility
Promoting Environmental responsibility
These themes developed organically over multiple decades; we are simply hoping to formalize the HSU experience, such that the curriculum for all undergraduate students include these four components.
Each of these four themes contributes to student success in different ways. Many of our current programs include some or all of these themes, but many do not include all of them. These themes will eventually be an integral part of the baccalaureate degree implementation, either through the program curriculum, GE or all university requirements.
Short-term goals:
Students will be engaging in curriculum that is important to them.
Increase retention through place based learning communities.
Long-term goals:
Provide HSU graduates with a distinctive experience by way of these four themes.
Prepares them to be global citizens in the 21st century.
President Rossbacher:
Merci, Joseph.
Another contributing author of the WASC self-study report is ADRIENNE COLGROVE-RAYMOND, director of the Indian Tribal and Educational Personnel Program, or ITEPP, the Native American Center for Academic Excellence. Adrienne is part of the team writing the chapter on student success, which includes Learning, Retention, and Graduation. You see how these three initiatives overlap? Adrienne, would you please say a few words about how we will be able to improve student success as a result of preparing this report?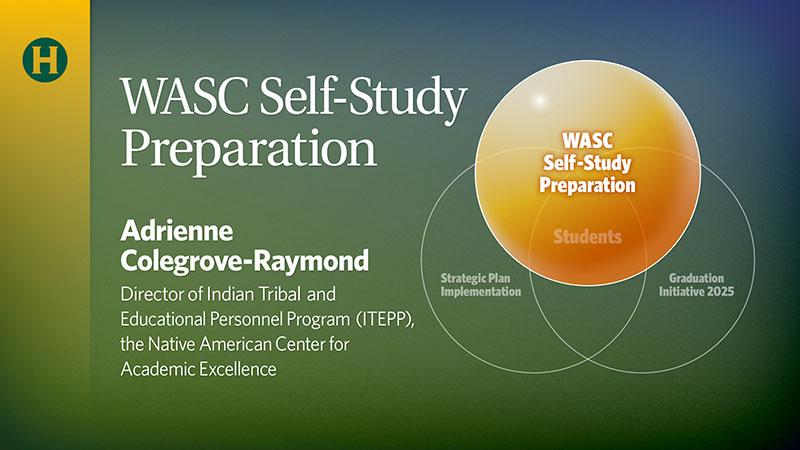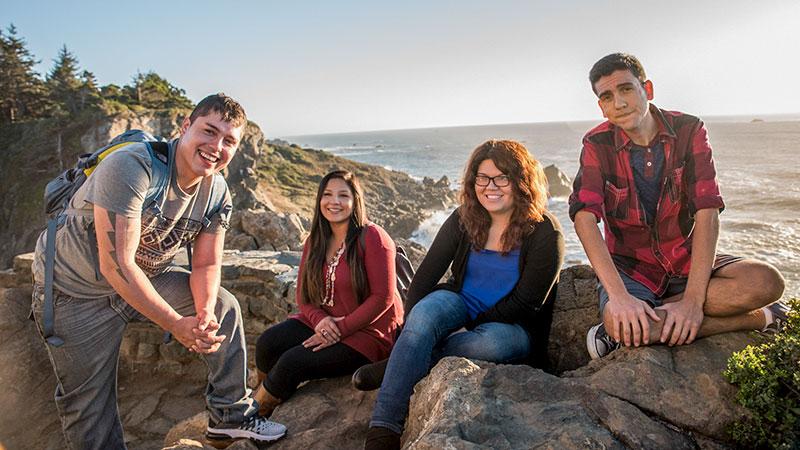 The WASC self-study process will be immensely important, particularly in regards to student success (high quality learning, retention and degree completion). Ideally students will be prepared for success in their personal, civic and professional lives.
The self-study report will provide us with a clear reflection of our mission, values, programs, and most importantly the characteristics of the students we are serving.
The report will focus on several areas:
Disaggregated data on how student success (learning and completion) is promoted amongst the diverse student populations
How we are utilizing program review and assessment infrastructure to improve student success.
Highlights of programs that are effective in retaining and graduating majors.
Areas of improvement – with goals. And, most importantly a timeline and implementation plan.
President Rossbacher:
Thank you, Adrienne.
The third major effort is the Graduation Initiative 2025. ALEX ENYEDI, Provost and Vice President for Academic Affairs, is leading this project, which has ambitious goals to increase the retention and graduation rates, as well as eliminating differences in achievement levels for students who are from traditionally underrepresented groups or who are Pell-eligible. Alex, in two minutes, would you please share a few examples of things we are doing that are new or different to meet these goals for 2025? Two minutes.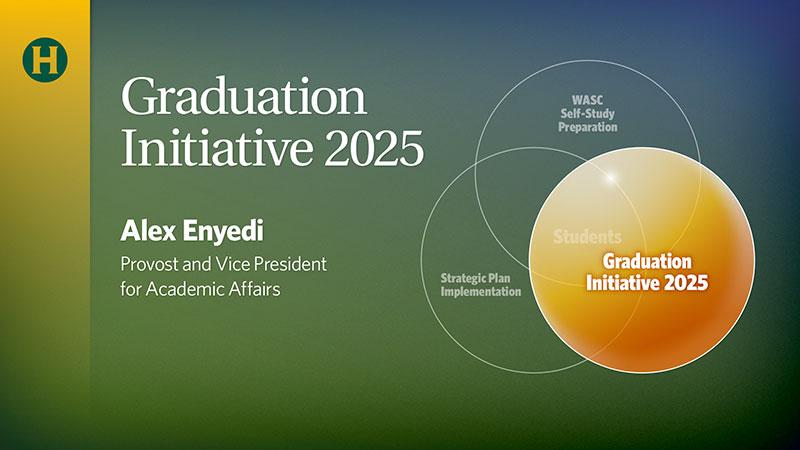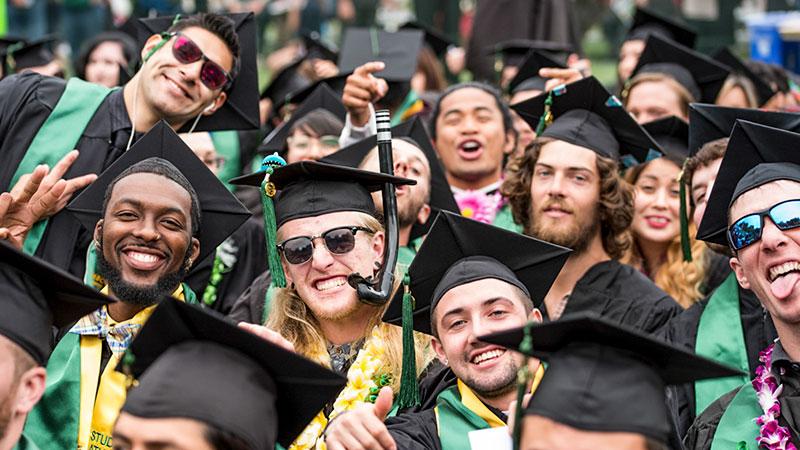 Provost Enyedi:
The Graduation Initiative 2025, or GI 2025, is a high priority of Academic Affairs this current academic year and represents the System's commitment to remove obstacles to student success, enabling students to attain their educational goals.
The major goals of the initiative include:
Increase the number of baccalaureate degree holders in California.
Ensure that students traditionally underserved by higher education have an opportunity to achieve success and reach their potential.
Reduce the time to degree and lower student debt.
So, how are we doing this? At HSU, measures are being implemented this year to support students throughout the entire matriculation pipeline—from application to graduation.
The GI 2025 team at HSU includes sixteen enthusiastic staff, faculty, students and administrators – this group began from the Reimaging the First Year Super Team that's been leading our RFY efforts…the GI 2025 team includes Kathy Thornhill, Tracy Smith, Dale Oliver, Mary Glenn, Radha Webley, Matt Johnson, Allison Holmes, Steve St. Onge, Peg Blake, Lisa Tremain, Jason Jones, Kim-Vincent Layton, Laurie Richmond, Rama Rawal, Lin Pham, and myself.
At HSU, the specific GI2025 goals include doubling our current 4-year freshmen graduation rate to 30% and elevating the 2-year transfer graduation rate to 38%. But most importantly, our GI2025 work will strive to eliminate the achievement gap among all students. This is our moral imperative.
At the moment we are in Phase 1 of the GI2025 work, with significant efforts underway to leverage the power of place-based learning via the Klamath Connection – a program that helps first-year students quickly establish a strong sense of community and reinforces HSU's commitment to their success.
This year will see the expansion of place-based learning programs to include "Stars to Rocks" in the Physical Sciences and the development of "Global Humboldt" by the Arts/Humanities faculty.
Other Phase 1 activities include improved first-year math placement using an artificial intelligence software package (ALEKS), providing Growth-Mindset modules on-line prior to enrollment, and tactical DARS analysis to identity and notify students who are on the cusp of graduation. To support the "cusp" students, we are offering 10 additional class sections this semester that have now enrolled 481 students. Another 10-12 extra classes are planned for the fall of 2017.
With GI2025 funding we will purchase CurricuLog, a tracking software program to streamline the ~500 curricular changes/modifications that occur each academic year. We are also looking at the establishment of meta-majors – this will help students align sooner with an area of focus, and provide greater program flexibility should there be a change in major.
Finally, the Office of Institutional Effectiveness has unleashed a new analytic tool to precisely track the flow and migration of each student in and out of every academic program at HSU. With this tool, we can see the matriculation progress of students and identify impediments, such as bottleneck/gateway courses, that slow progress to degree attainment.
Overall, the GI2025 is a wonderful way to ensure our students have the access and opportunity to succeed through education. Phase 2 planning begins later this semester and we will strive to seek wider input and participation in this effort.
President Rossbacher:
Thank you, Alex.
The last person I'm going to hand the microphone to is TRACY SMITH, Director of the Retention through Academic Mentoring Program, or RAMP. Tracy is involved in collaborative efforts to reimagine the first year for our students, and she is a strong advocate for the power of personal connections in making students feel welcome – and potentially affecting the course of their academic careers. I'd also like to ask her to say a few words about how every one of us can make a difference in student success.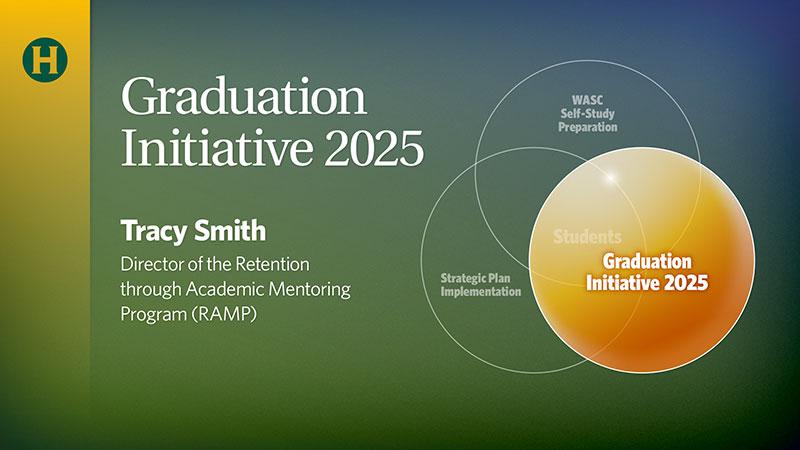 Ms. Smith:
I'm certain that many of you have memories of student success stories. I have the good fortune to share one such story this morning.
The student I will talk about began her career in the fall 2015 semester; brand new freshman, just graduated high school the spring before. She just completed her third semester this last fall. The student has two jobs - one on-campus, the other off-campus and she works about 15-20 hours per week between the two.
Last fall, after the first round of exams, she told her on-campus job supervisor that unfortunately, she had desperately failed one of her exams and it was a class needed for her major. She also shared this with her academic advisor. She shared this with her peer colleagues who worked in the office with her. One of those peers (a total rock star herself - graduating this May) invited the student to go with her to the Friday lunches at the INRSEP house.
It must have been a consensus among all these conversations that the student had to go see the professor of the class whose exam she had failed. And so, she did. She was scared. I imagine she was feeling all kinds of stereotype threat as she knocked on that door. But she did it. And she went again and again. Ultimately, she went to see her professor nearly every week for the rest of the semester. She got so comfortable with him that by the end of the semester she was casually referring to him by his first name.
What was the outcome? Yes, she turned her grades around and finished the course with a strong grade. For me, though, the success is what has happened to her. She has turned the corner. I don't know that she would use these words, but she is living the "growth mindset" and she has internalized the "malleability of intelligence". There is no turning back now and you can see it in her eyes.
So how did this happen? I wasn't privy to each of the conversations, but I have a strong suspicion that each of the people she spoke with - her supervisor, her academic advisor, her peers, staff at INRSEP, and the professor, all of whom shared multiple perspectives, a variety of lived experiences, etc. offered something similar in their conversations. And that is, they listened first. They listened intently, deeply and with humility. And then they talked, thereby allowing the student to find her own resolve and ability to face this struggle such that this skill will be transferable to the next challenge and struggle.
She is a success and will continue to be a success.
Have a great semester everyone and thank you!
President Rossbacher:
And thank you, Tracy.
So the points I – we – want to emphasize here are that we have lots of activity across campus in implementing these initiatives. These have only been a few examples. Many people from across campus are involved. There's room for everyone's involvement. And it all focuses on students.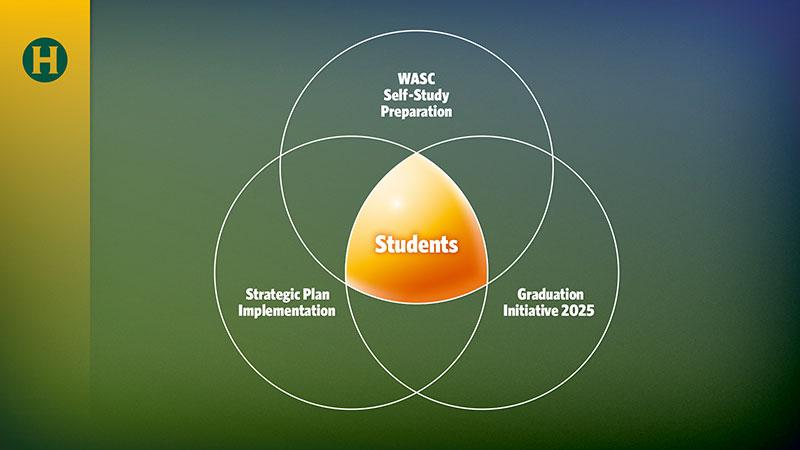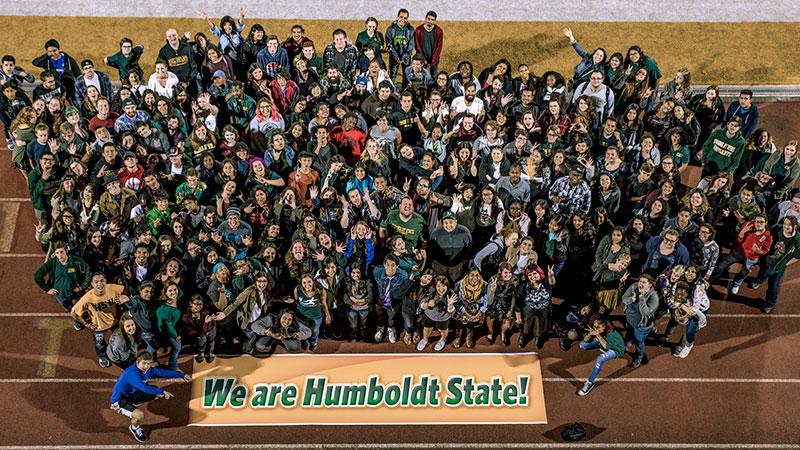 Thanks to all of you who have offered a few comments this morning – and to all of you who are involved in some aspect of these initiatives. I appreciate your focus on students, your engagement, and your sharing some perspectives.
Part III: Staff Recognition awards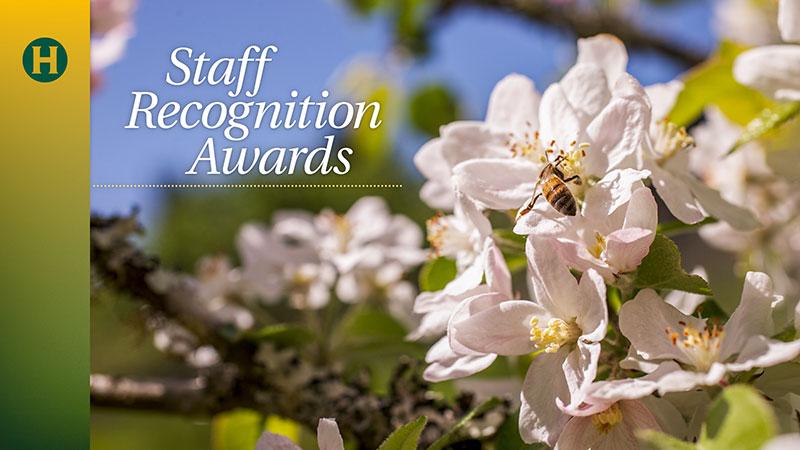 The third part of this morning's session is the Staff Recognition Awards.
The outstanding faculty awards for this year have already been announced, but I want to mention them again.
Professor Alexandru Mihai Tomescu, Department of Biological Sciences, Outstanding Professor Award recipient.
Professor Noah Zerbe, Department of Politics and interim Dean of Arts, Humanities and Social Sciences, Outstanding Service Award recipient.
Lecturer Loren Cannon, Department of Philosophy, Excellence in Teaching Award recipient.
Mihai gave his public lecture in the fall. Loren's lecture is coming up on March 6, and Noah's on April 24.
I am now very pleased to present the Staff Recognition Awards, a program over two decades old that recognizes meritorious staff members. The Staff Council reviews nominations and makes recommendations on these awards. Many outstanding staff members were nominated, and 10 individuals are being recognized this year. Thanks to all of you who took the time to nominate a colleague. Besides receiving a cash award, the winners will be honored in additional ways this semester.
I will introduce each of the winners with comments from their nominators and ask them to come forward.
"This first staff member is that person who is behind the scene, makes sure everything is in place ahead of time, and successfully handles all of the logistics of events and programming for the Cultural Centers. She enjoys working with students, and always puts her heart into it. One colleague commented, "I'm not sure how she manages five jobs, with at least five budgets, and hundreds of students, but she does. She always has a smile on her face, and she is able to overnight most anything."
Administrative Support Coordinator for Cultural Centers for Academic Excellence - Amanda Staack
"The next award recipient is described as engaged, diligent, thorough, communicative, and obviously trying to take very good care of us. No one can remember a time when our buildings have been this clean - or even close to this clean! There have been many morning conversations since he became our custodian that start out "Did you see the great job he did with the (fill in the blank)." His thoughtful and proactive approach to his work has resulted in the correction of problems with automatic door locking times, more effective approaches to dealing with the inevitable daytime coffee spills, the creation of a new student study space, and our confidence that Fulkerson Recital Hall and the Music Buildings are clean and welcoming spaces for campus visitors."
Custodian of the Music Buildings – Chris Rutter
"The next recipient is known as a stellar employee, who manifests a positive outlook in her daily presence in Housing & Residence Life. She handles daily and long-term tasks with a smile on her face, always presenting a positive attitude even during difficult assignments. She is a staff member the University is lucky to have, for her volunteerism at campus events, her networking with almost every office on campus for project coordination, and her integrally involving campus partners on our annual Welcome Home to Humboldt move-in days for student residents. She is continually looking forward to what she can do next to help contribute to student success for our students in Housing & Residence Life."
Administrative Analyst - Elizabeth Tellez
"This staff member is the behind-the-scenes machine; she gets the job done without looking for recognition. She has helped put HSU on the map with the Klamath Connection program, bringing to life what it means to be a hands-on and place-based learning university. She works single handedly to organize, facilitate, manage, and direct 123 incoming freshmen (and their parents), 24 faculty, 16 student-mentor staff, and a STEM Vista employee. She also collaborates with many HSU departments, the surrounding community, local tribes, and the CSU Chancellors Office. The work she does is completed with care, dedication, compassion, patience, and determination to make the program run smoothly so that the students get the best experience possible. One of her colleagues summarized: "Kat is AWESOME!""
STEM Collaborative Coordinator for the Klamath Connection - Katlin Overeem
"As a coordinator, this staff member effectively and cheerfully serves as liaison among student clubs, faculty, publishers, vendors, and librarians. When she is not expertly managing media, her exceptional organizational skills and talents are so well known and respected across campus, she is enthusiastically enlisted, and she volunteers to plan events both small and large. She has flawlessly arranged countless book circles, film screenings, KHSU interviews, and author's talks. Whether she is arranging changes to a speaker's itinerary, printing and distributing event flyers, or juggling the scheduling intricacies of an event, she remains amazingly calm, efficient, and committed to the success of the endeavor. Her friendly collegiality, and can-do attitude, no matter the circumstance, reflects the best of the HSU spirit."
Library Media Coordinator - Kumi Watanabe-Schock
"This staff member handles challenging work conditions like a captain sailing through rough storms. For example, every year, she heads the task of organizing the GWPE (Graduate Writing Proficiency Exam), just one of the many job assignments that she has taken on and conquered with much admiration from those who work with her on a daily basis. She is that employee who does a job that is almost never viewed with excitement. No one comes in to the Testing Center happy they are taking a test, and, despite the negativity associated with exams, she has found a way to try and make the service as painless as possible for our students, for our faculty, and for our community members. She keeps the Center running smoothly and has helped establish new innovations to make it more efficient and even more reliable."
Testing Center Coordinator – Maricela Escalante-Torres
"The next staff member is described as the glue that keeps their departments together. While many administrative support coordinators focus on one department, she manages three. In addition to providing stellar support to the staff in all three areas, she is also constantly focusing on students' needs, and she understands that each student who enters the offices will have unique requests. She emphasizes honoring those requests in an inclusive way. She consistently puts the other staff and students before herself. She serves as an anchor for the team in Academic Advising, Career Advising, and Community-Based Learning, "
Administrative Support Coordinator – Shannon Berge
"Given this staff member's outstanding and innovative leadership, it is clear that she has shaped our University community in enduring ways: She developed the campus Consent Project, helping to enable survivors of all genders to find spaces to articulate their paths of healing and personal and societal transformation. She also developed an innovative peer health education program, helping students craft healthy lives through self-love and self-respect. She supervises the Oh Snap! Program, which helps provide students with food security and a connection to transformative resources on campus -- and she even developed an app for the program. During her time as a student and staff member, she has demonstrated dedication, compassion, and a drive for social justice, whether it's the anti-violence movement or addressing other individual or institutional inequalities present in our communities. "
Health Education Assistant – Ravin Craig
"This staff member has supported the professional development and empowerment of hundreds of students. By guiding and teaching student mentors how to effectively mentor, she has indirectly touched the lives of well over three thousand freshmen. Teaching people how to "be" with people, in a way that empowers everyone, is her gift. The contributions, dedication and passion she has devoted to RAMP, the Retention through Academic Mentoring program, are innumerable. Her creativity and uncompromising tenacity to do right by the students have created an amazing experience for hundreds of them. We sometimes hear the phrase, "anyone is replaceable" – but not so with this person. She is in fact irreplaceable, and HSU is beyond fortunate that she is part of our campus community."
RAMP Coordinator – Sarah Bacio
"And the final recipient today has served for 25 years. Over that time, this staff member has proven herself to be an indispensable staff member at HSU. As the Administrative Support Coordinator for multiple departments and programs, she has consistently shared her experience and talent across the university. She is the driving force behind the establishment of a mentorship program for ASC's at HSU. She is one of the key "go to" people in the College when staff members have a question. In addition, she genuinely cares about the welfare of our students. She exemplifies outstanding knowledge, professionalism, approachability, and a willingness to go above and beyond to ensure that the work is done. She is the consummate colleague, exceptionally generous in her support of others, and extraordinarily gracious in her relationships with staff, faculty, and students."
Administrative Support Coordinator, Department of History, Department of Politics, and for the International Studies BA and Environment and Community MA Programs - Linda Wilson
Congratulations to all of you. And thank you for your many contributions to HSU. We'll plan to take a group photo when we have lunch together, later this semester.
So – we have welcomed and been welcomed -- and congratulated faculty and staff for longevity of service this morning. We have caught up on some of the on-going initiatives on campus. And we have presented the 10 staff recognition awards. It's a good start to the day and the semester.
So, let's have one final round of applause for all of these staff award recipients, in honor of our students, and in celebration of a new semester!
Thanks for being here this morning.