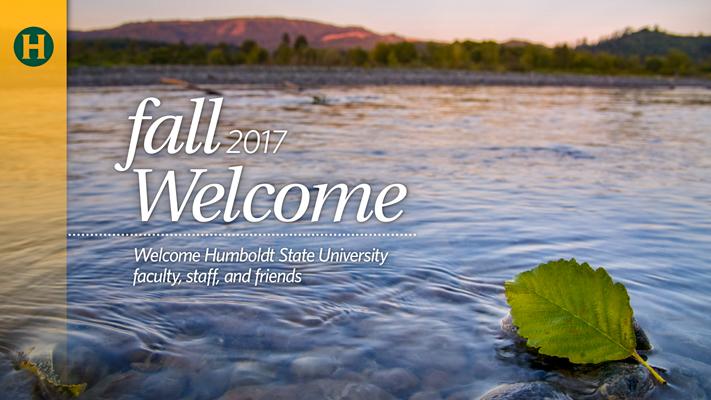 Welcome to the start of fall semester 2017!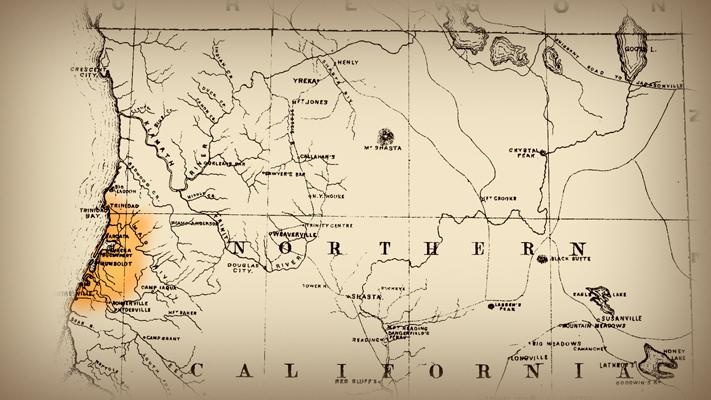 I want to start this welcome by noting that the land where Humboldt State University is located is part of the ancestral homeland of the Wiyot people – and that the Wiyot were here over a thousand years before this University was founded.  Because so much of the education that is offered here is characterized by a sense of place – this place -- acknowledging the history of this land and our indebtedness to the Wiyot people is important. 
I was very pleased that Chairman Ted Hernandez, of the Wiyot Tribe, was on campus Tuesday evening to welcome our new students to this land, to his home, and to their new home.
The Wiyot people have lived on this land from time immemorial.  One of my favorite stories from this past summer comes from Adrienne Colegrove-Raymond.  Adrienne is the Coordinator for ITEPP, which stands for the Indian Tribal and Educational Personnel Program, which is the Native American Center for Academic Excellence.  Adrienne also serves as Director of Elite Scholars.  She is a member of the Hoopa Valley Tribe, and her story is about trying to explain to her six-year-old granddaughter what "time immemorial" actually means. 
"You know," Adrienne said, "a really long time.  Really, really long.  Like, forever." 
"Oh," said her granddaughter, "You mean we were here in the '80's?"
Thank you, Adrienne, for letting me tell that story.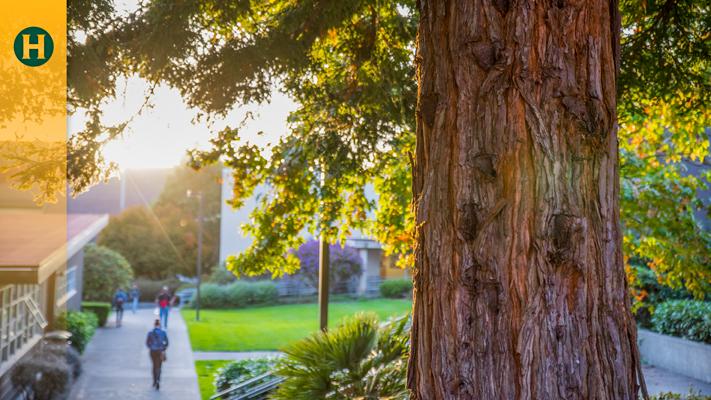 I want to thank Kellie Jo Brown, our campus photographer,
for the wonderful images that contribute so much to this event, and Hugh Dalton, who prepared and organized the slides.
The music you've been enjoying is from the Humboldt State Calypso Band, directed by Dr. Gene Novotney, featuring guest soloists Ray Holman and Liam Teague. 
I would like to recognize two Humboldt State presidents emeriti who are with us this morning: Dr. Alistair McCrone and Dr. Rollin Richmond. Thank you both for developing the foundations of the University that we are building on today.
I also want to acknowledge the CSU Employees' Union members and supporters who are wearing blue t-shirts today.  You are focused on demonstrating solidarity without disrupting the University's operations, and I want to recognize that and express my appreciation.  Thank you. 
Here's a special welcome to all the new members of our University community.  You saw information about new faculty and staff in the slide show that was playing before this event, and I am thrilled by the experience, perspectives, and energy that all these people are bringing to campus.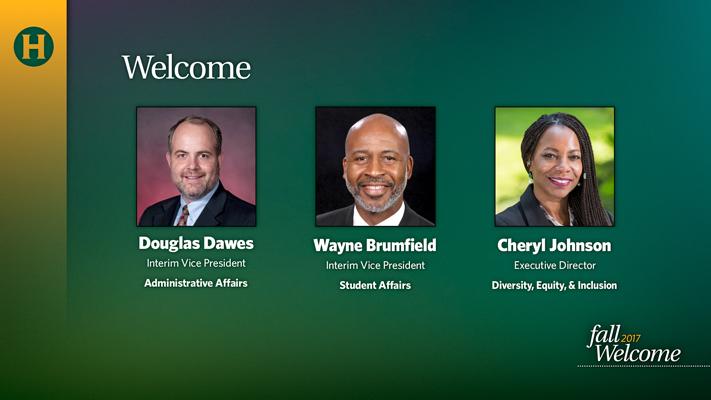 We have several new members of the University's senior leadership this fall.  These appointments have been announced previously, but I want to welcome them officially today.  Doug Dawes is the interim Vice President for Administration and Finance, and Dr. Wayne Brumfield is the interim Vice President for Student Affairs this year.  Dr. Cheryl Johnson is the Executive Director of Diversity, Equity, and Inclusion.
Doug is at a meeting of the CSU's Chief Business Officers at the Chancellor's Office in Long Beach, but Wayne and Cheryl are both here.  Welcome to HSU.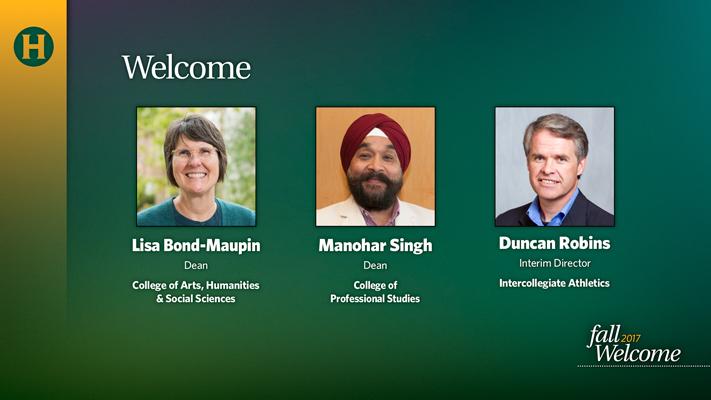 In addition, two new academic deans have joined us this fall:  Dr. Lisa Bond-Maupin is the new Dean of the College of Arts, Humanities, and Social Sciences, and Dr. Manohar Singh is the Dean of the College of Professional Studies.   They join Dr. Rich Boone, in the College of Natural Resources and Sciences, who came to HSU a year ago.  Duncan Robins is the interim Director for Intercollegiate Athletics.  And, as far as I know, all three of them are here.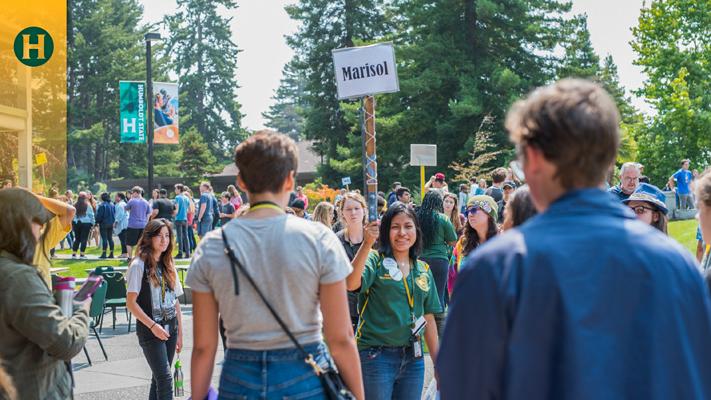 Of course, we've been welcoming students back to campus all week.  Thanks to all of you who helped with traffic, registration, advising, way-finding, box-carrying, and helping in a wide variety of ways.
In addition to welcoming students and new faculty and staff to campus, we also welcome many others who have become part of our community over the last year.
Would everyone – faculty and staff -- who has joined us since fall welcome in August of last year please stand up?
Those of you who are returning or continuing on campus this fall, welcome back to you, too.  And please join me in making our newest colleagues feel included and welcome.
This may seem like a lot of change, and I acknowledge that this can be unsettling, but change is our way of life right now.  We are serving students in new and different ways, and we are moving forward together.  All of these new colleagues are joining us in building on the work that has happened to date.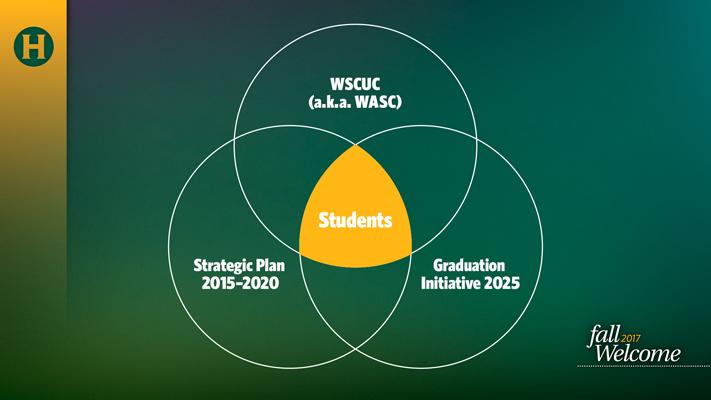 Many of you will recognize this Venn diagram, showing how the three major drivers for our recent activities intersect.  As I will highlight in a minute, the divisions between our reaccreditation efforts, the Graduation Initiative, and the strategic plan are not neat separations.  The individual initiatives have considerable overlap, but look where these three areas of focus come together.  Those are our students.  They are at the center of what we do.  Students are our purpose and our mission.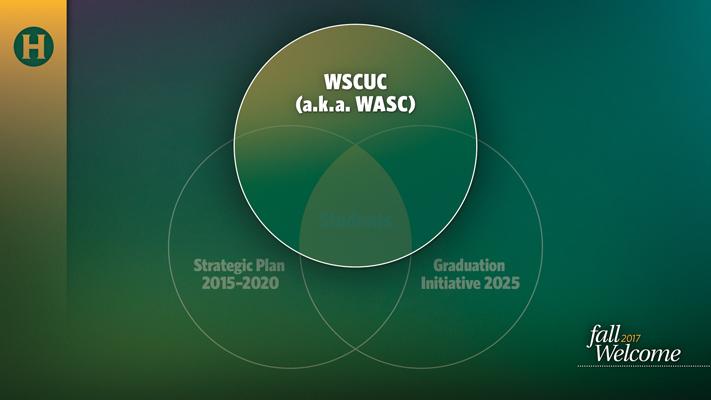 As part of our institutional accreditation, HSU undergoes an institutional review every decade or so to validate the quality and coherence of the education we offer.  Regional accreditation is a way that higher education monitors itself, and preparing the self-study is an important way that we can hold up a mirror to ourselves and assess how we are doing.
A small number of very dedicated people worked very hard over the summer to finish drafting the institutional self-study and submit it to the organization formerly known as WASC – which is now the WSCUC, which stands for the WASC Senior Colleges and Universities Commission.
Our report was written, edited, formatted by Marketing and Communications, and submitted on July 19.  This WSCUC institutional self-study report is posted on HSU's website, and the site includes a link to provide comments.
In October, the WSCUC review team will meet in an undisclosed location to discuss our report and to draft its responses, and about October 17, we will receive the "lines of inquiry" from the review team…which is a nice way of saying, "We've got some questions."  We'll have a chance to respond and provide additional information, in response to those inquiries, and the review team will visit campus next spring, on March 21 and 22, 2018.  The Commission will take action on reaffirmation in summer 2018.
In mentioning this today, I am not just providing information.  This is a call to action.  Please read the self-study – if not now, then at least before the visit next March.  You can be sure that I will remind you at the Spring 2018 welcome, too.
This is really important.  When the visiting team comes to campus, they can randomly stop any one of you and say, "Hi.  I'm on the visiting team for WSCUC.  Tell me about your role in preparing the institutional self-study report."
The correct answer is not "What's WASC?"  Nor is it "What report?" or "I ran the other way." 
On campus last year, we had multiple open forums, working sessions, opportunities to comment, chances to review and edit, and updates to various groups, including the University Senate. 
Even if your answer is only, "I had multiple opportunities to participate in preparing the report, and I have great confidence in my colleagues who had leadership roles in this effort," that will help. 
"What self-study?" will not help.  Please read the report. 
And stay tuned, because this will be a continuing focus of energy in the spring semester.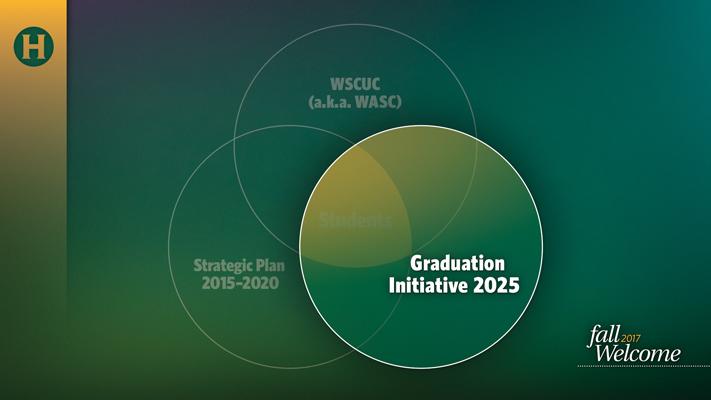 The Graduation Initiative 2025  and our strategic plan goal #1 are all about student success. 
As a community, we have multiple definitions of student success.  These include helping students find what they are passionate about in their lives, in their discovering new ideas and new ways of looking at the world, and in preparing them for leadership roles in a changing, global, and increasingly technological environment.  Those are all important.
But this table shows the definitions that are being used by the Chancellor's Office, the Governor, and the Legislature as part of the Graduation Initiative 2025.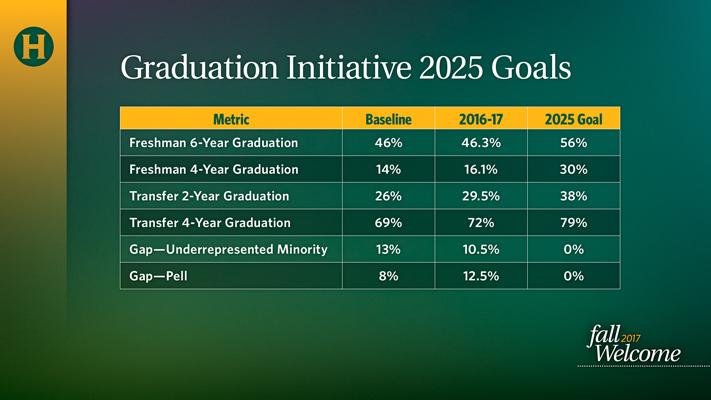 This table illustrates our goals – and our current status.  Although we haven't made all the progress that we want – or need – to, we can see that we have made some progress in almost every area – in both increasing the graduation rates and decreasing the achievement gap. 
This is the terminology being used by the California State University.  Referring to the "achievement gap" seems to be a deficit model, and so we tend to think about this as an opportunity gap or an access gap.  Nevertheless, these are the CSU's terms and metrics.
As you can see, we have improved our four-year and six-year graduation rates for first-time, full-time freshman – although these changes are small.  We have also increased the two and four-year graduation rates for transfer students.
We have reduced the achievement gap -- or the opportunity gap – for traditionally underrepresented groups, with a goal of zero difference.
One place where we have not improved is in reducing the achievement gap for our Pell-eligible students.  
This category is used as a surrogate for low-income, and last fall's student population here at HSU was identified as 56% low income.  This trend is headed the wrong direction.
However, I would point out the data shown here for 2016-17 are for students who first enrolled in 2010, which is just about the time that our demographics started changing, and we were starting to learn about how to help make this new student population successful. We've learned a lot in the last six years, and we need to keep utilizing that information to continue improving student success           
This fall, overall, 44% of our students are from a traditionally underrepresented group.  And this fall's first-time undergraduates are 54% from traditionally underrepresented groups.
To emphasize the good news here, I want to acknowledge that these improvements have happened because of a lot of focused effort.  Specific initiatives have included modifications in advising, curricular changes, expanding the First-Year Experiences, including the Klamath Connection and Stars to Rocks, and increased student support.  Thanks to all of you have contributed to these efforts.
We still have work ahead of us. 
We still need to create an effective strategic enrollment plan, coordinate and improve advising, tutoring, and supplemental instruction, continue to expand the first-year experience to all students, increase course availability, streamline curricular pathways, and eliminate bottleneck courses.  We'll all have a role in those efforts, too.
The Graduation Initiative report from last April is posted on the HSU website, and I encourage you all to take a look at it.  The report is an excellent of summary of both what we have done and what we still plan to do.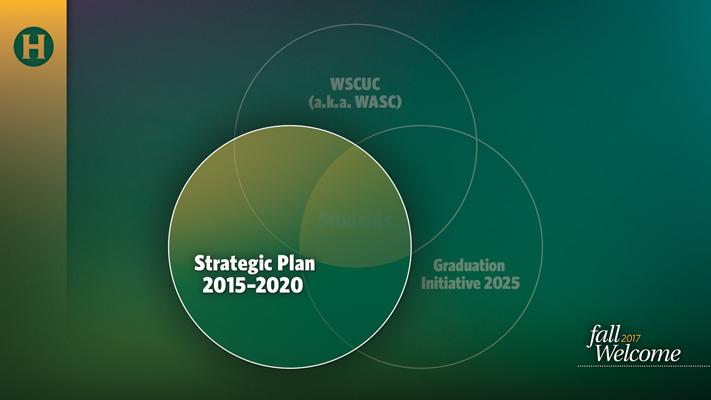 The third guiding initiative is our strategic plan, which we endorsed two years ago.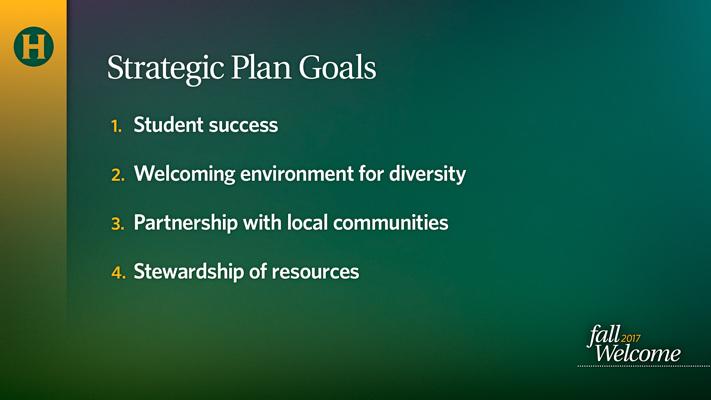 As we look at the goals in our strategic plan, Goal #1 – student success -- is really the Graduation Initiative 2025, which I've just talked about. 
Goal #2 is about diversity, social justice, and creating a welcoming, supportive, and inclusive environment.  This goal reflects the deeply held commitment at HSU about social justice and the importance of diversity, but it developed a new urgency at the end of spring semester, when HSU student David Josiah Lawson was murdered at an off-campus party.  That tragedy also expanded the issue into the community, beyond the edges of campus.
This goal has a different kind of immediacy now, after the events of last weekend in Charlottesville, VA.  I'll come back to goals three and four in a moment, because I want to say a little more about this topic.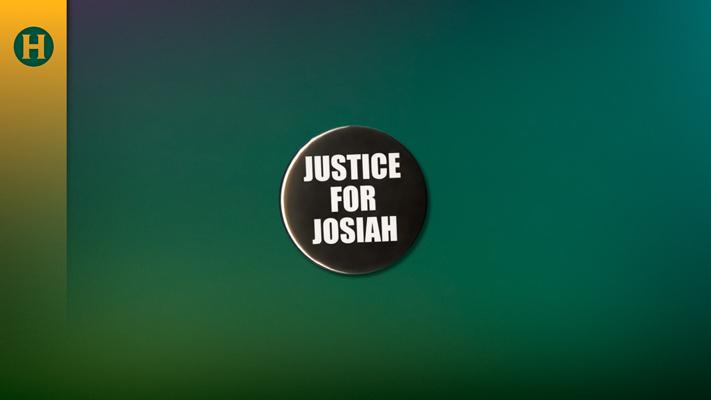 After four months, the investigation of Josiah's murder continues.  The chief of the Arcata Police Department, Tom Chapman, told me last week that the investigation into Josiah's murder is ongoing.  New witnesses have come forward, and forensic evidence is being returned.  The investigation is open, active, and will continue until the case is resolved.  This is a criminal justice matter, and we all need to be patient as it continues.
As I have thought about this, I see the concept of Justice for Josiah playing out in a couple of different ways.
One of these is finding the person who committed this murder.  That will help bring closure, and perhaps ultimately healing.  This will be an important step to enable all of us to move on.  The family and Josiah's closest friends, in particular, need this, but our community does, too.
But I also understand justice playing out on a much larger scale.  Justice for Josiah is also about creating an environment – a place – that is characterized by respect, understanding, support, justice, and racial and social equality.  I give Peter Fretwell, the General Manager of KHSU, credit for getting me started thinking about this larger picture.
So when I think about Justice for Josiah, I see several dimensions, including the work that all of us can do to increase justice on campus and in our community.  
I will be sending out a message to campus tomorrow, via myHumboldt, that describes a wide range of activities that are in progress, both on campus and with the City of Arcata, to move us toward racial equity.  You will find that it is a long message, but many activities are happening.  Examples include Equity Arcata, the series of meetings scheduled this fall for HSU's Police Chief Donn Peterson and Arcata Police Chief Tom Chapman to meet with students,
the new Center for Teaching and Learning, whose website is now live, KHSU's initiative on "Voices of Diversity," the Equity Alliance of the North Coastal housing attorney to work with low income students who suspect they may be subjects of housing discrimination, and the Arcata Public Safety Task Force.
These activities include opportunities for everyone who is interested to become involved.
Please look for that message tomorrow.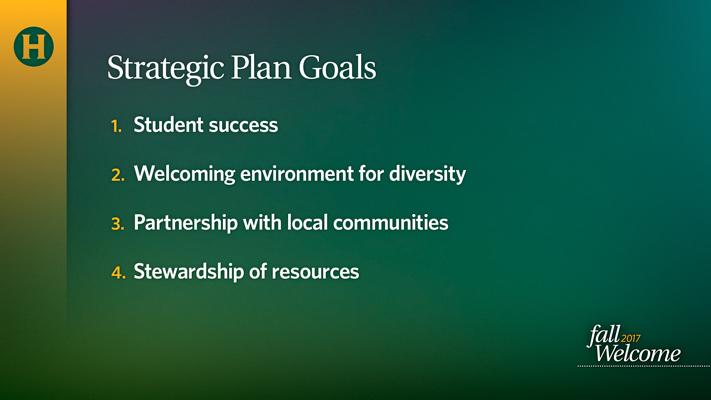 Back to the goals in HSU's strategic plan. 
Goal #3 involves partnerships with communities, which include the Native American communities and the City of Arcata.  These collaborations are happening through committees, task forces, internships, service-learning opportunities, and partnerships with other CSU campuses. 
An important aspect of this work is the joint efforts with the City of Arcata to address topics of safety, food security, and housing security for all members of the HSU community.
Goal #4 is about stewardship of resources:   our budget, the land, and our environment.  Pursuing this goal includes several initiatives, including being good stewards of the resources we have – and finding more resources to fulfill our mission. 
Being good stewards means living within our means and balancing our budget.  The University Resources and Planning Committee has been focused on this goal, as they have addressed strategic budgeting, identifying assets, and investing in high-priority areas.  The Committee did a great job of navigating the complexities of budget reductions last year, and they are working on a plan for how to engage the University community in considering the next phase of budget efficiencies.
I am also pleased to note that URPC developed a new reserve policy, which I plan to approve. 
This policy will serve us well as we plan for future capital projects.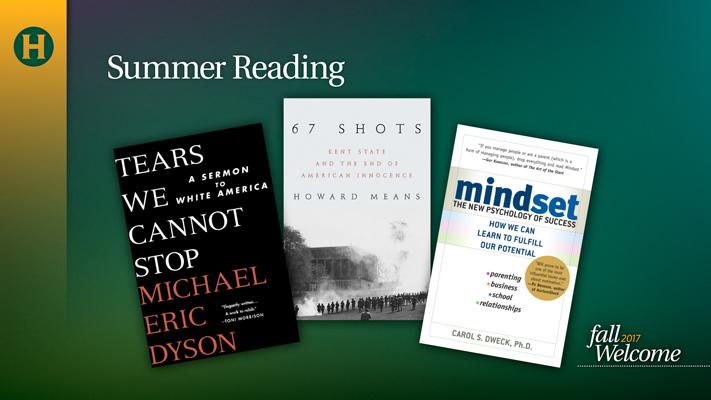 I was surprised at how many comments I received after last year's welcome when I mentioned a couple of books I had read over the summer.  So I want to share a couple more with you today.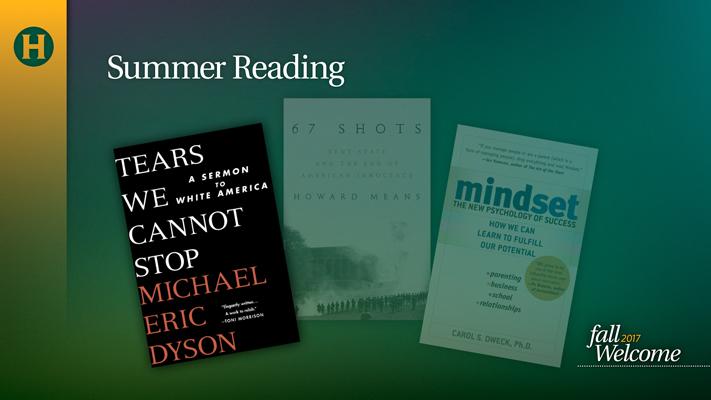 One of these books is by Michael Eric Dyson: "Tears We Cannot Stop."  The subtitle is "A Sermon to White America."  The writing is very personal, as though Dr. Dyson is speaking directly to the reader, and he describes the history of race and race relations in this country, contrasting the experience of blacks and whites in our nation's history.
The book is structured like a worship service, and the benediction offers practical suggestions about what individuals can do to make things better.  Dr. Dyson describes reparation, education, participation, speaking up, and empathy.
The lessons from this book are personal – about what individuals can do to effect change.  And that makes the lesson one of hope, although not without challenges and struggles.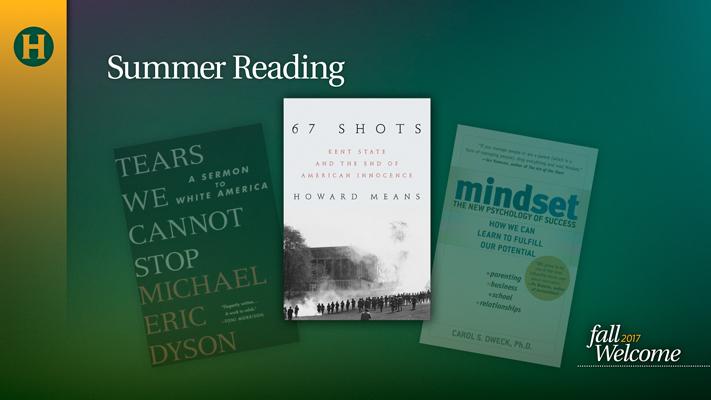 "67 Shots:  Kent State and the End of American Innocence" by Howard Means is about Kent State University and the four students who were killed on that campus on May 4, 1970.  This book was published last year, and I read it because I was interested in learning more about the history of campus activism.  Obviously, I was particularly interested in the lessons that could be learned from that day. 
In fact, there's not as much to learn as I had hoped.
Poor communications contributed to the problems that day, as did some inflexible planning. The University only had one contingency plan.  No one had thought about the National Guard taking over the campus, and so Kent State had no plan for that scenario.
Ultimately, the administration of Kent State University was cited by a Grand Jury for being overly supportive of the students' right to dissent.  And yet, that right to dissent is fundamentally important, and I want to reiterate our commitment to free speech here at Humboldt State. 
Over the summer, I asked our University's Legal Counsel, Alison Kleaver, to provide some training about free speech and freedom of expression on campus.  Originally, this was intended for the Cabinet, but I thought some other people might be interested, so I opened it up to anyone on campus who wanted to attend.  Eight-two people RSVPed for this workshop.  It was really helpful, and I know that I have made some different decisions than I would have before this training.
Additional workshops will be scheduled early in the fall semester for staff, faculty, and students.  I really recommend this opportunity to learn more about the First Amendment.
So the lessons I took away from this book were about the importance of communications, planning, free speech – and luck.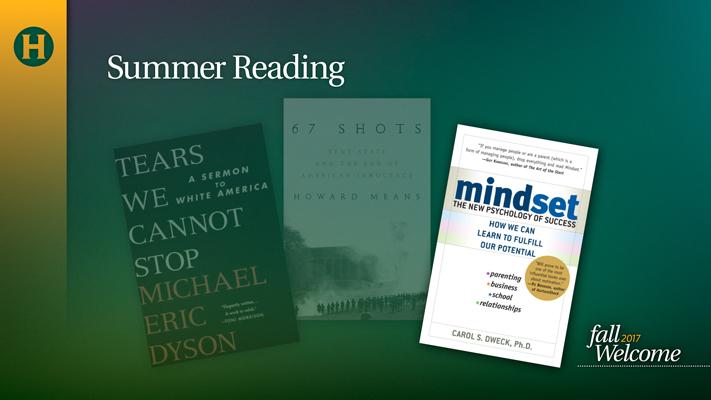 This summer, the Chancellor of the California State University asked all 23 campus presidents and his vice chancellors to read the book "Mindset" by Carol Dweck.  The subtitles of this book are "The New Psychology of Success" and "How we can learn to fulfill our potential."  We agreed that this book offered valuable perspective for our jobs, for our campuses, and for education across our state and our country.
The idea behind "mindset" is simple, distinguishing between a growth mindset and a fixed mindset.  A growth mindset means that we learn from our mistakes.   A fixed mindset focuses just on having made a mistake, on not being perfect, on not getting the right answer.  Someone with a fixed mindset may get better grades, but that doesn't necessarily equate to real learning.
So the lesson from this book is to go ahead and make mistakes -- and to see them as opportunities to grow and to learn.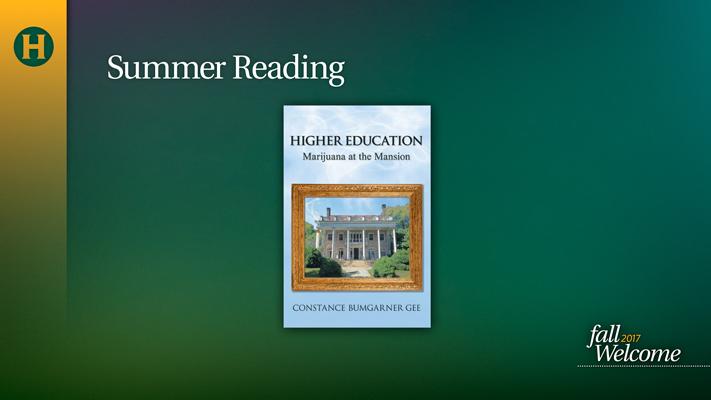 And here's one more, that was a little like reading someone's diary:  "Higher Education:  Marijuana in the Mansion."  This memoir was written by Constance Gee, wife of Gordon Gee, who has been president at the University of Colorado, Ohio State, Brown University, Vanderbilt, Ohio State (again), and now West Virginia University.  The author describes the challenges of being a faculty member and a presidential spouse, as well as some health issues she had. 
After Constance and Gordon had been married for a few years, she was diagnosed with Meniere's Disease, which is an inner ear disorder.  She learned that cannabis was one of the few drugs that could help relieve the worst of the symptoms. At the time, Gordon Gee was president of Vanderbilt, and they lived in University housing. The house staff found the evidence of her cannabis use and turned her in. 
The results were a high-profile article in the Wall Street Journal, a divorce, and this book.  It covers the role of the president (and spouse) on campus, board relationships, fundraising, and the politics of higher education.
I don't need to interpret the lesson from this book.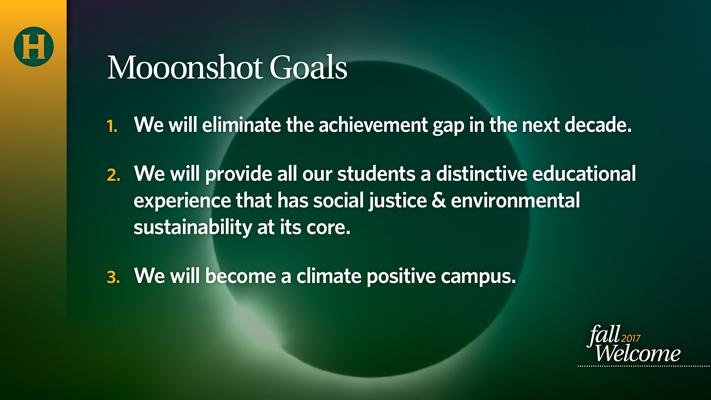 You may remember from last fall that I talked about some audacious goals for our future.  Here's a reminder:
We will eliminate the achievement gap (a.k.a., the opportunity or access gap) in the next decade (GI 2025).
We will provide all our students a distinctive educational experience that has social justice and environmental sustainability at its core.  (All four strategic goals)
We will become a climate positive campus. (Strategic goal #4)
And although "positive" in this case refers to reducing greenhouse gases in the atmosphere, I think the double entendre works, too.  Our goal is also about creating a positive campus climate – for all members of our community.
Before I leave this slide, you all recognize the image in the background, right?  With the moon eclipsing the sun, in honor of the eclipse scheduled for the first day of classes this semester?
I have three comments about this.
Although I have received a lot of requests to cancel classes next Monday, so that everyone can experience the eclipse, I am not doing that.  Each faculty member is responsible for her or his class, and it's up to you how to manage it.  We won't see totality here in Arcata – although the moon will block about 87% of the sun, a little after 10 a.m. next Monday morning.  (Details are widely available on the Internet.)   I, of course, will miss it because I will be in

an airplane on my mandatory monthly trip to the Chancellor's Office in Long Beach. 

Remember not to look directly into the sun.  And if you have eclipse glasses, please be very, very sure that they are produced and certified by a reputable company, because a lot of cheap, fake eye protection is out there.
Enjoy.  A solar eclipse, even partial, is incredibly cool.  And please take a minute to think about how early peoples would have experienced this phenomenon.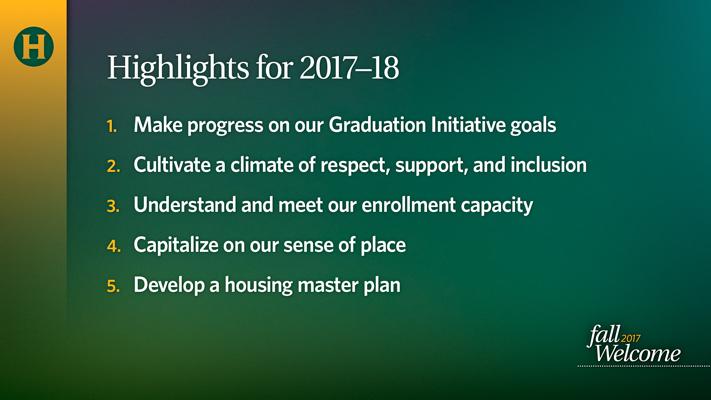 As we look toward the upcoming academic year, I would like to highlight ten of the important initiatives that we will be undertaking.
Make progress on our Graduation Initiative goals 
Cultivate a climate of respect, support, and inclusion
Understand and meet our enrollment capacity
Enrollment this fall is expected to be lower than last year – and lower than the target assigned to HSU by the Chancellor's Office.  We need to calibrate our enrollment with our funding.  I am working on an enrollment capacity study that analyzes multiple aspects of our ability to provide a quality educational experience for our students, looking at everything from funding to housing to dining to the number of faculty to the number of police officers to the number of custodians and square footage to IT support to parking.  I expect that a draft of this study will be complete by sometime in September, and a campus-wide discussion of this will help us, as a University community, align the ideal range of enrollment with our ability to serve students well.
Capitalize on our sense of place
Develop a housing master plan – that will support our strategic plan and our enrollment plan, increase student success by providing residential opportunities, and increase housing security for students. Slide_022.jpg
Balance the budget and start building reserves
Figure out what we can stop doing – and actually stop doing it
Collaborate on fundraising
Continue to reduce our carbon emissions
Our Climate Action Plan was completed a few months ago, and it is posted on the web.  I encourage you to review the extensive list of actions it outlines for our community.
Celebrate a successful outcome from our WSCUC visit next March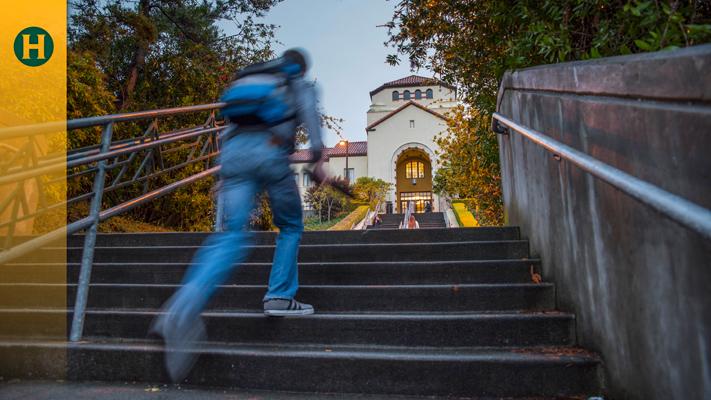 For the last several years, after the Fall Welcome, I have heard that some people walked away without clarity on where we are headed as a university.  "That was nice," is a comment that has been reported to me, "but I don't know where the university is going."
At one level, I could simply say:  Read the strategic plan.  But this doesn't seem to be enough.
So I want to be very clear about this.  Here is where Humboldt State University is headed.
We have a longstanding focus, as a University, on social justice and environmental responsibility.  That's who we are.  That why the reactions to injustice and racism are so strong at Humboldt State.  That focus will continue, and it is a central characteristic of the unique meaning of an HSU degree.
We will continue to serve our diverse population of students, recognizing that many of our students are a long way from home, from their families, and from their traditional support networks.  This is a rural area that can be challenging to get to – or from – and with significantly less diversity than where the students are coming from – or that our students contribute to the region.  Our student population reflects the diversity of our state – but not our county.  These are facts, and we need to deal with them, because we will continue to serve these students.  We are Humboldt State University, not Humboldt County University.
Our student demographics drive the need for having more diversity among our faculty and staff, and that's a priority.  This change process is slower than many people would like, but we cannot just fire everyone who works here and start over. 
But change is happening.
I see Humboldt State as being That Place where the entire community – students, faculty, staff, Arcata residents, and visitors – can talk about important issues – like racial equity and social justice -- with respect.  
Environmental responsibility is also a key characteristic of who we are.  This is reflected in our commitment to sustainability, to waste reduction, to environmental education, and to environmental justice.
We will serve students with a balanced curriculum that reflect the breadth of academic programs in which we excel.  Our faculty will continue to be outstanding teachers who are involved in service and scholarship that engage our students and contribute to knowledge and society.
We are committing to matching our enrollment with our capacity to provide an outstanding educational experience for our students – which is not unlimited growth, but it is also not status quo in terms of budget or current allocations. 
We must live within our means, with a balanced budget.  Achieving that will include finding increased efficiencies, reducing spending, increasing our collaborative fundraising, and protecting the quality of students' educational experience.
And all of you can help in these goals, by identifying efficiencies, by helping students in all the ways your individual jobs involve, by challenging racism and injustice, by making decisions that reflect educational quality and student needs, and by supporting student success. 
And, through all of this, we need to work together – in interdisciplinary and cross- divisional ways – to reinforce the profound ways in which our unique sense of place infuses everything we do here at Humboldt State.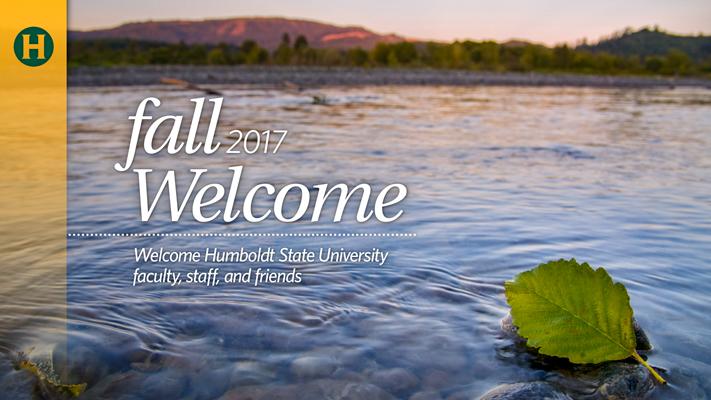 This is going to be an exciting year.  We have new faces, new challenges, and new opportunities.  Thank you for being on this journey together.
Outside on the Art Quad, we have coffee, tea, cookies, and muffins for sustenance before you head to your next meeting.
I'll see you out there.