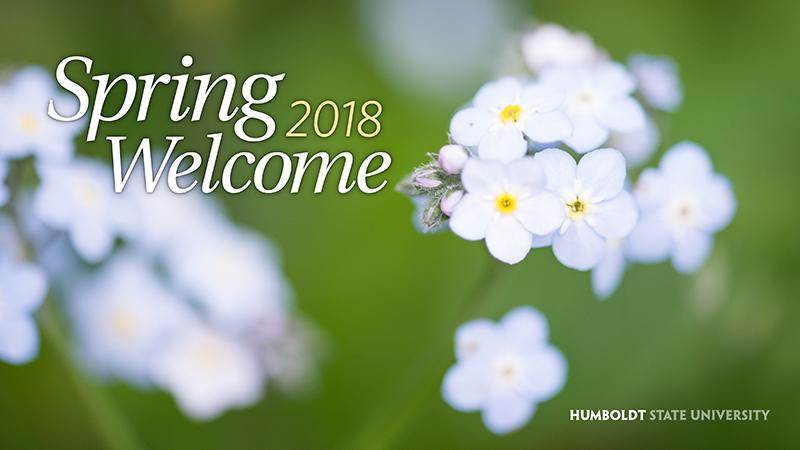 Happy New Year and welcome to spring semester 2018!

I want to start by noting that the land where Humboldt State is located is part of the ancestral homeland of the Wiyot people – and that the Wiyot were here over a thousand years before this University was founded.

The piano music we have been enjoying has been provided by two of our international students: Chuang Li and Xiaowen Xu.  Both of them are students of Professor Daniela Mineva.  They will be playing after this presentation, too, so you are invited to bring your refreshments in here afterwards and listen to them some more.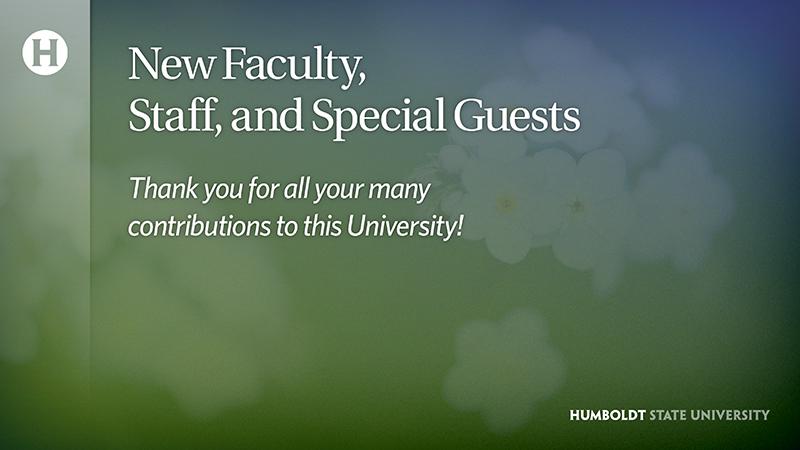 One of the traditions of this event is to welcome all new staff and faculty who have joined the HSU community since last August.  I realize that this means some of you feel like you are being welcomed multiple times, but you should feel all the more welcome.  If you have become part of the HSU community since last summer, would you please stand?  

Welcome again to all of you.

In the category of people who have been welcome here for a very long time:  I'd like to acknowledge that we have with us this morning President Emeritus Rollin Richmond.  Dr. Richmond and President Emeritus Alistair McCrone have played important roles in building this University.  Thank you both.  

Now, one of the traditional celebrations at this Spring Welcome event is the recognition of years of service at Humboldt State University.  I'm going to ask you to stand in groups, with increasing lengths of service, starting with…

…those of you who have worked for the University between 1 and 9 years.

…those of you who have worked for the University from 10-19 years.

…those of you who have worked for the University from 20-24 years.

…and now, all of you who have worked for Humboldt State University for 25 years or more, please stand.  Thank you for caring about HSU and being such an important part of the history of this school.

The employees who have reached the 25-year mark this year will be honored at a Silver Lamp luncheon later this semester, and I very much look forward to that event.

Finally, please remain standing if you have worked at HSU for 35 years or more!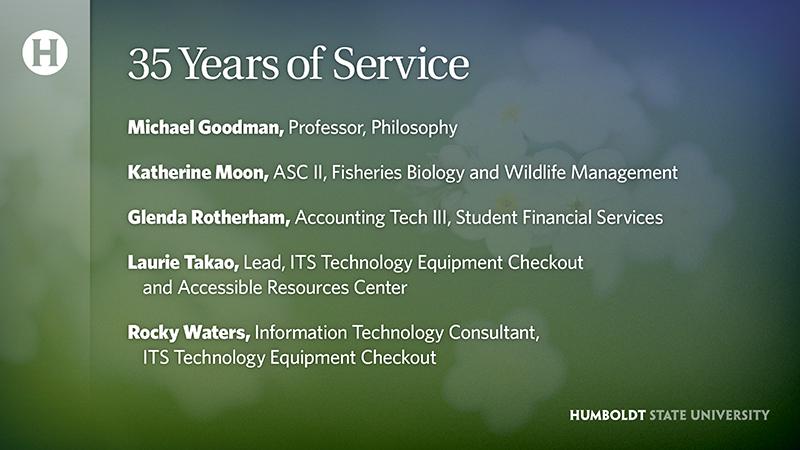 Thank you all for your many contributions to this University.

I am going to ask each of these people who have recently reached the 35-year service mark to come forward individually.

Michael Goodman, who is unable to join us today, is a professor of philosophy.  He has held many roles at the University in his 35 years, including chair of the Academic Senate, member of the University Senate, chair of the Educational Policies and Faculty Affairs Committees, chair of five different departments (Philosophy, Music, History, Theatre, Film & Dance, and Religious Studies), University Faculty Personnel Committee, College of Arts, Humanities & Social Sciences Personnel Committee, and as a transition team member for the merging of the colleges of Arts & Humanities and Behavioral & Social Sciences.  Congratulations, Michael!

Katherine Moon is an Administrative Support Coordinator II.  She began her career in the Library Dean's Office.  She then moved to the Student Affirmative Action Office, where the students made her job truly rewarding.  She says that most were first-time students who were excited and scared at the same time to be attending college.  She had the opportunity to pick new students from the airport.  Numerous times, their very first impression was that had just landed in a cow pasture and asked if they had gotten on the wrong plane.  Rural Humboldt was very foreign to them.  Katherine then worked in the Natural Resources Dean's Office for a few years, and she has spent the last 22 years in the department office for Fisheries Biology and Wildlife Management.  She says that, to this day, she enjoys coming to work – as long as she can find a parking spot!  Congratulations, Katherine!
Glenda Rotherham, who is also not here this morning, is an Accounting Tech 3.  She began working in the Financial Aid Accounting department (now Student Financial Services) in 1982 as a temporary Clerical Assistant hire for one year.  She then worked in the HSU Foundation department as a Clerical Assistant for a six-week emergency hire and was invited to return to the Financial Aid Accounting department as an Account Tech 1.  She has remained in the same department since then. Her job responsibilities have changed and grown over the years – but her commitment to HSU has not.  Congratulations, Glenda!
Laurie Takao works as the Lead in the Technology Equipment Checkout & Accessible Resource Center.  She has held many positions in Information Technology Services throughout her 35-year tenure, including positions in the areas of media services, project management, media distribution and smart classrooms, and classroom technology services.  She has most enjoyed working closely with faculty and students, and she currently assists faculty and staff in making digital materials accessible to everyone.  Congratulations, Laurie!
Rocky Waters is an Information Technology Consultant in the Technology Equipment area of ITS.  He began in the College of Business and Economics as an instructional computing consultant, and, over the years at Humboldt State, he has worked in many different roles in technology support, including lab manager and web developer.  He takes pride in his accomplishments as advisor to the successful Business Policy Competition Teams and in running the first web server at HSU (and quite possibly the first in the CSU).  In addition to his 35 years as a staff member, he worked five years as a student assistant, bringing his total years at HSU to more than 40! Congratulations, Rocky!

Congratulations again to all of you, and, on behalf of the HSU community, thank you for your incredible dedication.  Let's give them another round of applause.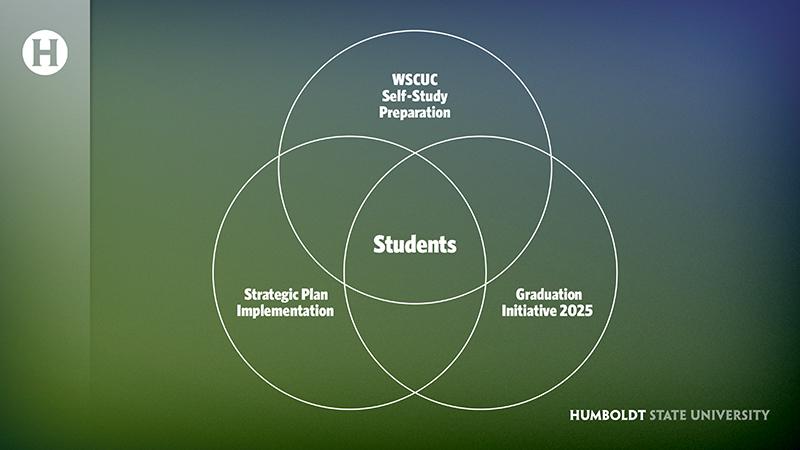 This image should look familiar to you, and I want to organize a few remarks around the intersecting goals associated with HSU's reaccreditation efforts, the strategic plan, and the graduation initiative – with a reminder that, where these areas of emphasis overlap, we have our students.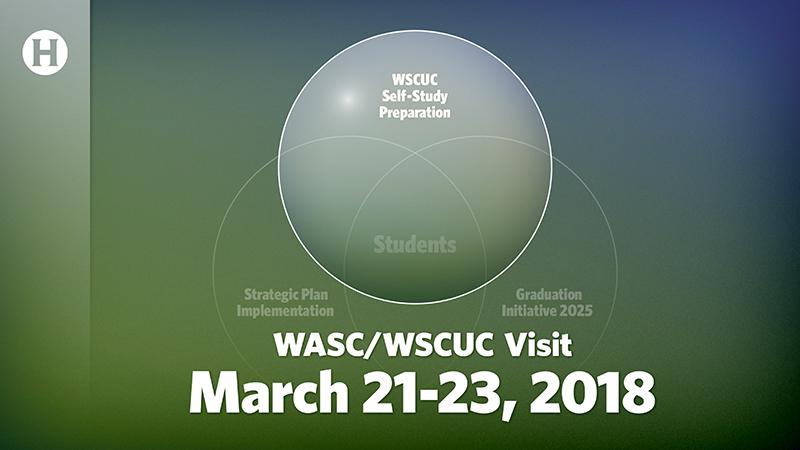 I want to talk for a few minutes about WASC – or the WASC Senior College and University Commission (a.k.a., WSCUC).  I have three goals in doing this.  I want you all to be:

1)    educated about the purpose and importance of the WSCUC and accreditation;
2)    able to answer questions posed to you by the reviewers when they visit campus; and
3)    actively engaged in the accreditation process.
The visiting team will be on campus March 21–23.  That's, like, two months from now.

What's the big deal?

WASC Senior College and University Commission is one of five regional accrediting agencies in the U.S. that certify four-year universities and colleges in their region are fulfilling their missions in serving their students and the public good.  Our self-study and the feedback we've already received from the WSCUC visiting team help ensure that our institutional objectives are clearly defined, measured, assessed, and achieved.  The reaffirmation process can be seen as part of achieving the goals of our strategic plan.   

HSU's accreditation was last reaffirmed in 2010, with the next review due in eight years.  2018.

With the hard work of the Self-Study committee and many University participants, we began preparing for this review several years ago.  The institutional report was completed in July 2017, and it is posted on our website.

The Commission's review team read the report and related materials and told us last fall that they have some questions that they would like to ask when they visit us.  These are called the "lines of inquiry," and I want to share these with you.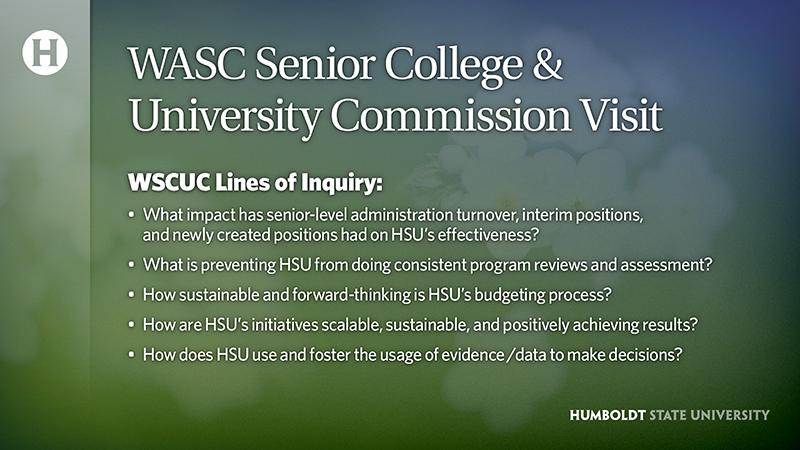 The first of these "lines of inquiry" is:

•    What impact has senior-level administration turnover, interim positions, and newly created positions had on HSU's effectiveness?

Everyone will have a different perspective on this question. From my point of view, a certain amount of turnover is normal, and I believe we have been thoughtful about holding positions vacant, making interim appointments, running deliberate searches, and holding out for the right person, rather than just rushing to fill a position for the sake of filling it.  If you are asked, you are welcome to provide your own view on this question.

•    What is preventing HSU from doing consistent program reviews and assessment?
I'll bet we have differing opinions here, too.  The 39 existing outcomes for GEAR courses (the acronym for General Education and All-University Requirements) have been difficult to assess because of the number and variety of courses – and their distribution across the three colleges.  Developing consensus regarding outcomes for GEAR took several years.  Transitions in the position of Assessment Coordinator also hindered assessment of GEAR outcomes, along with limited progress in closing the assessment cycle during the program-review process.

Recently, significant progress has been made. A streamlined overarching GEAR outcome was passed by the University Senate in Spring 2017. An interim assessment coordinator was hired last fall.  GEAR assessment activities are planned for this upcoming semester.  The Center for Teaching and Learning began operating last fall, and assessment of core competencies across all programs is planned for Spring 2018.  With regard to Program Review, Evaluation, and Planning (PREP), recent developments include the creation, in 2015, of the Office of Institutional Effectiveness and Planning and restructuring the annual and five-year academic-program assessment prompts and processes.

So, we can point to progress in these areas.

•    How sustainable and forward-thinking is HSU's budgeting process?
Assessment and resource planning are vital components of our budget planning and are fundamental to institutional change.  We define assessment as the process of systematically gathering information used in making decisions about our educational programs and institutional priorities.   Resource planning is a process in which money, time, attention, and other assets are aligned to strategic plan priorities.

The University Resources and Planning Committee, under the University Senate governance structure, is responsible for overseeing HSU's financial viability. It includes faculty, staff, students, and senior administrators.  Since 2013, the URPC has focused on developing a strategic budgeting approach, a policy to support the allocation of strategic assets, and a policy for reserves. The committee provides important oversight to ensure that budget allocations and reallocations support the implementation of the strategic plan and the University's highest priorities. The campus-wide conversations that URPC is currently involved in are an important step toward ensuring the sustainability of our budgeting processes.

Here are the last two lines of inquiry:

•    How are HSU's initiatives scalable, sustainable, and positively achieving results?
•    How does HSU use and foster the usage of evidence / data to make decisions?

One of the best examples of work at HSU with respect to these two questions is the Klamath Connection. The program emphasizes place-based learning, summer immersion experiences, and block-scheduling.  Carefully planned assessment activities indicate dramatic increases in student retention and performance as compared to control groups. Based on this evidence, components of the program are being expanded to other groups of departments and programs that are also developing place-based learning communities, such as "Stars to Rocks" and "Rising Tides," and we anticipate that similar programs will soon be available to all entering freshman.

Departments and programs are working to narrow opportunity gaps – or achievement gaps -- and increase retention and graduation rates by participating in annual program reviews.  These reviews assess student learning outcomes, diversity and inclusive excellence, strengths and challenges, five-year action plans, and external reviews.

A major vehicle for generating data to support institutional change is the Office of Institutional Effectiveness. In 2015, the Office conducted a series of action-research studies and corresponding open forums.  The goals were to clarify HSU's changing student demographics, to identify what successes have been achieved, and to understand where continued efforts are necessary. The Office of Institutional Effectiveness followed these studies with a 2017 town hall meeting to share the results with the University community.

So – these are the questions we expect.  Undoubtedly, the visiting team will ask others that we don't expect.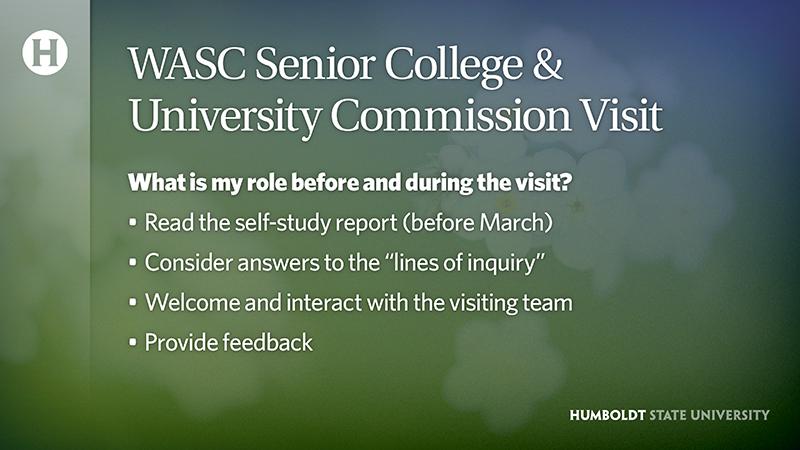 What do you need to remember during the visit?

Please be familiar with the self-study report and reflect on how you would answer questions that the WSCUC committee has indicated they will be asking on their visit. They will be interested in what we have achieved since the Self-Study report was released and what initiatives we have in progress. The Steering and Self-Study Committee will be collecting this information and providing communications to help you answer these questions – the "lines of inquiry" --in the weeks leading up to the visit.

You will have the opportunity to interact with the visiting team and to share your reflections on these lines of inquiry in a number of ways during the team's visit. You can attend open forums, send the WSCUC Commission members an e-mail to their confidential account, attend one of the meetings for specific campus groups, or chat with the team members as they are walking around campus. The review team's schedule and confidential e-mail address will be available around February 28.

Between now and the WASC visit, members of the HSU's Steering and Self-Study committees will be attending department, committee, and student government meetings to answer your questions and to provide additional information about this upcoming visit.

Would everyone who has been involved in the self-study and planning for the reaccreditation visit please stand?  Thank you all for your hard work.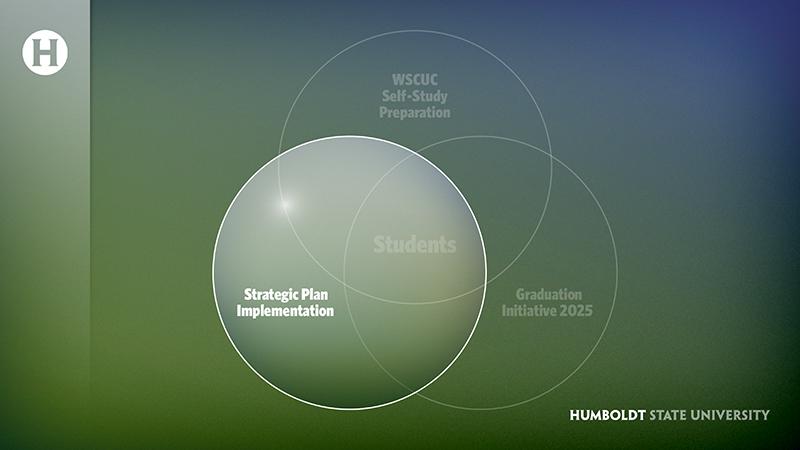 We are still moving forward on many aspects of the current strategic plan, but I want to highlight two areas, in particular.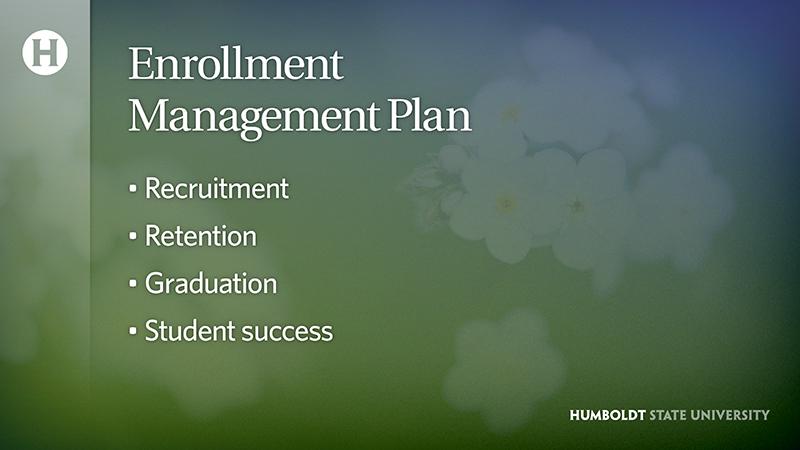 One of these is the enrollment management plan.   We have to start by defining the optimum enrollment for HSU – the largest number of students who can be effectively educated at HSU with no loss of quality.  (Here's a hint:  It's only a little higher than the enrollment levels we have had recently.)  With that information, we focus on the continuum of recruiting students, retaining them, and, ultimately, graduating them.  All of us have a key part in our shared goal of strengthening our enrollment and supporting student success.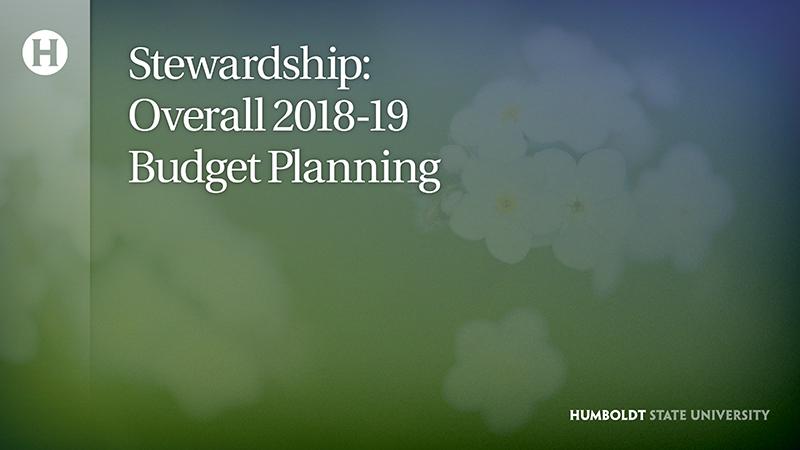 Another current focus, which is also part of our strategic plan, is budget planning for the future.  The University Resources and Planning Committee has been wrestling with the difficult question of what we can stop doing, since we can't afford to continue to do everything we are currently engaged in.  A list of possibilities has been distributed widely, and feedback has been gathered from meetings and via letters and e-mail.  To date, nearly all of the feedback has been about why we can't stop doing something in particular, with no suggestions for what else could be added to the list for consideration.  All of you can help in thinking of what we can stop doing, which is a perennial challenge for this University.  

We know we can't do it all.  We have to stop doing some things.  But the difficult question is what to stop doing.   The urgency of this question may be heightened when we see Governor Brown's proposed budget for 2018-19, which is scheduled to be released later today.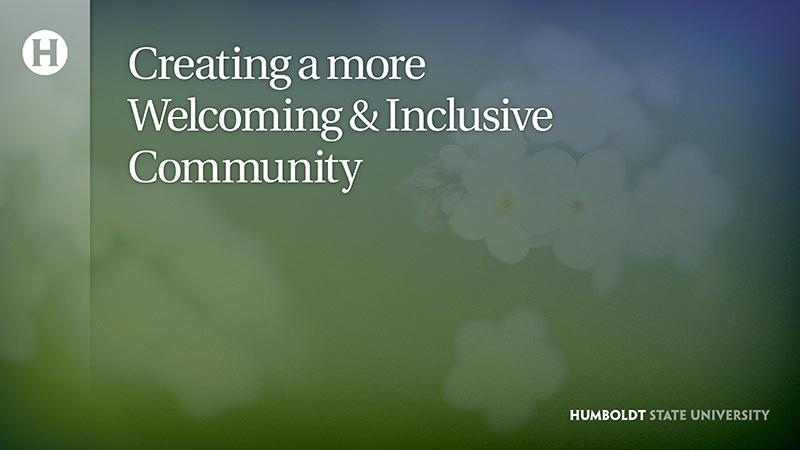 As a University, we continue to work on this aspect of our strategic plan.  I'd like to mention two of the many parts of this effort.

One of these is HSU's collaboration with the larger communities, including the City of Arcata and the business community.  This collective now has a specific work plan and is moving forward in areas that include: developing hiring processes focused on diversity; housing equity; holding police and student forums; creating an equity campaign, similar to "Not In Our Town"; developing a community information center; and focusing on curriculum, policy, and legislative changes.

We are also focused on dealing with microaggressions, which are experienced by our students, faculty, staff, and community members of color.  Last week, a group of us that included the Cabinet and the deans and associate vice presidents in Academic Affairs participated in a half-day workshop on how to recognize, understand, and address microaggressions.  I hope many of you will have a chance to participate in this workshop – and others like it – during the coming semester.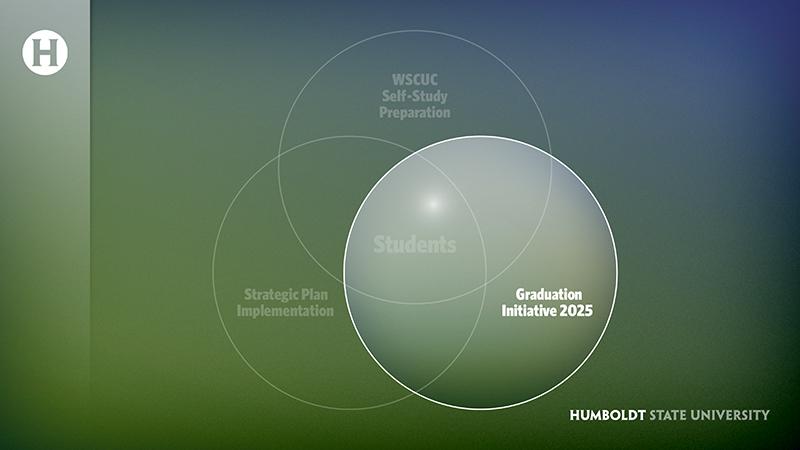 Our third major area of focus is the Graduation Initiative 2025.  I know you all remember this, because it is driving how we approach our overall focus on student success.  We have several goals.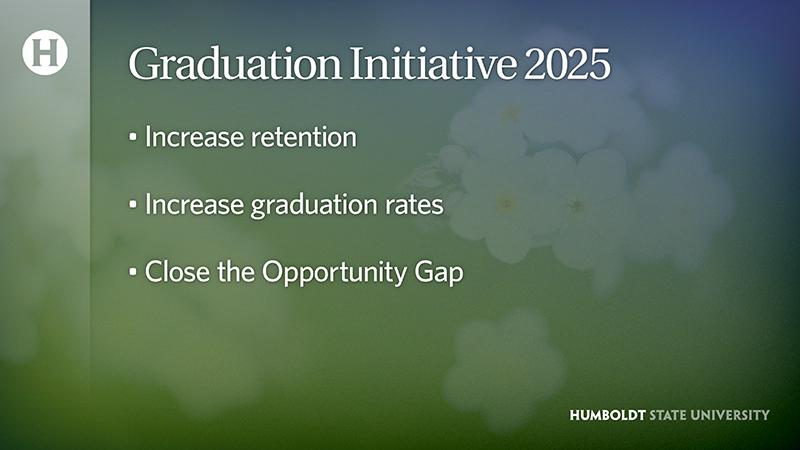 One of these goals is increasing the retention rate for new full-time students, which has, rather than improving, been declining for the last several years and is currently hovering just below 70%.  You can all do the math.  This means that we are losing 30% of our first-time full-time students at the end of the first year.  That's not a sustainable option.

We also have a goal of doubling the four-year graduation rate for first- time, full-time first-year students from 14% to 30%.

And we need to eliminate the opportunity gap – the difference in graduation rates for students from traditionally underrepresented groups and Pell-eligible students compared to those of the overall student population.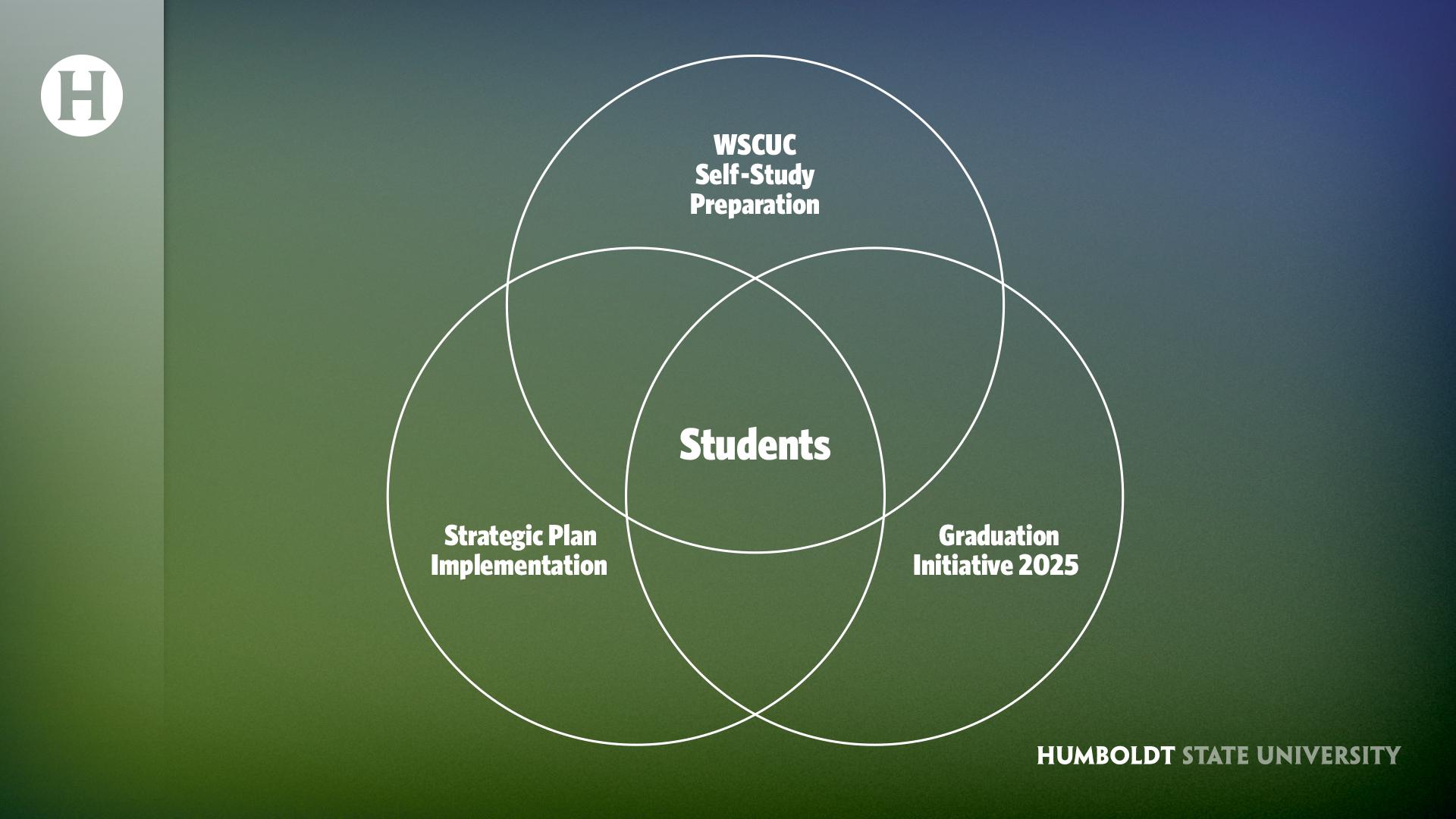 So -- these are areas that will require our focus this semester:  

•    Preparing for and navigating the WSCUC campus visit,
•    Addressing enrollment management,
•    Balancing our budget,
•    Supporting student success, and
•    Ensuring that we have a welcoming and inclusive community.

We have our work cut out for us, but our goals and directions are clear.  

We can do this.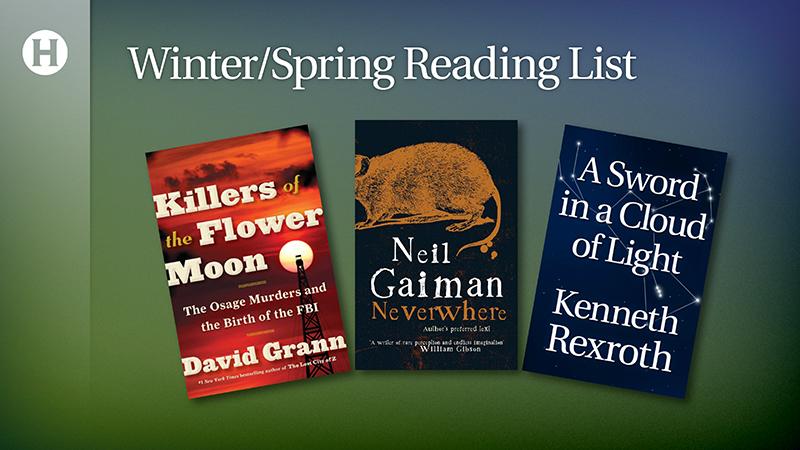 Over the last year and a half, the most feedback I've gotten from my fall and spring welcomes has been about my reading list, so I'm going to include that here.

This slide shows three of the things I am reading right now.

I'd like to speak to these individually for a moment.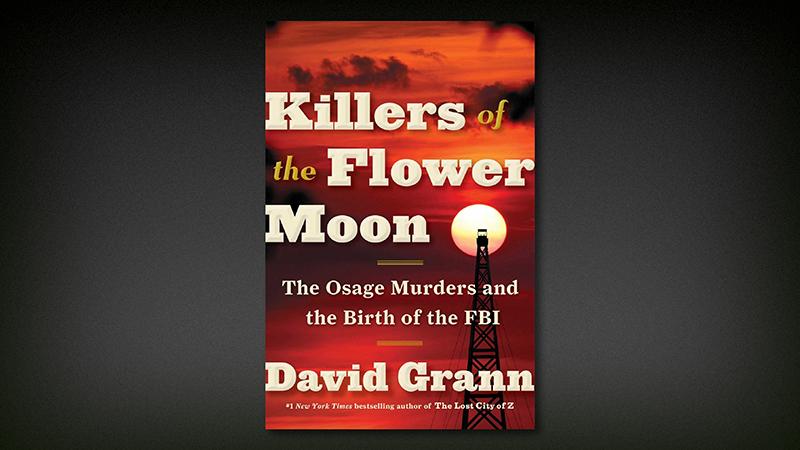 The first of these is Killers of the Flower Moon, by David Grann.   The subtitle is "The Osage Murders and the Birth of the FBI."  This is a history of the Osage people and their oil-rich reservation in Oklahoma – which made the tribal members rich and led to their being killed for their wealth or their headrights in the 1920's.  As the title implies, the fledgling Federal Bureau of Investigation got involved, primarily to take credit for the successes and to distance itself from the problems.  The book is about some pretty horrible American history, which deserves to be better known, as well as being about natural resources, treatment of Native Americans by the U.S. government, sociology, economics, and law enforcement.  It's a fascinating read.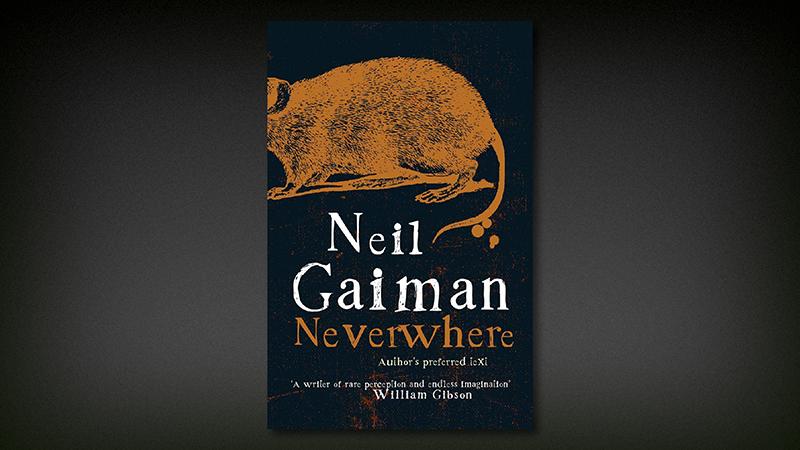 Neverwhere, by Neil Gaiman, is a work of urban fantasy, about an alternate universe that exists below street level in London.  The writing is really clever, and the themes juxtapose reality, fantasy, belief, suspension of disbelief, and the fight between good and evil.  I am always fascinated by this author's style and creativity, and I am delighted to have found this book.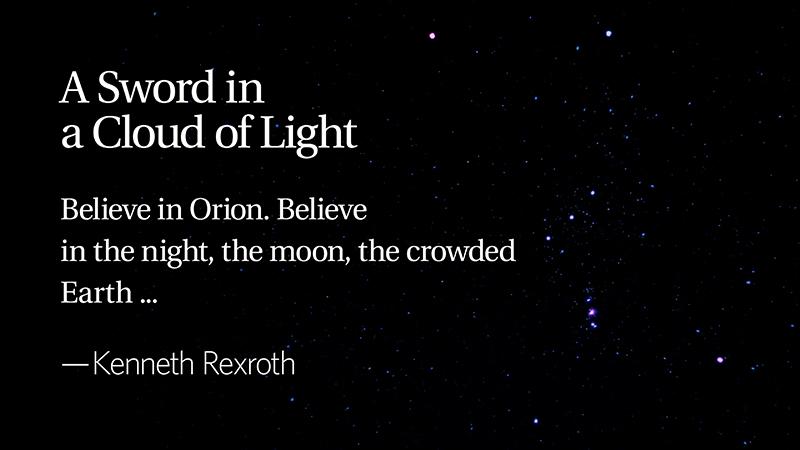 The third reading is not a book, but a poem that I always turn to at this time of year.  The title is "A Sword in a Cloud of Light," by Kenneth Rexroth.  He was a major figure in San Francisco Bay area poetry from the 1930's to the 1960's, and this particular poem is set around the winter solstice and the constellation Orion, which appears in the night sky in winter.  Orion's sword includes several bright stars and the Orion Nebula – the "cloud of light."  The poem is about the beauty of nature, the juxtaposition of human life and the scope of the cosmos, the transient nature of things, and about belief and hope.  

It's a much longer poem, but this is the phrase that runs through my head when I look at Orion in the night sky this time of year.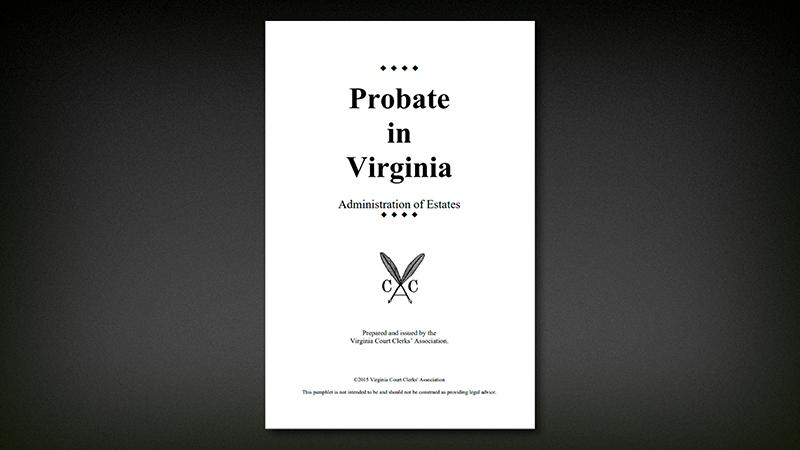 And then there is one other thing I am reading now, which may be as far from poetry and fantasy as it is possible to get.  It turns out that, to be the executor of my mother's will, in Virginia, I am required to be bonded, which is basically like a bail bond.  So, I'm learning a lot more than I expected on this topic.  

I recommend the first three items for your reading pleasure.  This last one?  Not so much.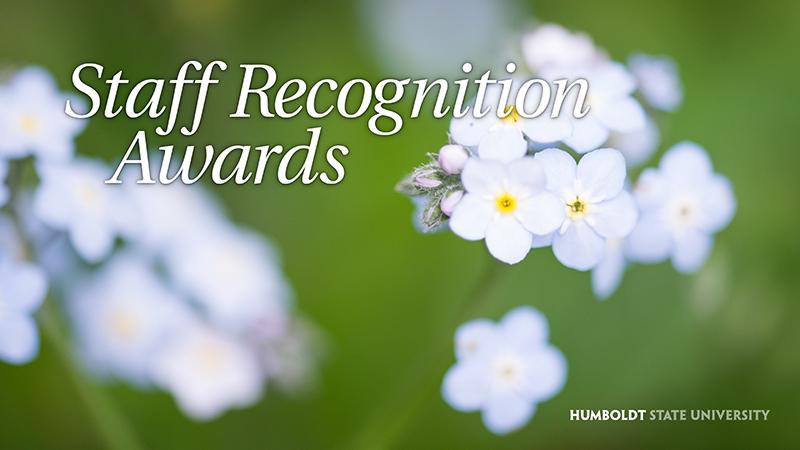 Now, on to more immediate – and happier -- topics.

I am now very pleased to have the opportunity to present the Staff Recognition Awards, a program that was started over two decades ago to recognize meritorious staff members.  The Staff Council reviews nominations and makes recommendations on these awards.  Many outstanding staff members were nominated, and 10 individuals are being recognized this year.  Thanks to all of you who took the time to nominate a colleague.  Besides receiving a cash award, the recipients will be honored at a luncheon later this semester.

I will introduce each of the winners with comments from their nominators and ask them to come forward, but you can return to your seat, and we will take a group photo at the conclusion of this event.  

Our first recipient is someone who takes pride in investing in the community where they grew up.  After graduating from Hoopa Valley High School, this person went on to earn a degree from HSU.  As an alum of ALL THREE TRiO programs at HSU [Talent Search, Upward Bound, and Student Support Services], this staff member is dedicated to giving back to programs that gave him so much.  In 2007, he became the Academic Coordinator for Upward Bound at HSU. His commitment to the mission of TRiO and dedication to the students in Upward Bound was evident and admired by all who worked with him.  As a true example of how "TRiO Works!" -- he recently began a new position as HSU's Admission's Counselor and Local and Native Recruiter.  We congratulation him on the outstanding work he has done with Upward Bound, and we offer best wishes in this new role at HSU.  Admissions Counselor - LEO CANEZ

This next recipient has become one of HSU's most valuable allies on issues of diversity, equity, and local racial bias.  In the aftermath of the death of student David Josiah Lawson, she displayed remarkable qualities of leadership, linking students, the community, and the University to help our leaders navigate the turmoil.  She was instrumental in moving toward healing discussions, remedial action steps, and long-term change that will benefit HSU and Humboldt County residents.  At a time when under-reaction or over-reaction were possible - if not likely - she used her position at KHSU to share accurate information, in a calm and professional manner.  She is both fearless and kind.  She exhibits poise, grace, and class as she represents HSU and KHSU on critical issues.  Her motto is, "If you see something, say something...but say it with love."  Office Manager, KHSU Magazine, and Host of Thursday Night Talk - LORNA BRYANT

This recipient probably doesn't know how many people have come to appreciate him!  For the last 20 years, he has worked tirelessly to assist our low-income, first-generation, and traditionally under-represented students with Financial Aid issues. There are many, many staff members who have his extension memorized because when he says "Let me check on this and call you back," you can be sure that he will.  His strong work ethic, easygoing attitude, and unwavering compassion have lifted students out of the most dire situations and enabled them to continue their education. Most of all, he is always upbeat -- and never complains! The staff of EOP and TRiO/Upward Bound want him to know how much they all love him. He has saved the day on multiple occasions and today, we celebrate his dedication.  Financial Aid Counselor - JAY SCHOCK

This individual is described as a tenacious problem solver who maintains an open-door policy for members of the University community who have questions about course scheduling, room assignments, and using 25Live for reserving rooms when planning events.  If you need her help, she may even come to you!  If HSU offered "hazardous duty pay" - she would probably qualify during the "room scheduling run" each semester, as departments beg, borrow, and, rumor has it, steal in pursuit of classrooms. Dealing with flaring tempers and frustrated staff with incredible calmness is just one of her many talents.  She works to create community at HSU, resulting in a team environment that is so vital to the success of our University.  If the Staff Recognition Award is intended to recognize someone who plays a key role in bringing the University closer to accomplishing its mission, then she is well deserving of this award.  Special Events Coordinator - BELLA GRAY

The next recipient is respected, admired, and, frankly, adored by everyone in the Art Department.  She routinely goes beyond the call of duty in completing her job.  She is not only a custodian, she is also an important part of the Art Department family.  She is vital to the department's success. She reinforces its reputation as a student-centered department. She knows the students' names, and they know her. She knows their stories, their problems and successes, and she asks about their pets. She admires their art and encourages them. She watches out for them and they feel better and safer knowing that she is around. Whether she is dealing with mopping up spilled paint or reminding "temperamental" artists that the building is closing, she can produce a sparkling clean building with grace and humor.  The pride she takes in her work and her dedication to the safety and well-being of our students is unmatched. The Art Department feels so lucky to have her.   Custodian - AMY DAVIES

This person is described as someone who has dedicated himself to HSU since he was an undergraduate and truly believes in what HSU can offer to its students and the community. Through collaboration with faculty and staff, he is responsible for integrating career development-related topics and activities into course curricula. Because of his contributions, students do not have to leave the classroom to learn about careers in their majors.  The curriculum he created has been widely successful, and he has presented his model at regional and national conferences.  His work can be overwhelming at times, but he never complains.  Indeed, he speaks about what an honor it is to be in the forefront of some innovative initiatives.  Anyone who has interacted with him knows that he is willing to go above and beyond in order to meet the needs of those whom he enthusiastically serves, whether they are his family, friends, colleagues, staff, or faculty. Faculty Coordinator for Service Learning and Career Education - LOREN COLLINS

Described as a "hard worker who brings positive energy and a creative spirit" to his endeavors at HSU, our next recipient is a tireless advocate for students of color, especially the Native American students he works with directly. When he isn't hosting Friday luncheons, he is introducing initiatives and creating programs that provide support for traditionally underrepresented students in STEM.  He helped put HSU on the map as being a top university for Native American students by helping bring (AISES) American Indian Science and Engineering Society Region I and Region II meetings to our campus. This was the largest attendance at any meeting in AISES history! Each November, he partners with other HSU staff to host the American Indian College Motivation Day, a recruitment event for local Native American students interested in attending HSU. He is upbeat and enthusiastic in motivating students in INRSEP – and beyond -- to succeed in college.  And he is formidable with a microphone and a karaoke machine.  STEM Advisor, INRSEP - LONYX LANDRY

Our next recipient comes to work every day with a smile on her face. She is innovative, resourceful, student-focused, and supportive of all faculty. A natural problem-solver, she often handles two or three student issues at a time, without getting ruffled.  She has developed and implemented various social media strategies for the School of Business, which has one of the most sophisticated platforms for engaging students and community members at HSU.  One instructor noted, "We are all better people and able to meet our students' needs because of the support and encouragement we get from her!"  Advisor & Administrative Analyst, School of Business - KRISTA CARROLL

A proud alumna of HSU, our next recipient became a staff member in 2003 and has been contributing to the greater good of our campus since day one.  In 2013, she became coordinator of Supplemental Instruction and, under her direction, the program has doubled in size.  She is innovative, creative, and resourceful in supporting her student leaders because she, herself, is an excellent leader.  She models active learning methods, compassionate listening skills, and exceptional problem-solving techniques in every endeavor. Her co-workers describe her as a team player, with a positive attitude, and someone who routinely goes above and beyond, whether it is presenting at a workshop or serving as a sounding board for students during challenging times. The students respect and adore her… and it's not just because she makes delicious goodies for their trainings! Supplemental Instruction Coordinator, Learning Center - ARIANNA THOBABEN

And finally:

There is nobody on campus who demonstrates better customer service than our next recipient. He maintains a calm, supportive demeanor no matter what is presented to him, and he is an exemplary collaborator - willing to assist however he can and to find a common solution. In addition to the regular duties required by all Administrative Support Coordinators on this campus, he has the added responsibility of handling urgent issues and emergencies that necessitate dropping everything to support students in crisis. Even with these challenges, he is still able to complete his tasks with kindness, professionalism, and tact. He is a true joy to work with, brings much appreciated laughter to the workplace, and can always, always be counted on to give 100%. Admin Support Coordinator, Dean of Students Office - SETH BRADLEY

Congratulations to all of you.  And thank you for your many contributions to HSU.  In just a minute, all of the staff award recipients should come back up here for a group photo.  

But first, let's have one final round of applause for all of our outstanding staff members.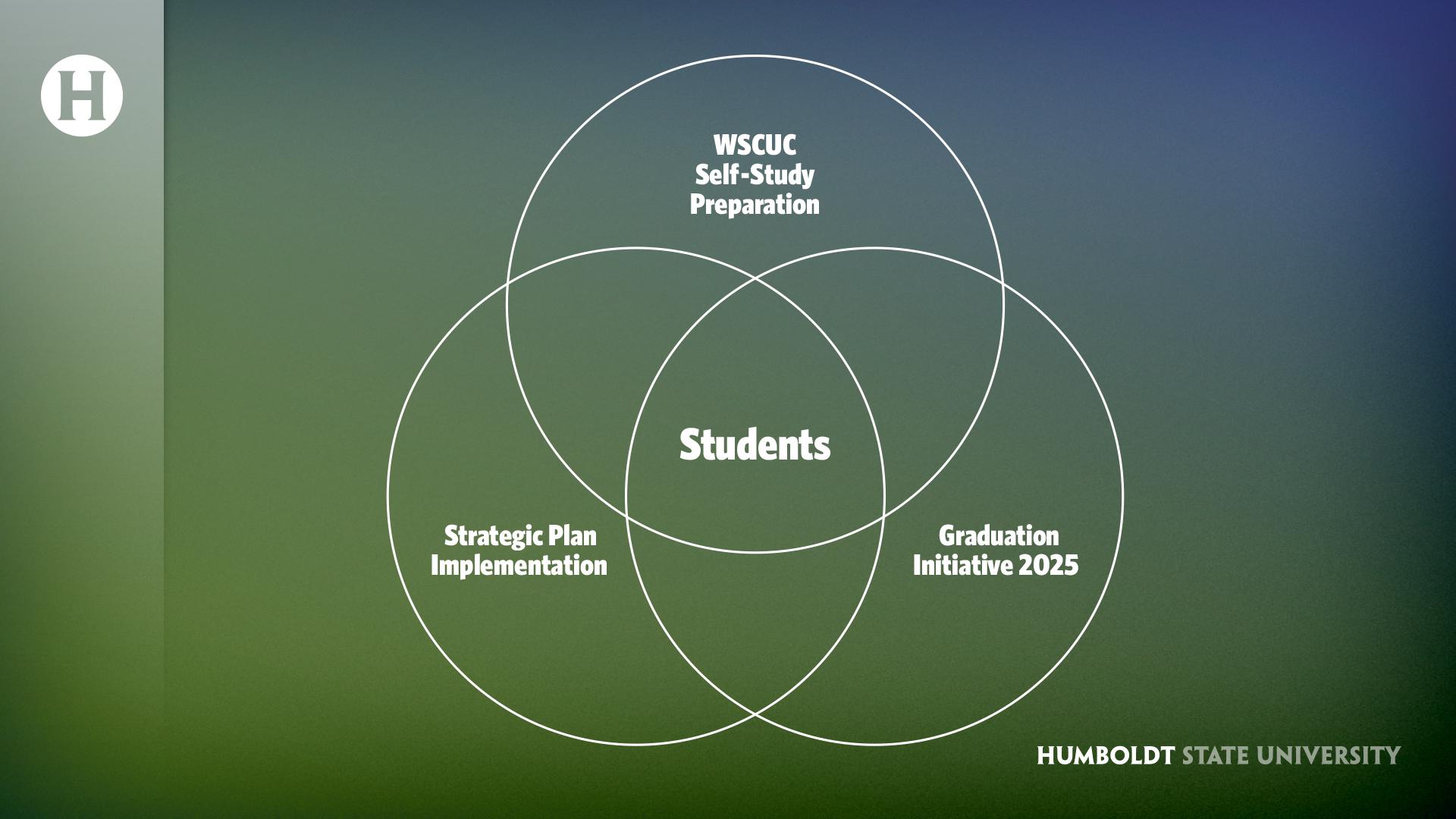 So, in summary, we continue to be guided by our preparation for the WASC visit in March, the implementation of our strategic plan, and the goals that are part of the Graduation Initiative.

We are not just trying.   We are actively pursuing these goals.  So, as a final reminder,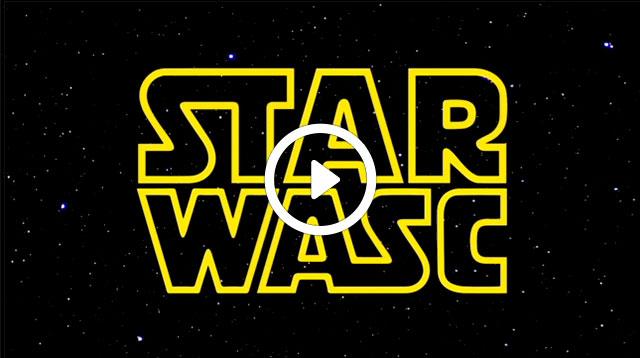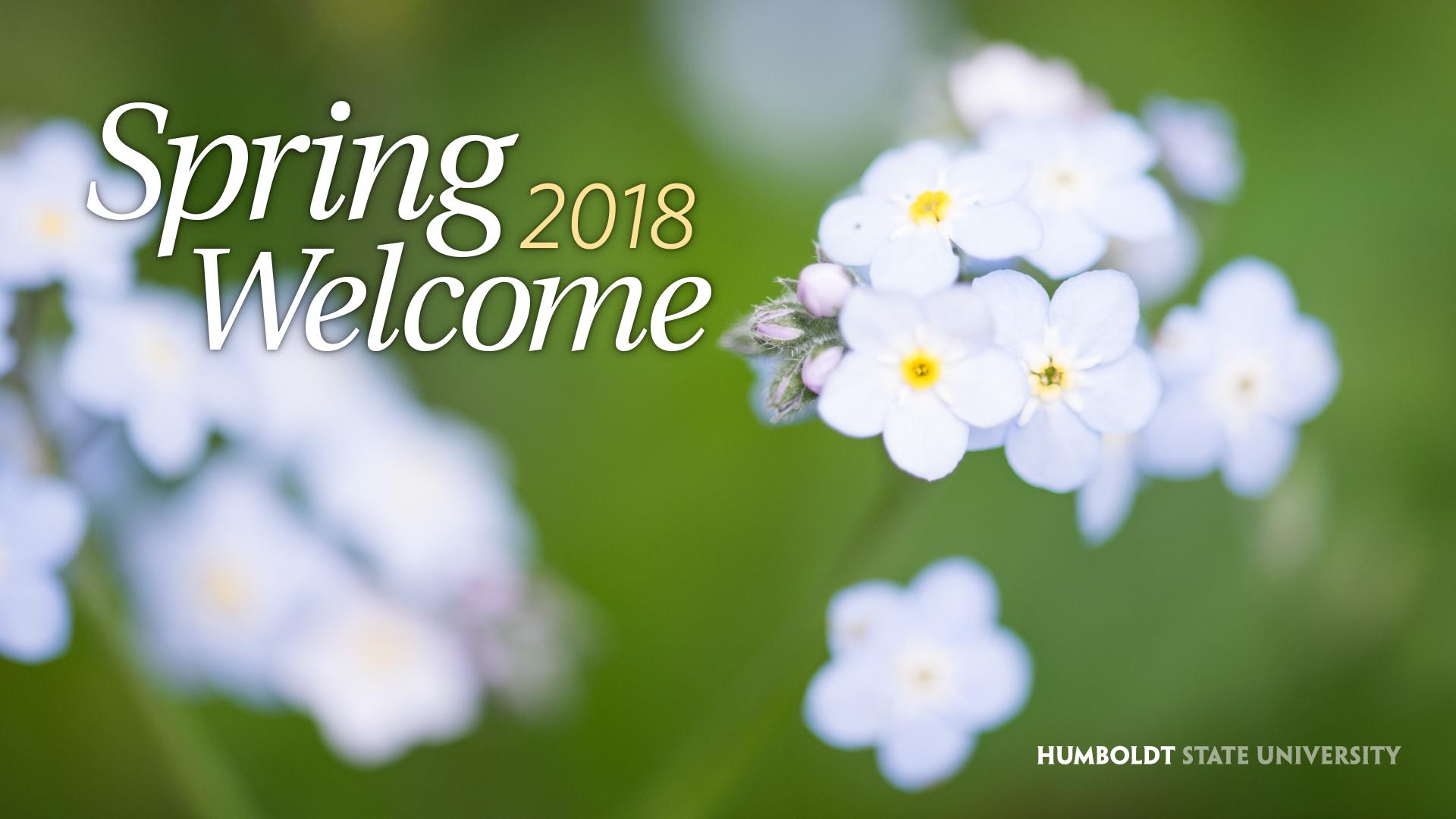 We're going to have a great semester.  I'll see you in the lobby for more coffee and refreshments.  Thank you all for coming this morning – and may The Force be with us all!