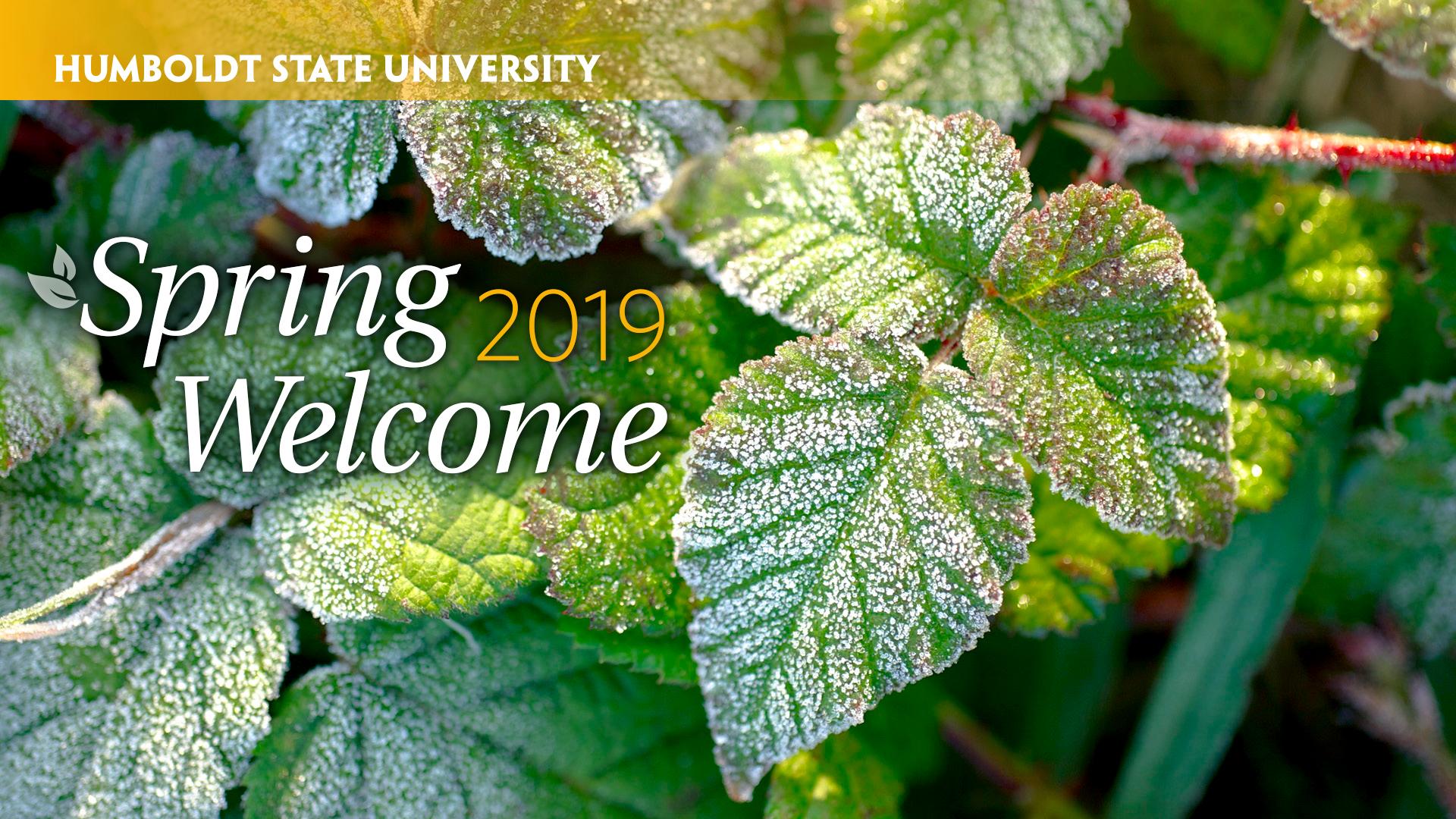 Happy New Year and welcome to spring semester 2019!
I want to start this morning by noting that the land where Humboldt State is located is part of the ancestral homeland of the Wiyot people – and that the Wiyot were here over a thousand years before this University was founded.  We honor their history, their spirit, and their sharing.
Thanks to our musicians who have been sharing their talent this morning.  They are directed by Professor Dan Aldag, and the student musicians are Allison Muench (alto sax), Andrew Henderson (trumpet), Max Marlowe (piano), Loren Acosta (bass), and Mike Deason on drums.  Thank you for being here this morning.  These students will continue to play after this welcome, so we will be able to appreciate them later, too.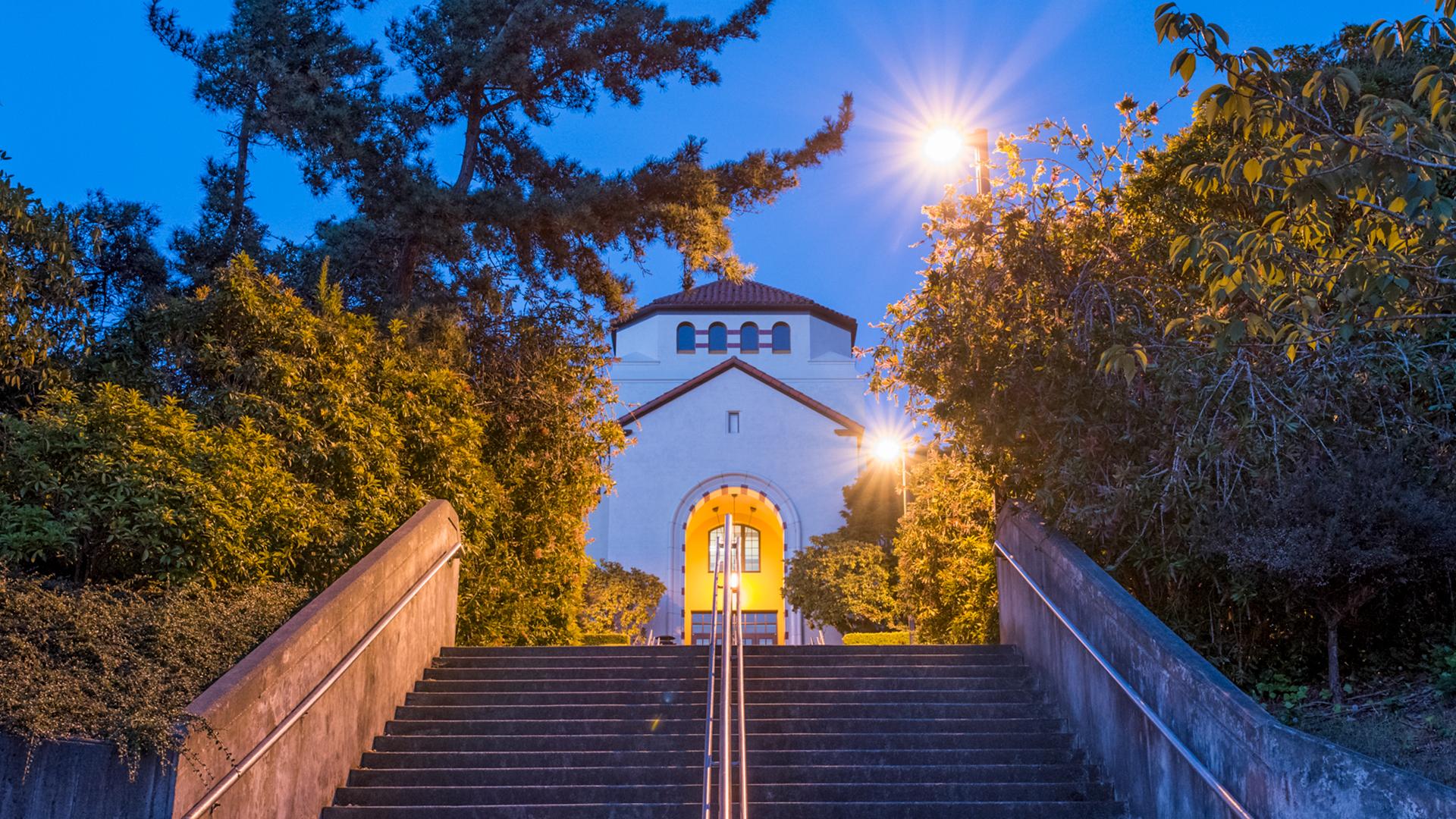 One of the traditions of this event is to welcome all new staff and faculty who have joined the HSU community since last August.  I realize that this means some of you may feel like you are being welcomed multiple times, but you should feel all the more welcome as a result.  If you have become part of the HSU community since last summer, would you please stand? 
Welcome again to all of you.
In the category of people who have been welcome here for a very long time:  I'd like to acknowledge two people who aren't with us this morning.  President Emeritus Rollin Richmond had hoped to be here, but he is serving on jury duty today.  President Emeritus Alistair McCrone called from Australia to say he is in Melbourne right now – and he sent his good wishes.  Both Rollin and Alistair have played important roles in building this University.  And I thank them both.  
One of the traditional celebrations at this Spring Welcome event is the recognition of years of service at Humboldt State University.  I'm going to do this a little differently, so let's start by having everyone stand up.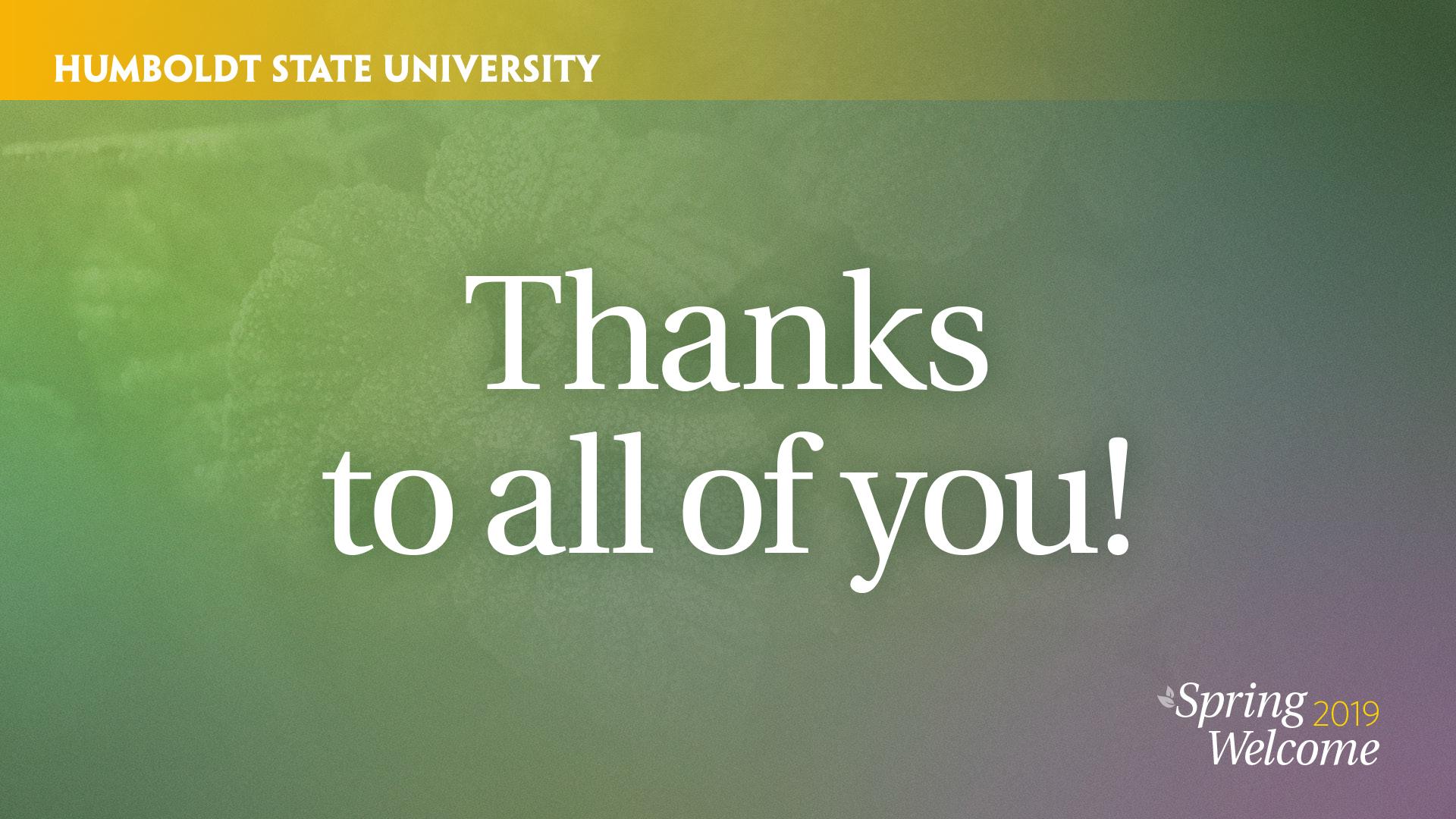 Thanks to all of you – faculty, staff, students, and supporters – for your contributions to Humboldt State, your commitment to our students, and your belief in the transformative power of public higher education in this state.
So now, I'm going to ask everyone who has worked at HSU for less than 10 years, please be seated – so that everyone standing has been here at least 10 years.  Thanks to all of you.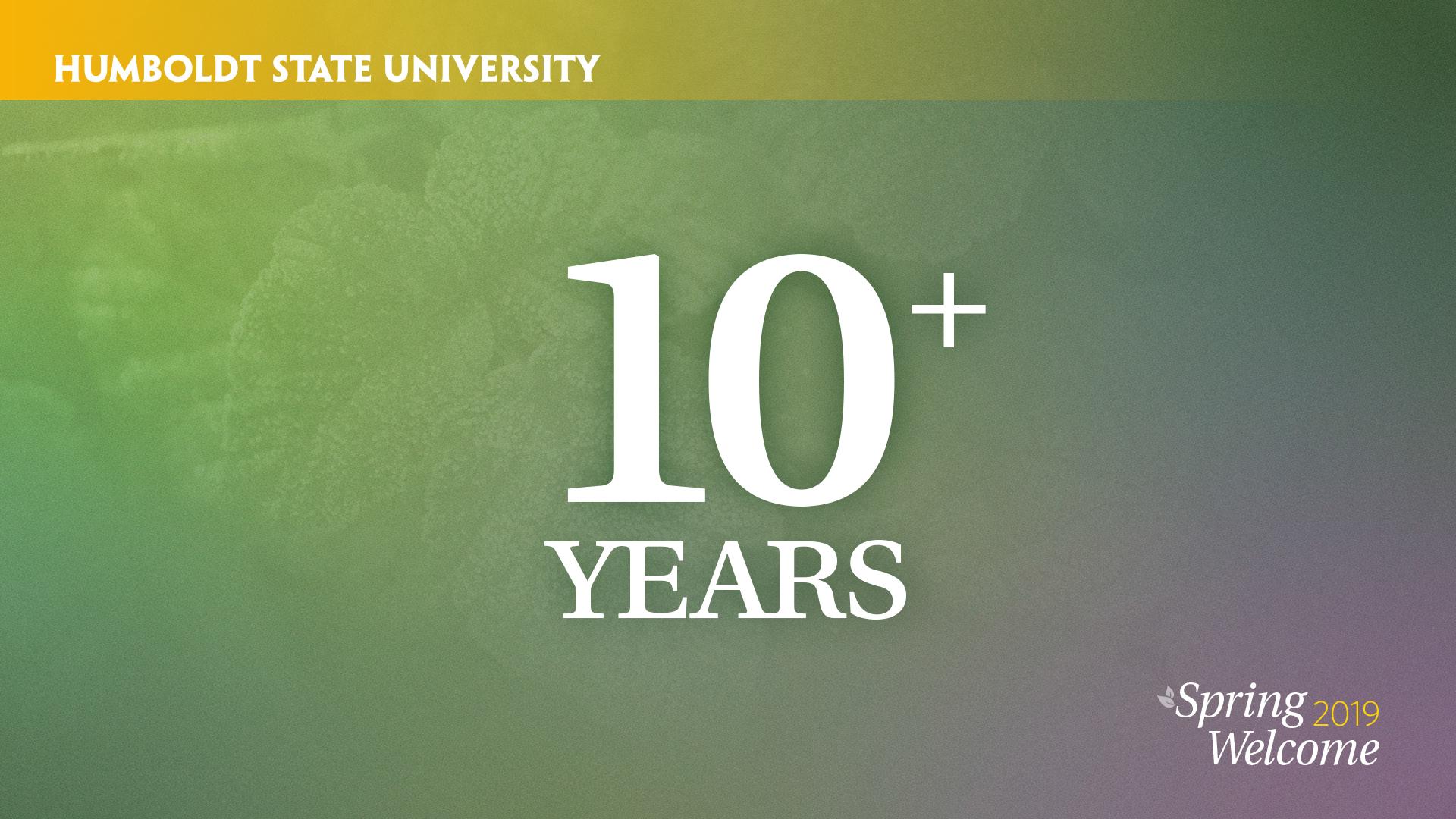 And now, if you have worked here less than 20 years, please be seated – and everyone standing has been here at least 20 years.
If you have worked here less than 25 years, please be seated.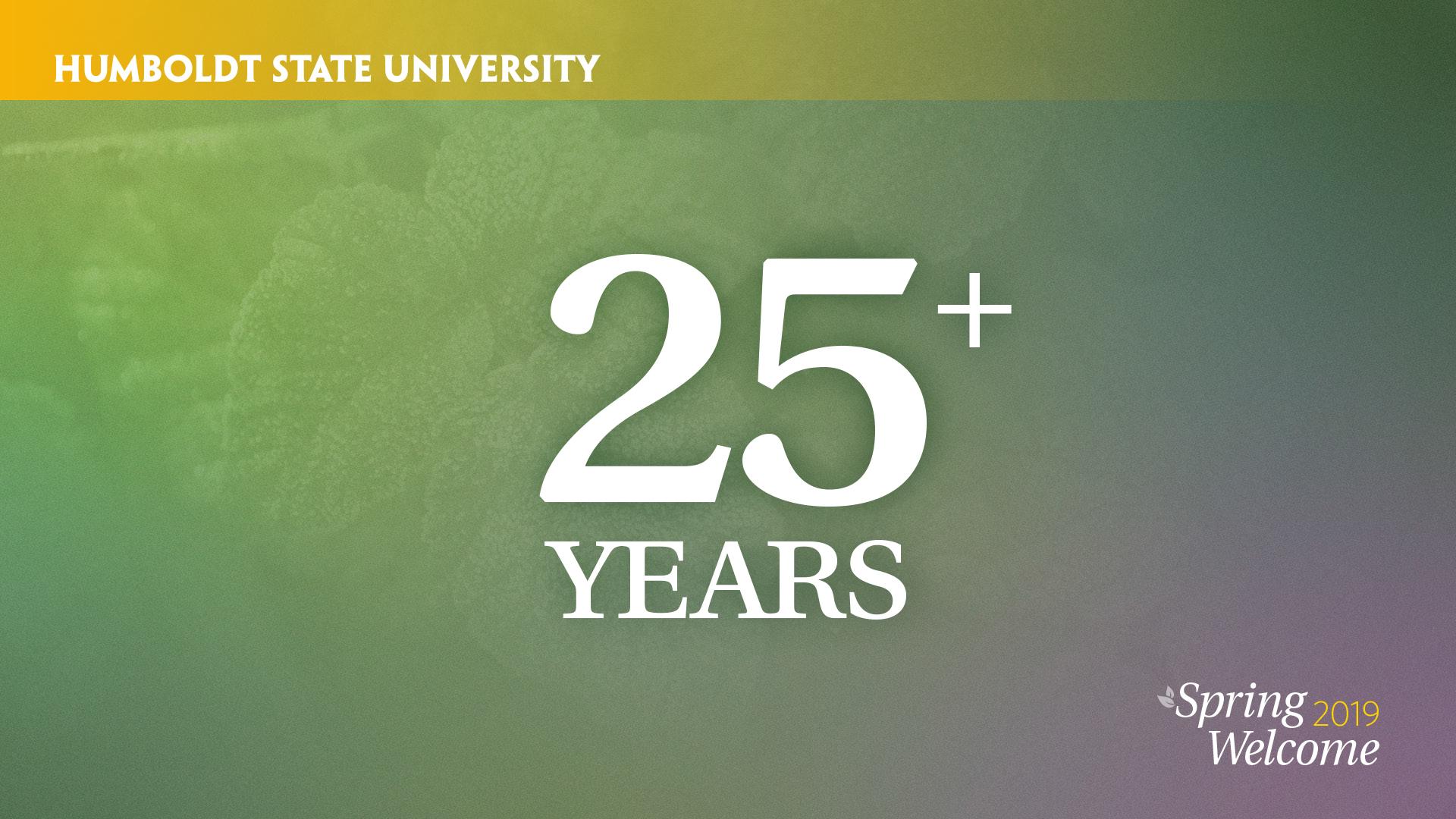 These are our colleagues who have been here more than 25 years. 
The five employees who have reached the 25-year mark this year will be honored at a Silver Lamp luncheon later this semester, and I very much look forward to that event.
So, please be seated if you have been here less than 30 years, with those who have worked at HSU for at least 30 years still standing.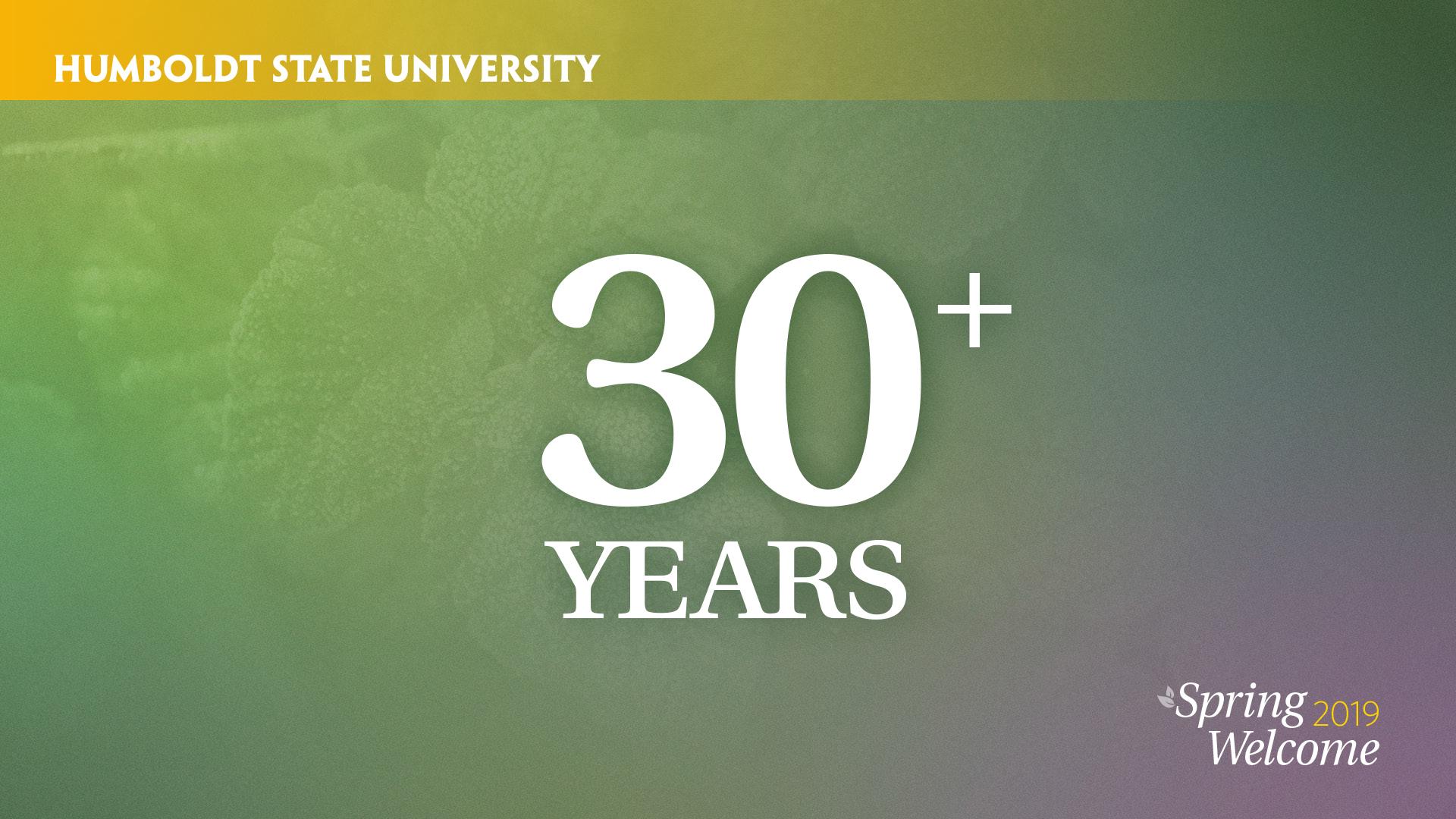 Please be seated if have been an employee at HSU for less than 35 years.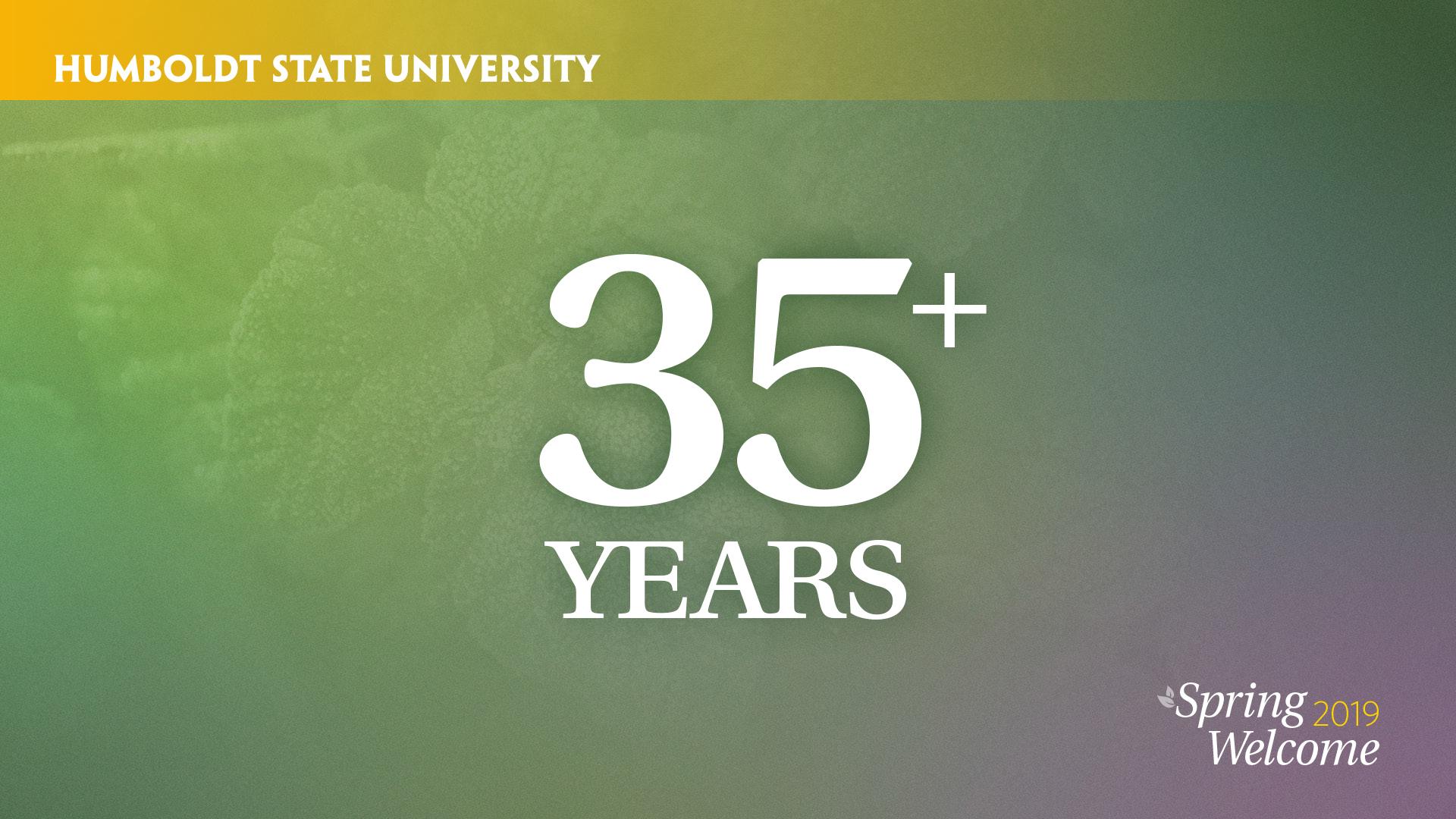 We have nine colleagues who have served this University for at least 35 years, including, on the Auxiliary side, Ron Rudebock, in the University Center, who has been here 45 years.  On the state side, Lois Stevens, Library Services Specialist, celebrated 49 years at HSU last October.
Thank you for caring about HSU and being such an important part of the history of this school.  You can all have a seat now.
We have one employee who has recently reached the 35-year service mark, and I have a presentation for him, recognizing this 35-year milestone.
Lewis McCrigler is the Equipment Technician for Biological Sciences. 
Lewis is not able to join us this morning, because he is working on a duck trap at the Arcata Marsh that is being used by HSU students.  For his first 17 years at HSU, Lewis worked in Telecommunications -- back when there were no microcomputers, just IBM machines with two floppy drives and no hard drives!  Lewis serviced the terminals that connected to the Admissions Office.  He was also there for the Erickson telephone switch over, for those of you who recall those telephones.  After his 17-year stint in Telecom, he moved to the College of Natural Resources & Sciences, where he has been repairing microscopes and other science equipment.  Lewis' daughter, Violet, works at HSU in the Library.
Congratulations, Lewis!  Even though he isn't here today, let's give him a round of applause.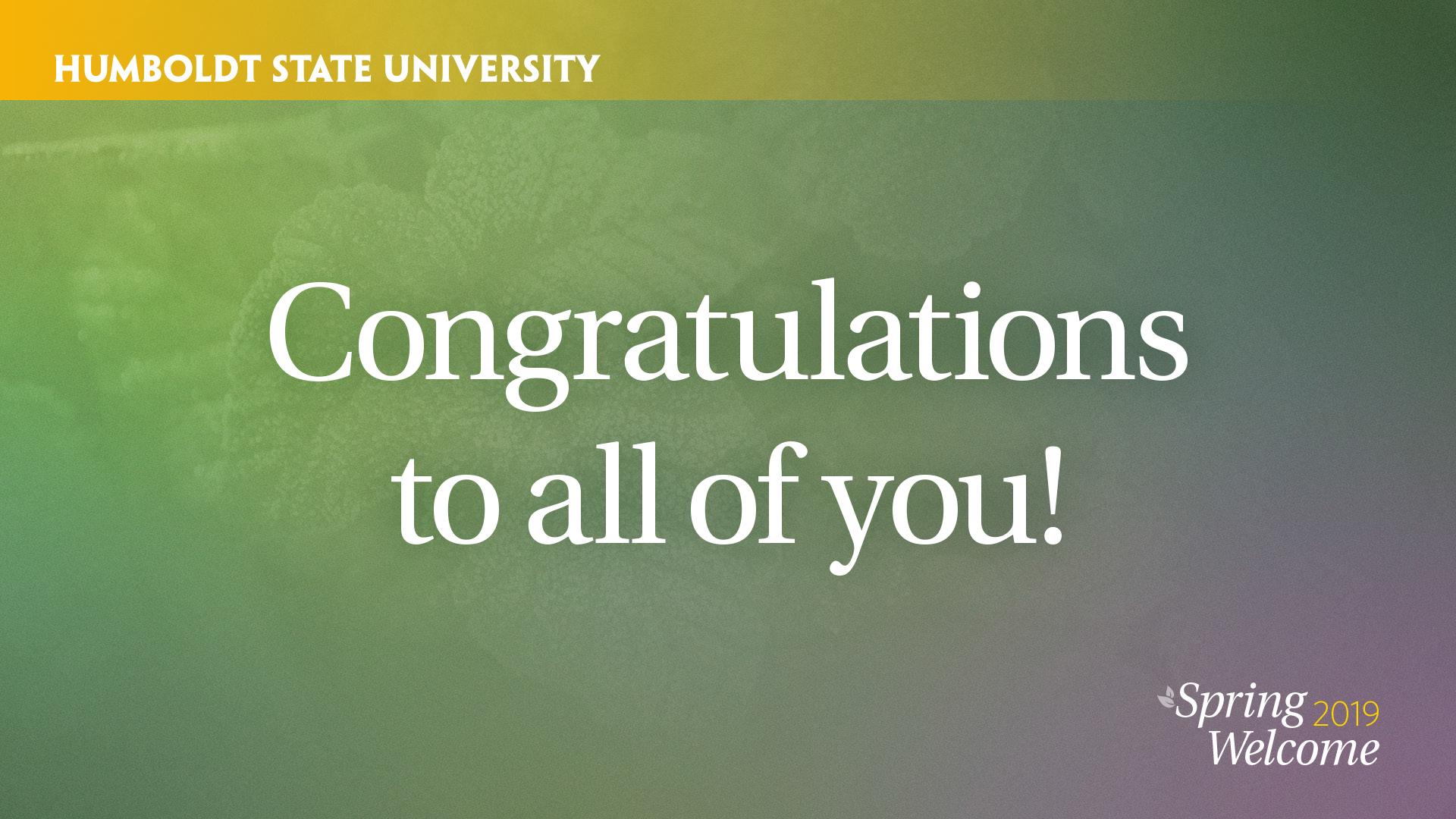 Congratulations, again, to all of you, and, on behalf of the HSU community, thank you for your incredible dedication.  
So, here's the big news.  I am NOT going to begin my comments with a Venn diagram that emphasizes the connections among our strategic plan, our accreditation review, and Graduation Initiative 2025.  Given that this my last official start-of-the-semester welcome, I'm going to take a different approach.
HSU is an environment in which we focus on what our students learn.  I want to reflect for a moment about what I have learned in the past five years here at HSU and to talk about the major issues that I see facing HSU at this point in our collective history – and into the future.
So here are a few observations about what I have learned.  This is not a comprehensive list, but I want to highlight a few items.  Indeed, I have limited my list to 10, as an homage to David Letterman, but these are not in priority order.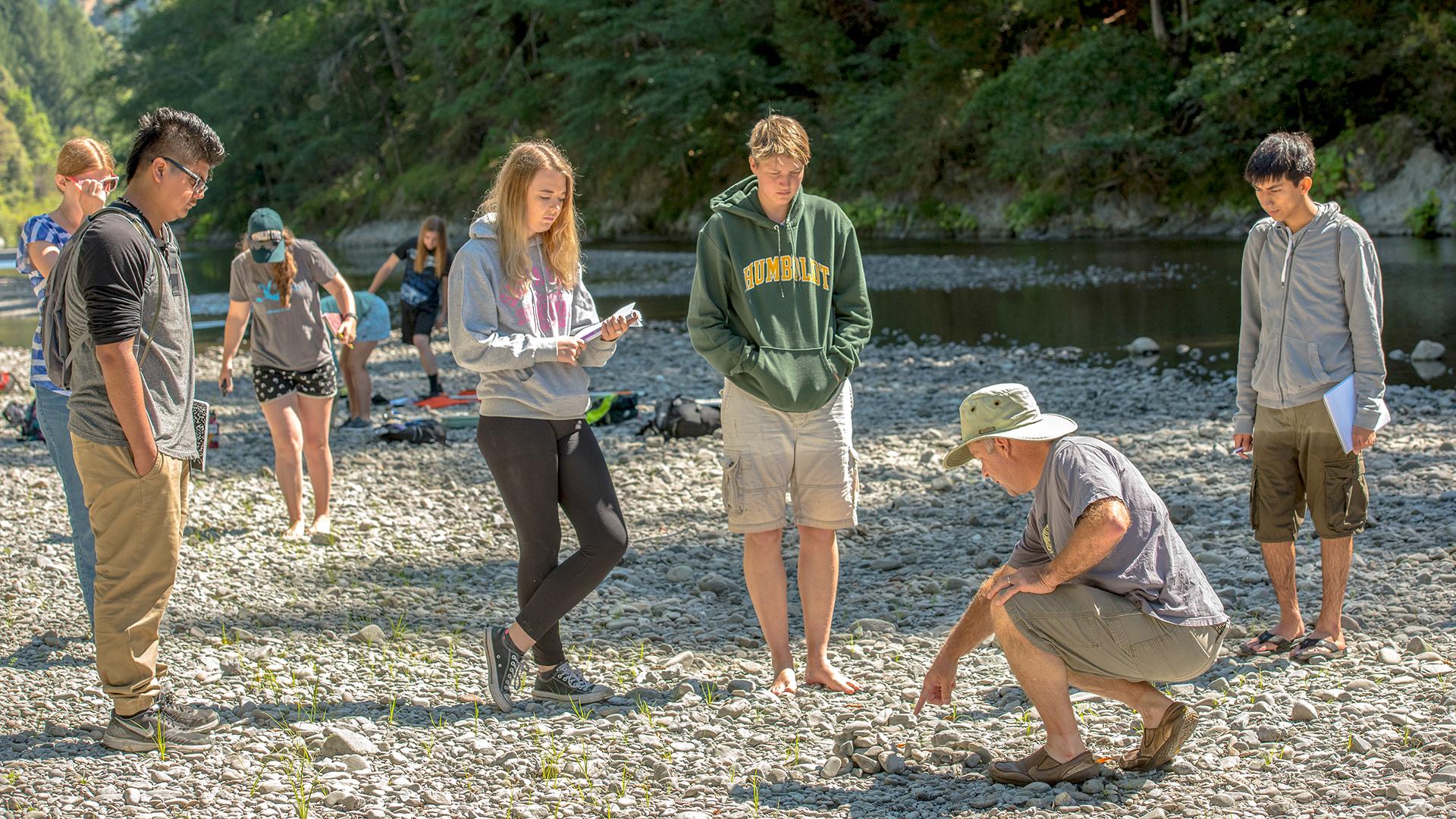 1.  First, I have learned about the power of the physical environment to influence teaching and learning. This sense of place, the overall learning laboratory, is wonderfully exemplified by our place-based learning communities, like the Klamath Connection, Stars to Rocks, Rising Tides, Global Humboldt, and Students for Violence Prevention.  These academic programs are designed to engage first-year students, weave together our remarkable location with the curriculum, and build communities in the process.  This is an approach and a niche that no other CSU campus can duplicate.  We need to continue building on this characteristic that is unique to Humboldt State.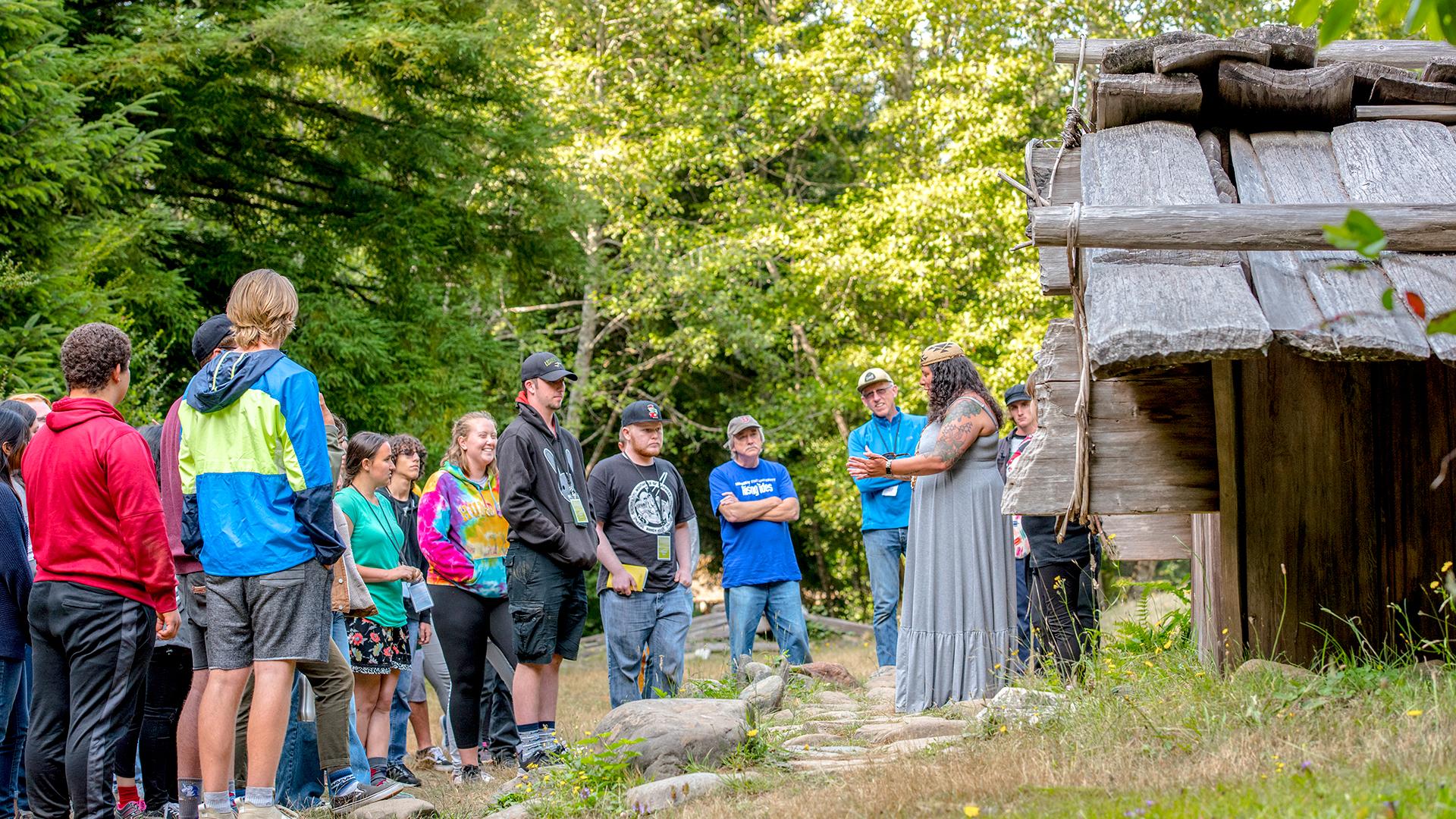 2.  I have learned about the strong history of Native American culture in this region, the relationship of the Native communities with the environment, and the importance of supporting those connections.  I also recognize the importance of supporting our Native American students.  HSU has the highest percentage of Native students of any campus in the CSU, and this brings a responsibility to support their success.  This is one of the fundamental characteristics of HSU and who we are.  I'll mention in a moment how this applies to supporting diversity, equity, and all the students and communities we serve, but this has a particular connection with our sense of place.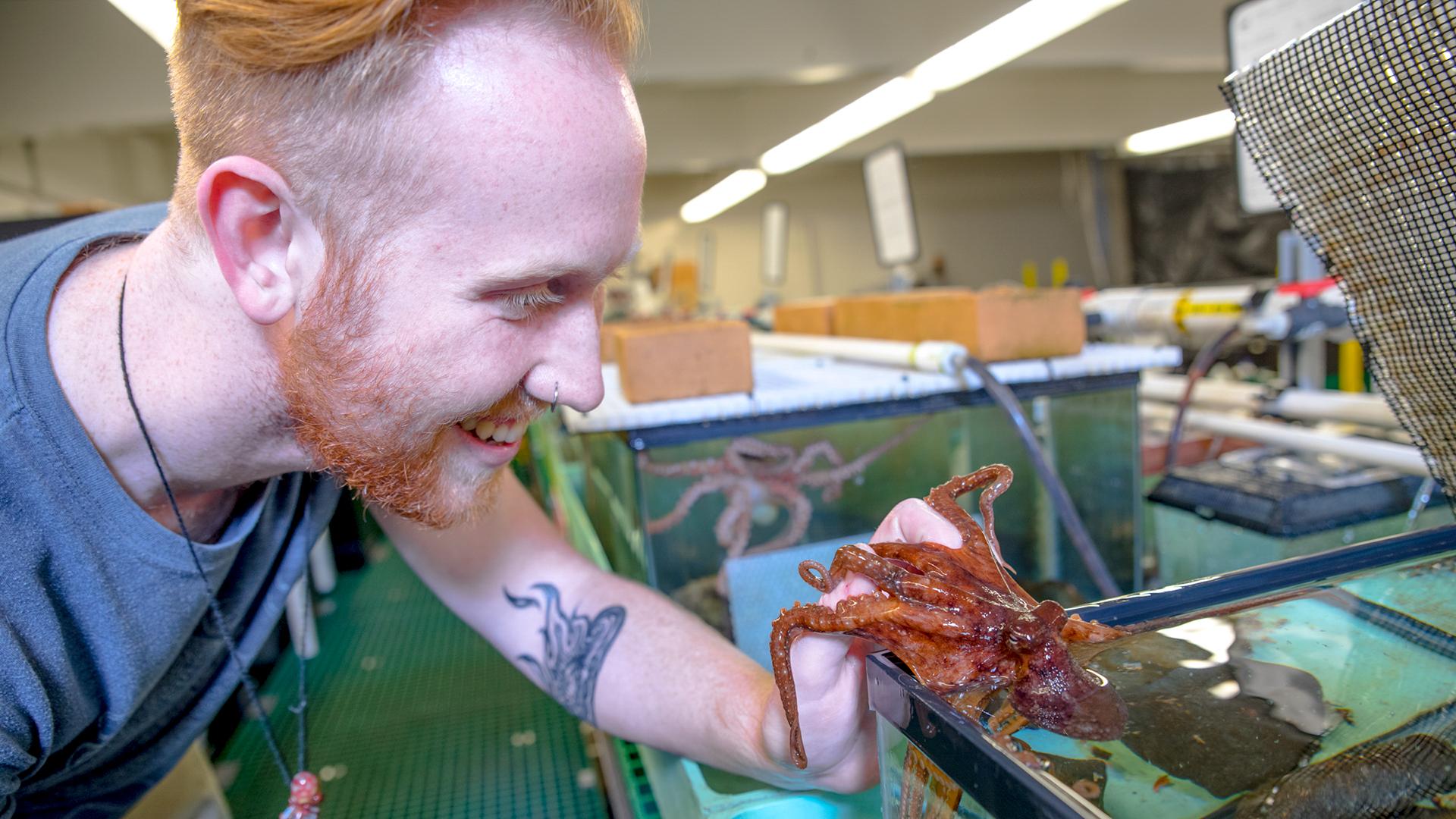 3.  I have learned about how research, scholarship, and creative activity can be pursued in new ways that provide meaningful, important, life-changing opportunities for students to be engaged.  Involving students in the exploration and integration of knowledge is a powerful aspect of the educational process and a key component of their experience here.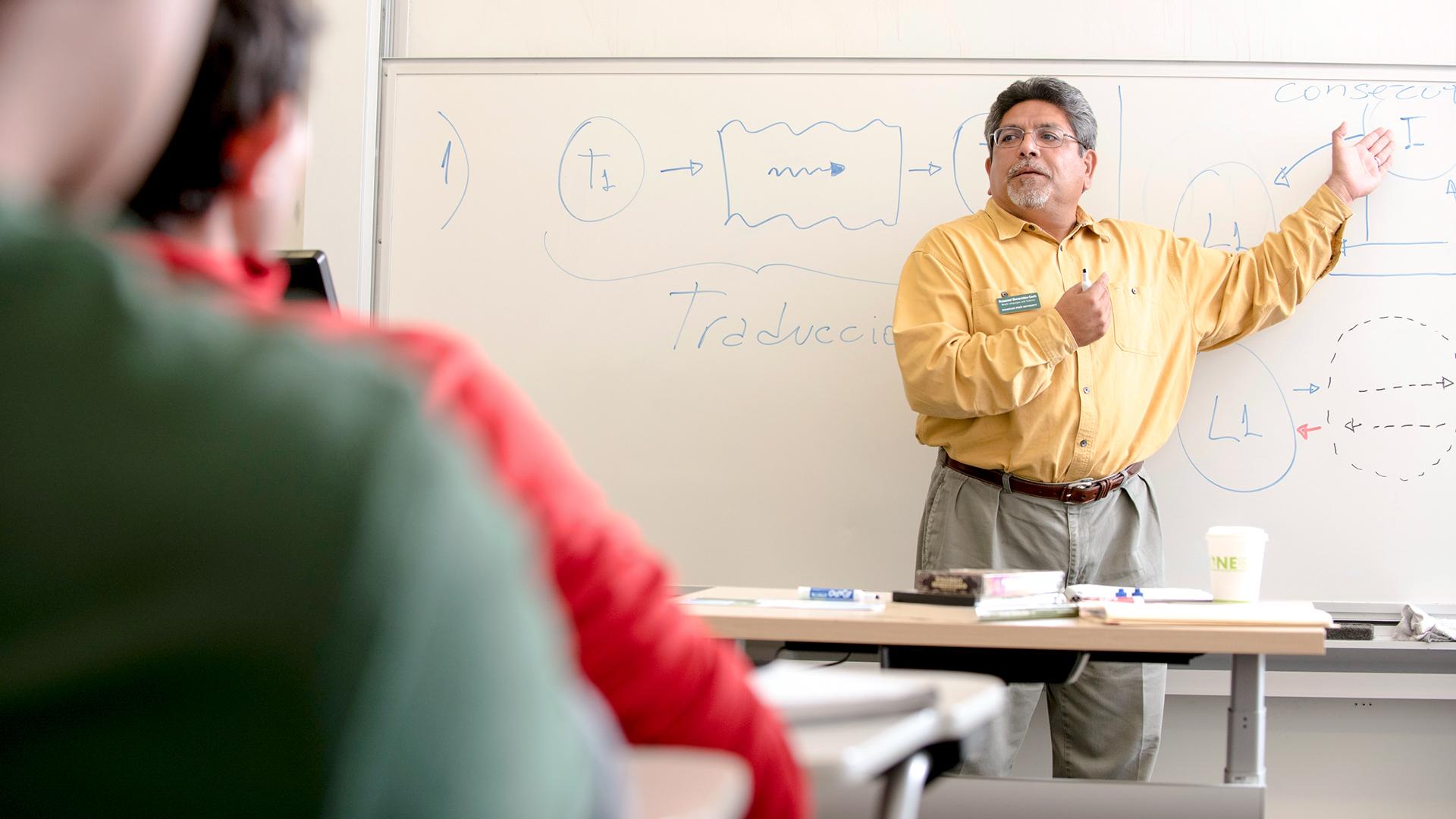 4.  I have learned about new ways of engaging students in the classroom and laboratory, especially through my opportunities to attend classes, participate in them, and observe faculty members working with students to help them connect with the course material.  I've had the pleasure of sitting in on classes by a variety of faculty members, including Melanie Michalak, Ronnie Schwartz, Sarah Ray, Gregg Gold, Brandon Browne, Marissa Ramsier, Mihai Tomescu, Carlos Gaskell, and Mary Glenn.  Thanks to all of you who have allowed me to attend your classes and labs, who have invited me to attend, and whom I know would have welcomed me if I had asked to visit.  And a corollary of this is that I have learned how different effective teaching looks and sounds and is experienced than when I was an undergraduate.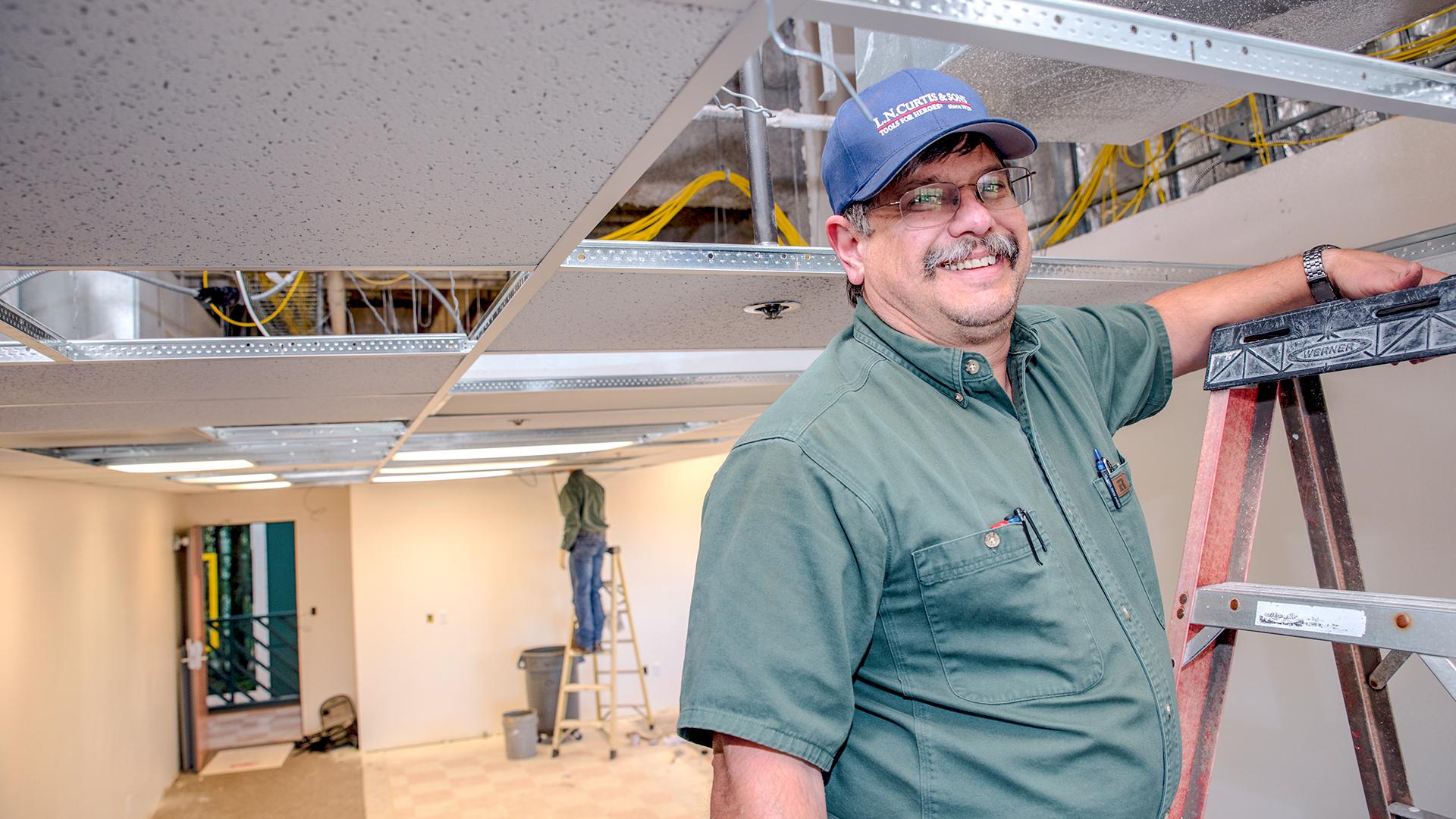 5.  I have learned that some of the people at HSU who have the deepest commitment to our students' success are in Facilities Management.  The custodians, the grounds keepers, and the maintenance people interact with students in a wide variety of ways, and they develop special relationships with the students.  I am grateful for the role all of you play in supporting and helping our students.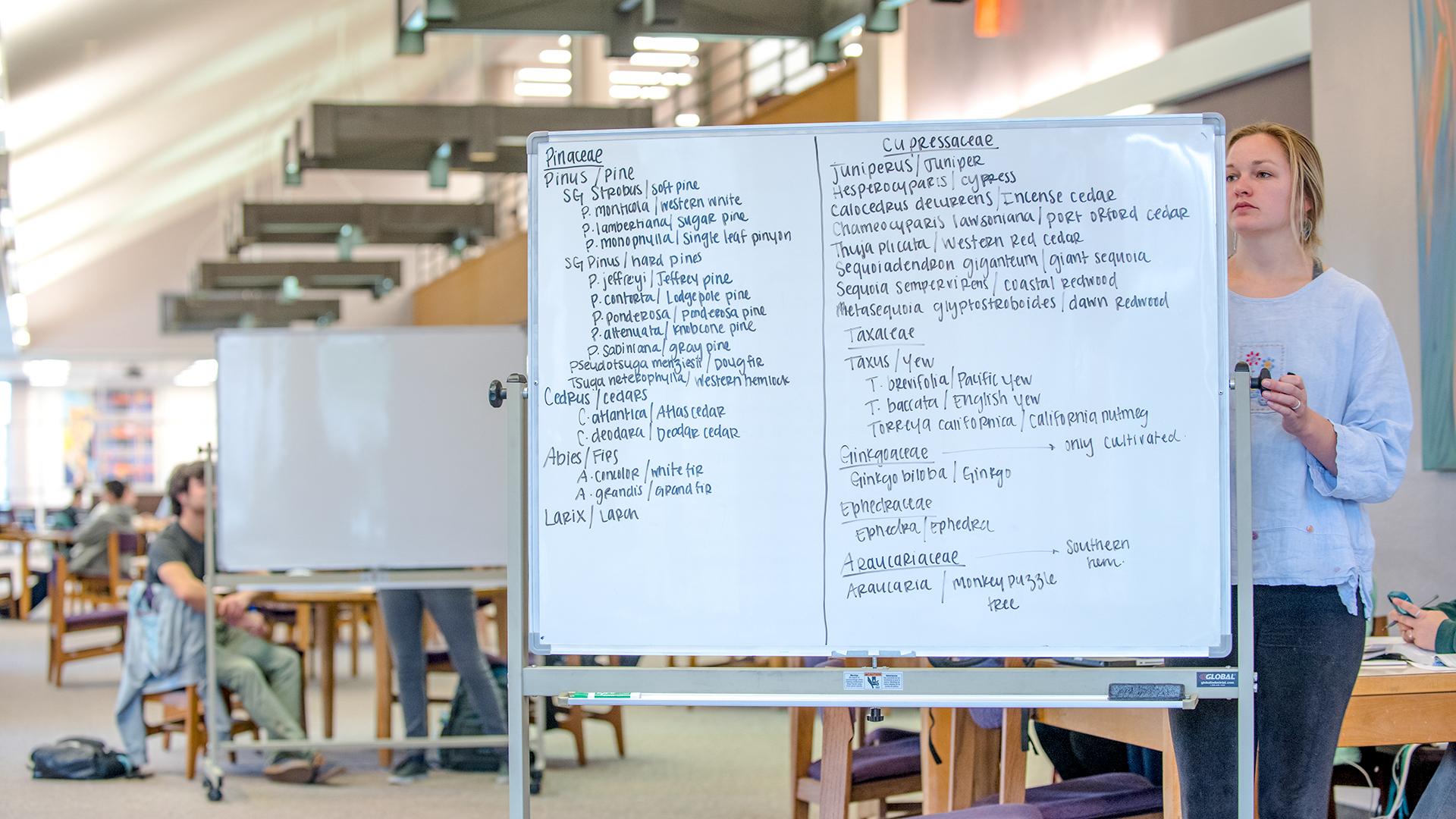 6.  I have learned that one of the key places to take campus visitors, where people, energy, and engagement about ideas and learning are always in evidence, is the Library.  The HSU Library is not a place where students are studying in isolation – unless they want to – and the librarians and staff are not saying "Shhh" wherever there is noise.  The Library is a place where collaboration, learning, and exploration are happening.  Sometimes, these activities include concerts, lectures, and dance – and they almost always involve those whiteboards.  Visitors are always impressed.  And I am, too.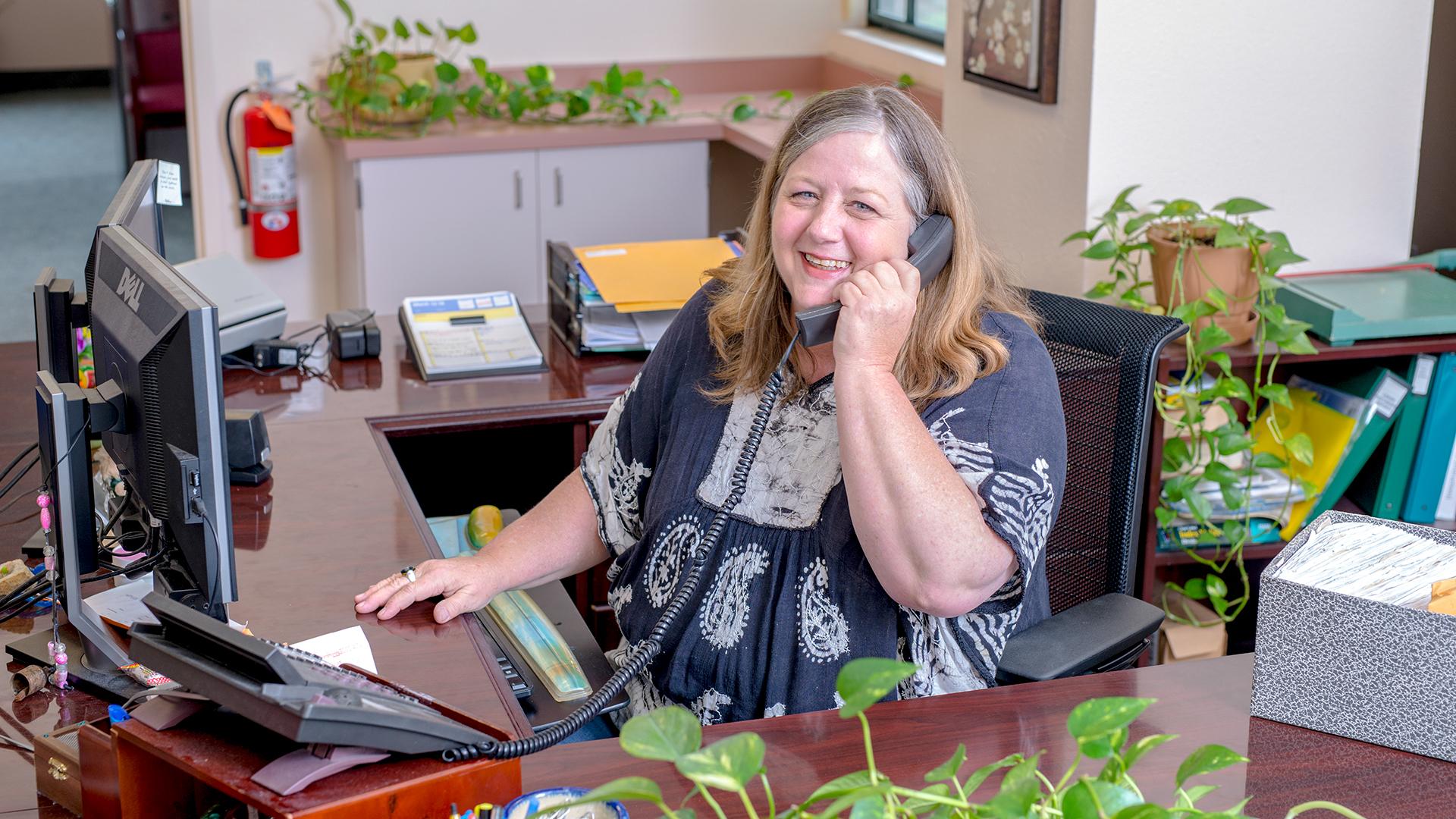 7.  I have re-learned something that I first became aware of in graduate school, and which my husband Dallas has always emphasized to me.  If you really want to know what's going on, ask an administrative assistant or support person.  They are often the first to know about issues and activities, and they just need to be asked.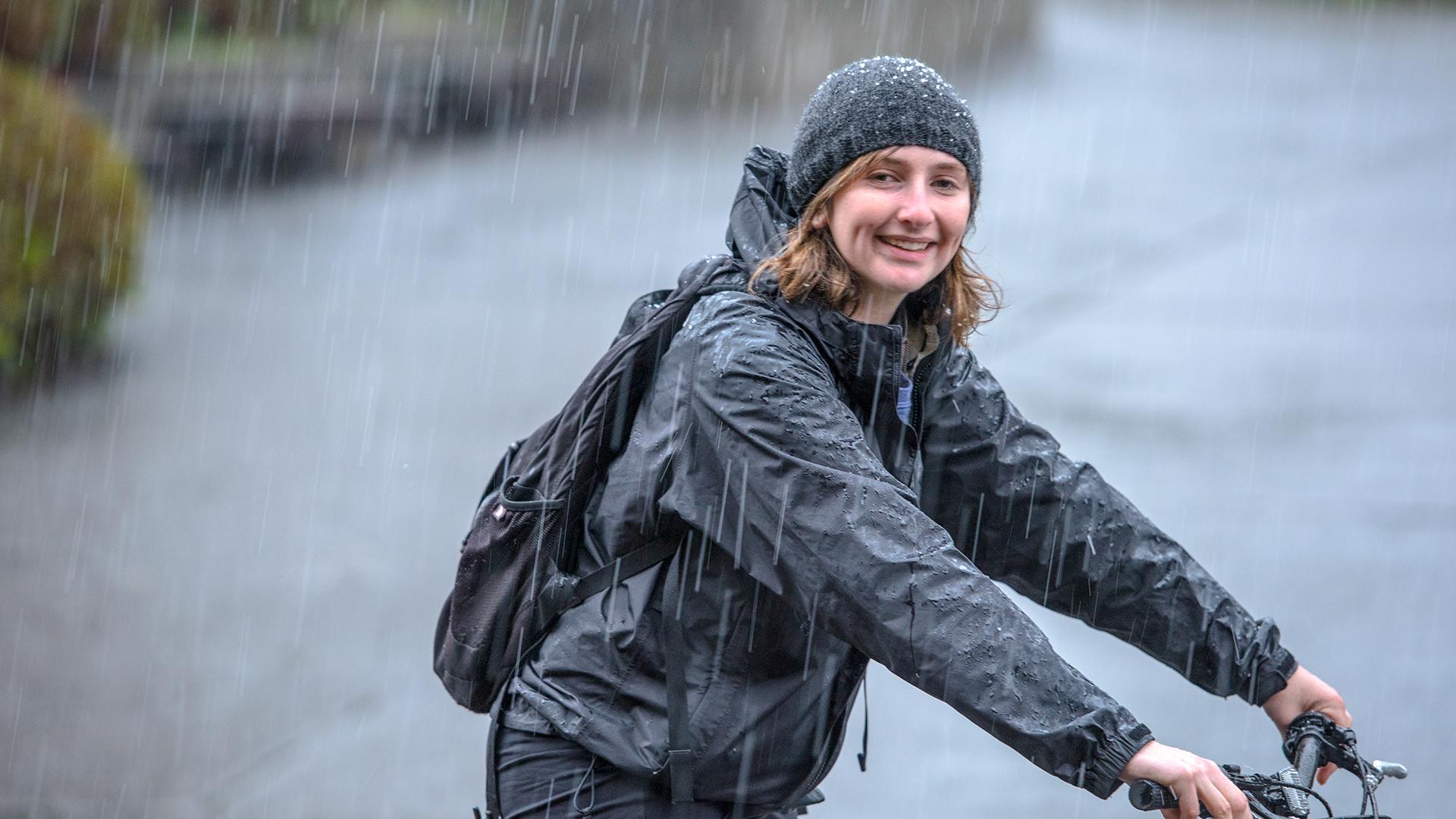 8. I have learned that my answer to the question "jacket or umbrella" in Humboldt County is … jacket.  Especially if it has a hood.  I had to be convinced, because I had always been an umbrella person.  But I've decided that this doesn't really work here.  Hoods work great – but you do have to actually use the hood.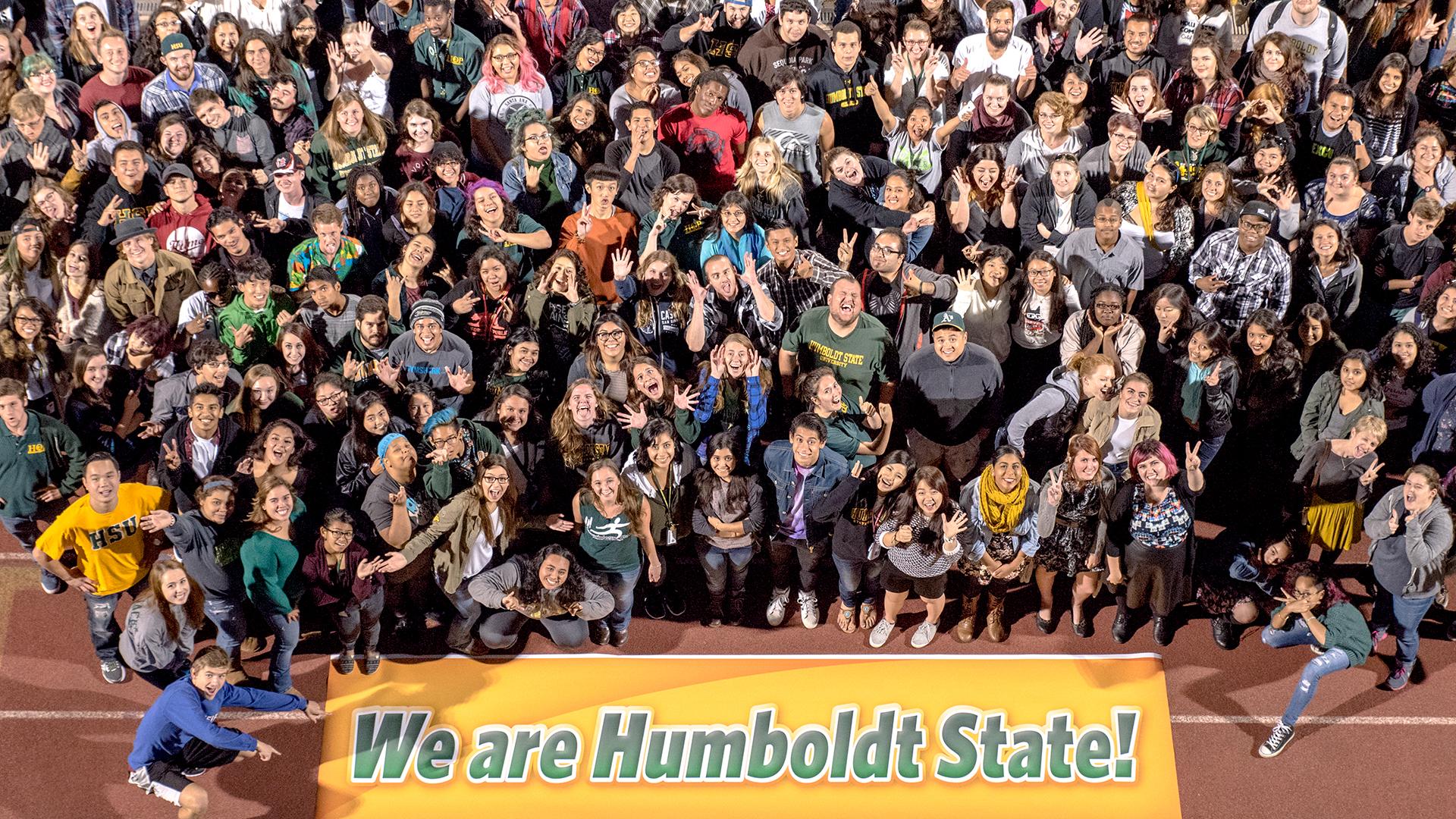 9.  I have learned much more about how complicated enrollment management is.  The more I learn, the more I appreciate the complexity and the multivariate analyses (and efforts) that are needed to manage enrollment.   And I want to credit Lisa Castellino, our Associate Vice President for Institutional Effectiveness, for her insights and coaching on this topic, as well as Randy Hyman, who is serving as our interim Associate Vice President for Enrollment Management.
I have learned a lot about the complicated interplay of how and where we recruit and the wide range of factors that contribute to students' decision to come, stay, transfer, or take a different path.  I understand more about the importance of a good fit, and the fundamental need for all students to feel supported and welcome.
As you all know, we are involved in a wide variety of activities to turn around our recent enrollment trends – and I want to thank everyone for your good work on these efforts.  We need to continue to collaborate to recruit students to come to Humboldt, to support them, retain them, and help them graduate. 
Some of you have been asking "So, what's happening to help increase enrollment at HSU."  I would like to refer you to the enrollment management page on the HSU website for a long list of the actions that are being undertaken, across the University, to provide an active, coordinated response.  Provost Enyedi will also be discussing these actions in an upcoming Senate meeting.
And, by the way, this photo was taken during orientation in Fall 2015, so the students you see here are the class of 2019.  I hope we see most of them walking across the platform at commencement in May.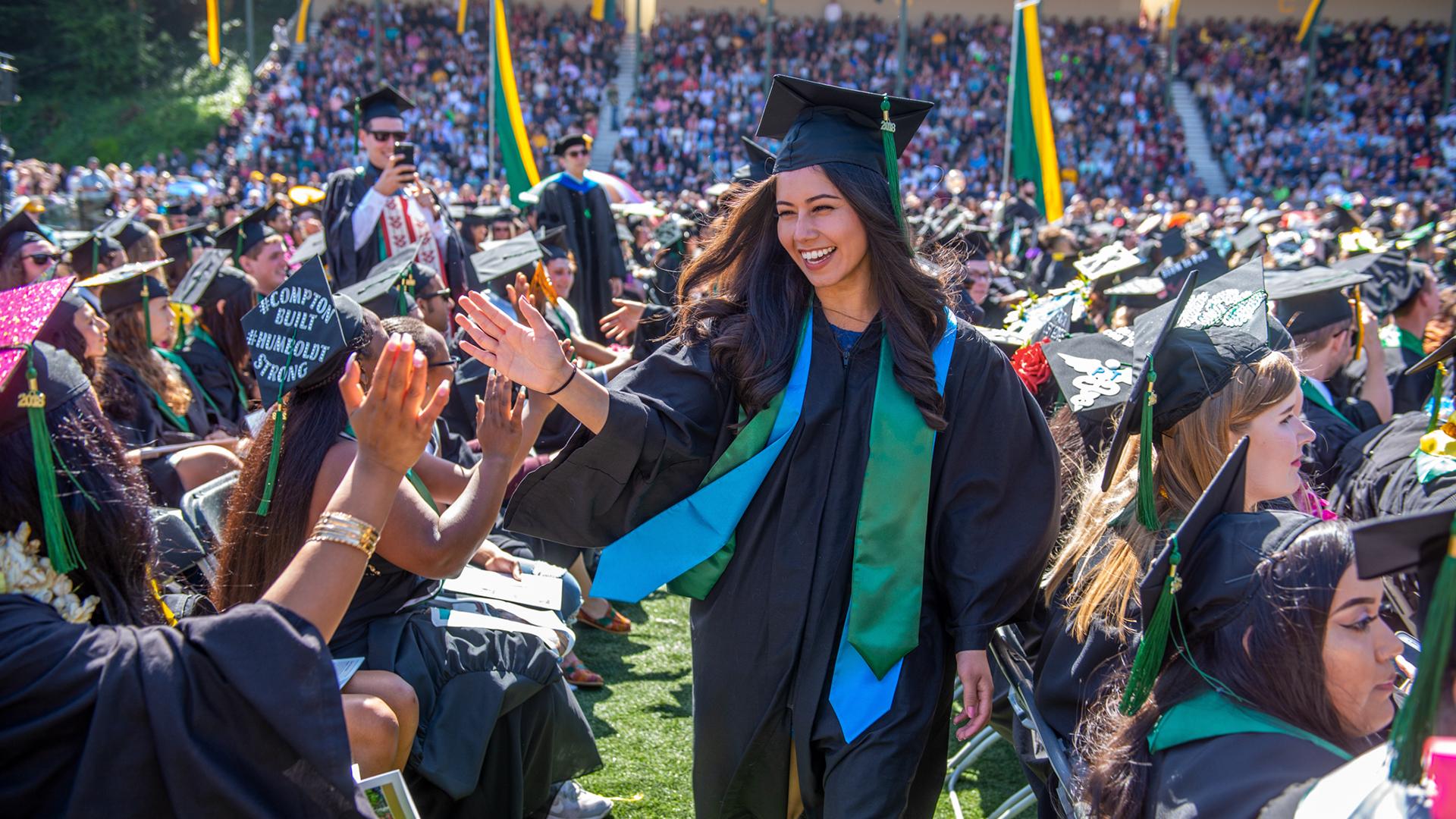 10. In case you're keeping track, here is #10 on my list of what I have learned.  I have learned that the Graduation Initiative is playing a critical role in supporting our student success.  This is the result of both our collective focus on this goal – and the resources that we are investing to help students.
Next year, for example, funding earmarked for the Graduation Initiative will enable us to hire 10 additional faculty members.  We'll have two additional academic advisors, plus an additional CARE counselor.  We will be able to create a new position that will serve as a single point of contact regarding students' basic needs. We will be able to expand our ability to make data-informed decisions by strengthening the Office of Institutional Effectiveness.  We are making strategic investments in permanent funding for the place-based learning communities.  And, with the Graduation Initiative funds, we will help address financial insecurity by directing $400,000 to increase opportunities for student employment on campus.
These are impactful and important ways that we can support student success, which are possible because of the Graduation Initiative funding. 
Unfortunately, the Governor's proposed budget for 2019-20 includes much less funding for the Graduation initiative, but our work – and that of all the CSU campuses across the state – will provide the basis for highlighting the positive impact of these investments and support our advocacy efforts for more Graduation Initiative funding.
*****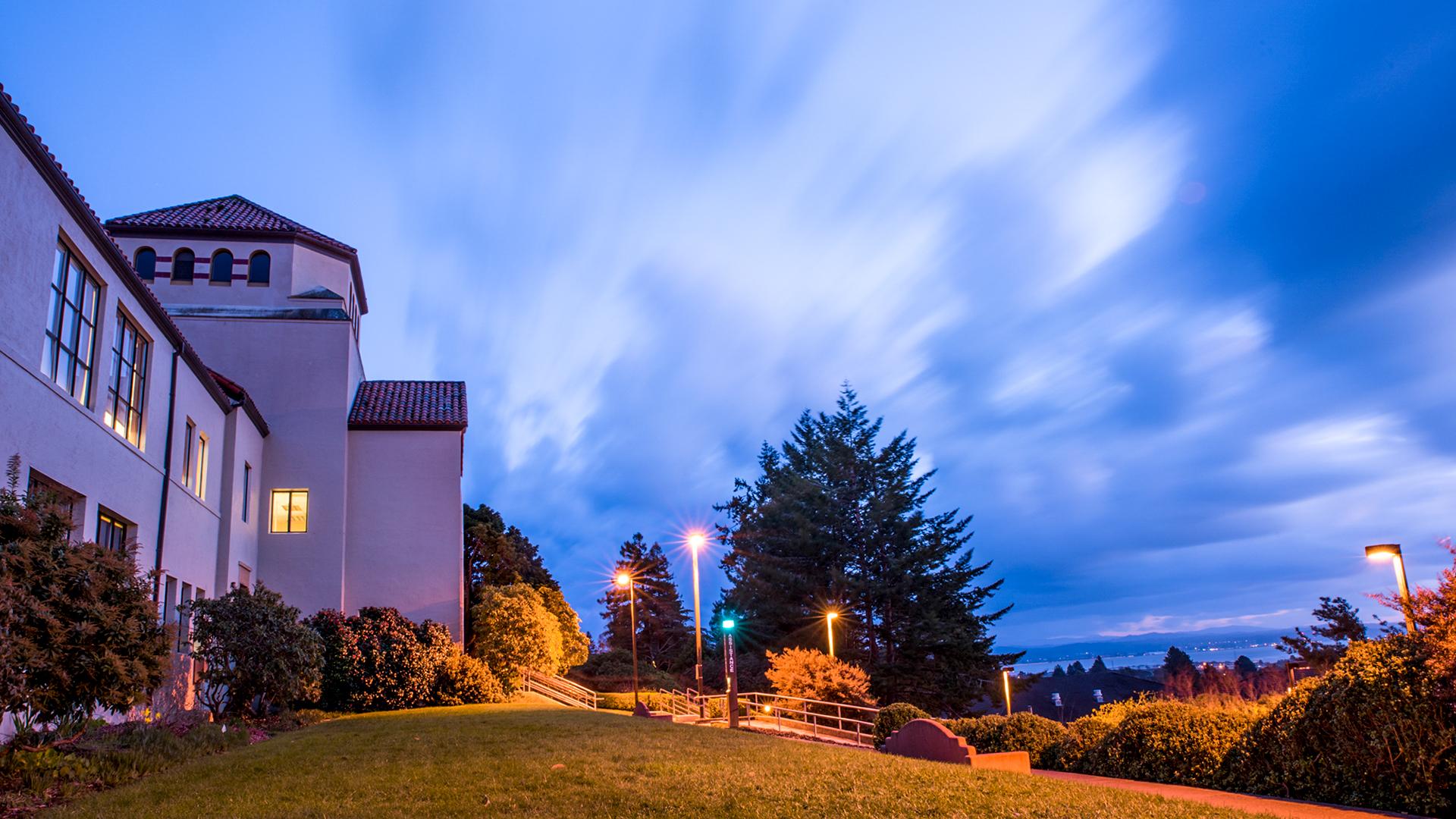 So, as I look back on what I've learned, I am also thinking about how we can ensure the smoothest possible transition for the future.  The next president and this community will have the opportunity to address a number of important goals: 
HSU will have the goal of supporting student success;
HSU will have the goal of emphasizing the central importance of having a welcoming, inclusive, equitable, and diverse environment for teaching and learning, and for working and living;
HSU will have the goal of continuing to stabilize the budget – I want to note that Governor's budget for 2019-20, which was released last Thursday, includes funding for employee compensation increases and mandatory costs and 60% of the amount that was in this year's budget for the Graduation Initiative.  That's good news.  Governor Newsom's proposed budget also includes one-time funding for the 23 CSU campuses for deferred maintenance and to help address students' basic needs.  Here at HSU, our enrollment levels mean that we must continue to find ways to address our budget shortfall, but the current prospects for next year's funding should help keep from exacerbating our deficit.
HSU will have the goal of increasing and stabilizing enrollment and getting it back to our target level (which is, of course, related, because enrollment affects the budget, both directly and indirectly);
HSU will have the opportunity to develop a new strategic plan to guide the University through the upcoming years, including consideration and re-evaluation of the values that guide and define this University;
HSU will have the goal of expanding the legacy of commitment to sustainability;
HSU will have to goal of continuing to strengthen communications, both on and off campus, emphasizing the good things that are happening and countering the negative messages; and
HSU will have the goal of resisting the temptation to return to "the way things used to be" and miss the opportunity to grow, build, adapt, and be nimble in moving the University forward, serving our students, and supporting their success.
With the creativity, experience, and commitment of this University community, there is every reason to believe that all these goals can be reached.
All of you will have the opportunity to provide your input into the presidential search process on Monday afternoon, February 4, from 1 to 3 p.m. here in the Kate Buchanan Room, during the open forum with the search committee.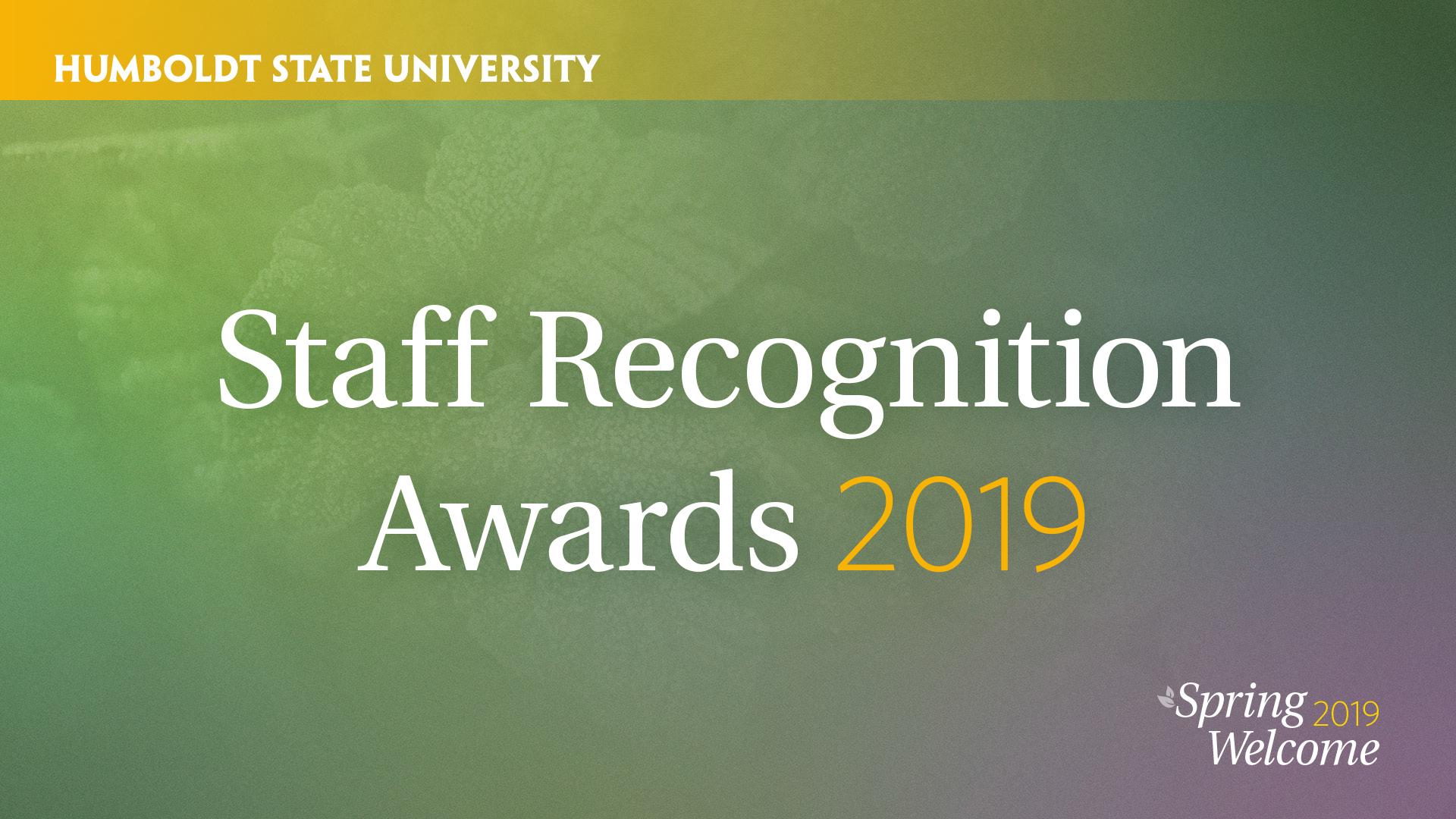 Now, here is a more immediate topic.
I am now pleased to present the Staff Recognition Awards, a program that was started over two decades ago to recognize meritorious staff members.  Staff Council reviews nominations and makes recommendations on these awards.  Many outstanding staff members were nominated, and 10 individuals are being recognized this year.  Thanks to all of you who took the time to nominate a colleague.  Besides receiving a cash award, the recipients will be honored at a luncheon later this semester.
I will introduce each of the winners by starting with comments from their nominators and then ask them to come forward, but you can return to your seat, and we will take a group photo at the luncheon.  
Nominators of our first staff member to be recognized say that he is "truly a delight to work with" and he is able to diffuse tense situations with his down-to-earth solutions and a smile.  One co-worker said that "He always responds to his 'nag-o-grams', I mean emails, with good humor, patience, and ANSWERS!"  There have been a couple of projects recently where he was able to not only save the University money by reusing old doors that were on hand, but he also greatly improved privacy for our students by creating spaces for them to consult with staff in the clinic.  He manages the dozens of Facilities projects he's simultaneously coordinating, with efficiency, thoughtfulness, and a great smile.
Facilities Project Supervisor, Travis Fleming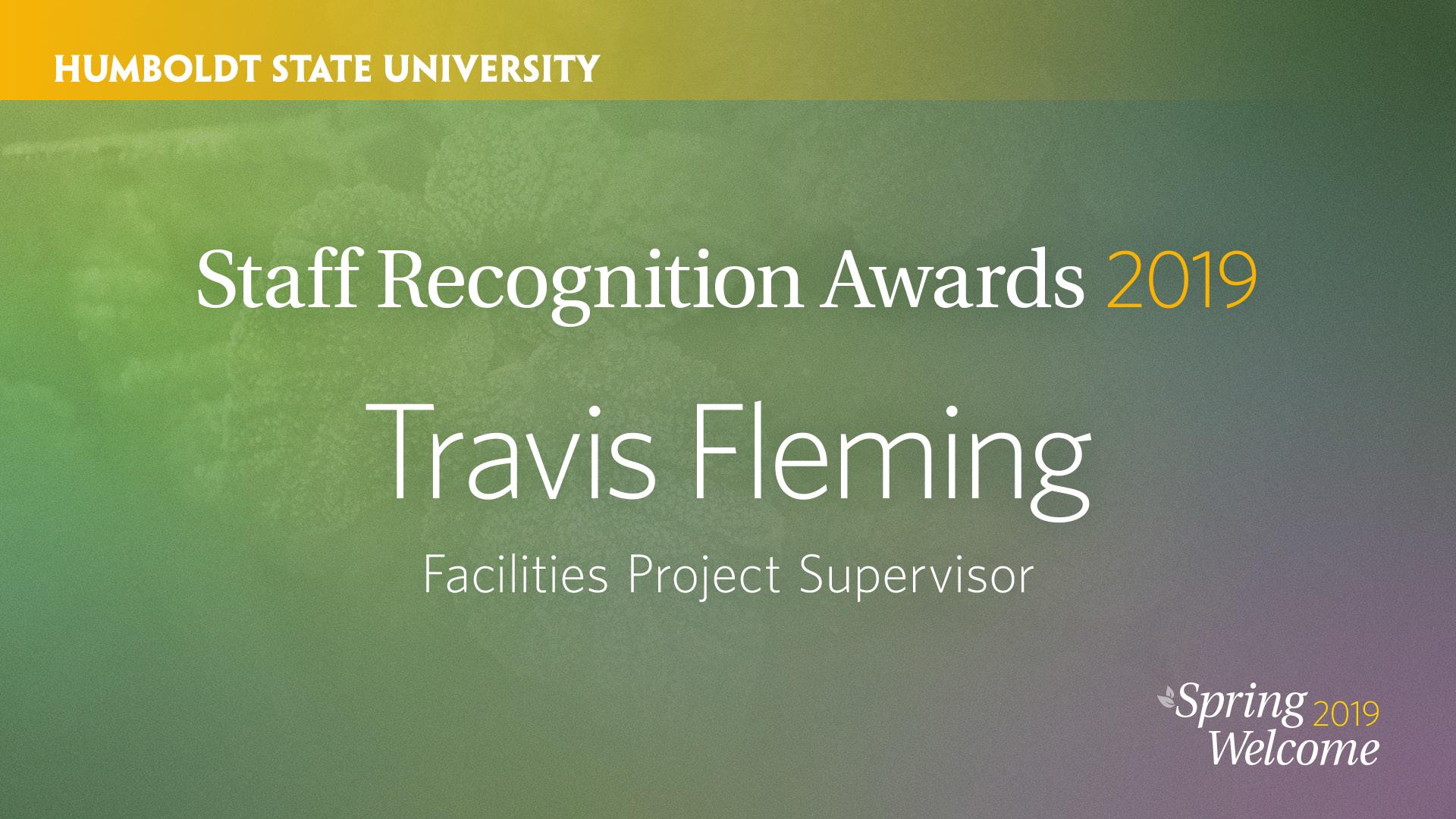 If one were seeking a definition of compassion in the dictionary, they would find the name of the next recipient written there.  Her nominator wrote that, "It is the lens through which she views the world and a guiding force in her philosophy towards supporting students.  For the past five years, she has been part of a program that has gone through numerous iterations and refinements.  Rather than letting the constant change get to her, she stayed positive because she could see the bigger picture at hand.  Whether she's helping students find their passion, navigate college life, or aiding them when they are in crisis, her kindness and concern have an impact on their lives.  Everything she does comes from a place of caring, and is why we think of her as the heart of our department."
Academic Advisor, Academic and Career Advising, Kelda Quintana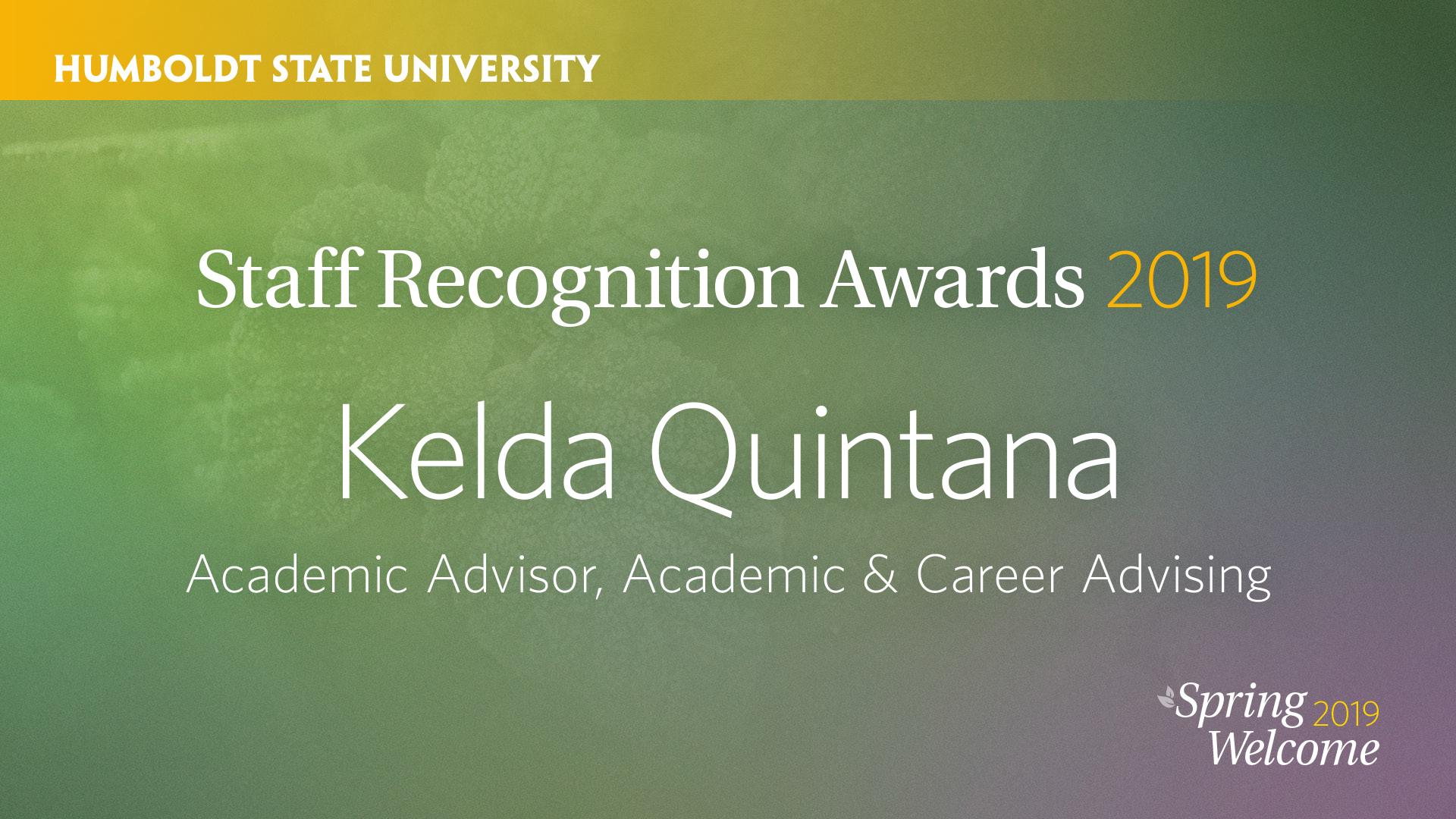 This next individual is truly a vital member of the HSU community.  She is tireless and selfless in her work, a blend of courtesy, conscientiousness, and professionalism that benefits the hundreds of people who come to her each year with data requests.  When considering her qualities outside of her general duties, her colleagues had this to say: "She has a way of bringing us together as a team. Her demeanor and sense of caring create an atmosphere of genuine support and trust, where we treat each other like family.  She has all of our appreciation and respect."  In 2018, HSU ranked 14th in U.S. News and World Report's top public universities in the western United States.  HSU wouldn't receive this kind of recognition without the submission of often painfully tedious data sets and analyses that she diligently submits on behalf of HSU every year.
Research Technician, Institutional Effectiveness, Gay Hylton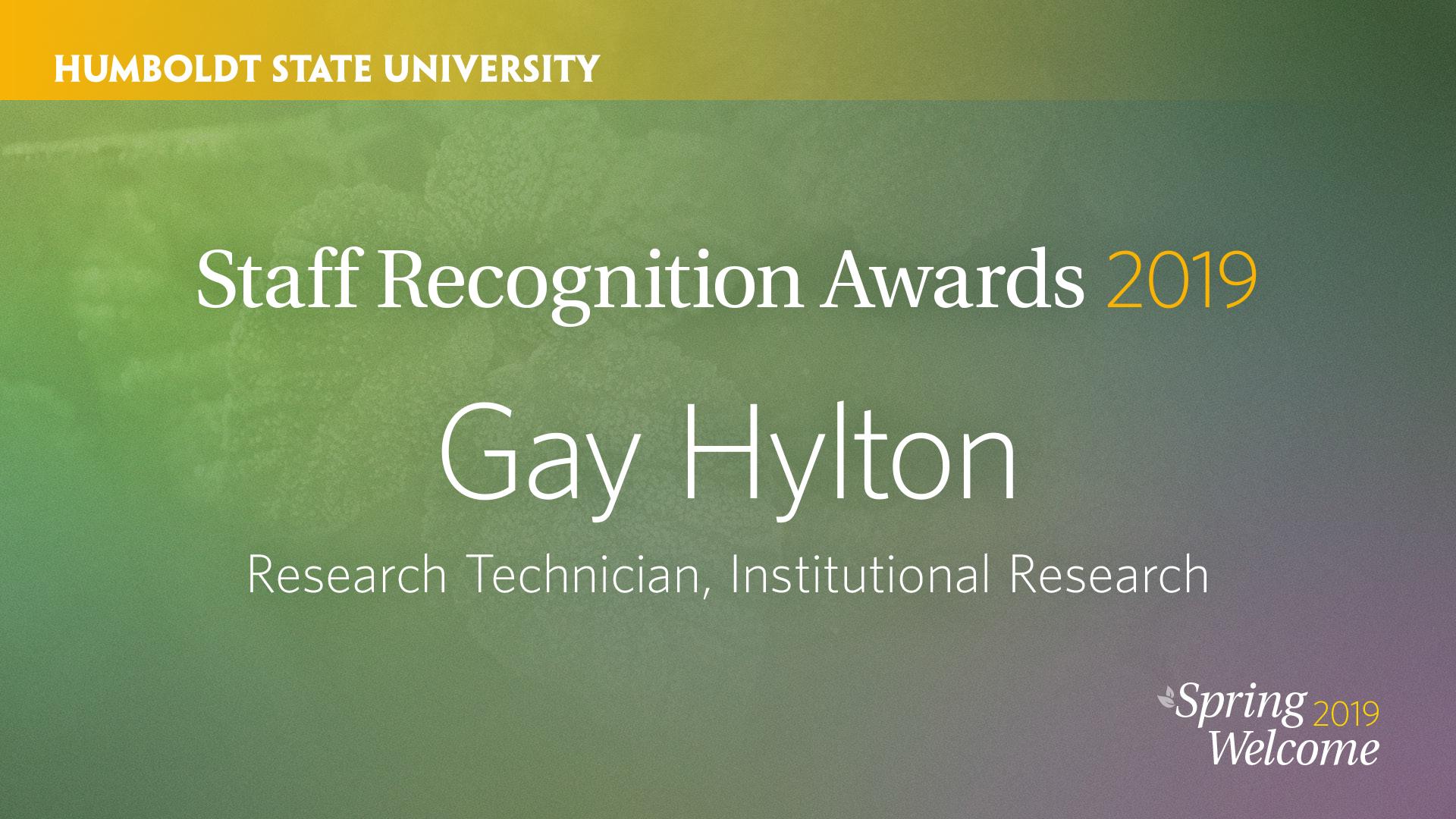 It is easy to take for granted the fact that the HSU campus is clean.  Our next award recipient's dedication and professionalism are two big reasons why HSU has continued to see an increasing rate of diversion of materials from the landfill.  He analyzed the routes and pick up schedules on campus, discussed alternatives with the departments affected, and came up with a new process that saves the campus money on fuel, reduces greenhouse gas emissions, and frees up staff to focus on other critical areas.  It is because of people like him, working hard behind the scenes, that we all are able to enjoy a level of service that facilitates a clean environment, that ensures that materials are quickly removed, and that care is taken to keep as much of that material as possible from going to the landfill.
Grounds, Recycling & Waste Technician, Peter (Pedro) Martinez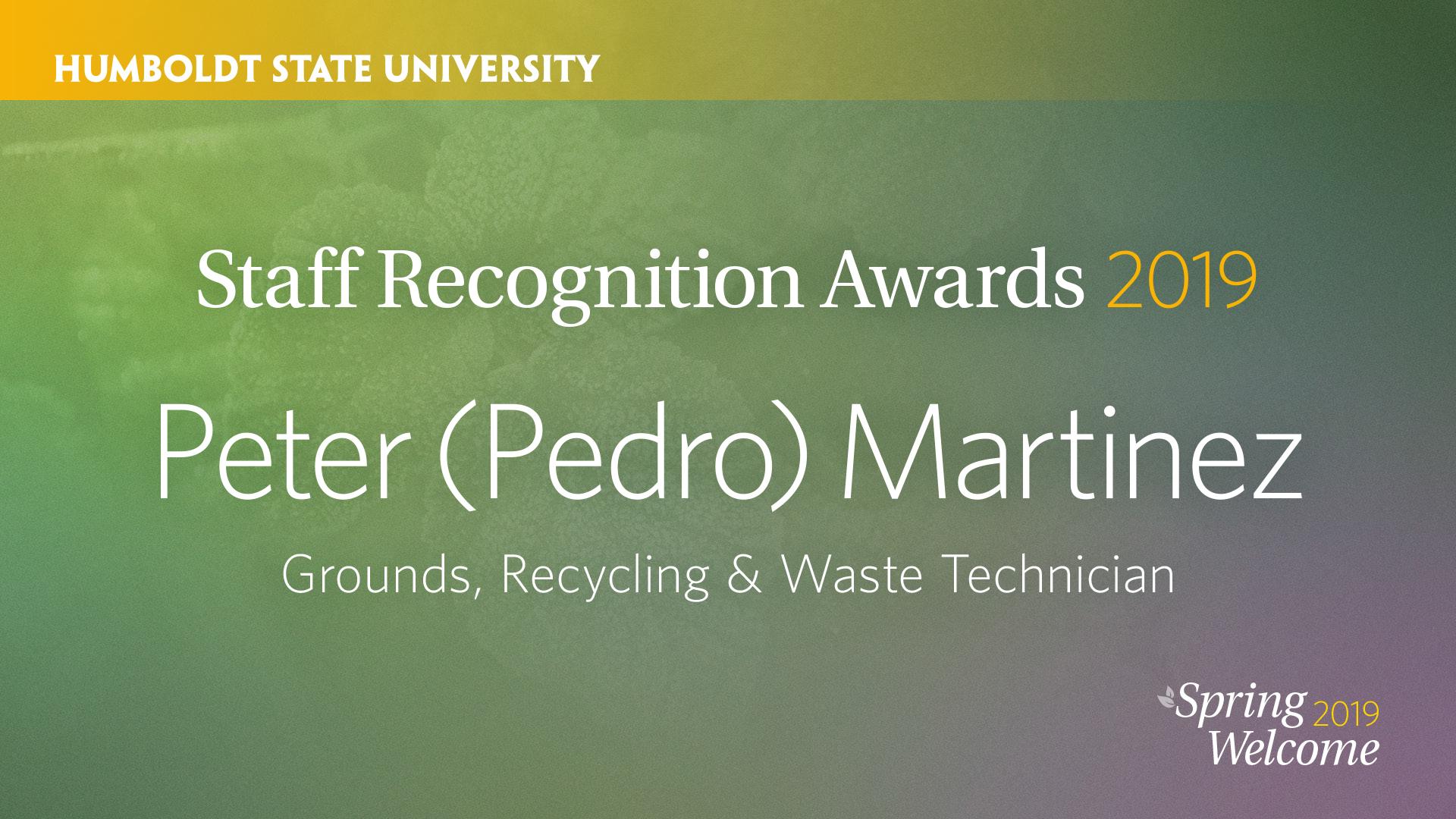 Our next recipient is someone whose role on campus extends well beyond her 10-month, 8-to-5 position.  She is extremely well read and intelligent, which strengthens her role on campus for all communities.  She is the epitome of a cultural advocate, community strengthener, and student-centric employee.  She is creative and innovative in providing a positive experience for our students.  She has mentored students by entwining cultural goals and values throughout their educational journey.  She takes her commitment to the Native community very seriously and makes herself available for feedback and suggestions.  She always speaks with honesty and social justice in mind.  She co-coordinates the Annual California Big Time and Indigenous Peoples Week, and she takes the lead in coordinating the Council of American Indian Faculty and Staff. 
Advisor in the Indian Tribal and Educational Personnel Program, Paula "Pimm" Tripp-Allen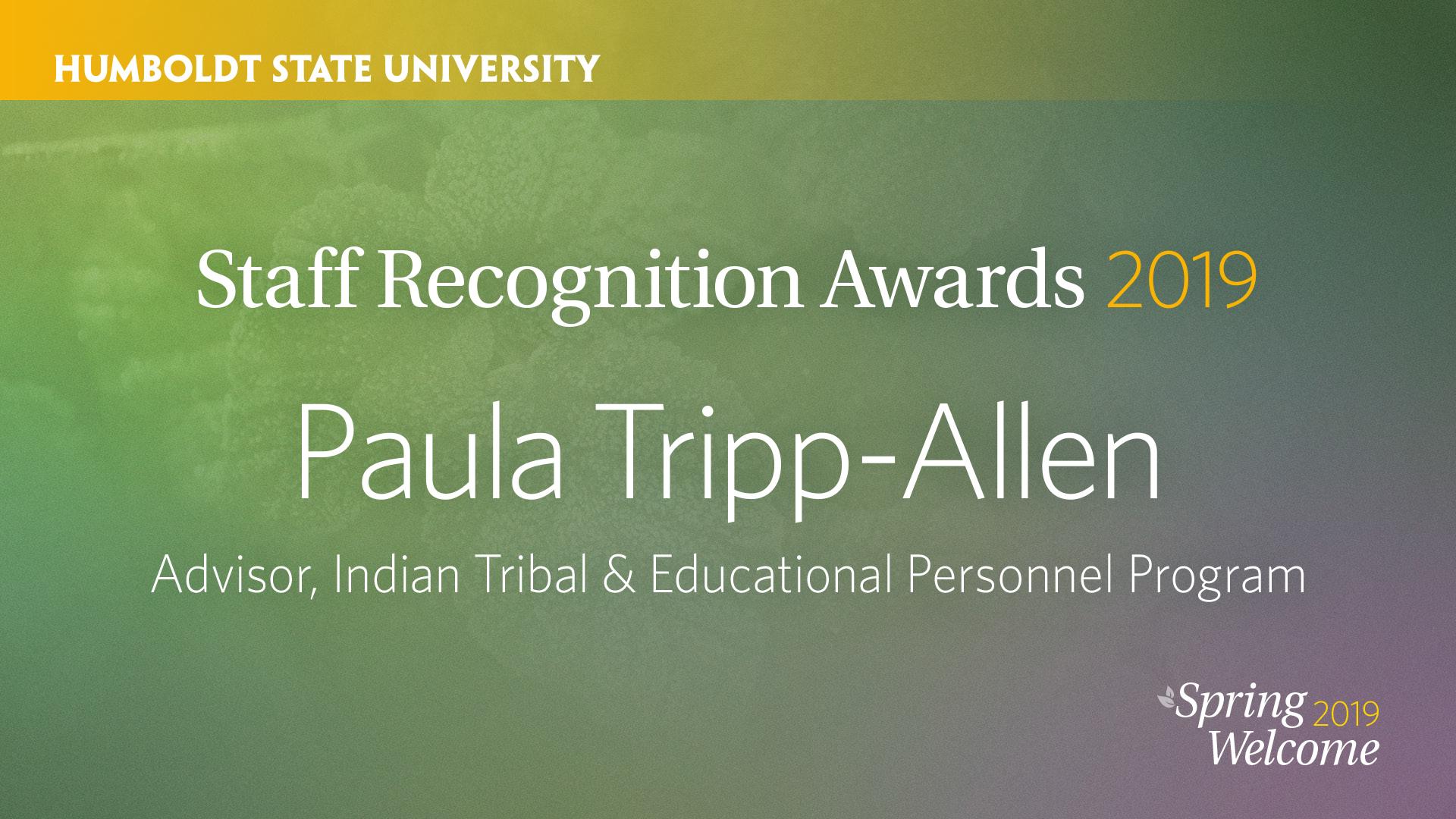 Our next staff member has made a huge impact in the short amount of time that she has been here.  When the University announced the discontinuation of the football program, she made extra efforts to support the students who were going to be affected.  Many of these students are staying at HSU because of the work she has done to help them understand their options, both here and elsewhere.  She helped them through difficult times and helped them feel confident about their future. Another example is how she supported new student registration.  She was the only advisor who was here in both June and July, and she was the glue that held the teams of advisors together.  Her efforts ensured that all students received the "congratulations - you have successfully registered" e-mail.
Academic Advisor for student-athletes, Sei Hee Hwang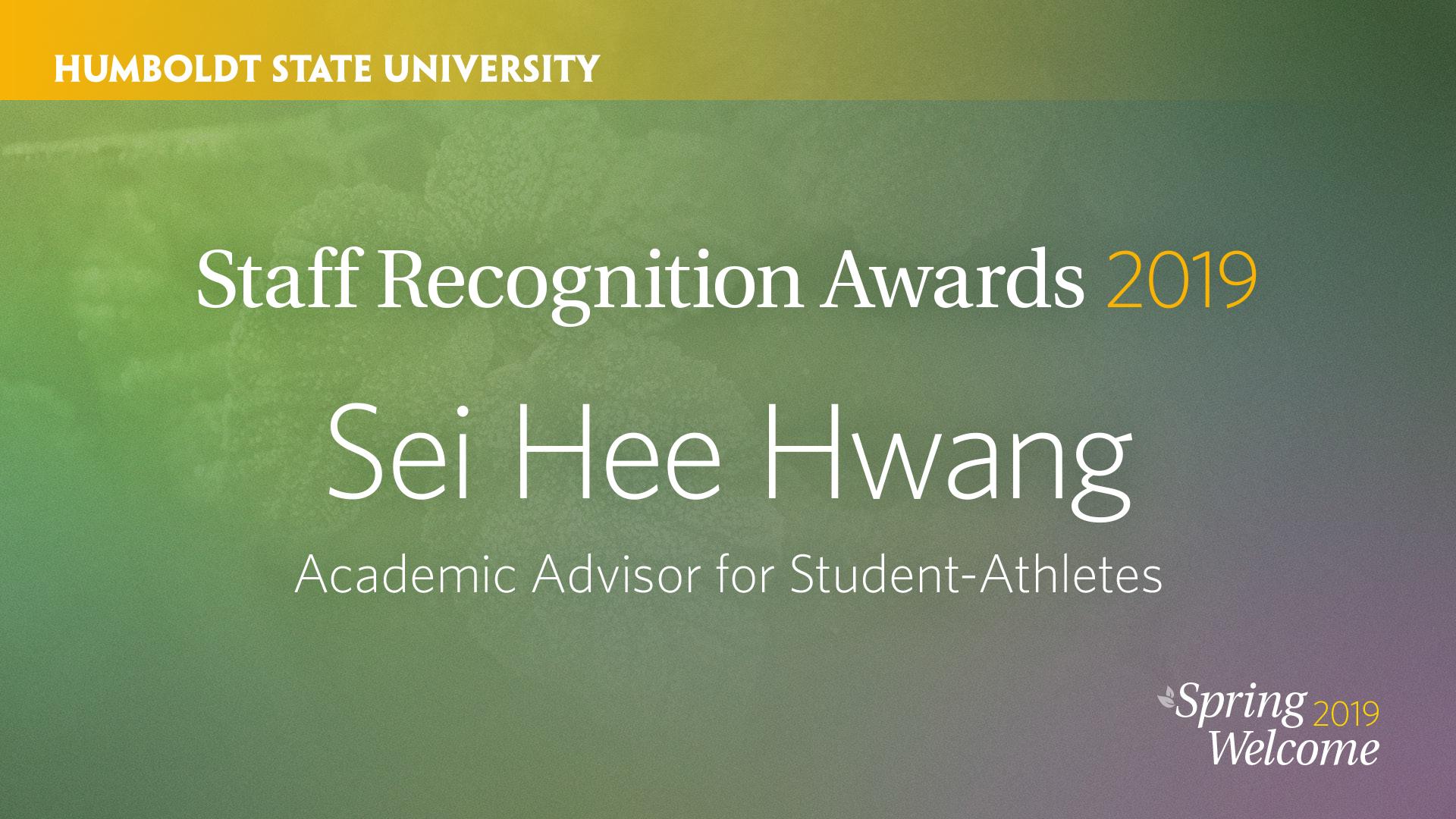 This next recipient has emerged as a leader on the west coast in his field.  He has led at the regional level by assisting many west coast universities in adopting policies that he developed here at HSU.  He has performed safety tests in Humboldt Bay under the supervision of the United States Coast Guard on some of HSU's boats.  In addition to overseeing a complex program at all hours of the day, his careful, methodical work ethic has created an exemplary program that supports many of HSU's most iconic activities.  Before he arrived, HSU did not have a boating safety program, so he created one from scratch.
Boat Safety Officer and Lecturer in Kinesiology and Recreation Administration, Steve Monk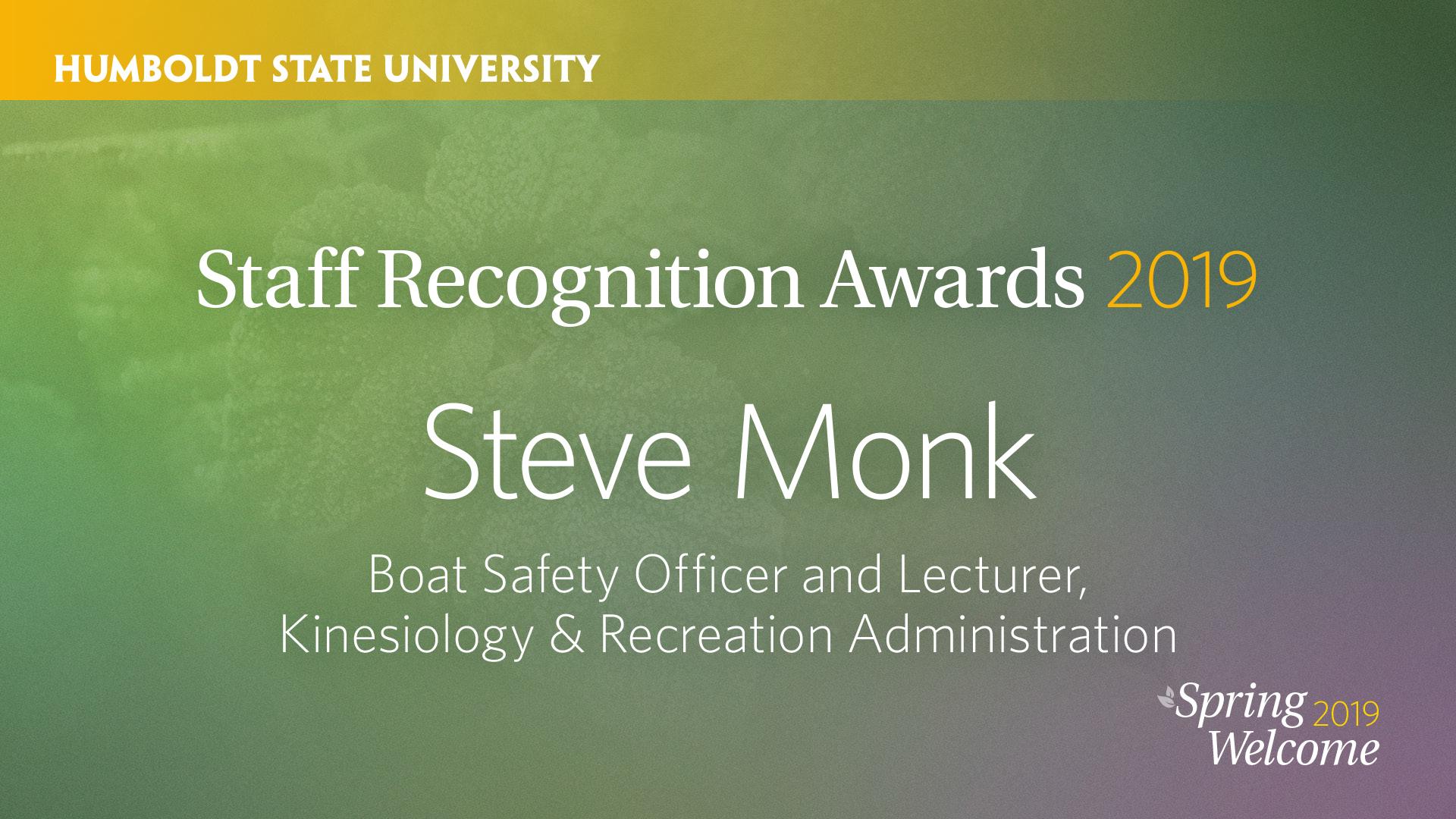 This next recipient hit the ground running at HSU about four years ago.  She has diligently worked with campus partners to make quality improvements for student organizations.  She has an amazing capacity for recalling exact stipulations and requirements for any given policy.  She strives to go beyond the call of duty, and has maintained that level of professionalism, compassion, hard work and creativity since the moment she stepped on the campus of HSU.  She has been a shining example of an excellent facilitator, student-centered professional, and invaluable team member.  She is leading many campus committees in their work that ultimately benefits our students and contributes to the work of many across campus.  We are all better for being able to call her our colleague. 
Clubs & Activities Coordinator, Molly Kresl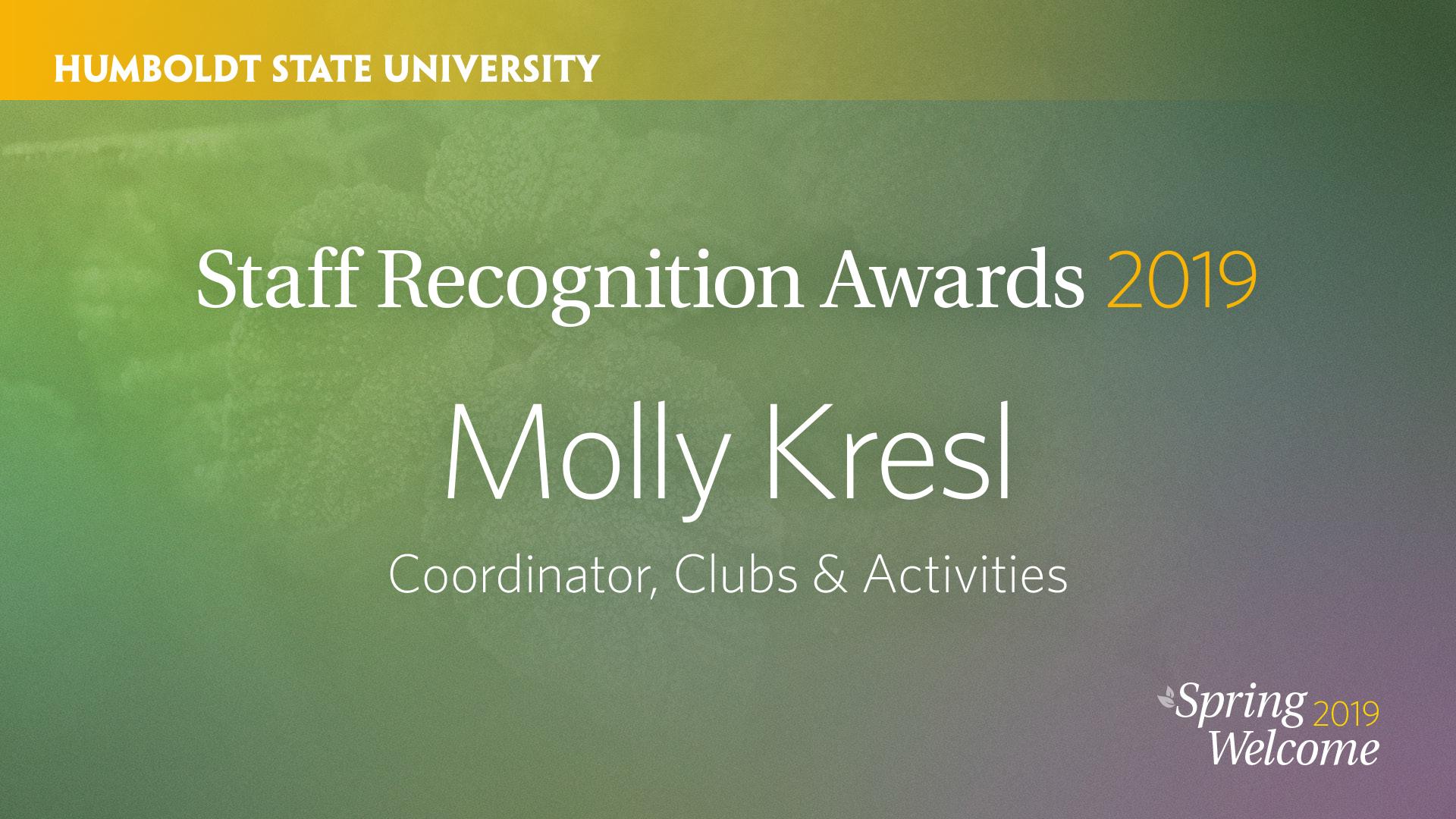 Our next recipient has a long list of contributors for her nomination.  Collectively, they say, "She consistently goes above and beyond.  She approaches difficulties with enthusiastic persistence, and has creative ways of relating to faculty research interests.  She is doing important work for an important component of the academic journey, and wholeheartedly deserves this campus-wide recognition.   She has been known to bring her laptop on group camping trips to work on grants at night in her tent.  She has even stepped up to complete and submit a multimillion-dollar grant when the original grant writer fell ill.  And that grant was successfully funded!  Her contribution to her department has been instrumental in the 41% increase in grant funding accomplished by Sponsored Programs Foundation."
Pre-Award Specialist, Sponsored Programs Foundation, Erika Wright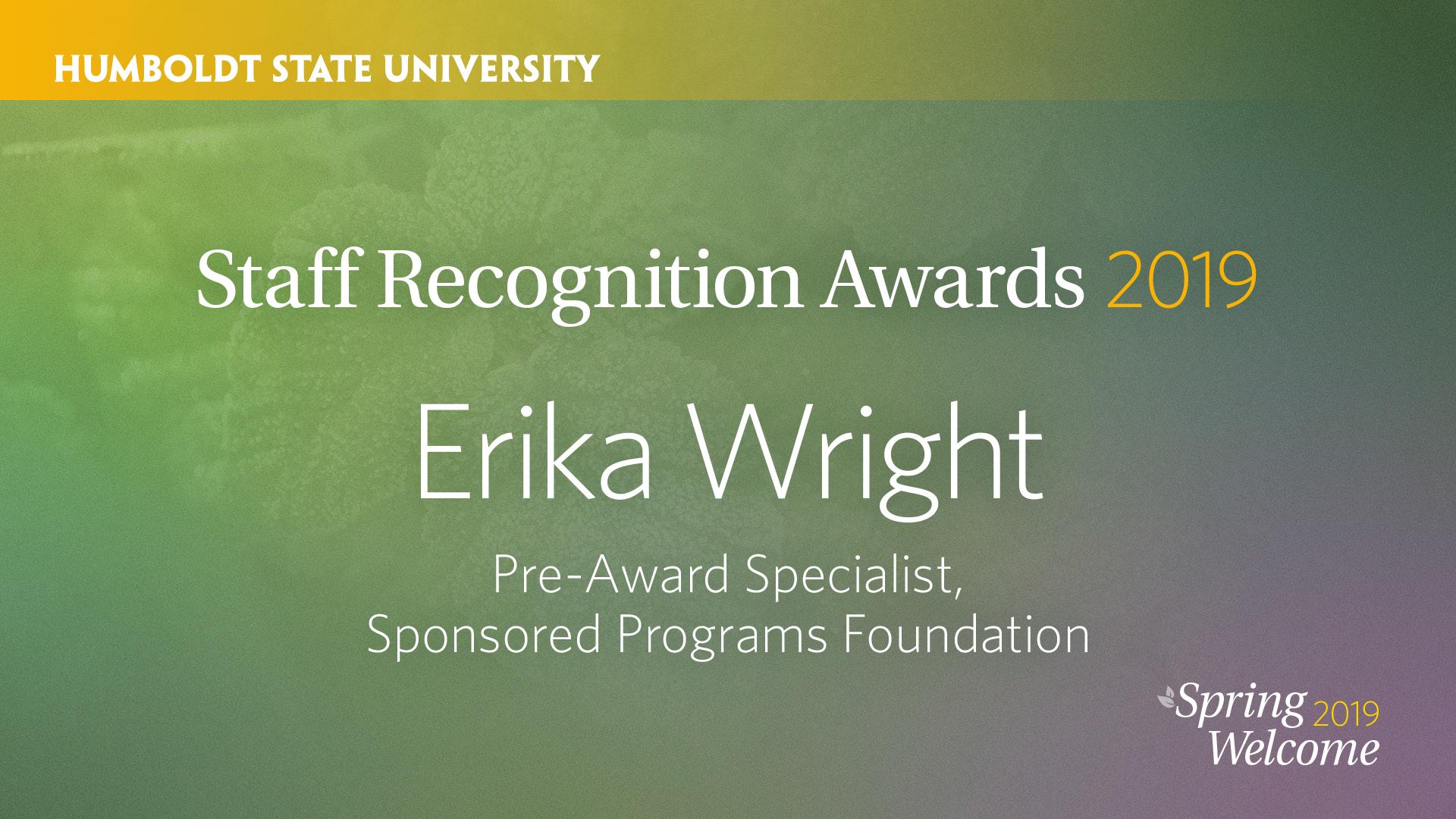 This person is integral to the success and daily operations of the department where she works.  Her nominators say, "We are incredibly grateful for her many years of service, and her dedication to our department and the students.  Her proactive planning and organizing, her attentiveness to the many needs of students, and her sincere compassion for the wellbeing of others make our department a very welcoming place. She facilitates the detailed process of studio and theatre space use for students, HSU users, and the community; she helps students, faculty, and staff with complex prop use.  She uses her creative skills and attention to detail to create show bills for our performances and film screenings.  She modeled professionalism, flexibility, and patience throughout our move from the Theatre Arts building to our temporary spaces in four campus buildings. " 
Administrative Support person, Department of Theater, Film & Dance, Debra Ryerson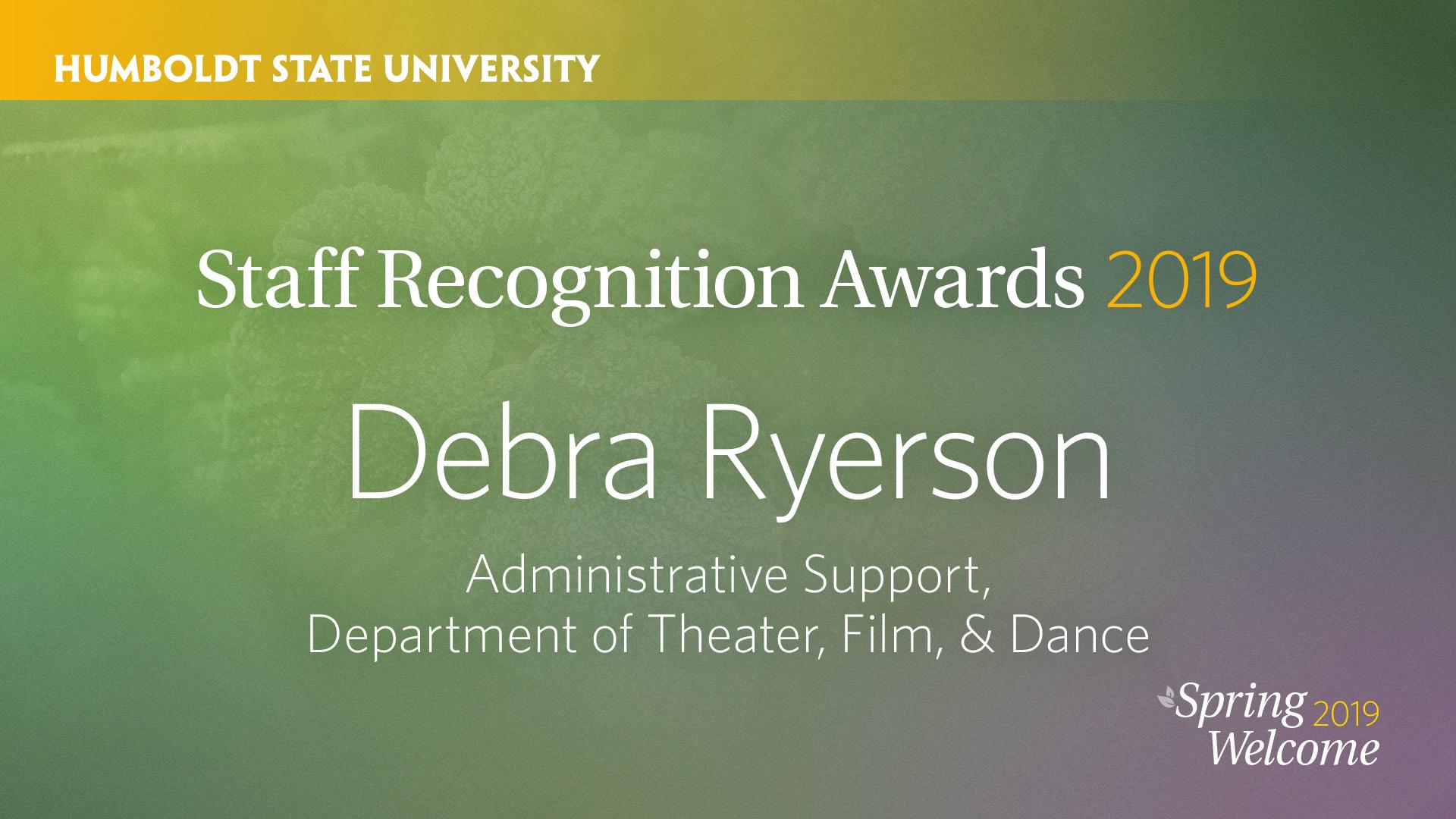 Congratulations to all of you.  And thank you for your many contributions to HSU!  Let's have one final round of applause for all of our outstanding staff members.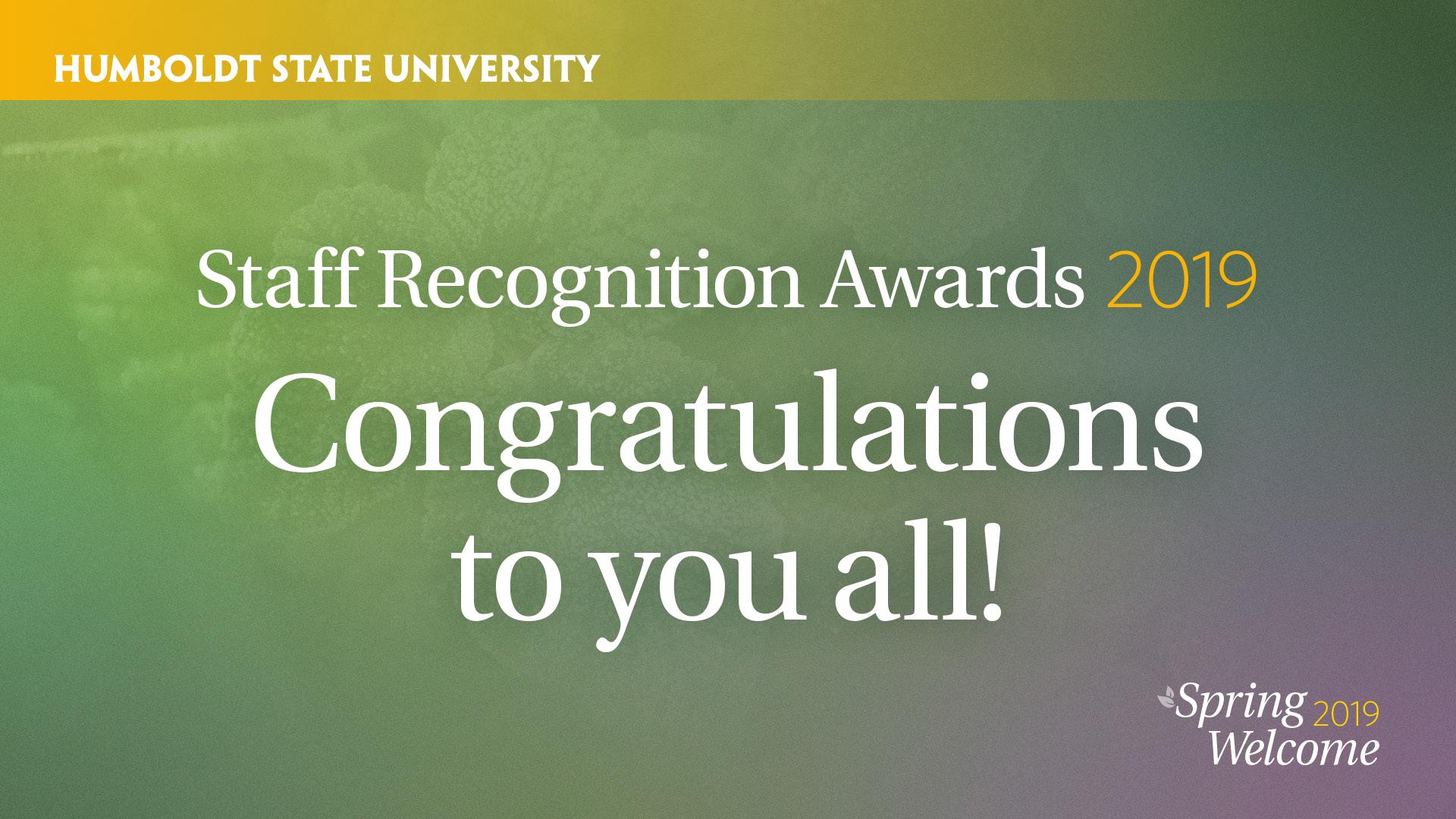 As we look to the coming spring semester, I would like to close with a quote from my favorite science fiction character….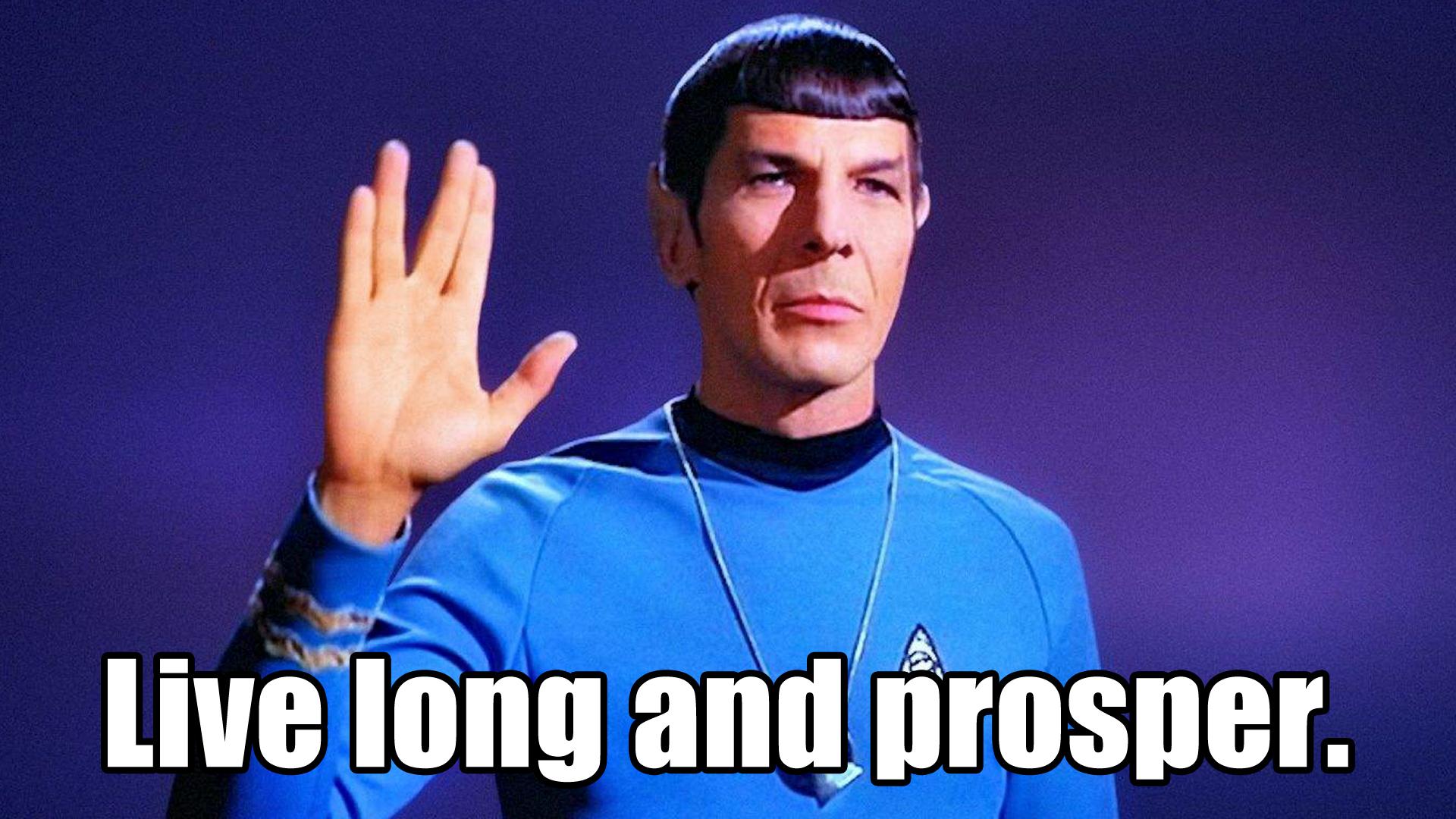 Wait.  Not that one.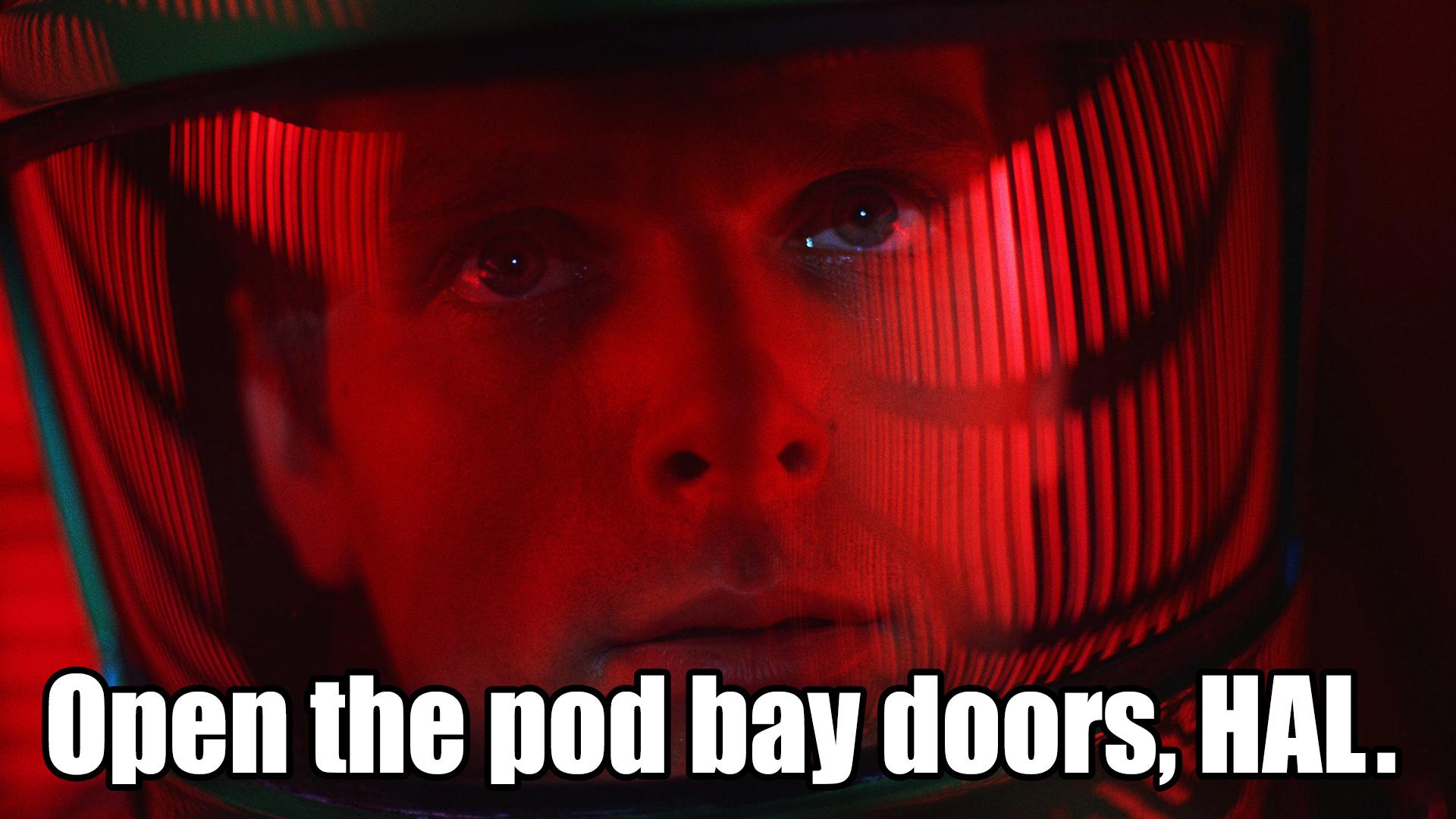 No.  Not that one, either!  I'm looking for a little more uplifting way to conclude this welcome.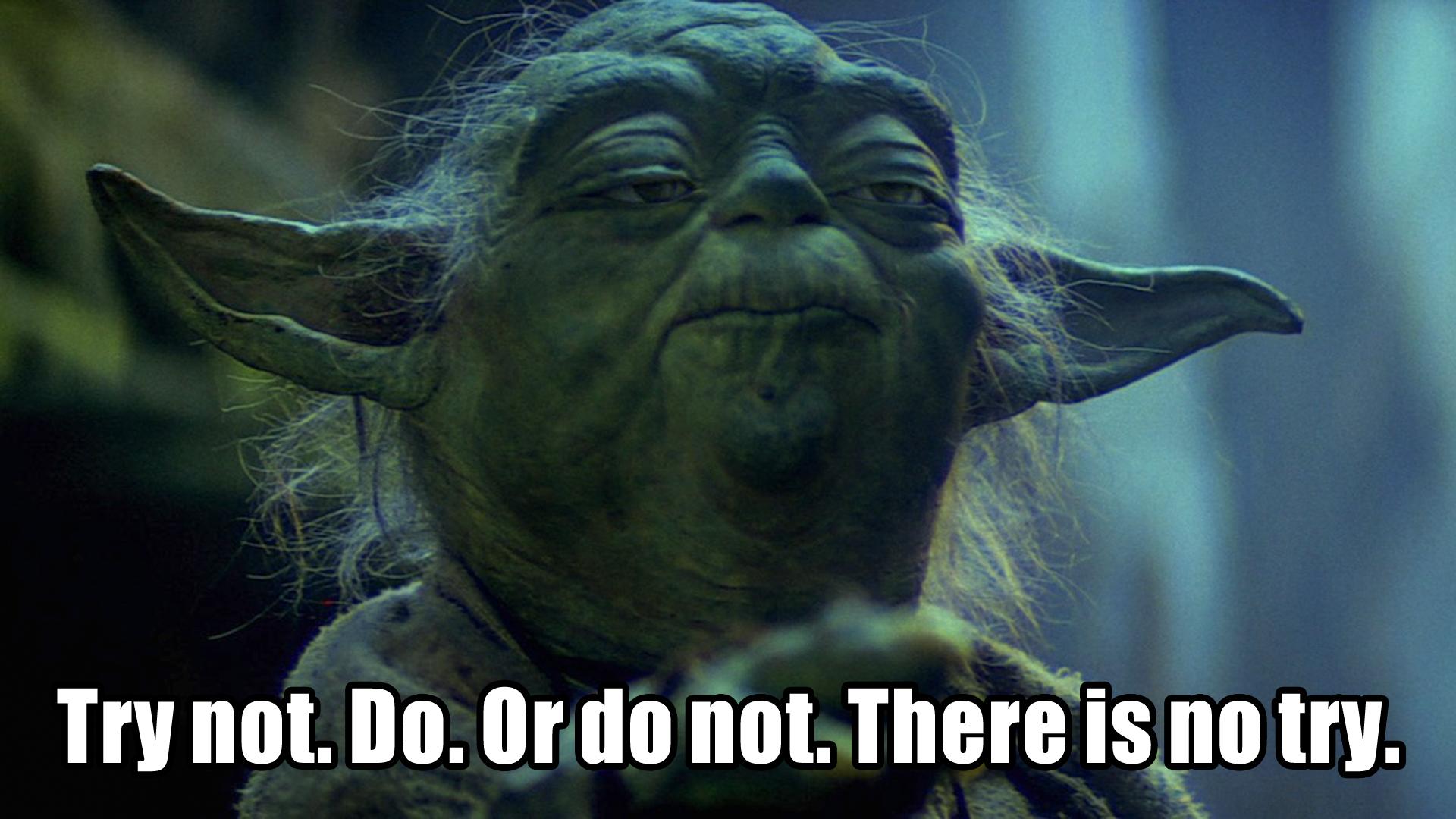 Thank you, Hugh.  That's the one I want.  Yoda.  As he famously said in The Empire Strikes Back," "Try not.  Do.  Or do not.  There is no try."  This message is one of encouragement and commitment, and Yoda challenges us to invest ourselves fully in the work before us.  We can do no less.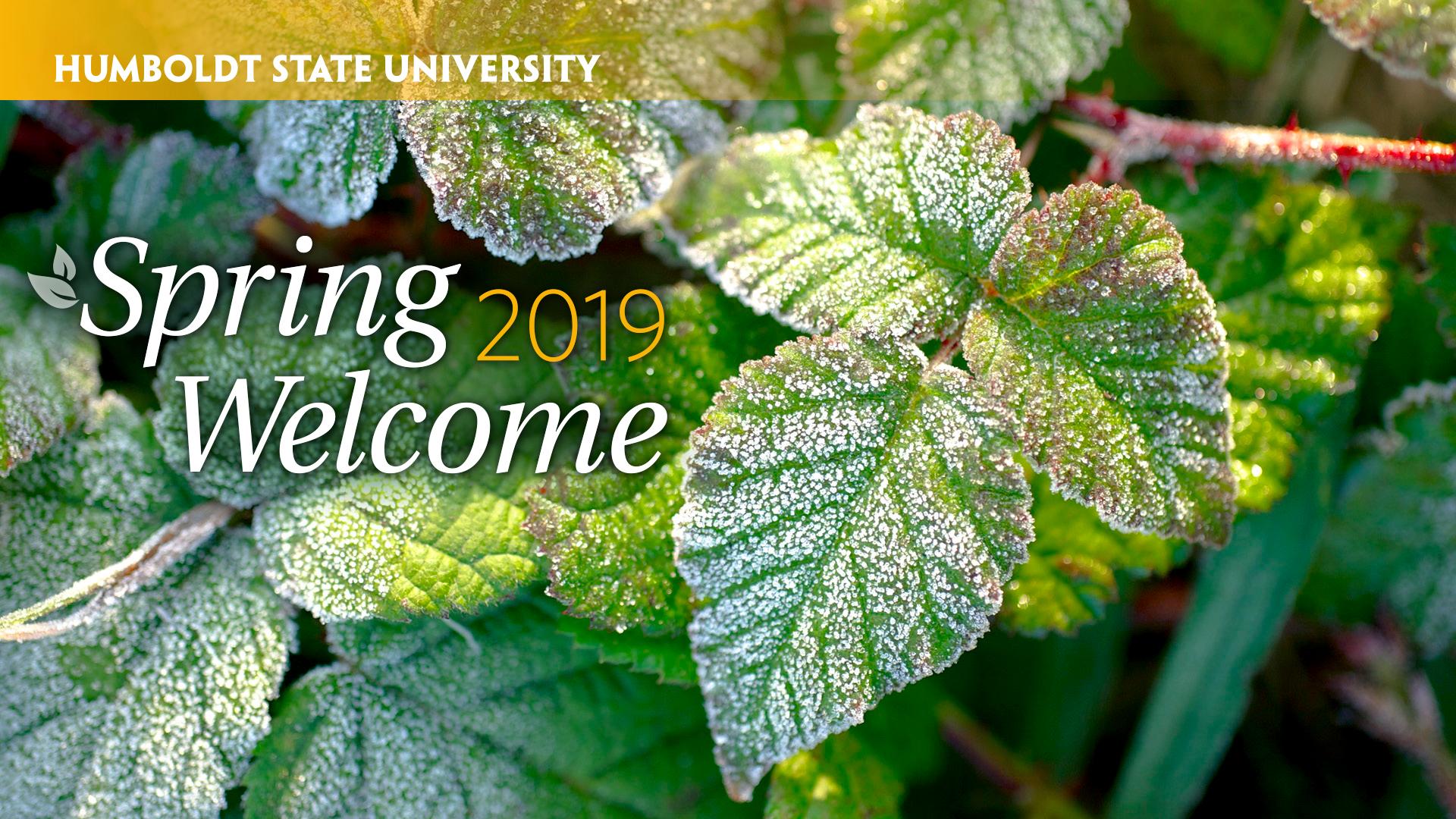 Thanks for what all of you do to support our students and our University community.  Thanks so much for being here this morning – and have a great start to the spring semester!  We have refreshments in the lobby and student music in here.
Have a great semester!  I'll see you in the lobby.