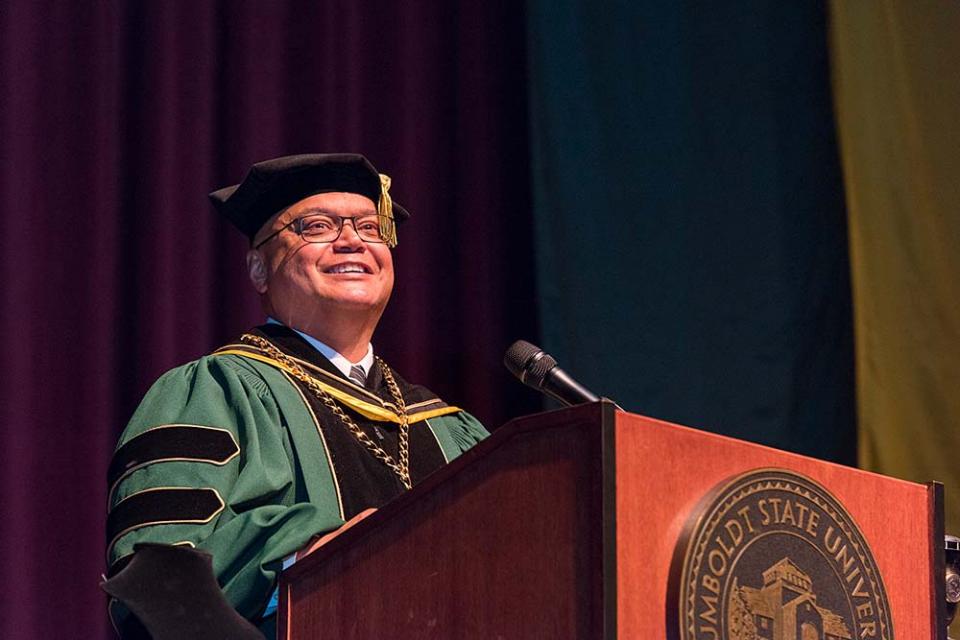 Remarks provided at the Humboldt State University Presidential Investiture by
Dr. Tom Jackson, Jr., the 8th President, January 15, 2020.
Acknowledgements
There was a moment, about 56 years ago, when two little boys were playing in what is still referred to as Hillman City in Seattle, WA. These little boys, both four years old, became playmates who hung out in the woods, rode bikes together, and just played. More than a few times one would come over to the others for breakfast before they would walk the six blocks, uphill, to Whitworth Elementary. Bud was the older of the two, by 12 days…and the younger of the two, Tom, your President, would hear about it for the better part of 40+ years before the teasing no longer mattered. They had both grown up as best of friends and still today share a text or two nearly every day – usually talking about sports. Bud, I credit your father for teaching me the art of networking, your mom for her kindness, and you for inspiring me to attend college. Thank you for being the buddy that you are to me.
Introduction and Honor
Members of the Board, Chancellor White, special guests, family & friends, proud citizens, and colleagues. Good afternoon and thank you for allowing me the privilege – and the honor to lead as only the 8th President of Humboldt State University.
Every day I wake up I am reminded of the gift that has been provided to me. I get to help shape the minds of students to fulfill a dream long desired before many were born. I get to work beside scientists, and future scientists; teachers, and future teachers; business leaders, and future business leaders; and artists and scholars in all fields. It is a calling – educator – that is easily taken for granted but one we should always cherish.
As a people we have so much hope. As a community we dream every day. We dream of a community that supports all its neighbors. We dream of a planet in balance with all of its inhabitants. We dream of cures for ailments, such as AIDS and Alzheimer's. We dream of abundant water, air, and fuel. We also dream of happiness and health. We dream of a future that can take the best of its people and create, inspire, grow, nurture, and show compassion. The university, and its faculty, see all these dreams. When the Redwoods whisper, and the ocean roars, these dreams, students' dreams, a families dreams can come true.
Now, each of the presidents over the years did not take this position to advance themselves. They took this position to help provide education to others and to help make Humboldt great. Today there are four surviving presidents of this university: Dr. Alistair McCrone, Dr. Rollin Richmond, Dr. Lisa Rossbacher, and myself.
Each president stands on the success of the other presidents. I squarely stand on the shoulders of Drs. McCrone, Richmond, and Rossbacher who led this university with integrity, honor, and distinction. If the two of you in the audience would stand as I ask everyone to please join me in acknowledging all of our Past Presidents.
Modeling the Global Community
When the Redwoods whisper we hear of a place … a magical and amazing place where the Redwoods dance beside the mighty Pacific Ocean. We hear of a place resting on tribal lands between proud communities. And, we hear of a place, a place filled with opportunity and innovation. This place has fresh air, clean water, and spirit inspired by its many ancestors. This place is Humboldt.
Humboldt is an amazing place with very special people. The people of this region care. They genuinely care. We are not perfect, but we try. We have the conversations. We try to be supportive and we seek a place that is kind and engaging, but also forward thinking. For the history of this region the citizens have provided for others, embraced others, and maintained an environment and economy. Humboldt State University is not separate from the community. It is of the community. For this reason we will do our part to support each other and inspire the next generation of leaders. We will also do our part to help us become a model global community – one that sees beyond itself; one that improves safety of its students and community; one that models open expression and free speech; one that truly encompasses the essence of diversity, access, and inclusion while building on our Hispanic Serving Institution distinction and soon to be Minority Majority Institution distinction, and lastly, one that lives by its values – its neighborly values.
Humboldt is an amazing place that is also challenged by its efforts to create a safe place. Mona and I are parents. We have a son that loves the arts and the outdoors and a daughter who is a first year student and athlete at Black Hills State University. As parents we want them to be safe. We want them to be happy. We want them to have food and a place to reside. We want them to feel that they are just as welcome on campus as they are in a church, a grocery store, or walking on the street.
Long ago, I heard a speech. It didn't have the same meaning to me as others who were older than I. Still, as I grew older the words, and their meaning still resonate today. There are many special quotes in this speech but one I will refer to today.
Dr. Martin Luther King spoke of a time…a moment using these words…he said, and I quote…
"I have a dream that my four little children will one day live in a nation where they will not be judged by the color of their skin but by the content of their character."
End quote.
Colleagues, we are not there yet. We still have great work to do. We still have moments where we judge each other…
…by our size,
…by our disability,
…by our color,
…by our ethnicity,
…by our sexual orientation,
…by our politics,
…by our income,
…by our professions,
…by our gender identity,
…and by our faith.
At our worst we harm each other. Earlier I spoke of a parent's wants for their children. A parent also dreads the day they will receive the phone call no parent ever wants to receive. Parents often do not talk about this because it is so painful to think about. There have been too many parents that have received that phone call and one such parent still seeks the truth. We need Justice for Josiah and we need to heal. As a community it is our place, our duty, to bring to justice those responsible and ensure this never happens again to a member of this Humboldt family.
Tribal Relationships
For the past seven months I have heard many of you talk about our most strategic partners and initiatives. Today I am going to speak about our important Tribal relationships.
Sometimes universities and leaders must do things because they are simply the right things to do. Working deliberately to advance educational opportunities for Native Americans is part of our mission at Humboldt. When the Redwoods whisper I hear voices, many voices sharing the importance of education, the Earth, the water, our air, the fire, and our people. We live in a community, in a region, that lives the values of the native people. When the Redwoods whisper, and the ocean roars it is not solely for Humboldt to hear. It is for all of us to hear. Today we are creating new alliances with our indigenous relatives to advance opportunities for all citizens of this region. Working collaboratively to inspire education at any level for Native Americans remains our commitment.
Grandma and Veterans
Earlier Chancellor White mentioned the story I shared about my Grandmother. Granny, as she was referred to by all in the community, said you could learn a lot from a story. She was an amazing story teller, and sitting and listening to her I learned many things about life and work. I also learned a great deal about selfless service.
Veterans distinguish themselves in many ways, and to each in this room today, we can think of someone, someone such as a parent or grandparent, who has served. These legacies have provided so much more than we often give credit. To many, the veteran is simply someone who takes orders and follows rules. It really isn't that way. A veteran is the most patriotic and committed person you will ever meet. A veteran is a person that stands for something often greater than themselves – service, patriotism, loyalty, honor, integrity, and intelligence. A veteran is a person who would give their life for their buddy AND a country.
A few years ago Hurricanes Katrina and Rita hit the Louisiana and Texas coasts. It was devastating to those communities. As an officer in the Texas State Guard, who was also a sitting Vice President, I was deployed to help provide security for the shelters in Texas. These shelters were often sports complexes or churches where evacuees could come and live until the aftermath. These families were just like you and me. One day they had homes, cars, and a few resources. The next day all that they owned either sat in a trunk of a car or in a Walmart plastic bag underneath a 3x6 foot cot. Imagine…a 3x6 foot cot is your new home and all your belongings now fit underneath it. Whether they had $1.00 or $10,000 in the bank, they couldn't access it because the systems were not working.
While deployed I used this time to walk around and listen to the stories of the people in the shelter. Seeing the uniform brought a sense of safety to people. They acknowledged it wouldn't be great, but they would be taken care of. On these days it wasn't about budget cuts, workloads, or parking … it was about caring for our neighbor during their greatest time of need. They were safe.
Now there is much more to this story that I will save for another day, but know … to those individuals devastated by Katrina and Rita, many were saved by people willing to put the individual's life ahead of their own. I think we can learn a lot from how our societies, or our campuses, show their care for a veteran. Those actions say a great deal about us and our values.
At Humboldt we have approximately 700 employees, students, and dependents that are veterans. I am a very proud veteran. I believe strongly that we should do all we can for those individuals that are seeking an education after selflessly serving their country. There may be others in this room who have proudly served in our armed forces, fire, or police. If you ever have served, or have a close family member that has served, please stand (if able) to be recognized.
Humboldt will model the way in supporting our veterans seeking a college degree. There is certainly more we can do and we will continue to find ways to demonstrate our commitment to this loyal group.
Us
Finally, allow me to talk about us. I said earlier that Humboldt is an amazing place with special people. It is a place filled with pride. It is a place filled with caring and motivated faculty, staff, and students. This special place will always be Humboldt because of this community. Still, I have this picture in my mind…a bold picture that shows us being this insanely amazing college of innovation. A place where ideas are freely shared and embraced. A place of innovation that leads us toward solving our world's challenges. I also see a college of service where all of us freely give of our time to our community. I see a campus where people from all over the planet come to learn because of our sciences, our teacher education and other professional programs, or our arts and music. I see a place where we freely engage with our friends and colleagues in other nations: close and far. Lastly, I see a place that embodies what a sustainable campus is while reinventing higher education for the next generation.
Closing
In closing I would like to talk about my family and share with you our decision to join this wonderful community. When we were on the short list we decided that we would secretly visit Humboldt. The plan was simple. Mona would fly in from South Dakota and visit the area ahead of me. When I was finished with my business I would fly up and join her incognito in the County. Mona arrived and did just that. She saw the plaza, checked out a couple of restaurants, and toured certain areas. That evening I jumped on the plane from San Francisco to Arcata. It was a quiet flight. Relaxing. I now better understand what that silence means when on that flight. As we approached Arcata we could see the land out of the window. The wheels go down and then…you know what happens next…the wheels go back up and we turn around. We are all mumbling to the pilot to try again with no luck. We returned to San Francisco – while on the ground in Arcata Mona hears us, practically sees us fly over the airport only to disappear into the fog.
Mona stays for the next day and I return to South Dakota. Her insights, her report, her strong interest for this community was contagious and we couldn't be happier by being here today. Allow me to thank all of you for your kindness in welcoming us to this community.
So, distinguished guests, family & friends, and colleagues, when the Redwoods whisper … there is a peace. A silence. A moment of command that overcomes us. When the ocean roars we are reminded of our place. Its power and sustainability. However, when the Redwoods whisper, and the ocean roars, there is Humboldt, an amazing place where our students' dreams come true.
Thank you again for the opportunity to serve you as the 8th president of Humboldt State University. I will do my part to lead with honor, integrity, and a genuine commitment to this amazing place. Thank you.
Dr. Tom Jackson, Jr. is the 8th President at Humboldt State University.
He may be contacted at (707) 826-3311.