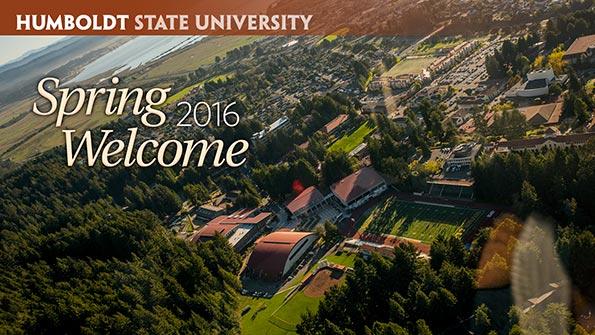 Happy New Year and welcome to spring semester 2016!
I want to start by noting that the land where Humboldt State is located is part of the ancestral homeland of the Wiyot people – and that the Wiyot were here over a thousand years before this University was founded.I also want to thank Kellie Jo Brown, our campus photographer, for the wonderful images that have preceded this event – and Hugh Dalton, who organized the slides.  The background photo for this title slide was taken by Kellie from an airplane piloted by Dave Marshall of Information Technology Services – you can see the reflection from the airplane window.  No drones were harmed in creating this image.
One of the traditions of this event is to welcome all new staff and faculty who have joined the HSU community since last summer.  I realize that this means some of you are being welcomed a second time, if you were here at the beginning of fall semester, but you should feel doubly welcomed.  If you have become part of the HSU community since last summer, would you please stand?  
Welcome again.
In the category of people who have been welcome here for a very long time:  president emeritus Alistair McCrone.  And although president emeritus Rollin Richmond is not here today, we recognize the roles they played in building this University.  Thank you, Dr. McCrone and Dr. Richmond.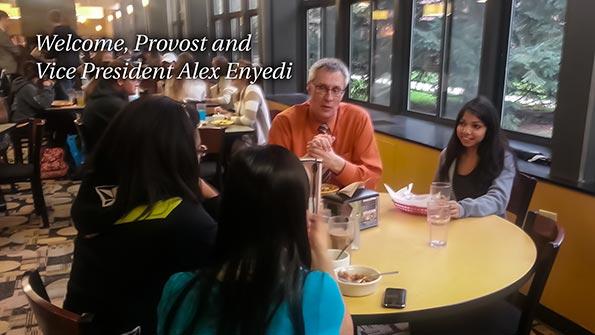 We look forward to welcoming his wife Andrea soon; she is still in Kalamazoo, Michigan, where it is predicted to be 13 degrees and snowing tomorrow.  Some of you met Alex at yesterday's Institute for Student Success.  Welcome to the northernmost outpost of the Cal State University system, Alex.  I'd like to invite you to say a few words…. 
Thank you Alex.  We're delighted to have you here.  I want to thank the members of Provost's Search Committees, which, in various iterations, worked for the last 18 months on the process that brought you here.  I also want to thank Theo Kalikow for her service over the last six months in the role of interim Provost.  We have enjoyed and appreciated her perspective, her experience, and her direct approach to speaking her mind as she quickly became part of our University community.  Thank you, Theo.  We are planning a party for her at noon on Tuesday, February 2.  Theo liked the idea of having a party on Groundhog Day because, as she said, "If we don't get it right, we can keep doing it over until we do."  I hope you'll all put this on your calendar. 
Groundhog Day.  Noon.  University Banquet Room.
Groundhog Day.  Noon.  University Banquet Room.
Groundhog Day.  Noon.  University Banquet Room.
You get the idea.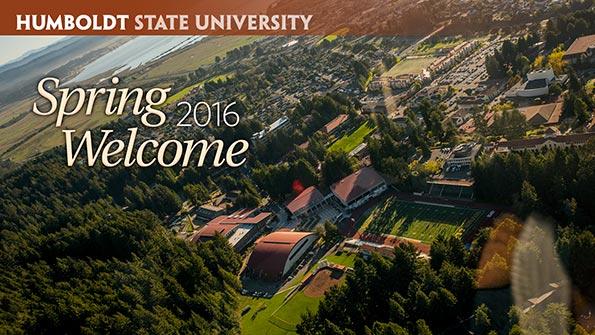 I'd like to welcome Julie Alderson, from the Art Department, as the new chair of the University Senate, and offer many thanks to Noah Zerbe for his service in that role for the last several years. I am pleased that Noah, who served as co-chair of the strategic planning process, has agreed to continue working on the implementation of that plan.
When we had our spring welcome last year, we were partway through our strategic planning process. Now, a year later, we are deeply involved in implementing that plan. This morning, I want to provide an overview of some of what has been happening to make this plan a reality.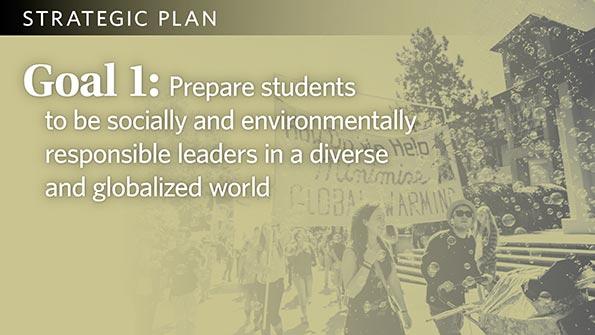 For example, we are expanding our evidence-based decision-making.  Our Institutional Research and Planning Director, Lisa Castellino, gave a series of presentations during fall semester on "actionable intelligence" (also known as "asking better questions").  Her talks were informative and entertaining, and the insights they provided – like the connection between academic probation and non-retention – are especially helpful. 
With leadership from a number of people, we are pursuing several major institution-wide initiatives to improve the first-year experience for our students and to increase our retention and graduation rates. Some of our planning builds on the Klamath Connection, led by professors Amy Sprowles and Matt Johnson, which began last fall and highlights our place-based learning environment.  This program's curriculum connects students to our local area through the ecology and Native American culture that the Klamath River supports.  
The implementation of u.direct will enable students and their advisors to build graduation plans in a way that increases the likelihood of graduation and decreases the time-to-degree.
The Library has focused on its role in supporting student success.  Increased use of the Library, as collaborative space, has been measurable – and impressive.
Cyril Oberlander, dean of the Library, reports that on December 7, the library had 6,000 visitors in that one day, the highest ever.   On a regular basis, the Library is now seeing more than 5,000 visitors a day. 
Another way in which the library – and faculty – are making college more affordable is by providing crucial resources to students.  For example, the library had a thousand course textbooks on reserve last semester, which were checked out a total of more than 17,000 times.  Four laptops were checked out 1,500 times.  These resources increase access to education, help students with the materials they need, and decrease their cost.
The Library and the College of eLearning and Extended Education are co-Principal Investigators on a grant from the CSU's Affordable Learning Solutions program.  The project involves 19 faculty members who created and used Open Educational Resources last fall, including free on-line and low-cost print textbooks.  And of course HSU's newly founded Humboldt State University Press is part of this effort, too.  
Faculty, student, and staff collaboration continues to demonstrate the excellence and relevance of HSU's programs.   Here are a few examples – please remember that this is not a complete list – that illustrate the variety of accomplishments and the breadth of activities here.
For Example:
HSU film students won awards for Best Documentary and Best Promotional films in the CSU Media Arts Festival.
Science students were recognized for their professional presentations at SACNAS (the Society for Advancement of Chicanos and Native Americans in Science).
The HSU Wildlife team won the 2015 National Wildlife Society Quiz Bowl in October – for the 12th national title out of the last 16 competitions.
Other students or recent graduates have been selected for:

a CSU Trustees' Award for Outstanding Achievement,
a Switzer Environmental Fellowship,
a National Science Foundation Graduate Research Fellowship,
six awards in the CSU research competition,
multiple awards from the American Chemical Society, and
three awards from the Rodney T. Matthews Jr. Scholarship Program.
Four students accompanied Professor Sarah Ray, in Environmental Studies, to the meeting of the Association for the Study of Literature and the Environment.
And 10 Native American students will have the opportunity to participate in research with Wildlife Management Professor Matt Johnson over the next three summers – he just learned this week that he has been awarded a National Science Foundation grant for Undergraduate Research.
A couple of examples of recent faculty recognitions include:
Anthropology Professor Victor Golla, who has just been elected a Fellow in the American Association for the Advancement of Science.
Professor Alison Holmes, in Politics and International Studies, who was named as Research Associate to the Centre for International Studies and Diplomacy at the University of London, which will occupy her for the next several summers.
Psychology Professor Gregg Gold and Kinesiology Lecturer Christine Dobrowolski, who received a CSU Quality Online Learning & Teaching Award for excellence in online course design.
Additional evidence of our success here includes specialized or programmatic accreditation. Programs that were reaffirmed recently include Forestry (which is accredited by SAF, which I have had to learn stands for the Society of American Foresters, and not the San Andreas Fault) and Education (which is accredited by the California Commission on Teacher Credentialing). Congratulations to David Greene, chair of Forestry, Mary Dingle, chair of Education, and all your colleagues on these successes.
Professor JoAnne Berke, in the Art Department, conducted a week-long intensive training for teachers in Beijing, at the invitation of the America and China International Exchange Foundation. I was particularly aware of this trip, because JoAnne and I (and a number of others who are in this room) were on the same, long-delayed flight from Arcata to San Francisco. Because JoAnne was headed to China, her re-routing was a great deal more complicated than for the rest of us. I was delighted to hear that she got there – and back – okay.
Speaking of getting back okay, we were all glad to know that Music Professor Daniela Mineva was all right, during her European concert tour in November when she was in Paris when the terrorist attacks took place.
And, in some of the more unusual activities recently, Wildlife Professor Jeff Black and alumnus Will Goldenberg participated in a three-part PBS series that premiered this week, called "Natural Born Hustlers." It sounds like a funky reality show – and it is, sort of. But you need to know they were featured in a segment about the Stellar's Jay, which is a tricky and deceptive bird. And Brian Tissot, director of the Marine Lab and professor of biological sciences, was an invited speaker at the European Association of Surfing Doctors, which met in the south of France. Brian actually appears in the highlight video from the meeting. And I want to find out how I can get invited to that conference.
Our faculty are providing leadership in areas that include concussion research, food insecurity, endangered Coho salmon, curricula for social work clinics, workforce development, multicultural education, Renaissance music, multiple aspects of climate change, alternative energy, and desalination. All of the work that faculty and staff are engaged in here contribute to the quality of education that students receive at HSU.
I want to be clear that everyone here at HSU contributes to student education. We are all part of fulfilling that mission, regardless of our role on campus or the title we hold. We are responsible for providing the environment, the context, and the process for teaching and learning. We ensure the campus – and the larger community – are safe, clean, attractive, well-lit. We help students find meaningful jobs, internships, and volunteer opportunities. We advise, coach, mentor, and generally watch out for them. We help make sure students have access to the educational materials they need. We introduce them to the new experiences and sights of the North Coast. We help them process new ideas, explore new perspectives, and think deeply about questions of identify, social justice, and environmental responsibility. And I want to be sure we all recognize the roles that everyone plays in fulfilling our collective, institutional mission. This is not about faculty or staff. All of us are involved, engaged, and responsible. And I am grateful to all of you for that.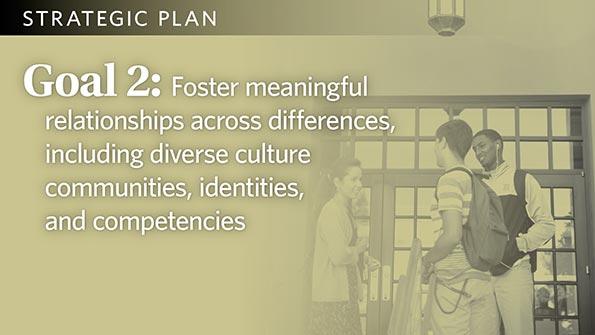 Supporting this goal, Professors Kim Berry (in Critical Race, Gender and Sexuality Studies) and Maxwell Schnurer (in Communication) have been awarded a three-year grant of $300,000 by the Department of Justice to enhance victim services and develop programs to continue addressing sexualized violence, in collaboration with a number of local and regional agencies.
The multicultural Mural Project, whose origins date back nearly three years, was completed late last semester, following a design and modification process that included a significant cross-section of the University community.  You may have seen it coming to this event today, on the side of this building facing the Quad.  Professors Marisol Ruiz and Cesar Abarca served as faculty advisors for the student group FREE (which stands for Finding Resources and Empowerment through Education), and they, working with Traci Ferdolage in Facilities Management and Professor Kris Patzlaff, chair of the art department, made this project a reality.
I found the evolution of the mural particularly interesting, and I was fascinated with the metaphor that artist Randy Sabaque (Saba) used to describe his work.  Using aerosol paint as a medium, he said, was a way of communicating spray paint as a metaphor for releasing pressure – which reflects the origins of the graffiti murals that are connected to his art form. And (you knew you wouldn't get out of this spring welcome without a geological metaphor, didn't you?) there's a parallel analogy with metamorphic rocks.  These are among the most interesting and beautiful types of rocks, and they are created by heat and pressure, deep beneath the Earth's surface.  The mural outside the building is art that has been created by the release of pressure, at the Earth's surface.
I won't belabor that point….but the mural is a fascinating and discussion-generating addition to our campus landscape.
We have a lot of conversations happening across campus – and with the larger community – about how we can develop a more welcoming environment.  Some of these issues were considered yesterday at the Institute for Student Success.  HSU is exploring partnerships with the Humboldt Area Foundation and the Haas Institute for a Fair and Inclusive Society on a pilot series about inclusion, with a goal of improving our regional "ability to be more inclusive of marginalized populations."  The program is still developing, but these conversations and working groups will include a broad cross-section of the University and the community, and I hope they serve as an example of how we can work collaboratively.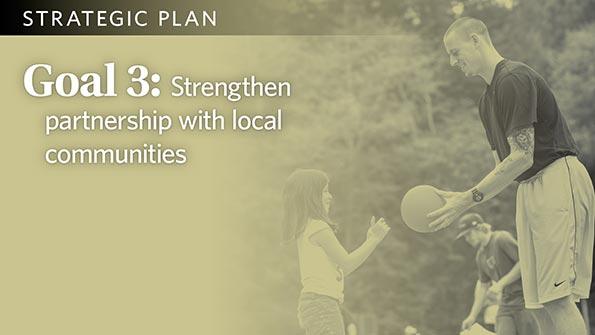 We will continue our work recruiting local students by expanding the Local Pathways initiative. 
This spring, we will conduct an inventory of faculty, staff, and student engagement in the communities.  We will continue to identify ways to coordinate, track, and support research opportunities, volunteer service, and internships.
The President's Native American Advisory Council has been reinvigorated and will help us create new partnerships.  Representatives of the tribal nations in this region have started sharing lists of skillsets and projects that they would benefit them, and we will be trying to match their needs with the courses, certificates, and programs that are available to students.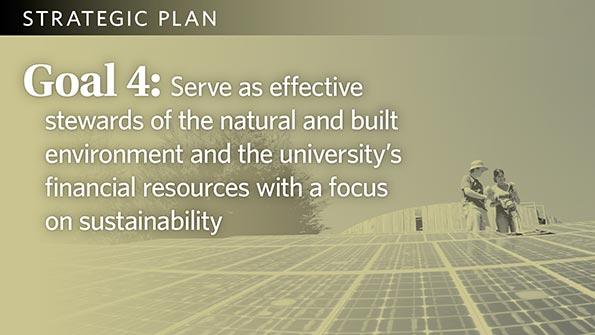 We have started to implement a strategic budgeting process, which will result in greater fiscal health and accountability.  A working group is developing processes to measure the success of strategic activities and to align them with the strategic budget.
Facility condition assessments are underway to ensure good stewardship of our physical spaces.  The Trustee's requested budget for the 2016-17 fiscal year includes funding to start planning for the renovation of Jenkins Hall – and infrastructure improvements that include replacing the emergency generators in the Natural Resources Building.
We are also pursuing many avenues to improve our cash flow, such as expanding use of our facilities in the summer.  
Charitable giving is an important source of revenue for Humboldt.  In the most recent report for the CSU, Humboldt ranks second (out of 23 campuses) in the percentage of alumni who donate to the University, and we reported over $7 million in fundraising in 2013-14, which is the last year for which we have good data.  Of course, much of this support is given for specific purposes, and only $281,0000 was unrestricted – less than 4% of the total giving.  We can be proud that we have good support from our alumni and other donors – and, I would note, many of you include HSU and specific academic and support programs on your personal philanthropy list.  Thanks so much for your generosity and support.
To showcase pride in our institution and encourage everyone to support our mission, HSU is increasing awareness of "Forever Humboldt," which is broader than the traditional alumni organization and includes both current and former students, parents and families, and faculty and staff.   This is a program of engagement, rather than membership, and we are ahead of the curve, as many other colleges and universities are just now starting to think about this approach.
Social and environmental responsibility runs deep at HSU, and we are participating in several national initiatives within higher education to support sustainability.  Development of our Climate Action Plan is already well underway. 
I'd like to mention just one more campus sustainability initiative:  Choose to reuse.
Those of you who were able to attend the holiday party in December undoubtedly noticed that the event included reusable plates, glasses, and utensils.  This was true yesterday, at the Institute for Student Success, and today, as well.
We are making important progress in this "Choose to Reuse Campaign."  You were all asked to bring a reusable beverage container today – whether it's a mug, water bottle, canteen, or Mason jar.  Thanks to all of you who did so.  Everyone's efforts to reduce – and eventually eliminate – single-use, throw-away items on campus, including plastic and paper plates, cups, and so-called bio-degradable plastics, will be truly valuable.
For those of you who may have forgotten to bring your reusable mug, I'd like to ask you not to incorporate the ones from Dining Services into your personal collection.  There was apparently a certain amount of … attrition … of Dining Services mugs yesterday, and taking them with you defeats the purpose.  So thanks for your help with this, too.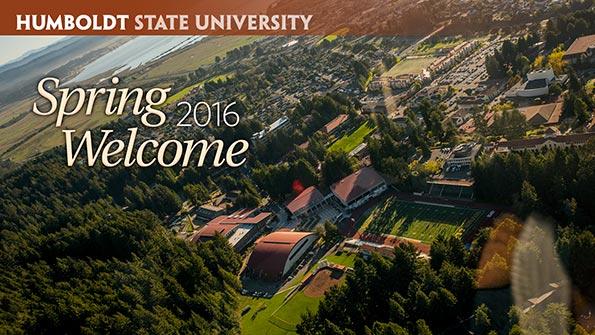 The preparation for the reaffirmation of WASC accreditation is already happening; the steering committee is mostly formed, and the self-study effort will be led by Rock Braithwaite, Professor and Chair of Kinesiology and Recreation Administration.  According to the current schedule, the self-study will be submitted in spring of 2017, and our campus visit will occur in Spring 2018.  Thanks, in advance, for all the ways in which so many of you will be helping with this process.
One of the immediate challenges with our strategic plan is having a program of clear and consistent communication. 
I know I'm not being subtle when I use this opportunity at Spring Welcome as a communication tool.  But sharing information at the spring and fall welcomes isn't enough.
A web page provides access to in-depth information on the Strategic Plan progress.  It's accessible from the HSU homepage.  But that's not enough, either.  So we'll be using portal announcements, e-mail, blogs, the Oversight Committee, Instagram, and basically every standard medium we have available to communicate.
And that's still not enough.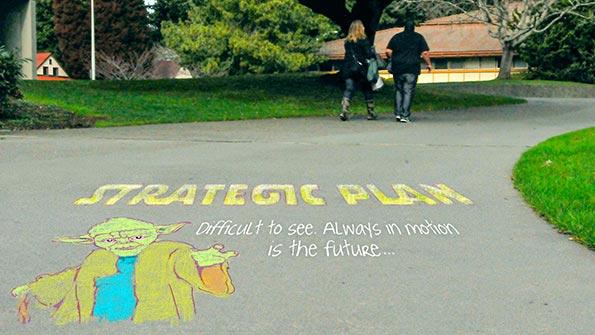 So we'll do that, too. Look for tables on the Quad and chalked messages about our progress on the strategic plan, too.
And so I hope this has been a useful overview of where we are in our strategic plan implementation, six months after its completion. We're making good progress on many fronts – and we still have a lot of work to do.
Stay tuned for more information – perhaps from some surprising directions.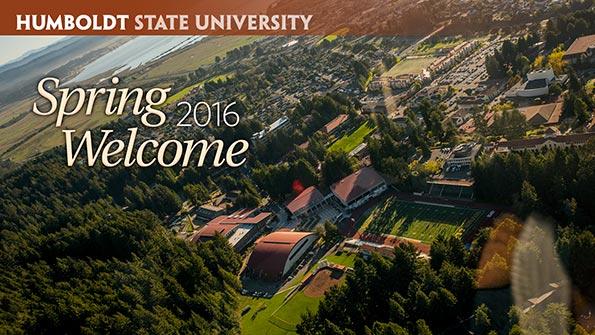 As I conclude these remarks and make the transition to some of our customary Spring Welcome recognitions and awards, I want to acknowledge the moment we are in. Everyone in this room has a challenging job. We are working in an environment with a great deal of uncertainty – and, in some cases, risk. The economy, the changing nature of higher education and of our students, acts of terrorism from new directions, and even the threats associated with climate change create new sources of questions and ambiguity for all of us.
One of the most interesting wishes that I received for 2016 was "…may 2016 be a year of certainty and prosperity." I hope that is prophetic, for all of us. And I want to thank you all for being on this journey, together. As we move the University forward, focus on student learning and student success, and fulfill our mission to help the region and the state, I am grateful to you all. For your dedication, your commitment to students, and your belief in our collective future. Thank you.
****
Now, one of the traditional celebrations at this Spring Welcome event is the recognition of years of service at Humboldt State University. I'm going to ask you to stand in groups, with increasing lengths of service, starting with
…those of you who have worked for the University from 1-9 years.
…those of you who have worked for the University from 10-19 years.
…let me ask everyone to stand who has worked for the University from 20-24 years.
…and now, all of you who have worked for Humboldt State University for 25 years or more, please stand. Thank you for caring about HSU and being such an important part of the history of this school.
The employees who have reached the 25-year mark this year will be honored at a Silver Lamp luncheon later this semester, and I very much look forward to that event.
Now, please remain standing if you have worked at HSU for 26-34 years .
Finally, please remain standing if you have worked at HSU for 35 years or more!
Thank you all for your many contributions to this University.
We have a group of employees who have reached the 35-year service mark this year, and I am going to ask them to come forward in just a moment. Before I do, let me note that the year you started working here, in 1981, Ronald Reagan became president, Raiders of the Lost Ark was released in theaters, the first Space Shuttle (Columbia) was launched, the word "internet" was mentioned for the first time, and a gallon of gas cost $1.25.
Edward "Ed" Goodeyon is the Custodial and Logistics Services Manager in Facilities Management, but he has held a variety of jobs in his 35 years here. They include Custodial Supervisor, Manager of Custodial Services, and Associate Director of Plant Operations. In his current position, Ed is still involved with surplus property, special events, and Commencement set-up.
Valerie Green began working at HSU as a Clerical Assistant processing admission applications, and then became an Evaluator of admission and degree requirements. She has been the Credential Analyst and the International Student Advisor/Immigration Officer. She is currently the campus Articulation Officer, in the Registrar's Office.
Dave Hoskins is an Equipment Technician at the Marine Laboratory. Officially, he has worked here for 35 years, but if you count the time he worked for the Biology Department and the Marine Lab when he was a student, his total time adds up to 40 years. He has also volunteered for the Oceanography Dept and SCUBA program.
Kate Stroup works as Confidential Office Support in Student Affairs. She graduated from HSU in 1980 with a Business degree and got hired that summer as a COBOL programmer in the Computer Center, producing stacks of card-punch code. She worked on the team that implemented HSU's first on-line student information system -- called Banner. In 2003, she was appointed to the Student Affairs office as an administrative assistant. Today, she is back to slicing and dicing data, although now as an end-user.
Congratulations again, and on behalf of the HSU community, thank you for your incredible dedication. Let's give the 35-year people another round of applause.
Outstanding faculty awards for this year have already been announced, but I want to mention them again.
Professor Marlon Sherman from Native American Studies was given the Outstanding Service Award.
Lecturer Gayle Olsen-Raymer from History received the Excellence in Teaching Award.
Professor Chris Hopper of Kinesiology and Recreation Administration was recognized as Scholar of the Year.
Marlon gave his public lecture in the fall. Gayle's lecture is coming up on February 10, and Chris's on April 20.
I am now very pleased to have the opportunity to present the Staff Recognition Awards, a program over two decades old to recognize meritorious staff members. The Staff Council reviews nominations and makes recommendations on these awards. Many outstanding staff members were nominated, and 10 individuals are being recognized this year. Thanks to all of you who took the time to nominate a colleague. Besides receiving a cash award, the winners will be honored in additional ways this semester.
I will introduce each of the winners with comments from their nominators and ask them to come forward – and we will take a group photo at the conclusion of these awards.
Humboldt State has the most student-athletes (380) of any institution in the California Collegiate Athletic Association - and the smallest training staff. This person is the only member of HSU's staff assigned to athletic training; one man who takes care of 380 students. He spearheaded an alternative insurance option for student-athletes that drastically cut the amount HSU athletics pays to its primary insurance carrier. Tens of thousands of dollars have been saved due to his ability to find and implement this alternative option.
The Jacks' head Athletic Trainer since 2002 SHANNON CHILDS
Nominators for the next recipient say: "Over the years, our department has been fortunate to have many excellent office staff people, and she has proven to be one of the very best of that illustrious group. In addition to doing all the basic aspects of her job very well, she continues to evaluate our departmental processes and activities for inefficiencies and ways that the processes could be made more effective. She is a brilliant researcher – for any problem or question, she goes out of her way to find the answer – and she often takes the next step by thinking of related questions and finding answers for them as well. The Music department greatly appreciates her friendly, supportive, and helpful way of interacting with others, but most of all we value the ways her input and insight have improved the functioning of our department."
Administrative Support Coordinator KELLY MATHSON
This next staff person may be small in stature, but so mighty in energy and creativity! She is a sheer joy to have around, a positive force at meetings, a gentle and responsive spirit when needed. She is the glue that keeps it all together and moving in the same direction. She is the hands-on go-to person in almost every situation, and her skill, industry, and tact are the stuff of legend. In the face of multiple on-going challenges, she sees patients, arranges staff schedules, troubleshoots problems, and soothes ruffled feathers without missing a beat. It seems like she never stands still for even a moment.
She has boundless energy to help out patients, and she will always go the extra mile, with thorough and compassionate care. Serving the Student Health Center since 2005, she has demonstrated from the beginning how invaluable she is.
Full Nurse Practitioner JACKIE WIEDEMANN
This next employee is described as a wonderful person. She is highly intelligent and has accomplished amazing things for HSU. She has worked extremely hard this past year to gain the institutional knowledge necessary to be able to submit, systematically and accurately, Humboldt State University's year-end information to the CSU Chancellor's Office. She never quits until she has accomplished her goals. She is always willing to stop what she is doing to assist her colleagues. She always has a smile and a kind word for everyone. She has been our new shining star in the Financial Services Department this year and a half, and has accomplished what it takes most people three years to accomplish!
Assistant Controller SYLVIA SHIVELY 
This next employee is a joy to work with. Although she has a quick mind and easily understands all things budget, she is patient with all who need her help, and she will take as much time as necessary to be sure that whatever budgetary or other process under discussion is clearly understood. She will readily adapt her approach when necessary to make a budget or process clearer or more easily understood.
She goes far beyond her duties to be involved in university governance and system-wide professional development, and she has been instrumental in improving communication among staff, the dean, and the associate dean to better understand and solve problems together. Her perspective and counsel are invaluable.
Budget Analyst, College of Arts, Humanities, & Social Sciences GINA PIERCE
This person perpetually radiates enthusiasm wherever she goes; her cheerfulness, excitement, and passion for helping students succeed are contagious. Her work involves creating a positive environment, filled with support, comfort, and resources. This marks her 30th year with the Upward Bound Program, starting first as a student, and now as the program's Director. Today we honor the role she's played in shaping the program -- and the countless students she has inspired and convinced they could achieve their collegiate goals.
Director of the Upward Bound Program JEN DYKE
Nominators for the next recipient say that he is widely appreciated for his consistently professional, solution-oriented demeanor. He is endlessly patient with everyone. And, like many employees, he does his work against a background of anonymity; it is a background that disappears, however, when he is absent. He knows who to contact on campus when it becomes necessary to troubleshoot problems. He is very even-keeled and rides through the difficulties and challenges.
A fellow employee says, "My interactions with him invariably leave me feeling less stressed, and more focused on the possibilities inherent in our systems at HSU, as opposed to perceiving the barriers.
He is a quiet, unassuming employee whose budgetary skills and temperament make him an indispensable part of the College. His Dean relies on him daily for his analyses, and he is always confident that they are correct. The terrifically enthusiastic support for this nomination—in his college and across campus—demonstrate how widely appreciated he is.
Budget Analyst, College of Natural Resources & Sciences JIM HARDING 
In his relatively short time on campus, this person has become known for far more than the last name you can't find when you search the Staff Directory. He created the data dashboards page on the Institutional Research and Planning website using Tableau software. This allows others to better understand and visualize all the data collected in the IRP office. He has shared his excitement about Tableau through his annual presentations at the California Association of Institutional Researchers conference and a series of summertime library workshops known as Tableau Thursdays. He also mentors students pursuing the Graduate Certificate in Institutional Research. Even among those who don't look at data, he is well known through his service on various campus committees, including serving as the president of the Staff Council and as current member of the Institutional Review Board.
Institutional Research Assistant MICHAEL LE
This person has worked on campus for 15 years in various roles in her department. She consistently takes on new tasks in order to better serve the students, the department, and the university. She has found innovative ways to increase the visibility of the Academic and Career Advising Center with the local communities, which leads to increased opportunities for our students. She gets things done -- and does so in a manner that is approachable, positive, and humble. She is a great team player, and people on campus and in the community respect her. She supports her team and advocates for her students. She makes the workday brighter!
Development Coordinator, Academic & Career Advising Center AMY MARTIN
This employee exemplifies the good of many of our hard working and dedicated staff here at HSU. She loves her work, enjoys people, is professional and courteous, and searches for ways to enhance the experiences of those she supports, whether students, faculty, staff or administrators. She works across units, with a diverse group of people, and with a common goal of helping students succeed.
She is a true HSU believer. She supports HSU in all ways of being; in her discussions with others, her activities on and off campus, her collaborative spirit. She is dedicated to the faculty, staff, and student researchers, believes in the office team, and works hard to accomplish the goals of the unit. She is a complete and total asset to the entire campus and more importantly, she is a delight and joy to work around.
Office Manager, Sponsored Programs Foundation KACIE FLYNN
Congratulations to all of you. And thank you for your many contributions to HSU. In just a minute, all of the staff award recipients should come back up here for a group photo.
So, in conclusion….
I'd like to propose a toast – with reusable beverage containers. I realize that most of your mugs and bottles are empty, but please raise them anyway. Thank you for what all of you do, throughout the year, and may this spring semester – and all of 2016 – bring us all certainty and prosperity. Salud!