Academic Year 2019-2020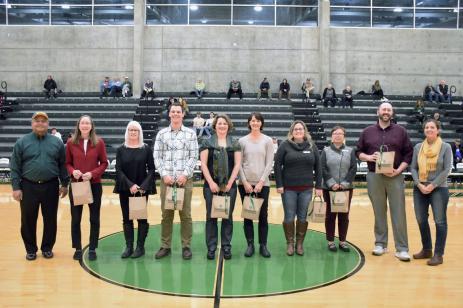 2019-2020 Staff Recognition Award recipients with President Jackson on the far left and Staff Council President Jessica Welch on the far right. 
Susan Brater, Sponsored Programs Foundation
Liz Deck, Youth Educational Services

Kyle Leitzke, Academic & Career Advising
Raven Palomera, HSI Stem (not pictured)
Courtney Proctor, Academic Personnel Services (not pictured)
Betsy Rogers, Academic & Career Advising
Danielle Trapkus, Environmental Science Management & Oceanography
Jaime Tripp-Carter, Housing
Kumi Watanabe-Schock, Library
Travis Williams, Development
Academic Year 2018-2019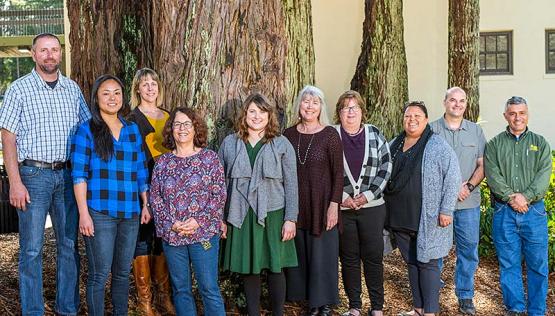 Travis Fleming, Facilities Management
Sei Hee Hwang, Academic & Career Advising Center
Gay Hylton, Office of Institutional Effectiveness
Molly Kresl, Clubs and Activities Office
Pedro Martinez, Facilities Management
Steve Monk, Marine Lab & Biology Department
Kelda Quintana, Academic & Career Advising Center
Debra Ryerson, Theatre, Film & Dance
Paula Tripp-Allen, Native American Center of Academic Excellence
Erika Wright, Sponsored Programs Foundation
Academic Year 2017-2018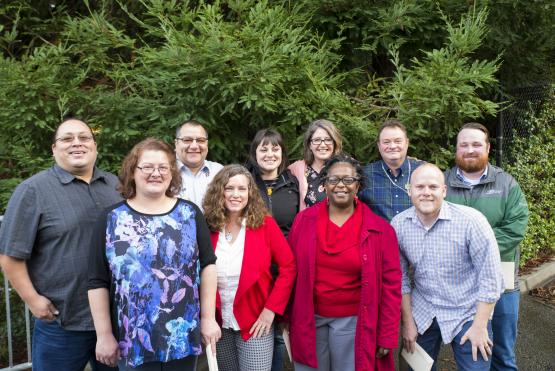 Seth Bradley, Office of the Dean of Students
Lorna Bryant, KHSU
Leo Canez, Office of Admissions
Krista Carroll, School of Business
Loren Collins, Academic & Career Advising Center, Center for Community Based Learning
Amy Davies, Facilities Management
Izabella Gray, Contracts & Procurement
Lonyx Landry, Indian Natural Resources, Science and Engineering
Jay Schock, Financial Aid
Arianna Thobaben, Learning Center
Academic Year 2016-17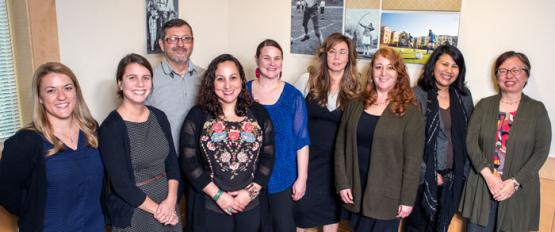 Sarah Bacio, RAMP Coordinator, Retention
Shannon Berge, Administrative Support Coordinator, Academic & Career Advising
Ravin Craig, Assistant, Health Education
Maricela Escalante-Torres, Coordinator, Testing Center
Katlin Overeem, Coordinator, STEM Collaborative
Chris Rutter, Custodian, Facilities Management
Amanda Staack, Administrative Support, MultiCultural Center, CCAE
Elizabeth Tellez, Administrative Analyst, Housing
Kumi Watanabe-Schock, Library Services Specialist, Library
Linda Wilson, Administrative Support Coordinator, Politics & History
Academic Year 2015-16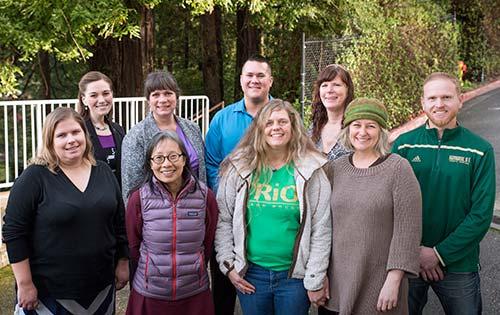 Shannon Childs, Athletic Trainer, Athletics
Jennifer Dyke, Director, UpwardBound
Kacie Flynn, Office Manager, Sponsored Programs Foundation
Jim Harding, Budget Analyst, College of Natural Resources & Sciences
Michael Le, Research Analyst, Institutional Research and Planning
Amy Martin, Development Coordinator, Academic and Career Advising Center
Kelly Mathson, Administrative Support Coordinator, Music
Gina Pierce, Budget Analyst, College of Arts, Humanities & Social Sciences
Sylvia Shively, Assistant Controller, Accounting
Jackie Wiedemann, Nurse Practitioner, Health Center
Academic Year 2014 - 2015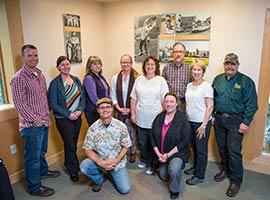 Jana Ashbrook, Housing & Dining Services
Stacy Becker, Center for Service Learning & Academic Internships
Mary Ann Brown, Dining Services
Travis Brunner, Office of the Registrar
Mary Comella, Chemistry Department, Physics & Astronomy Department.
Teresa Cox, Facilities Management
Mira Friedman, Health Education & Health Center
Greg Granoff, Department of Music
Jeff Robison, Facilities Maintenance
John Smith, Facilities Maintenance
Fall 2013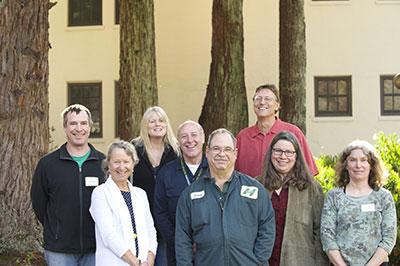 Annie Bolick-Floss, Center for Service Learning & Academic Internships
Michelle Conover, Facilities Maintenance
Jeremy Davis, Housing
Anthony Desch, Fisheries & Wildlife
Kim Hall, Veterans & Enrollment Transition Services
Ward Headstrom, Institutional Research
Lisa Lewis, Telecommunications & Networking Services
Laurie Maxwell-Chamberlain, Library
Jerry Saner, Facilities Maintenance for Sustainability
Steve Tillinghast, Geology
Fall 2012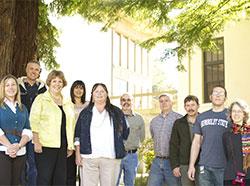 Dan Cleaves, ITS User Support
Shannon Collart, Academic Personnel
Tyler Hooker, Physics and Astronomy
Dave Hoskins, MarineLab
Kenna Kay Hyatt, World Languages & Cultures; Native American Studies; Critical Race, Gender & Sexual Studies
Tim Kohberger, ITS User Support
Carmela Paradise, Education
Lisa Perry, College of Natural Resources & Sciences
Marty Reed, Biological Sciences
Jennifer Slye-Moore, Art
Fall 2011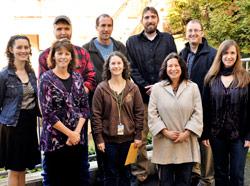 Kellie Jo Brown, Marketing & Communications
Mason Long, Desktop IT
Lewis McCrigler, Biological Sciences
Leila Moreno, Housing
Allison Oakland, Schatz Energy Research Center
Bethany Rizzardi, ITS Project Office
Julie Tucker, College of Natural Resources and Sciences
Cade Webb, ITS Specialized Apps
Colin Wingfield, Environmental Resources Engineering & Geology
Andrea Yip, Biological Sciences
Fall 2010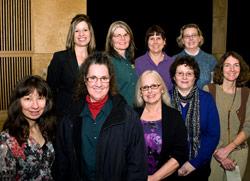 Holly Freitas, Housing/Dining
Valerie Green, Registrar's Office
Janelle Jackson, University Police Department
Beth Kabat, Shipping/Receiving
Melissa Koval, Academic Personnel Services
Glenda Rotherham, Student Financial Services
Linda Sherwood, Plant Operations
Mary Jo Sweeters, Environmental Resources Engineering
Liz Weaver, Biological Sciences
Jeanne Wielgus, Desktop IT
Fall 2009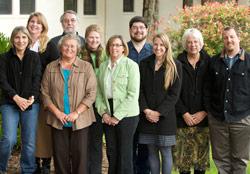 John Adorador, Desktop IT
Val Arizzi, Geology/Geography
Denise Giltzow, Human Resources
Romi Hitchcock-Tinseth, Admissions
Grace Kerr, Extended Education
Steve Ladwig, EOP
Cherry Ouellette, Career Center
Keith Reagan, Library
Belinda Trageser, Plant Operations
Cheryl Wheeler, Music
Fall 2008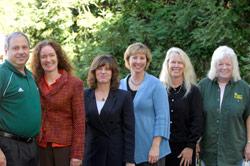 Jodie Baker, Academic Programs & Undergraduate Studies
Robin Bencie, Biological Sciences
Shelley Cook, Payroll
Mary Ann Evans, Contracts, Procurement and Risk Management
Leslie Farrar, Marine Lab
Sherry Jones-Deffenderfer, Academic Personnel Services
Su Karl, Learning Center
Dan Pambianco, Athletics
Linda Sabot, Plant Operations
Kate Stroup, Student Affairs
Fall 2007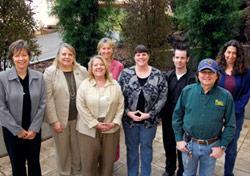 Tamar Danufsky, Wildlife Museum
Dana Deason, Advising Center
Mary Hackett, Geography
Diane Hunt, Psychology
Patti Carlson, Financial Aid
Jerri Jones, Multicultural Center
Kevin Simmons, EOP & Student Support Services
Cai Stuart-Maver, Learning Center
Susan Peck, Payroll
David Pryor, Plant Operations
Fall 2006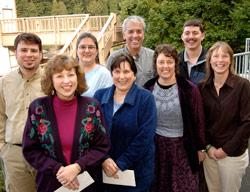 Angela Brown, Institute for River Ecosystems
Richard Bruce, Department of Psychology
Donna Clark, Learning Center
Cathy David, University Library
Steve Gubanez, Housing, Maintenance Department
David Rowe, Common Management System
Andrea Schwandt-Arbogast, Web Office / Webmaster
Tracy Smith, Educational Opportunity Program / Student Support Services
Sergio Torres, Plant Operations, Custodial
Phil Zastrow, Indian Teacher & Educational Personnel Program
2004/05 Academic Year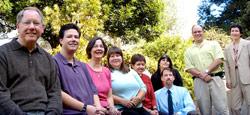 Adrienne Colegrove-Raymond, Student Academic Services Outreach Program
Deborah Coles, Housing & Dining Services
Michelle Dostal, College of Natural Resources & Sciences
Katherine Granfield, Fiscal Affairs
Mark Hendricks, University Computing Services
Kenneth Johnson, Housing & Dining Services
David Marshall, College of Natural Resources & Sciences
Glen Nagy, Department of Theatre, Film and Dance
Cassandra Tex, Student Disability Resource Center
Joan Van Duzer, College of Professional Studies
2003/04 Academic Year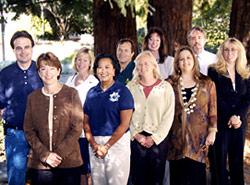 Mike Bradley, University Computing Services
Elizabeth Brunner, Registrar's Office
Marlette Grant-Jackson, Indian Teacher and Educational Personnel Program
Aleli Lawson, University Police
Rita Limmer, Housing
Janice McFarlan, Financial Aid Accounting
Monika Newman, Health & Physical Education
Riley Quarles, Courseware Development Center
Kevin Russell, Plant Operations
Linda Wilson, Department of History, Government & Politics
2002/03 Academic Year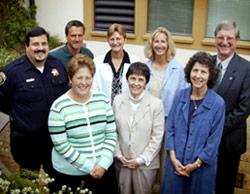 Mary Jo Bates, College of Professional Studies
Betty Braver, Student Health Center
Teri Bronder-Lewis, Department of Communication
Barb Duca, College of Natural Resources & Sciences
Kim Glory, University Police Department
Mary Greta, Academic Senate
Stephen Lee, Plant Operations
Justin Loch, College of Arts, Humanities & Social Sciences
2001/02 Academic Year
Carolyn Dentler, Department of Anthropology/Sociology
Maggie Gainer, Research & Graduate Studies
Rick Garcia, Telecommunication & Network Services
Christi Hawkins-Smith, College of Professional Studies
David Hoskins, Marine Lab
Rebecca Kalal, Admissions
Tom Mendenhall, Library
Sandi O'Dell, Student Health Center
Mary Stuart, Y.E.S.
2000/01 Academic Year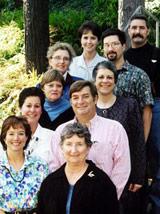 June Camozzi, Library
Margaret Cole, College of Natural Resources & Sciences
Tim Griggs, Plant Operations
Lisa Jackson, Information Technology Services
Lynn Johnson, Department of Health & Physical Education
Jeremy Ketelsen, Instructional Media Services
Kay Libolt, Student Life & New Student Programs
Betty Newman, Physical Services
George Pease, Forestry & Watershed
Cheryl Satter, Department of Mathematics
1999/2000 Academic Year
Valerie Andres, Associated Students
Camellia Armstrong, Housing
Anthony Baker, Department of Biological Sciences
Jim Brown, Plant Operations
Elizabeth Zo Devine, Center for Indian Community Development
Greg Granoff, Department of Music
Carol Hansen, College of Natural Resources & Sciences
Nancy Kelly, Academic Affairs
Mary Thomas, Dining Services
Cynthia Werner, Research & Graduate Studies