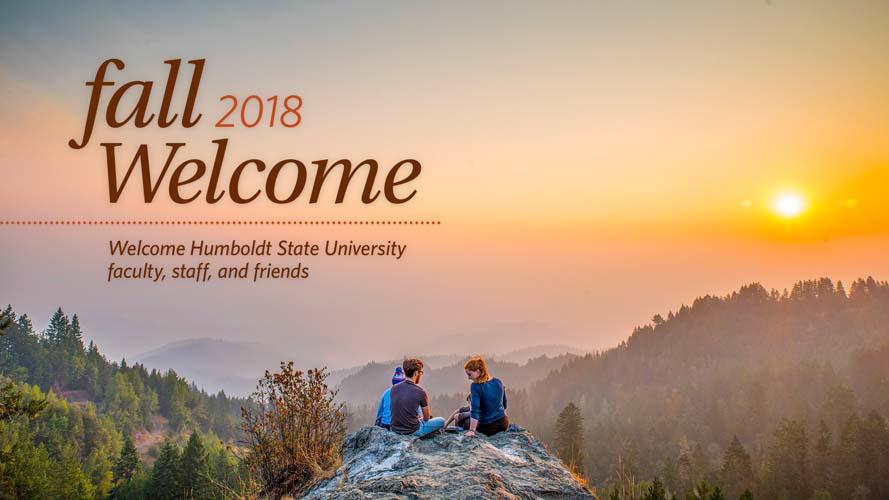 Welcome to the start of fall semester 2018!
The music this morning has been performed by a contingent of students from the HSU Jazz Orchestra, under the direction of Professor Dan Aldag.  This Jazz Orchestra will perform at the Jazz Educators Network national conference in Reno in January.  Thanks so much to the orchestra – and I know you'll represent HSU well in Reno!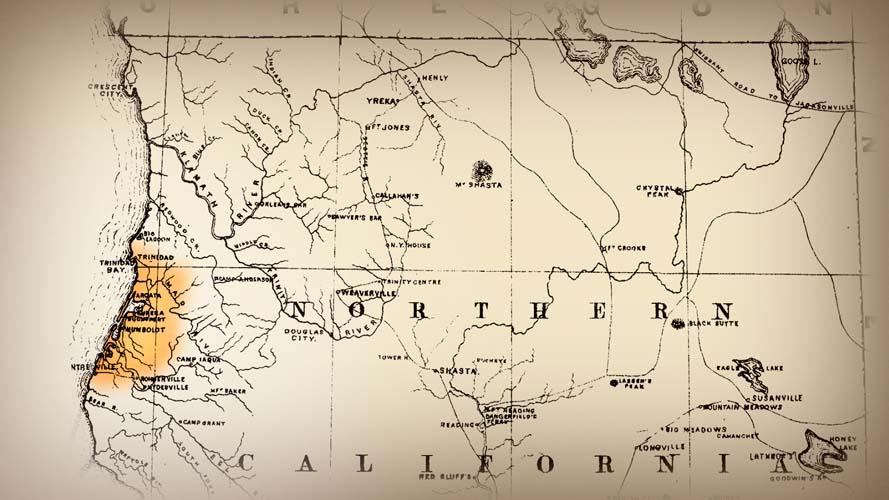 I want to begin this welcome, as with all significant events on campus, by noting that the land where Humboldt State University is located is part of the ancestral homeland of the Wiyot people – and that the Wiyot were here over a thousand years before this University was founded.  Because so much of the education that is offered here is characterized by a sense of place – this place -- acknowledging the history of this land and our indebtedness to the Wiyot people is important.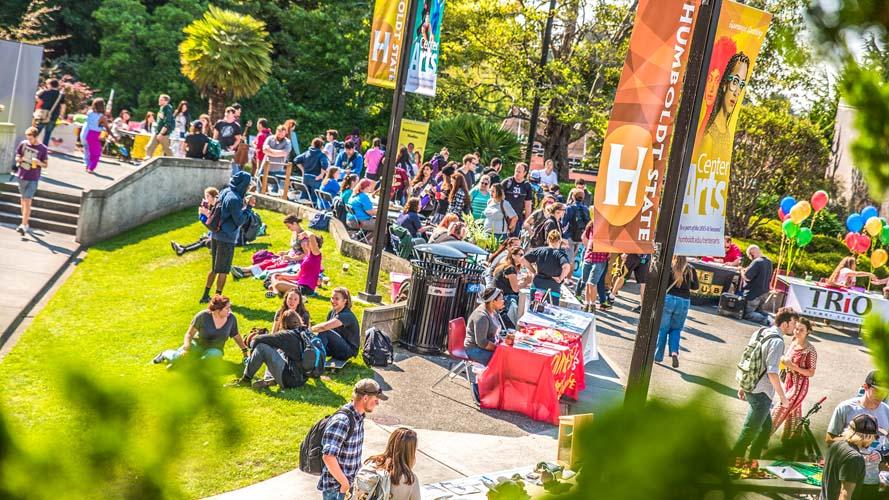 Here's a special welcome to all the new members of our University community.  You saw information about new faculty and staff in the slide show that was playing before this event, and I am thrilled by the experience, perspective, and energy that all these people bring to campus. Would everyone who has joined the HSU community since our fall welcome a year ago please stand?  Thank you for being here – and I hope those of you who have been here longer than a year will reach out to these new colleagues and make them feel included in our community. And although he is a long-standing member of this University community, I want to thank Dale Oliver for his willingness to serve as interim dean of the College of Natural Resources & Sciences this year.
In my remarks today, I want to focus on a combination of celebrations and challenges, organized around three themes that should be familiar.
I was on a panel discussion, a couple of week ago, for the Public Relations Society of America's group that works with higher education.  Because of the time of year, many of the participants were focused on the activities related to the beginning of the academic year.  And for many of them, the focus is whatever the campus equivalent is to this "Fall Welcome." 
This is where I learned the concept of this talk as a  "Christmas Tree." The idea is that many people want to hang their own ornament on the tree – a comment, an announcement, an endorsement, a mention of some sort.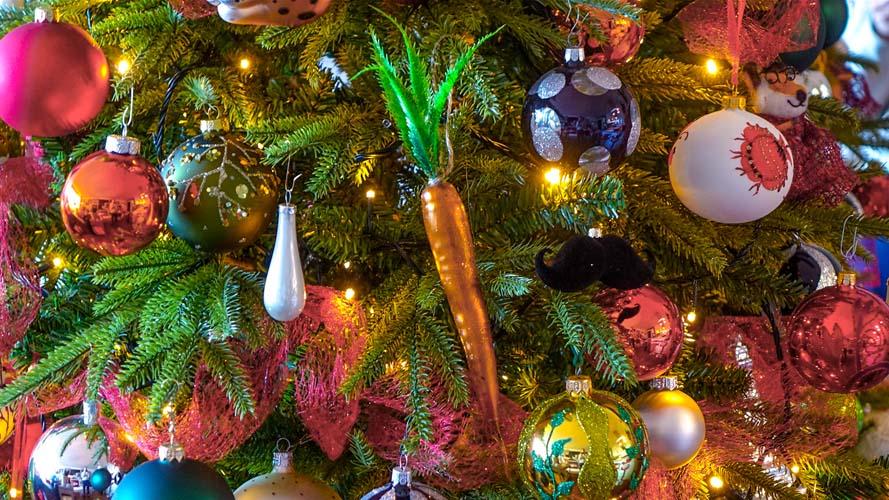 I received some great suggestions, and I've included as many as I could.  I apologize to everyone who asked me to include an ornament that I was not able to fit onto the tree of this Fall Welcome.  All of the suggestions were great.  Some of them just didn't fit.  Some of them would have added to the length of my remarks that would have cut into the first day of classes.  But thank you all for the suggestions.
So, back to my plan.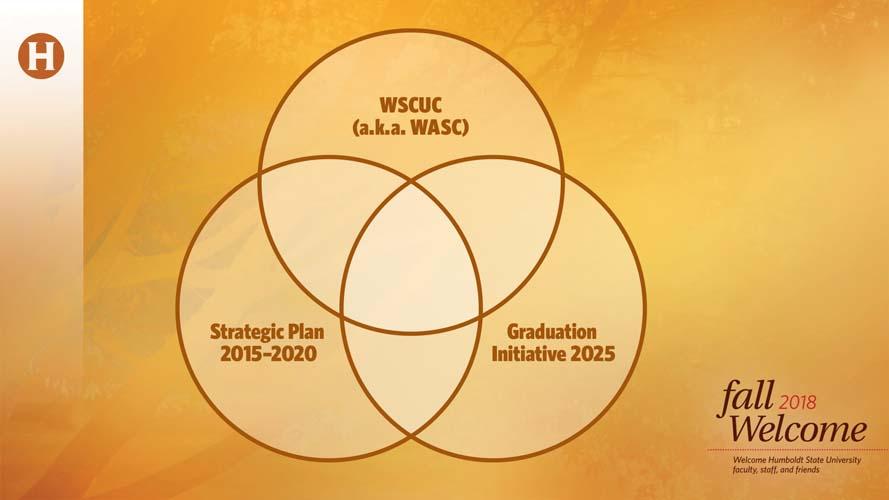 This does look familiar, right?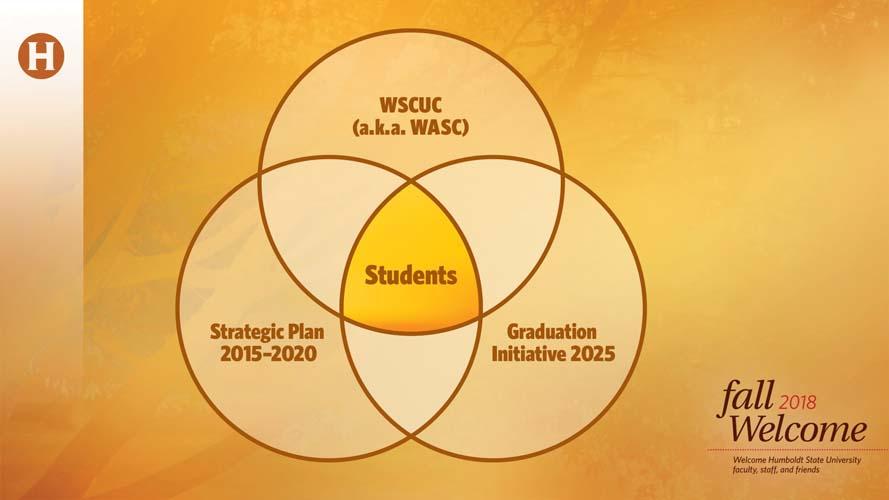 Many of you will recognize this Venn diagram, showing the intersection of the three major drivers for our areas of focus.  And, as most of you are also aware, our reaccreditation efforts, the Graduation Initiative, and our strategic plan are not completely separate.  These individual initiatives have considerable overlap, shown in the center here, and a key element is where these three areas of focus come together.  Those are our students.  They are at the center of what we do.  Students are our purpose and our mission.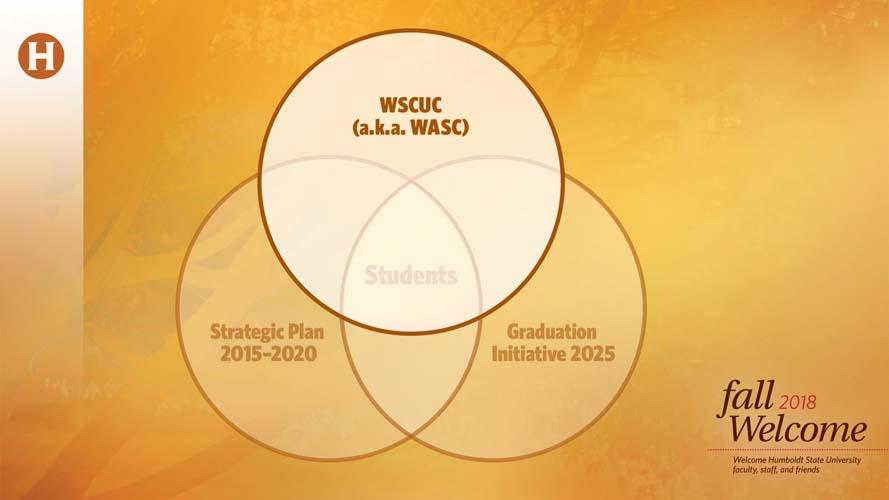 A year ago, we were deep into preparations for last spring's visit to review and reaffirm our University's regional accreditation. 
HSU undergoes an institutional review every decade or so to validate the quality and coherence of the education we provide to students.  This review is undertaken by colleagues from other colleges and universities.  This reaffirmation of accreditation is a way that higher education assesses itself, ensures the integrity of our programs, and demonstrates our value to students and their families, legislators, and the general public.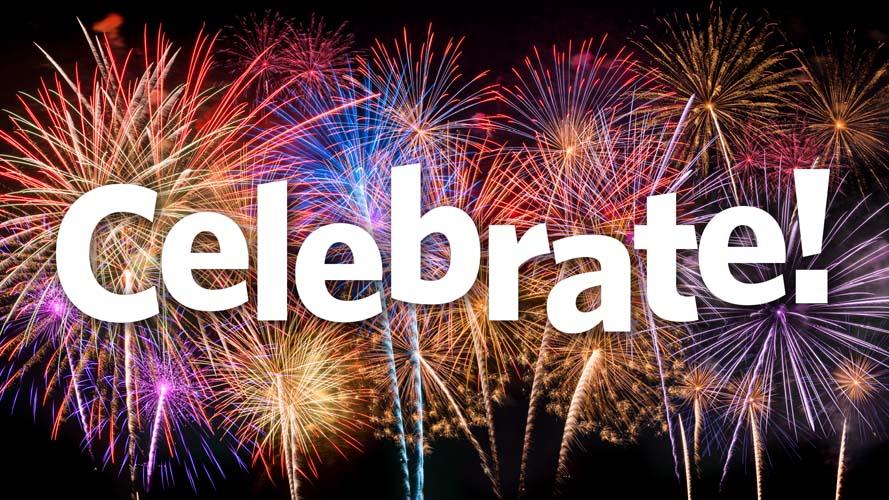 As we begin this new academic year, we can celebrate a successful outcome of that visit.  I want to thank everyone who played a role in preparing, writing, editing, planning, and meeting related to this reaffirmation process – would you all please stand up?  (Hint:  This should be everyone!)  Thank you all.  I want to offer special thanks to professors Mary Glenn and Rock Braithwaite who served sequentially as our accreditation liaison officers in this process.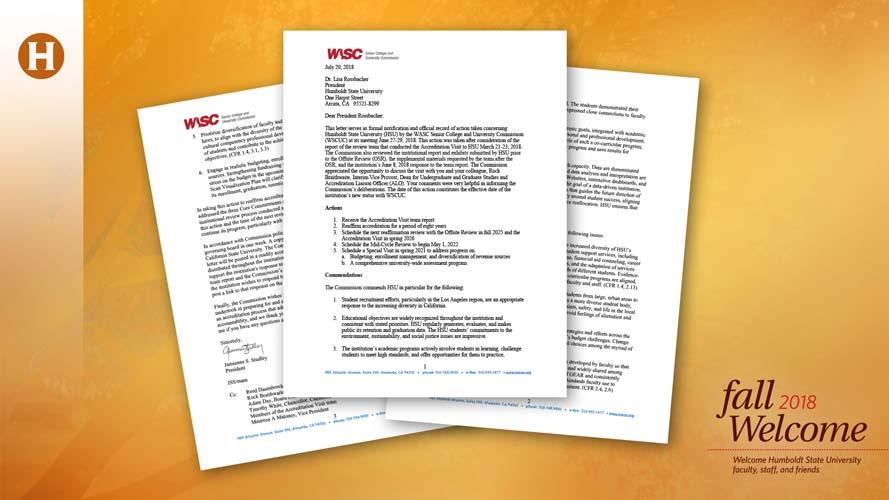 We received both commendations and recommendations from the Western Association of Schools and Colleges' Senior College and University Commission (also known as WASC, WSCUC, or "the Commission"), and, although these were shared with the University community in July, I would like to highlight the areas that the Commission identified as notable – and that we still need to work on.  This action letter is posted on the University's website, but I want to summarize the highlights this morning.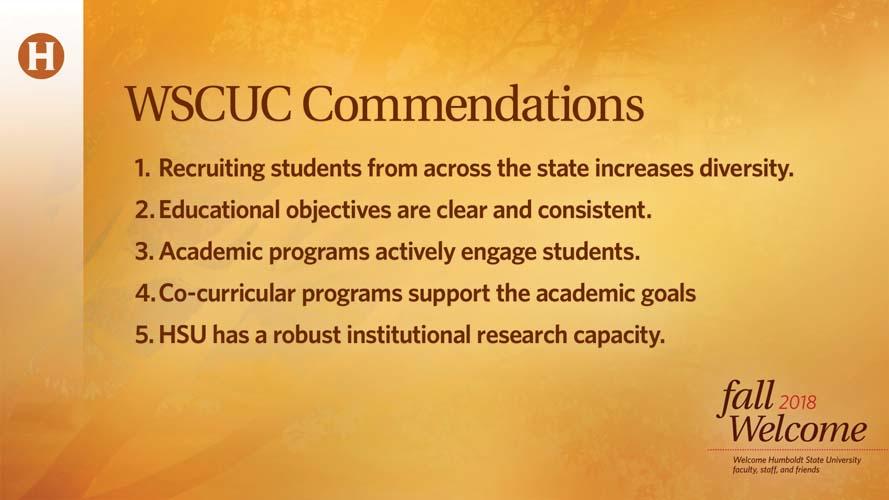 The visiting team had some particular commendations for HSU, including: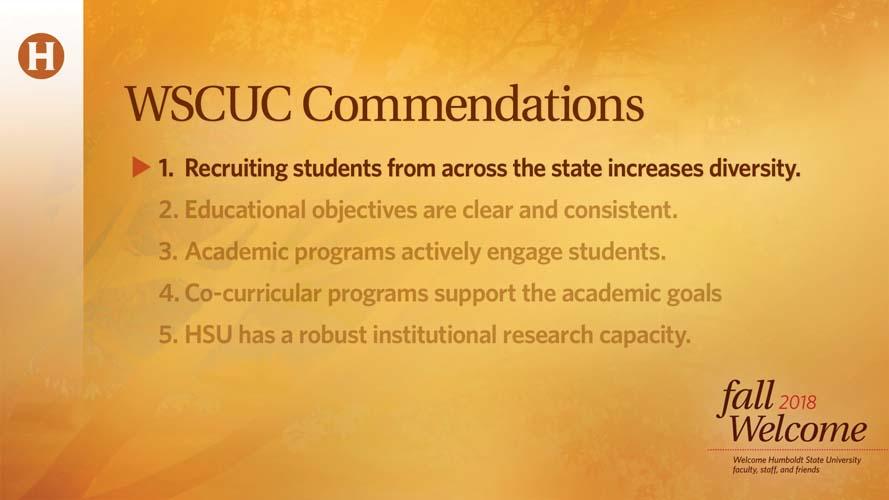 The Commission noted that our student recruitment efforts, particularly in the Los Angeles region, are an appropriate response to the increasing diversity in California.  I find this a particularly important commendation, especially when HSU has faced recent criticism about recruiting students from out of the area who help our student population better reflect the diversity of the state.  However, this commendation is paired with another point, which I will highlight in a moment.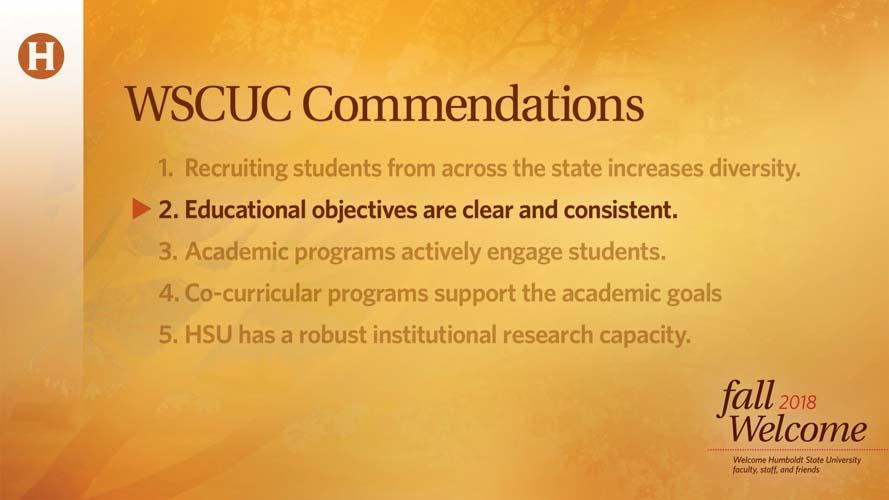 The Commission noted that HSU's educational objectives are widely recognized throughout the institution and are consistent with stated priorities. We regularly generate, evaluate, and publicize retention and graduation data. The Commission also noted the strong student commitment to the environment, sustainability, and social justice issues.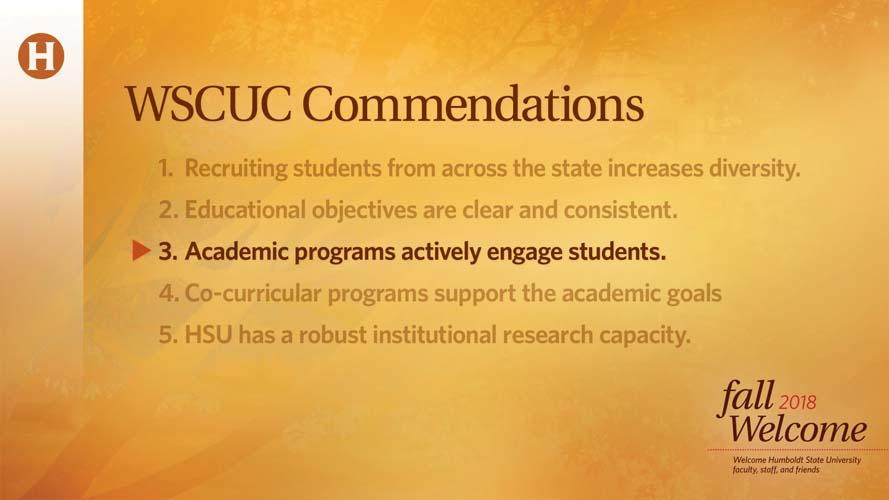 The Commission observed that HSU's academic programs actively involve students in learning, challenge students to meet high standards, and offer opportunities for them to practice and apply what they have learned.  In turn, students demonstrated commitment to their academic degrees and emphasized close connections to faculty mentors.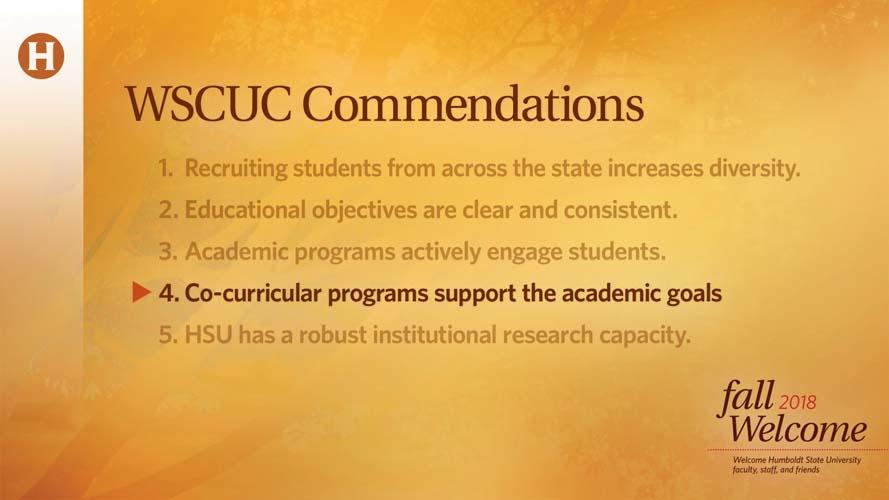 The Commission also noted that co-curricular programs are aligned with academic goals, integrated with academic programs, and designed to support student personal and professional development. The Commission gave a special recognition to the Klamath Connection as an example of such a co-curricular program; HSU actively assesses the effectiveness of this program and uses results for improvement.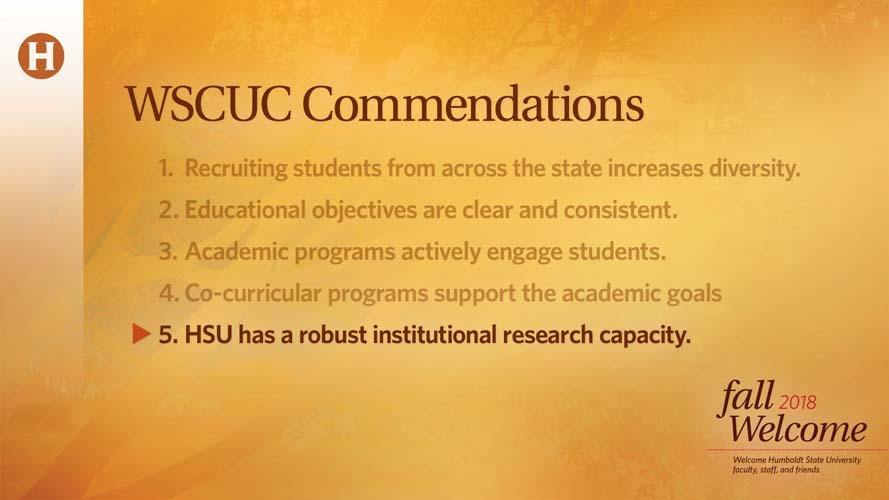 And the Commission members commended HSU's robust institutional research capacity. (That's a shout-out to Lisa Castellino and her team.)  Data are disseminated both internally and externally in a timely manner, and data analyses and interpretations are incorporated in planning and decision-making.  Websites, interactive dashboards, and formal reports assist the University in reaching the goal of being a data-driven institution. The Commission observed that HSU's strategic planning process guides the direction of the institution by articulating priorities, especially around student success, and aligning purposes and core functions to help guide resource reallocation. Finally, the Commission noted that HSU ensures that resource allocations reflect strategic goals.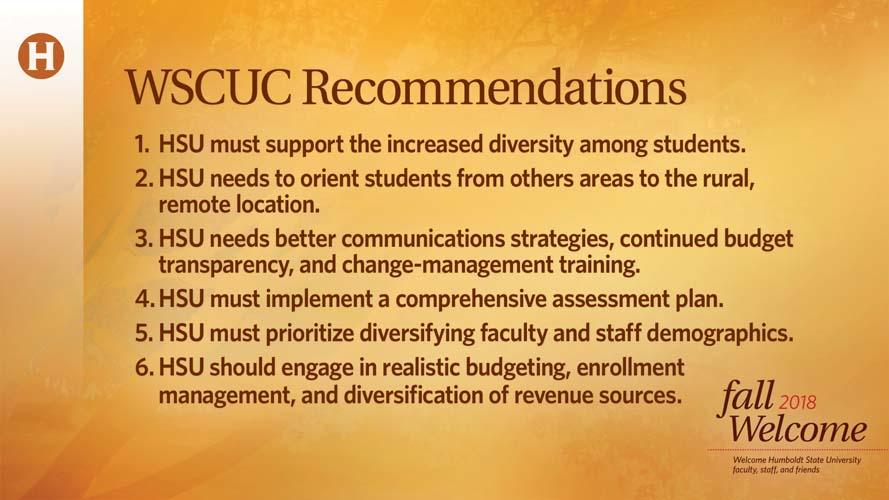 The Commission also had some recommendations regarding issues that HSU will have to respond to in our next assessment.  One of the important aspects of this review is the suggestions about how we can do a better job of fulfilling our mission.  Here are the recommendations that can help us.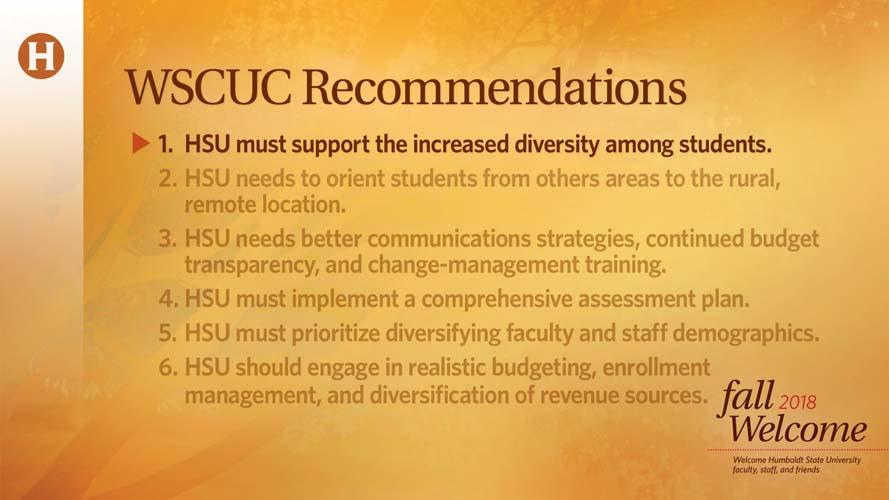 A specific recommendation from the Commission is to implement and sustain appropriate responses to the increased diversity of HSU's students. This includes the assessment of HSU's academic and student support services, such as tutoring, housing, students with disabilities programs, financial aid counseling, career counseling and placement, and multicultural centers.  As a University community, we need to pursue evidence-based decisions to ensure that curricular and co-curricular programs are aligned, and that these programs are sufficiently funded and supported by qualified faculty and staff.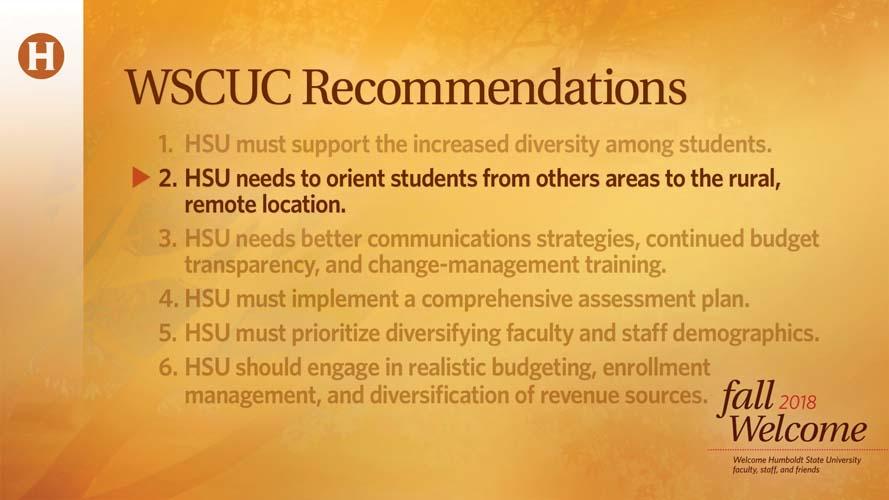 The Commission recommended that the University continue and advance efforts to orient prospective students from large, urban areas to HSU's rural, small city context. As HSU incorporates a more diverse student population, strengthening efforts to address student grievances and complaints, safety, and life in the local community will help students feel supported and avoid feelings of alienation and isolation.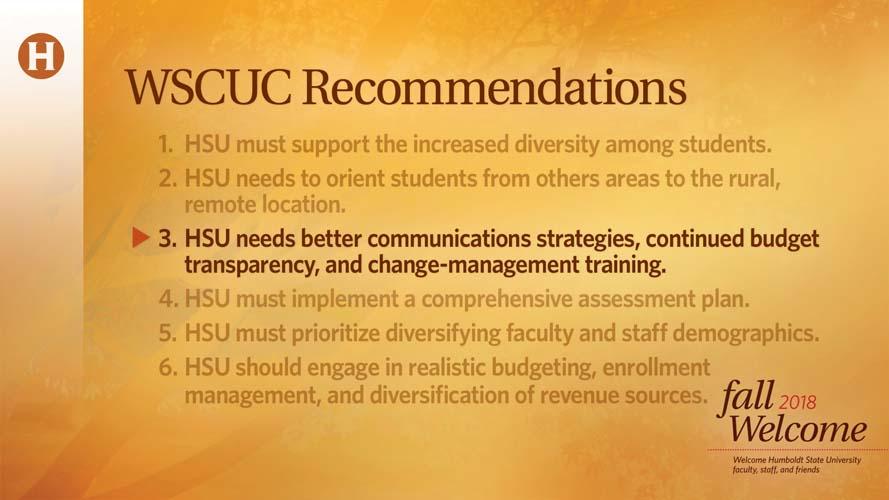 The Commission noted that we need to improve communication strategies and efforts across the campus, including continued transparency about HSU's budget challenges.  Change-management training can assist HSU in making critical choices among the wide range of current and planned campus initiatives.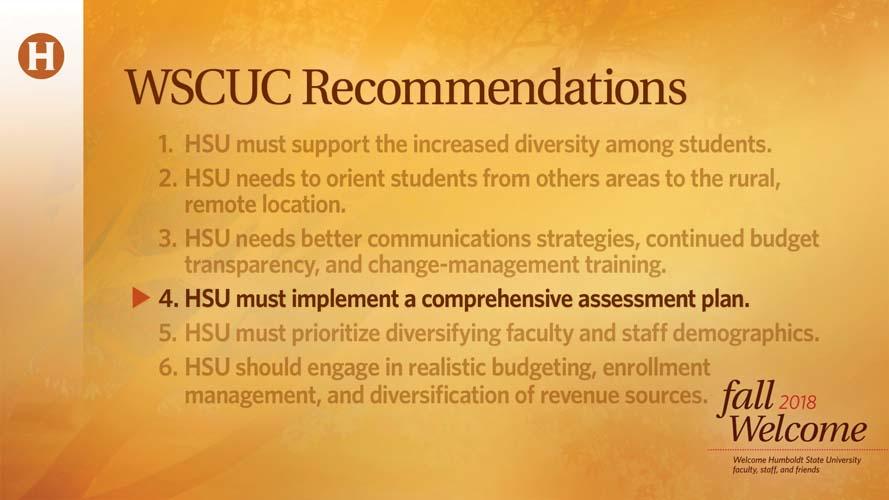 The Commission emphasized that HSU must implement a comprehensive University assessment plan, led by faculty, so that effective assessment is consistent across the institution.  Faculty, staff, and students must be widely engaged in this assessment effort.  Components of effective assessment will include improving the assessment of General Education and consistently embedding the expectations for student learning in the standards that faculty use to evaluate student work.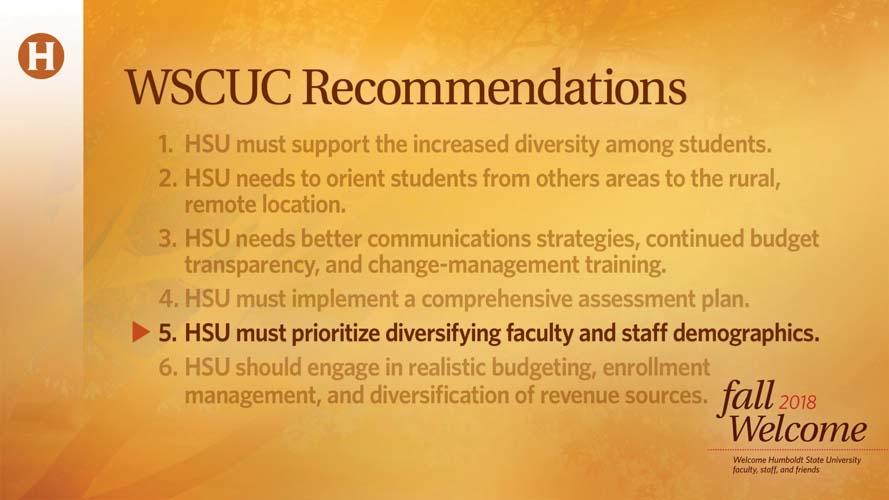 The Commission recommends that HSU prioritize diversification of faculty and staff demographics, including the use of new hires, to more closely align with the diversity of the students. Engaging faculty and staff in cultural competency professional development (those are the Commission's words) will both support the academic achievement of students and contribute to the achievement of the institution's educational objectives.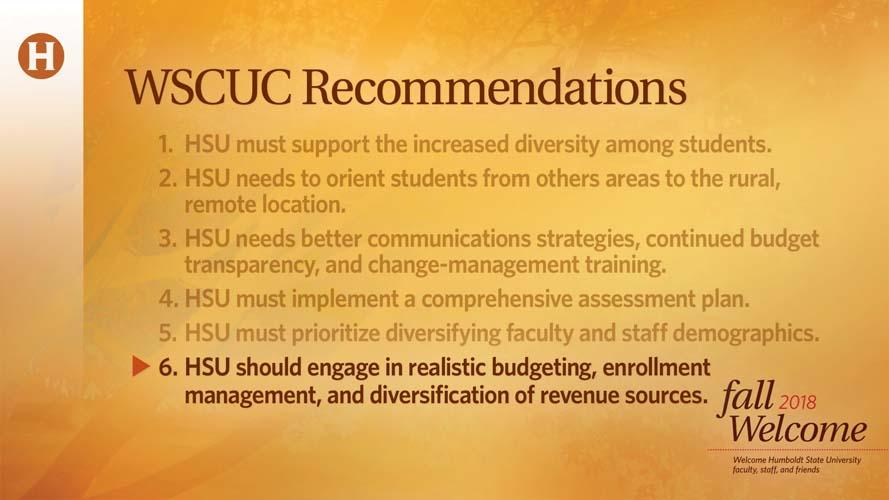 And finally, the Commission noted that HSU should engage in realistic budgeting, enrollment management, and diversification of revenue sources.  Strengthening fundraising and private partnerships will help alleviate the stress on the budget in upcoming years. They noted the value of the 2017 Environmental Scan Visualization Plan to clarify how HSU will counter current trends and reach our enrollment, graduation, retention, and opportunity gap targets.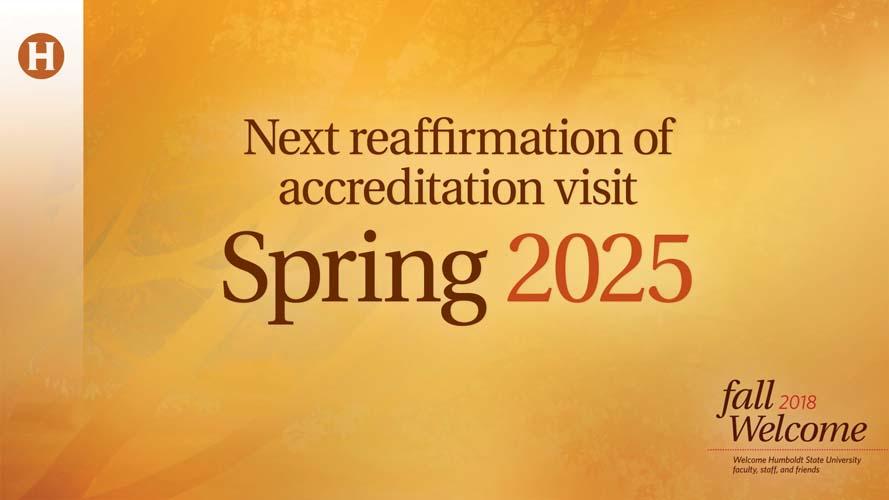 Bottom line:  WASC/WSCUC has reaffirmed our accreditation for eight years, and the Commission will return in 2025 for our next full visit.  That's really more like seven years, but it's still great news.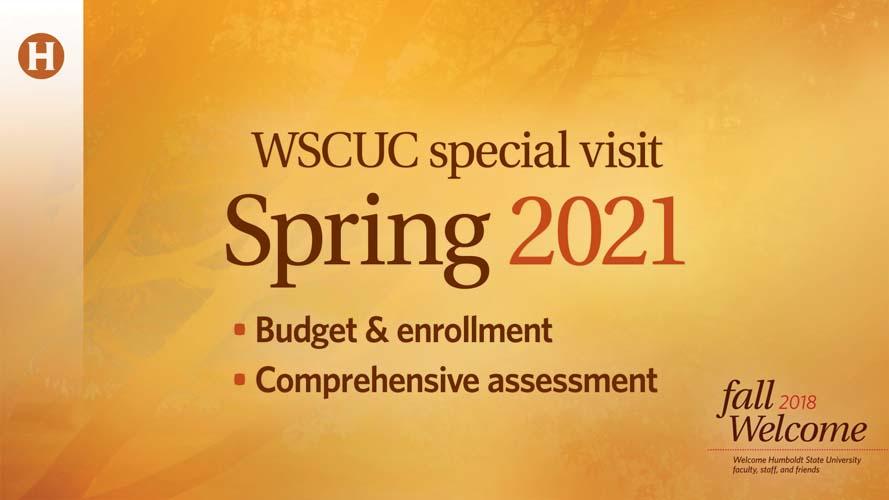 In the meantime, WSCUC also wants to check in with us in three years.  The Commission will schedule a special visit in spring of 2021 to review our progress on two areas:
Budgeting, enrollment management, and diversification of revenue sources 
A comprehensive University-wide assessment program
So – the two top priorities, from WASC's perspective, are developing a sustainable budget and a comprehensive assessment program.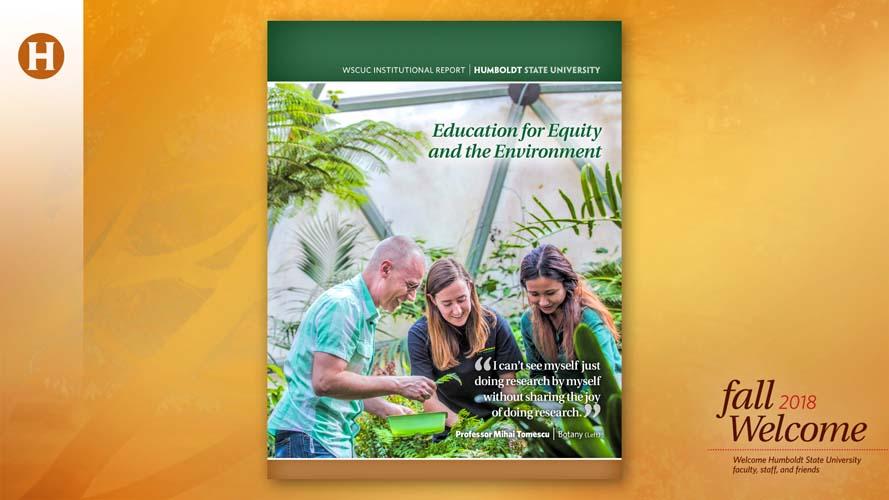 So here is what I want to emphasize:  spring of 2021 is right around the corner, and we will need to continue the work that has already started in the areas of comprehensive assessment, and budget, enrollment management, and diversification of revenue.  Josh Smith likes to remind us that this visit is really only two and a half years away, and the efforts will parallel those required to produce our most recent self-study report.  We cannot lose momentum.  Work has already started to prepare for these next visits – and I thank you in advance for all your contributions to this process.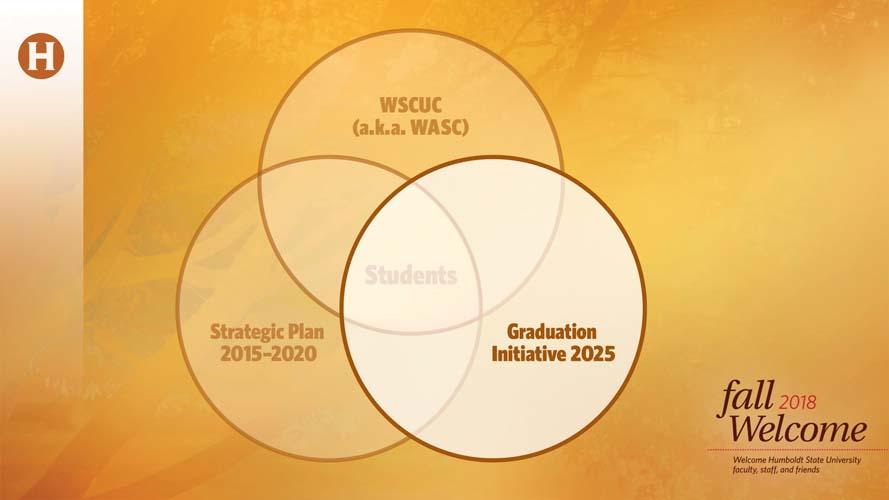 An important overlap exists between Graduation Initiative 2025 and our strategic plan goal #1. Both are all about student success. 
So here's an update on progress toward our Graduation initiative goals.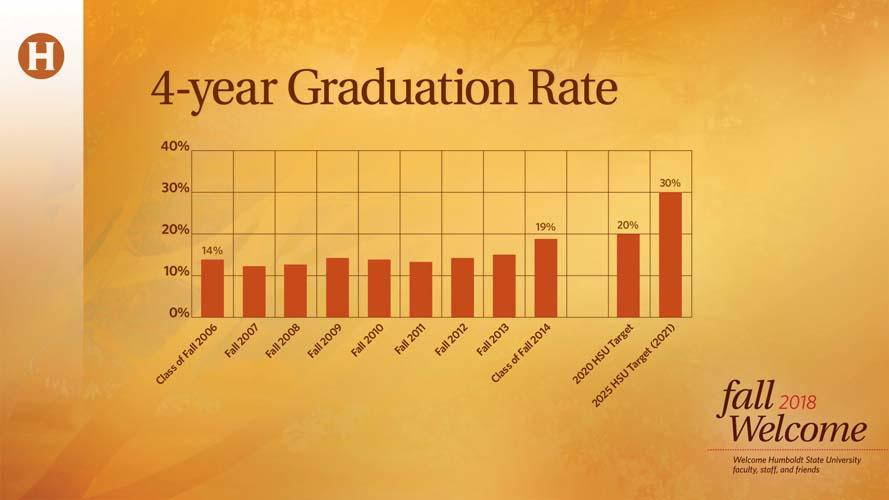 In 2014-15, when we created our current strategic plan, we set a goal of increasing the four-year graduation rate to 20%.  As you can see, with the Fall 2014 entering cohort, we have achieved 19%, so we are almost there.  However, the California State University system's target for us, as part of the Graduation Initiative 2025, is 30% -- for the students who will enroll here just two years from now.  We're on the right track, and I want to thank all of you for the good work in retention and student success that has contributed to this.  But we still have work to do.  Our new Strategic Enrollment Management Plan, which has just been completed and distributed, will serve us well in pursuing this goal.
In fact, let me emphasize this good news about graduation rates.  We received a note from the Chancellor's Office on Wednesday pointing out that Humboldt State is among the small number of CSU campuses that have already set a new high for our four-year graduation rate – and we still haven't factored in the summer degrees awarded.  Congratulations.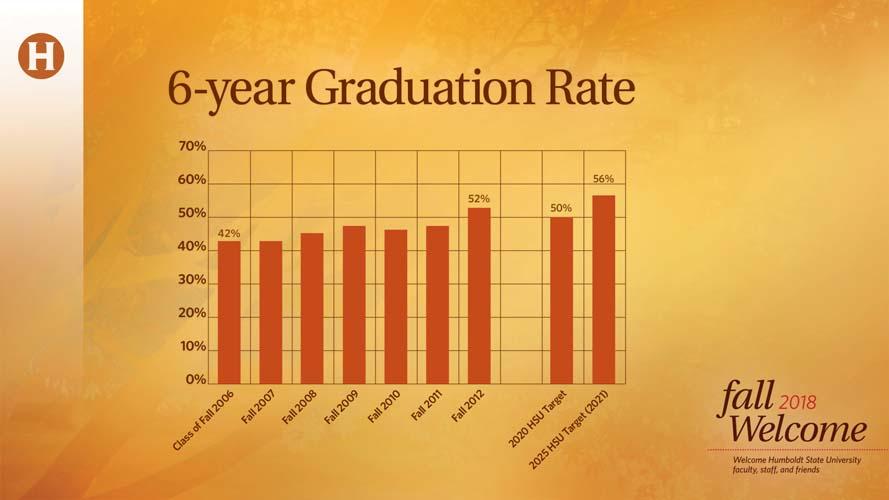 In terms of the six-year graduation rate, our current goal in the HSU Strategic Plan is 50% -- and the rate for the cohort that entered in Fall of 2012 is 52%.  Congratulations to all of you for this accomplishment.  HSU's target for the Graduation Initiative is 56% -- and that goal applies specifically to the students who will enroll for the first time a year from now.  This target is achievable – but we need to stay focused on all our efforts to support student success.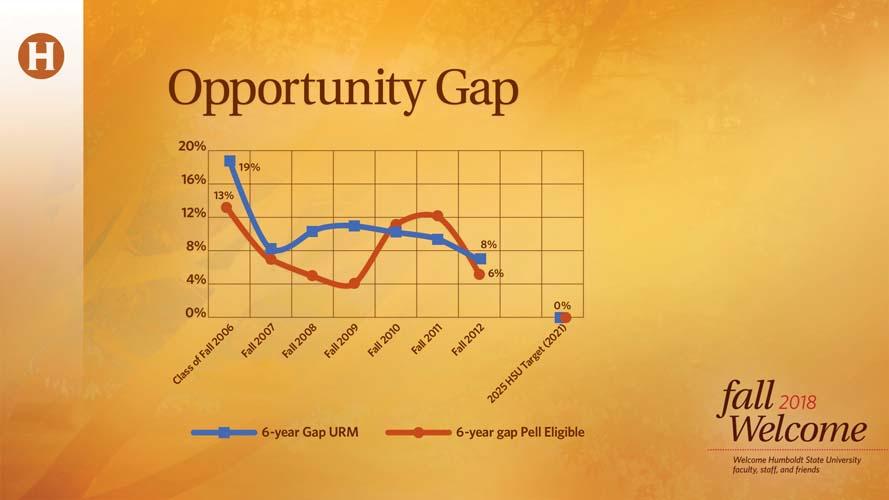 And, as you can see in this figure, the opportunity gap – also referred to as the "achievement gap" – has seen some fluctuation over the last few years, but the most recent data are promising.  Although we had set a goal of reducing this gap to 4% by 2020 in our strategic plan, HSU – and the rest of the CSU – have revised this goal to be zero by 2025.  Our plan is to have no difference in the graduation rates for Pell-eligible students, those from traditionally underrepresented groups, and the rest of our student population.
Some of these data are, indeed, promising.  Our trends are headed in the right direction, but we still have considerable work to do to completely eliminate this gap.  By working together, we can do this.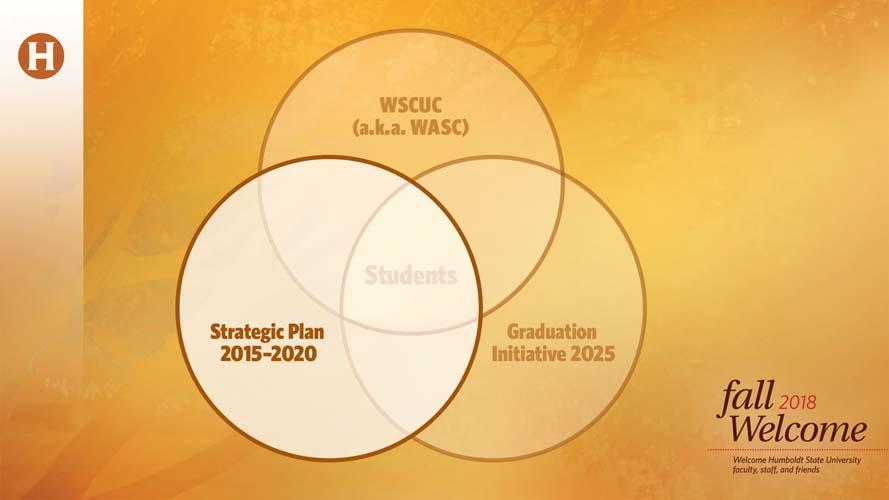 And the third of our major areas of emphasis is HSU's strategic plan.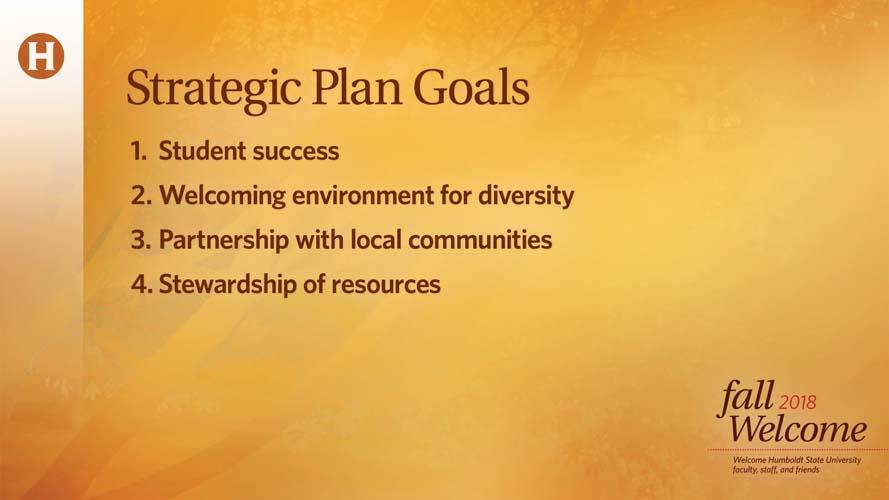 The goals in our strategic plan have proven to be valuable in guiding our work on campus, and I was pleased to see the WASC Commission commented on what they saw as the value of this plan to the University.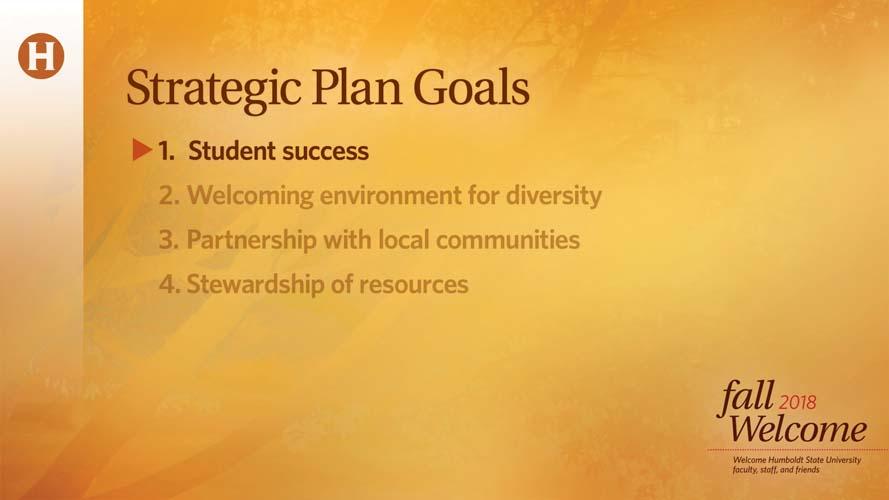 Student success is closely aligned with the Graduation Initiative 2025, and I've already spoken about that, so we'll skip ahead.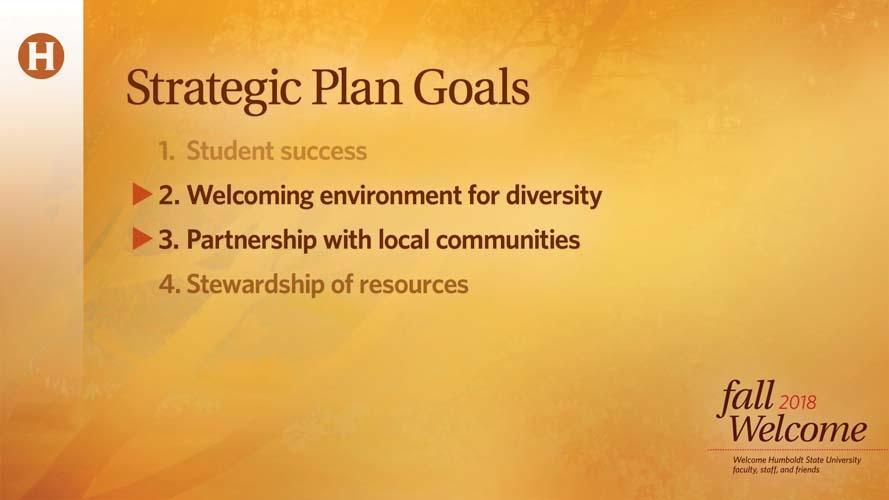 Humboldt State is involved in a wide variety of partnerships with the community, and many of these are connected with creating a welcoming and supportive environment for all our students, faculty, and staff.  Thus I'm going to talk about these goals together.  These activities involve collaborations, internships, community service, projects, and wide range of ways in which the University community intersects with the broader communities in our region.  We have lots of great examples, but I want to highlight a few in particular.  
One of these examples is Equity Arcata, which is a partnership by HSU, especially the Office of Diversity, Equity & Inclusion, the City of Arcata, local businesses, and other community stakeholders.  The goal of Equity Arcata is to create a welcoming, safe, and racially equitable community by eliminating disparities in access to housing, health, education and employment.  On-going activities include a Housing Equity Working Group, a Chief's Advisory Panel to support the Police and Student Safety Working Group, and a Welcoming Business Working Group that will be coordinating racial equity trainings for local businesses this fall. 
And I would also like to point out that more than 275 University and community members have participated in workshops addressing racial equity, including understanding microaggressions and implicit bias.
The College of the Redwoods and HSU are engaged in addressing homelessness and houselessness among our students, beginning with a summit last spring and more collaboration planned in the coming academic year.
And, also in the coming year, HSU will be involved in Get Ready Humboldt, which is a community-wide effort to inspire young people and build a stronger college-going culture in our region.  We'll all be hearing more about this in the next few months.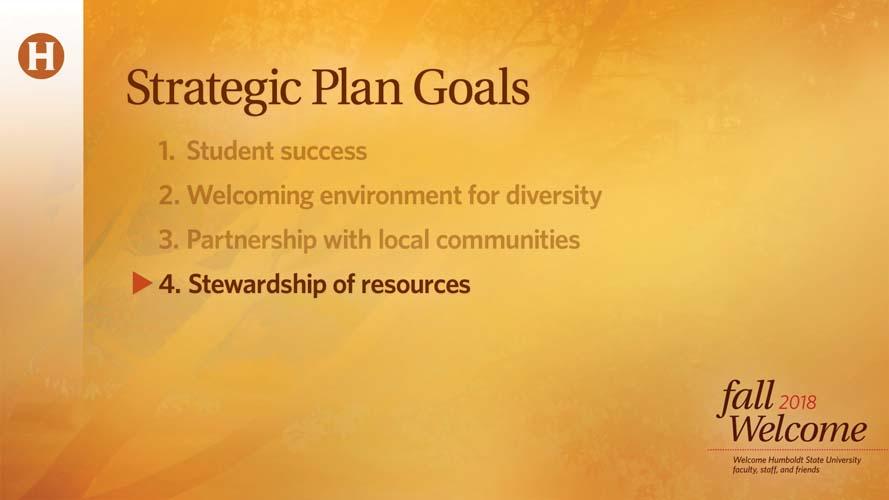 Strategic Goal #4 is about resources, and that leads us to the budget.  The details of both the development and current status of the 2018-19 budget are posted in the Budget Office's website.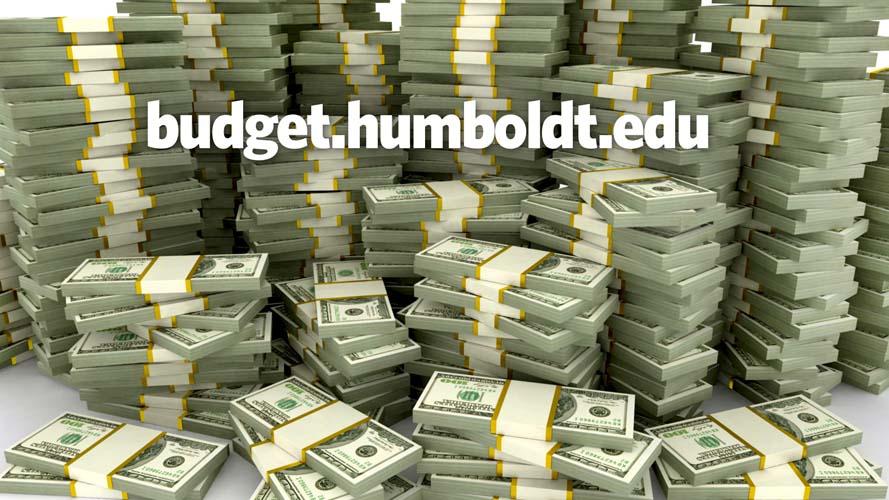 Several aspects of this year's budget actually represent good news.
As a result of hard work across campus, we have achieved two-thirds of our targeted $9 million in reductions.  We have identified $6.1 million in concrete reductions and savings.  The remaining $2.9 million in reductions are still in progress. This marks significant progress – thank you for the collective effort to make these spending reductions happen.  Looking ahead, we need to continue our forward momentum to complete the full $9 million in reductions to better position HSU for long-term financial viability and improve the alignment of our spending with our CSU peers.  Achieving the last portion of a goal is often the most difficult, but we are on the cusp of transforming our budget to one that is sustainable and strategic, and our ability to get there hinges on completing the remaining reductions.
Getting to this point has involved hard decisions that have affected most, if not all, of the University.  Off-campus programs, like the Third Street Gallery in Eureka.  Intercollegiate football.  Reductions in the number of administrators.  Unfilled positions.  Delays in filling vacant positions.  Strategic alignments and mergers of programs.
But we have also already made important progress in strategic investments.  One example of this is finding on-going base funding for some of our critical initiatives to support student success.  An example is funding the RAMP student mentors with base funding for the future rather than identifying one-time dollars, year after year.
This coming year, our state budget includes funding earmarked for the Graduation Initiative, and more information will be forthcoming from Provost Enyedi about how these resources will be invested in student success.
In the category of increasing resources, I'd like to highlight one recent success: the Stephen Hillenburg Marine Science Research Award, established by HSU alumnus Stephen Hillenburg and his wife Karen Hillenburg.  This endowment will provide research grant awards to support student research in marine science and related fields.
Stephen majored in Natural Resources Planning and Interpretation with a focus in the Marine Sciences while attending Humboldt State.  As many of you know, he went on to make a significant contribution to the awareness and appreciation of marine life through the creation of the animated series, SpongeBob SquarePants.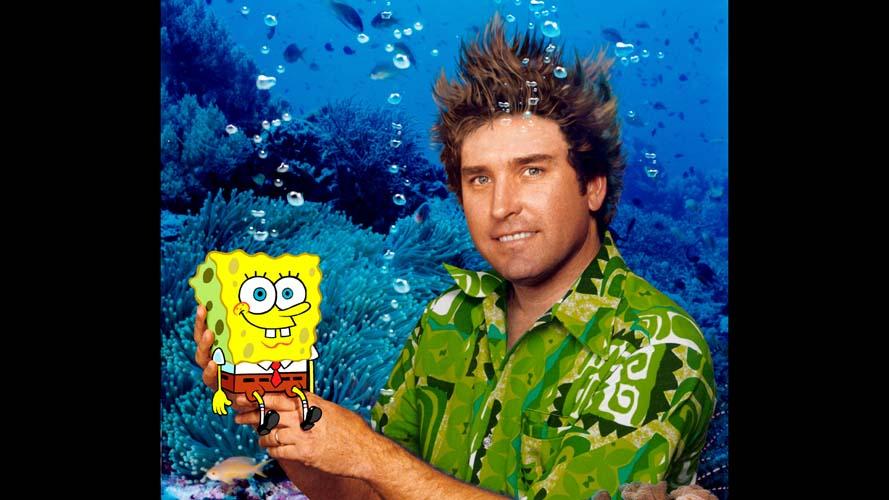 Stephen and Karen are contributing to marine science education through this endowment of $135,000 to support student research and provide our students the unique hands-on experiences they need to be successful.
We are so grateful to Stephen and Karen for their generous gift and for the collaborative effort between the College of Natural Resources & Sciences and the Office of Philanthropy to assist the Hillenburgs in making their gift and creating an opportunity that is meaningful to them and HSU.  This is a great model of how internal collaboration can contribute to student success.  Special thanks to Maria Forrest, in Philanthropy, and Rick Zechman, Associate Dean of the College of Natural Resources & Sciences, for making this happen.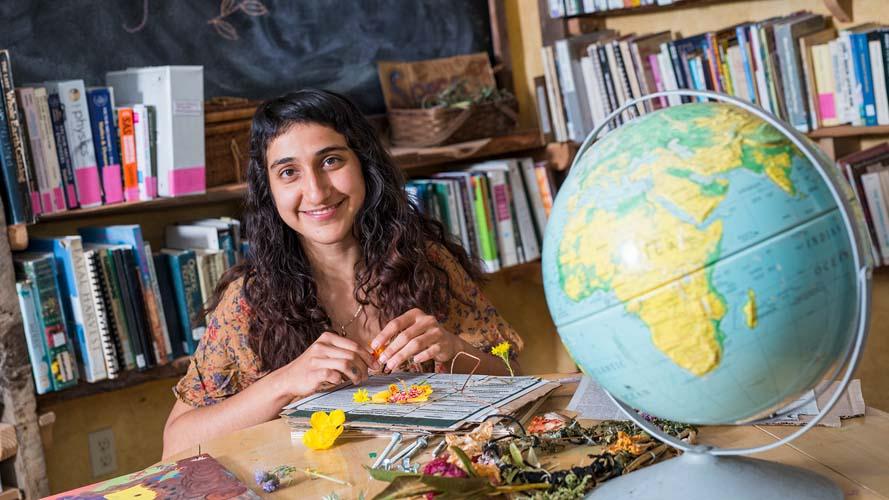 I want to mention one other aspect of our institutional resources.  Our University Advancement Office is developing a campaign to raise funds that will directly support students.  The details are being actively worked on, in collaboration with our deans and others.  I expect that areas of focus will include (1) increasing scholarships and direct awards to students, (2) supporting programs that reduce costs. like textbooks on reserve, laptops on loan, and the Oh SNAP! food pantry, and (3) providing students with meaningful, paid work opportunities on campus and in the community.  More information will be forthcoming, but for those of you who can't wait to invest some or all of your salary increases in the success of our students, all you have to do is sign up for payroll deduction or write a check that notes "Student Support" on the memo line – and you'll be making a direct contribution to student success.  I've already done this.  I hope you'll join me.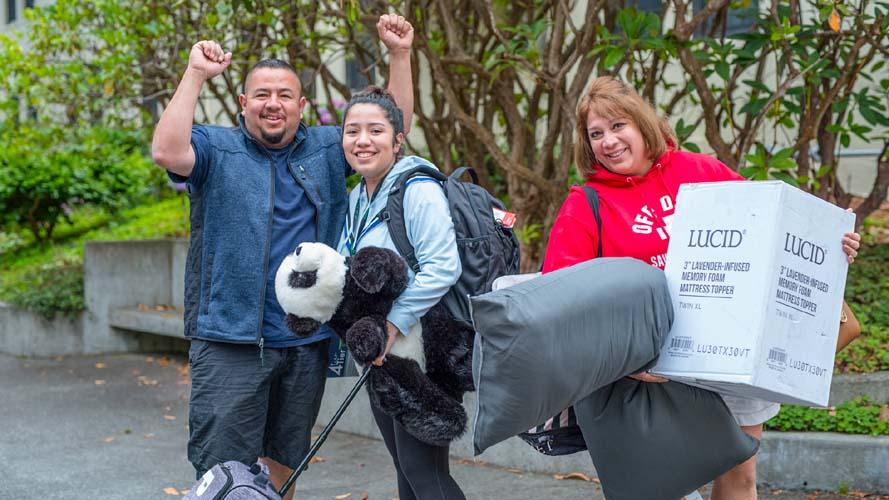 At the moment, this fall's enrollment looks to come in around 7,800, with the standard assumptions in how we predict this.   This is a decrease from last fall due to several factors:  smaller entering classes, historically weak retention, and increases in graduates due to success in Graduation Initiative 2025. 
This enrollment will result in reduced tuition revenue for the University's overall budget and in reduced fees to support a variety of student support and other activities. But even as we are reducing current expenditures, the 2018-19 budget reflects additional investment in stabilizing enrollment.
The new Strategic Enrollment Management plan was completed and distributed a few days ago.  Multiple cross-disciplinary groups spent the last 10 months working on this, and I hope you will all review it.  Although the plan includes numerical targets, it is much more than that.  This plan is about relationships with students…about how we serve students…and about we can all actively engage in helping students be successful, to have productive academic experiences, and to graduate with the background they need to achieve their dreams.
This overall strategic goal includes stewardship of existing resources – human, fiscal, which I have already described, and physical.  In the upcoming year, the seismic retrofit of the Library and this Theater Arts building will be addressed. This retrofit will involve a certain amount of disruption, but the result will be a campus that is much safer in the event of a major earthquake.  And we have a profound responsibility to be sure that our campus is as safe as possible for teaching, learning, studying, living, and working.
Shifting gears….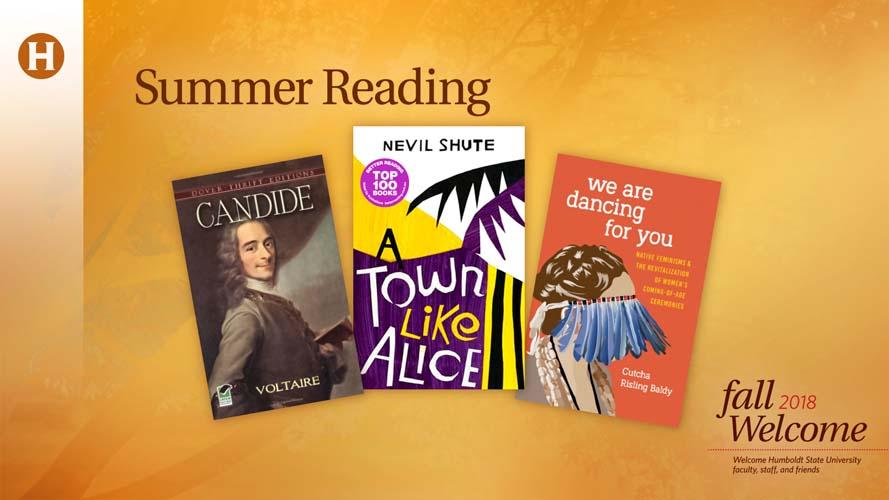 One aspect of my recent fall and spring welcome remarks that has drawn comments is my list of what I am reading right now – or, in this case, what I have been reading over the summer.
Here they are:  Candide (Voltaire), A Town Like Alice (Nevil Shute), and We Are Dancing for You (Cutcha Risling Baldy)
If you remember the story by Voltaire, Candide is an optimist, in the face of a world of woes that befall him and his companions:  earthquakes, tsunami, fire, war, betrayal, shipwrecks, flogging, famine, torture, and long separations from friends and loved ones.  Although his teacher keeps assuring him that they live "in the best of all possible worlds," in which everything turns out for the best, Candide ultimately rejects that idea and comes to the more practical, immediate perspective that "we must cultivate our garden."
This concept spoke to me, especially as I read the book this summer.  I have been stunned by the vitriol of the online trolls who have – anonymously, of course -- accused the University and many of the people here of ignorance, duplicity, malevolence, and malfeasance.  This is not a characteristic of "the best of all possible worlds."  Neither are some of the actions that have been happening on the national scene, with, for example, children and their parents being separated and deported. 
I like the idea of focusing on what we can control – tending our own garden.  We can plant and water, till the soil, provide shade (if not much sunshine, in Humboldt County), and nurture the positive things we can.  So I found Candide's message meaningful.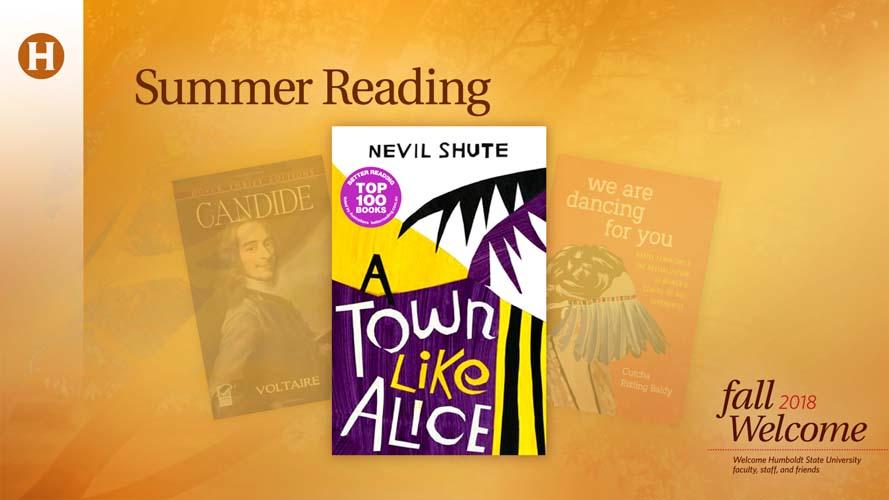 The novel A Town Like Alice, by Nevil Shute, is set in Malaysia, London, and Australia, during and after World War II.   The story is about perseverance in the face of hardships, identifying and living one's values, helping others, having a vision for change, and being dedicated to making it happen.  It, too, has a theme of "tending one's garden," as an act of community and as a connection to the land – to the sense of place.  At this University, which has such a strong sense of place, this message resonates.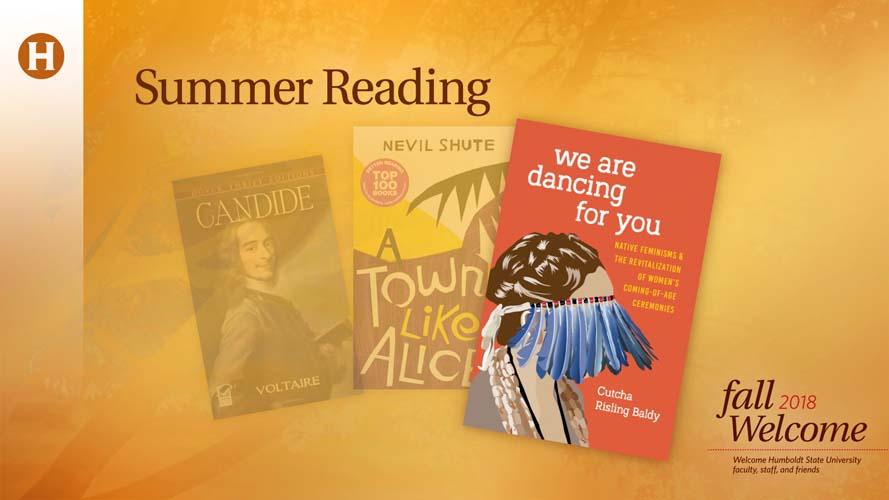 And We are Dancing For You was written by HSU Professor Cutcha Risling Baldy and published last spring by the University of Washington Press.  In this, Cutcha explores the revival of traditional coming-of-age ceremonies for young women.  The book is written with respect, extensive research, personal perspectives, and great humor.  In reading this, I learned more about local and indigenous culture, the significance of these ceremonies, and the efforts that have been made to re-create them.  And I found a theme in this book, too, about understanding and celebrating a sense of place – a place with deep historical and cultural significance.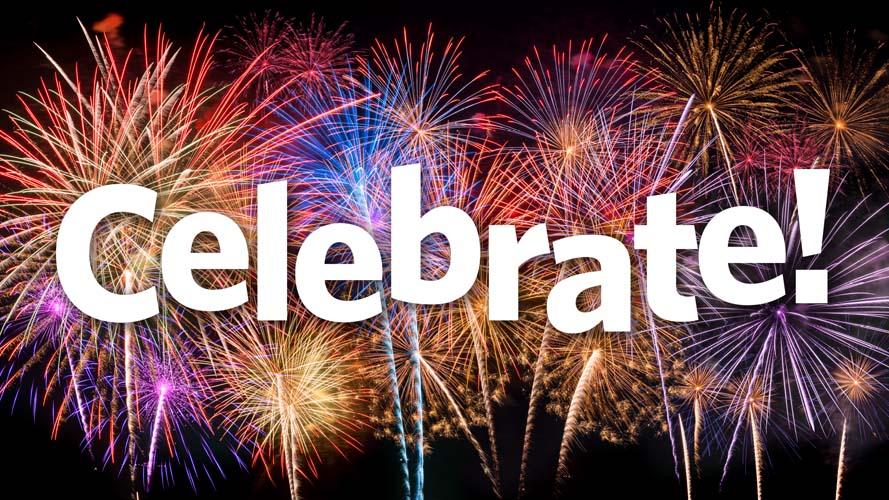 We have lots of other things to celebrate this year across campus.
"YES" – the Youth Educational Services program – is celebrating its 50-year anniversary.
So is ITEPP – the Indian Tribal and Educational Personnel Program.
The Multicultural Center is marking its 25th anniversary.
And the Campus Dialog on Race is having its 20th anniversary this year.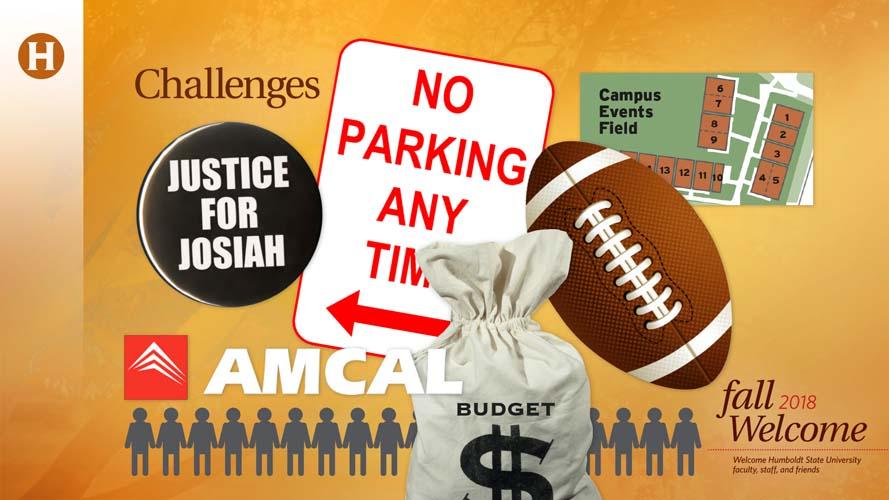 As we begin this new academic year, we also have our share of challenges.  This is one way to look at this, but I'll note these in a different way, as highlights for the coming year, in a moment.
We've seen turmoil related to intercollegiate athletics, particularly addressing a deficit in athletics that was projected to significantly exceed $1 million in the next year.  A strong effort by the community to raise funds to address part of this shortfall was valiant, but ultimately insufficient.  Fall 2018 will be the last season for HSU football.  I am deeply sorry about the need for this decision, but we must focus our limited resources on HSU's core academic mission. 
We need more safe, affordable, accessible student housing.  In fact, we have some evidence that the housing challenges in this region may be one of the factors impacting HSU's enrollment.  The community concern about the proposed Village project, which would provide additional housing for HSU students, is a challenge to both our community relationships and our ability to support student success in this way.  The Arcata City Council has not yet decided on their support for this particular initiative, so we're waiting to see what the University's next steps will be.
We also have an opportunity to develop a closer alignment between the mission of KHSU and that of the University.
And we will have some interesting challenges with our already-challenging parking situation, as we deal with the seismic retrofit of the Library and this building.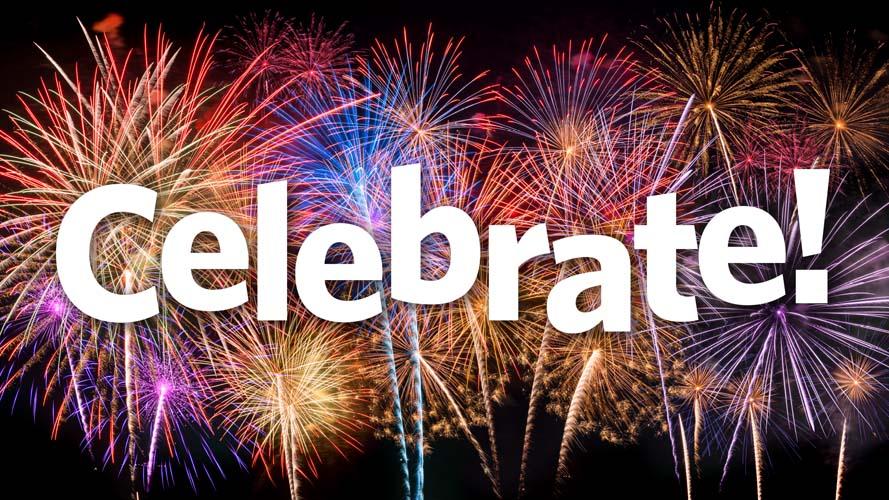 But I don't want to lose the fact that we have much to celebrate.
As we look toward the upcoming academic year, I would like to highlight a dozen of the important initiatives that we will be addressing. 
 Continue to make progress toward our Graduation Initiative goals
Stabilize enrollment (with a particular focus on retention) by implementing the new Strategic Enrollment Management Plan
Complete the budget reduction plan and start making strategic investments
Update HSU's facilities master plan
Cope with the seismic retrofit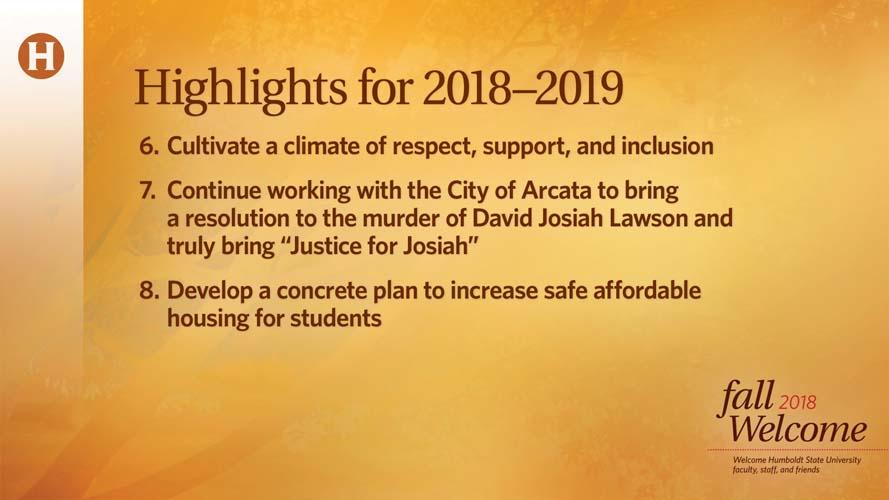 Cultivate a climate of respect, support, and inclusion
Continue working with the City of Arcata to bring a resolution to the murder of David Josiah Lawson and truly bring "Justice for Josiah"
Develop a concrete plan to increase safe affordable housing for students, whether this is the Village project, new on-campus housing for freshmen, or something else altogether
Maintain the momentum in developing University assessment efforts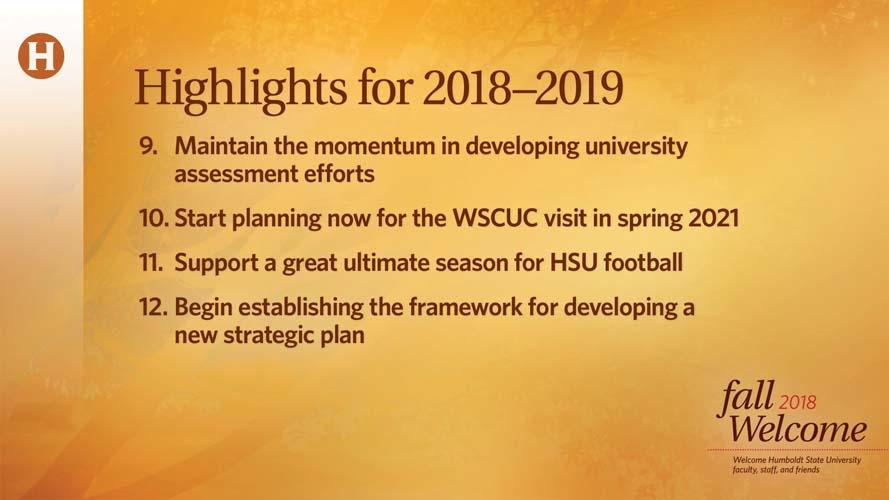 Start planning now for the WSCUC visit in spring 2021
Support a great final season for HSU football
Begin establishing the framework for developing a new strategic plan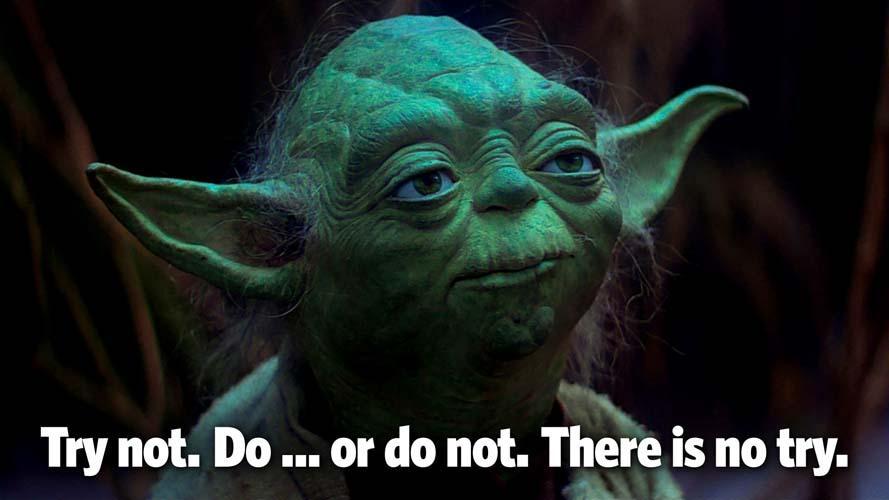 Together, we can achieve these goals.
This is going to be an exciting year.  We have new faces, new challenges, and new opportunities. We are building on successes:  success with reaffirmation of accreditation; success with increasing our graduation rate; success in living within our means and bringing our budget under control. 
Thank you all for being on this journey together.
Outside on the Art Quad, we have coffee, tea, cookies, and muffins for sustenance before you head to your next meeting.
I'll see you out there.
Thanks for coming this morning.